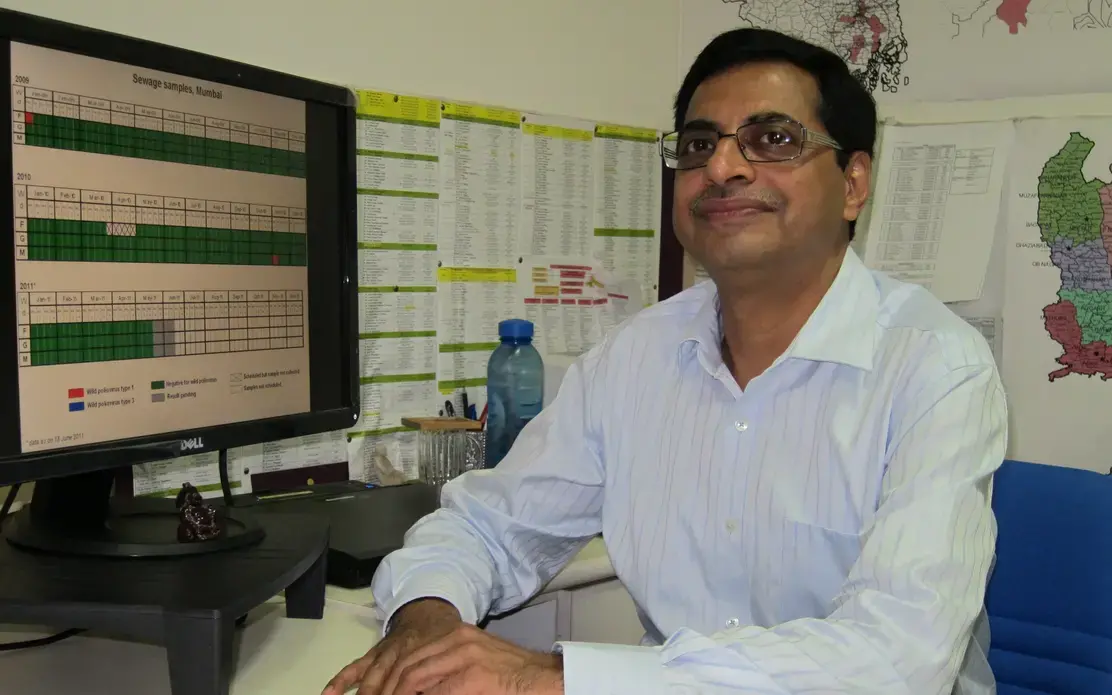 Dr. Sunil Bahl displays reports of environmental sampling results from Mumbai from 2009 through 2011. Image by Helen Branswell. India, 2011.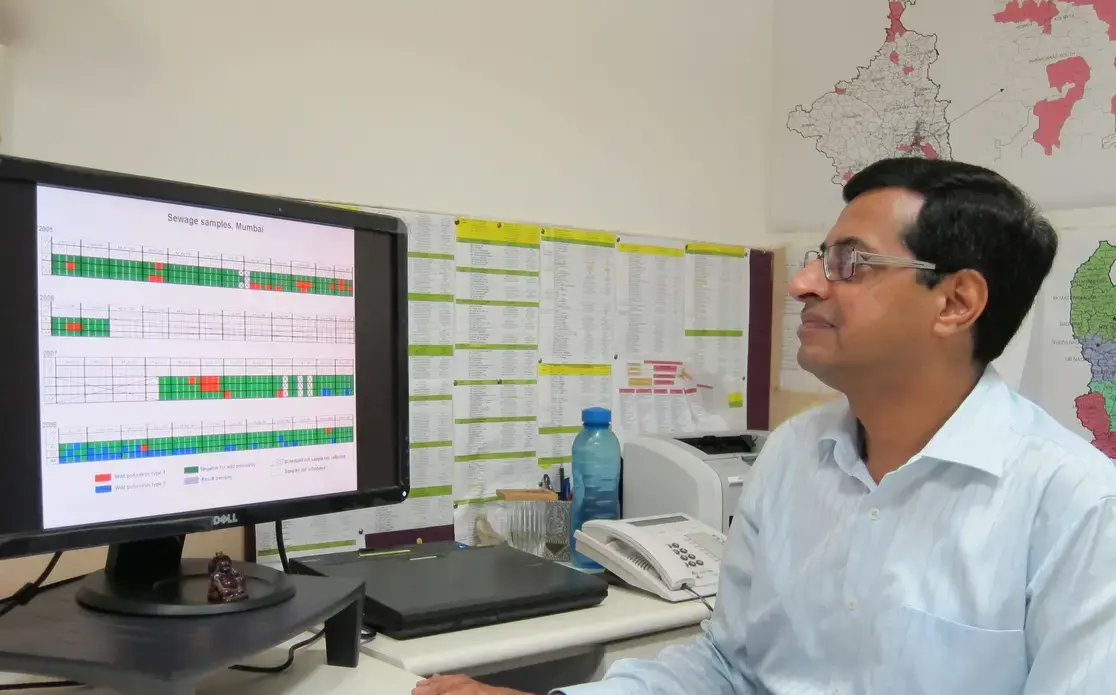 Dr. Sunil Bahl examines reports of environmental sampling results from Mumbai from 2005 through 2008. Green means weeks when they found no viruses. Red and blue indicate weeks when Type 1 and Type 3 polioviruses were found. Image by Helen Branswell. India, 2011.



Every week in the megalopolises of New Delhi and Mumbai, employees of India's Enterovirus Research Center trudge through teeming slums to junctures where open sewage trenches converge.

There they lower a bucket into the fetid sludge and draw up a liter of untreated human waste. Back at the center's laboratory in Mumbai, those samples are filtered, concentrated and then scoured for polioviruses.

It may seem like searching for a needle in a field of stinking haystacks. But in fact, environmental surveillance—the sanitized name for sampling sewage—is an integral part of this country's effort to finally defeat a virus that only 20 years ago crippled between 500 and 1,000 Indian children a day.

So far this year, India has reported only a single case of polio, creating a groundswell of hope that 2011 might be the year polio transmission is halted here. India is one of only four countries in the world where polio is still endemic.
A number of places that have already eliminated polio transmission within their borders conduct environmental surveillance as well. They are searching their sewers for viruses that threaten to undo hard-fought gains and re-establish the paralyzing virus. But more on that later.

In India, the work is done as a belt-and-braces effort to ensure those charting the country's military-like vaccination campaigns know where polioviruses are circulating. Polioviruses in a sewer can presage the onset of human cases, though with India's enormous waves of internal migration, viruses in a New Delhi gutter could end up paralyzing a child hundreds of miles away.

That's exactly what happened with the country's most recent case of polio. In January, a little girl in the West Bengal district of Howrah developed acute flaccid paralysis, the tragic hallmark of paralytic polio. Type 1 polio virus was isolated from her stools. (There are three strains of polioviruses, numbered 1 through 3.) Its genetic sequence showed it had evolved from virus found last August in the sewers of New Delhi.

How did virus in New Delhi make its way into the gut of a toddler nearly 1,000 miles away? No one can trace the path precisely. But the likely explanation is that poliovirus-laced sewage contaminated drinking water or food, finding its way into a series of human guts. Each then shed it in more stools that contaminated more water or food.
Some of those people would have been immune, protected by vaccine or previous exposure. Others might have become infected, but failed to develop symptoms. Only about one out of every 200 polio infections results in paralysis. When the virus reached this unvaccinated baby, she drew the unlucky number.

The potential for far-flung movement of polioviruses is a byproduct of the staggering internal migration that occurs in India, where temporary relocation for work is a fact of daily life for millions.

"India is on the move. And the greatest challenge and the final challenge in polio eradication is reaching these migrant people," says Dr. Devendra Khandait, program officer for immunization and vaccines for the Bill and Melinda Gates Foundation, one of the partners in the Global Polio Eradication Initiative.

Often entire families are among this sea of economic migrants, making it hard for state officials to keep tabs on which children have been vaccinated and with how many doses of vaccine. At least three doses are needed in ideal circumstances; in India, where children are often malnourished and plagued by diarrheal diseases, many more doses are sometimes needed.

Government officials who plan immunization campaigns—like ones slated for this week (June 27-July 1) in high-risk parts of the country—have worked out ways to try to find the children of these migratory workers. And while they administer vaccine drops, the workers at the Enterovirus Research Center will keep looking for polioviruses in sewage. If viruses are discovered in Mumbai or Delhi, or Patna, the capital of the northern state of Bihar—where environmental surveillance has just started—extra vaccination efforts could be mounted to try to make sure the virus can't find susceptible guts to infect.

Environmental surveillance began in Mumbai in 2001, but sampling in New Delhi only came on line in April of 2010. At the start, there was evidence Type 1 and Type 3 polioviruses were circulating in the slums of the Indian capital.
The eradication program responded, says Dr. Sunil Bahl, deputy project manager-technical for the World Health Organization's National Polio Surveillance Project for India. The WHO provides technical advice to the Indian government, which finances and runs the country's polio campaign.

"The program actually took note of this," Bahl says of the New Delhi sewer findings. "And although there were no human cases, they took this very seriously and they really went after the migrant and the mobile communities to vaccinate them intensively. Because this only indicated that there was somebody—or somebodies—going in and out of Delhi and shedding the virus."

Recent evidence from the sewers supports the sense of optimism here. Virus hasn't been isolated from sewage samples in Mumbai since last November. And in New Delhi, polioviruses haven't been found in the sewage samples since August of last year.

Helen Branswell is a Nieman Global Health Fellow. Her travel this summer was supported by the Pulitzer Center on Crisis Reporting as part of its partnership with Harvards Nieman Foundation for Journalism designed to strengthen global health reporting.
RELATED ISSUES