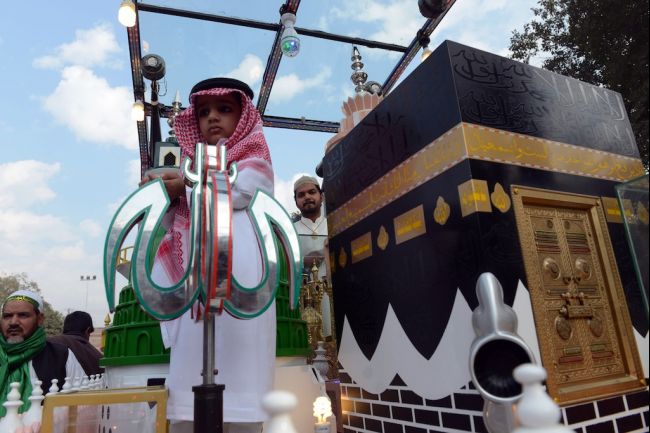 JEDDAH, Saudi Arabia — In this country known as the cradle of Islam, where religion gives legitimacy to the government and state-appointed clerics set rules for social behavior, a growing number of Saudis are privately declaring themselves atheists.

The evidence is anecdotal, but persistent.

"I know at least six atheists who confirmed that to me," said Fahad AlFahad, 31, a marketing consultant and human rights activist. "Six or seven years ago, I wouldn't even have heard one person say that. Not even a best friend would confess that to me."

A Saudi journalist in Riyadh has observed the same trend.

"The idea of being irreligious and even atheist is spreading because of the contradiction between what Islamists say and what they do," he said.

The perception that atheism is no longer a taboo subject — at least two Gulf-produced television talk shows recently discussed it — may explain why the government has made talk of atheism a terrorist offense. The March 7 decree from the Ministry of Interior prohibited, among other things, "calling for atheist thought in any form, or calling into question the fundamentals of the Islamic religion on which this country is based."

The number of people willing to admit to friends to being atheist or to declare themselves atheist online, usually under aliases, is certainly not big enough to be a movement or threaten the government. A 2012 poll by WIN-Gallup International of about 500 Saudis found that 5 percent described themselves as "convinced atheist." This was well below the global average of 13 percent.

But the greater willingness to privately admit to being atheist reflects a general disillusionment with religion and what one Saudi called "a growing notion" that religion is being misused by authorities to control the population. This disillusionment is seen in a number of ways, ranging from ignoring clerical pronouncements to challenging and even mocking religious leaders on social media.

"Because people are becoming more disillusioned with the government, they started looking at the government and its support groups as being in bed together and conspiring together against the good of the people," said Bassim Alim, a lawyer in Jeddah.

"When they see the ulema [religious scholars] appeasing the government," he added, "people become dismayed because they thought they were pious and straightforward and just."

"I believe people started being fed up with how religion is really controlling their life and how only one interpretation of religion should be followed," said activist Fahad AlFahad.

Together, the appearance of atheists, a growing wariness of religious controls on society, as well as the continuing lure of jihad and ultraconservatism signal a breakdown in the conformity and consensus that has marked the Saudi religious field in the recent past. It is becoming a more heterogenous and polarized faith scene.

"The mosques are full but society is losing its values. It's more like a mechanical practice, like going church, you have to go on Sunday," said a former employee of state media. "We no longer understand our religion, not because we don't want to. But because our vision of it, our understanding of it, has been polluted by the monarchy…[and]...by the official religious establishment that only measures religion by what the monarchy wants and what pleases the monarchy."

The growing skepticism about religion and clerics is more visible nowadays because of social media outlets, including tweets, blogs and Facebook pages.

Here are three illustrative tweets from Saudis:

— Prince Abdul Aziz bin Fahad has been tweeting nonstop abt God. I pity his disconnectedness from today's public. It's not the 1980's. Pathetic

— Because our illusion that our version of Islam is the only correct one needs to be washed away

— Could the ulema issue a fatwa against domestic violence? I mean the fatwa committee has prohibited playing Resident Evil

At the same time, however, there is a countervailing trend in that some young Saudis are joining radical Islamist and jihadi movements, a trend reinforced by the war in Syria.

"When the Arab Spring started, young religious people were asking about Islam and democracy," said Saud Al Sarhan, director of research at the King Faisal Center for Research and Islamic Studies in Riyadh. "But now they are just asking about Islam and jihad, after what is going on in Syria."

This attraction towards militant ultraconservatism is also apparent in the activities of unregulated religious vigilantes. Even as the government's own religious police have come under stricter controls, these bands of young religious "volunteers" attack social gatherings to stop what they deem as prohibited activities, including music, dancing and gender mixing. In one famous incident in 2012, these "volunteers" raided the annual government-sponsored cultural festival known as Janadriya, where they clashed with security forces.

It is still dangerous to publicly admit one is an atheist because of the dire punishment one can face from a court system based on sharia, which regards disbelief in God as a capital offense.

In addition, conservative clerics who have considerable sway among Saudis, use the label "atheist" to discredit those who question their strict interpretations of Islamic scriptures or express doubts about the dominant version of Islam known as Wahhabism.

That is what happened with 25-year-old Hamza Kashgari who in 2012 tweeted some unconventional thoughts about Prophet Muhammad, none of which indicated he did not believe in God. Still, he was called "atheist" and to appease the religious establishment, the government jailed him for 20 months.

Also, Raef Badawi, in his early 30s, was accused of being atheist because he called for freedom to discuss other versions of Islam besides Wahhabism on the website "Free Saudi Liberals." Badawi was sentenced to seven years in prison and 600 lashes in July 2013. His lawyer, Waleed Abu Alkhair, a human rights activist who also has been jailed, said Badawi told the court that he was a Muslim but added that "everyone has a choice to believe or not believe," the BBC reported.

A Riyadh resident who has extensive contacts with young Saudis because of his job in higher education said that he "tries to warn young people that they are living according to an Islam constructed by the government, and not according to the Islam given us by God."

Increasingly, he said, some youths "are going to ignore religion and become atheist, while others are going to understand the game."
RELATED ISSUES

Issue
Migration and Refugees
Migration and Refugees

Religion