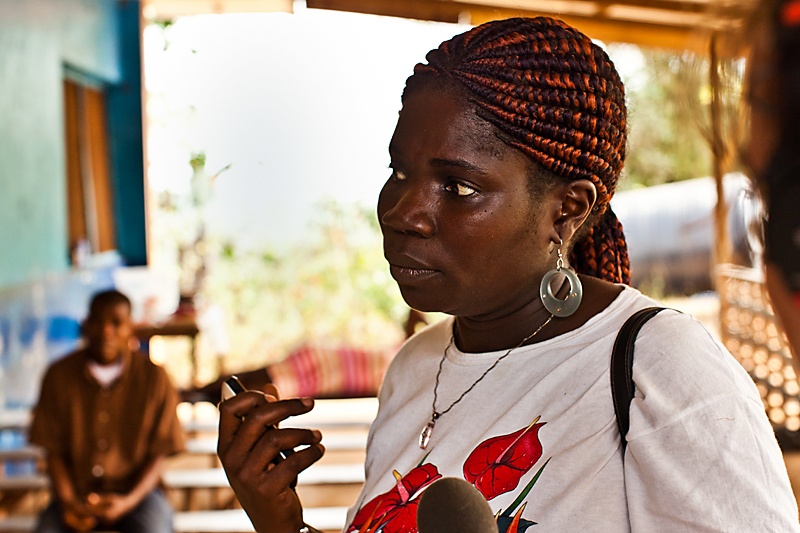 This week, the Pulitzer Center's collaborative project on reproductive health kicks off its field reporting. Jina Moore and Jake Naughton landed in Monrovia, where they are working with Mae Azango on stories about traditional midwives and maternal mortality.

As the reporting shifts into high gear, here's a flashback to a conversation from our first meeting, in Dakar, at the International Conference on Family Planning in December 2011. There, the Pulitzer Center held workshops with all four journalists in the collaborative. One of those workshops focused on reporting on vulnerable populations. Our journalists all have experience working with such groups, in different settings.

In this conversation, Ken Opala from Kenya talks about covering the refugees who've made his country a makeshift home. Estelle Ellis talks about interviewing victims of crime and other violations in Port Elizabeth, South Africa. Sam Olukoya discusses his experience in the marginalized communities in Nigeria's oil-rich Delta region. And Mae Azango shares her thoughts on covering rural Liberia, where people daily fight the dual burdens of poverty and a recent war.

They touched on how to approach and interview survivors of rape, domestic violence and violent crime; the boundaries between journalism and friendship; and the importance of respecting not only the individuals we interview but the communities where we seek stories.

They also spoke plainly about the ways they "break the rules" of ordinary journalism when they write about trauma. Let's set aside the debates about ethics and objectivity and whether there even are journalism rules universal enough for all situations, in all cultures. There's much to be learned here.

I moderated the conversation, and every time I tried to write a useful blog post about what was said, I found myself in the way of the wisdom of these journalists' voices.

So I've decided to reproduce that conversation, as recorded in my notes. (Note that this is not a transcript, and has been condensed and edited from my notebook.)
--
Estelle: We have lots of trauma survivors where we live. The way the body starts to heal itself is to talk about it. I think it's a way (for the survivors) to take back their power.

I start with a few principles. One: the people we interview need to know what they're getting into. They need disclosure. So informed consent is number one.

Two: people want to tell, but not in the very first questions. You have to move there gradually.

Three: I give people a lot of time. I try for three hours, for a half day if possible. And I don't take notes because they need eye contact.

Ultimately, I think people appreciate it. It's an instinctual reaction to speak about suffering. At the same time I am careful about secondary trauma. I email the story to survivor to read–maybe they say something they regret in heat of moment.

Ken: It's hard to get there (the refugee camps in northern Kenya) and have people who want to talk right away. You have to get to know them so that the day you go for the interview you have a rapport. These are people who don't trust their government, they don't trust the police.

When you talk about informed consent you also have to talk about a very important question. Do sources expect something? Do they think this interview will change their lives? Refugees, when they see a reporter, they think it will change their whole lives.


Sam: That's very important, expectations. The Niger Delta is an area where journalists come repeatedly, so the urge for people to speak comes down. First everybody is eager, then (the journalists) come a second and third time, and the people see no change.

Their concern is that there is something you want to gain from them. They think it's a far place, not easily accessible, and you wouldn't take pains to come if the government is not giving you something. For me, when I work with foreigners, they think I'm making much money. They think you're sending photos and videos to the outside world, and you're collecting money.

Mae: In Liberia, they will say, "The time I sit to talk with you, I could load three, four, five cars, so you pay me 25 liberty dollars (about 35 cents)." When they talk with me, they charge me five US dollars. Outsiders, they feel the international community has sent you. The UN has sent you.

Estelle: But you can't give them money, can you?

Mae: The time it takes to talk with you, their time is going!

Ken: I always carry some sugar, groceries.

Mae: When you get to the rural areas, they will tell you, let's all eat. If you don't eat, they won't relate to you. Once you eat with them, they will relate to you. You have to give them time. If they're going for water, I say, "Let me go along with you."

Ken: You have to build a good rapport. If you want the interior minister, the politicians, the government, you just make an appointment. When it comes to refugees, they need your trust. You have to go in a good way.

Sam: It's different also when you have foreign journalists with you. They really worsen matters when they are so much in haste, when they start filming without talking to the people. They say, "I don't have the time." But you've come to those people, you have to play by their rules.

Ken: It's different dealing with refugees. Whites are more acceptable. If they see a black journalist, they feel at home; if they see a white journalist, they think that journalist will open the world.

Mae: You can't push it.

Ken: I went for one story about a rape only a week after the rape; she didn't want to look at me. After one month, she opened up.

Estelle: They need to understand that we know they are not objects we're just squeezing stories out of. Sometimes the most trustworthy thing is to walk away. If you can wait, the story comes out. I've been in trouble with my bosses for this before, but I walk away.

When they do decide to talk, I'm very clear: "I'm not here to support you. I'm not your pastor, not your counselor, I'm just a journalist here for my own professional purposes." But if somebody really doesn't want to speak, I question whether their story should be told. Who are we to compound violence?

Mae: There was a man who was killed in rural Liberia, and I knew him. He had two different names, but I knew him under the other name. So I visited his mother. I met her sitting flat on the floor of her room, weeping profusely. I sat on the floor with her in a sad mood and told her, "Ma, I am so sorry about the death of your son. Have you put the announcement on radio because many people are confused about the two different names?" And when she said no, I told her, "I will do it for you free because George was my friend." The reason she opened up to me was because I sat on the floor with her in sympathy. It is important for journalist to know and study the atmosphere and adjust themselves properly.

Estelle: Yeah, people get confused. They can think you're their best friend. I've worked on a year-long project about a kid kidnapped by his Chinese father. (At one point) I had to go to the family and say, "I'm in your life, you're in my life, but I'm just doing my job." The grandmother, she's the sweetest person in the world, but we can't be friends.

Ken: If you're dealing with informed people, they understand what a journalist is, and it's a bit alright. But some communities don't understand journalism. They really just want you to be part of them.

Editor's note: Jina Moore is the author of "Covering Trauma: A Training Guide" produced in association with Search for Common Ground and Radio for Peacebuilding Africa. The manual is designed to help journalists understand the effects of trauma. It provides tips on how to carry out interviews in difficult situations, and on ways to frame stories in order to protect victims and not sensationalize violence.