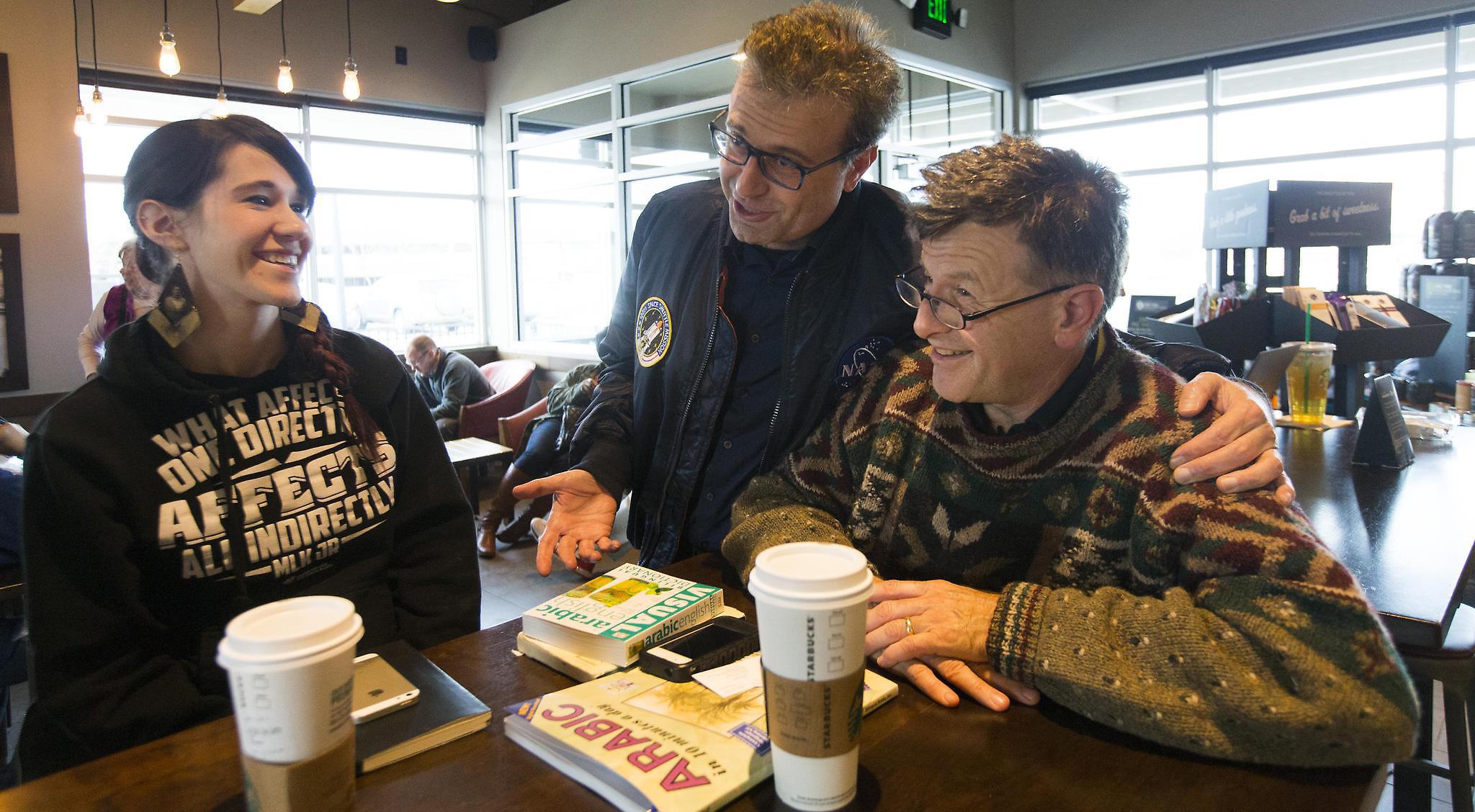 They feel the plane approaching, coming to take them 6,000 miles from the Midwest to a story they have only watched on television: the fallout from Syria's civil war.

From their homes in Wisconsin, they have seen photos of the crowded, muddy camps in Jordan, of the refugees who've fled carrying the psychic burdens of their homeland: the bombed-out cities and the dead.

But for now, the camp called Zaatari on a barren expanse of country northeast of Amman, a home of sorts to 80,000 Syrian men, women and children, remains a world away.

Their flight is Friday; the last month has rushed by.

The journey, a medical mission from Milwaukee to Zaatari, weighs most on the man who organized it: Tarif Bakdash, a 51-year-old pediatric neurologist who grew up in Syria and took a job at Children's Hospital of Wisconsin and the Medical College of Wisconsin in 2014. He lives with his wife in an apartment in Brookfield. The television is tuned constantly to the news from his homeland; plans are already forming for a second mission in May.

"I feel 90% American. I belong here," says the doctor, a U.S. citizen since 1992. "But now we have a disaster. I was born there. I grew up there. I have a moral obligation."

***

It is 6:00 in the morning, February 17. The plane is coming. Thirty days.

In the predawn darkness, Bakdash sits in front of a tablet that beams shaky images via Skype from a mental health clinic inside Syria. He is helping a psychologist there treat children with seizures, post-traumatic stress disorder and other ailments. He does this every Wednesday, 6:00 am.

To reach the clinic west of Aleppo, the patients have had to travel for hours. The roads are so dangerous, the psychologist explains, that people must change cars five times just to go six miles. They take one car as far as the driver dares go, then seek the next ride. Bakdash watches the psychologist rub his hands, trying to warm them.

Together the two men see a 10-year-old boy who has been wetting his bed and suffering from post-traumatic stress disorder since seeing his father murdered. They see a 12-year-old boy whose mother patiently explains how he watched as his sister was killed by a Russian bomb. Now the boy has seizures. The parade of damaged families continues for an hour until Bakdash must sign off and get ready for his shift at Children's Hospital.

"There's a feeling that you're not doing enough," he said. "How many kids are there now that need to be seen? If I was there now, how many could I see? Is it enough (to go) twice a year?"

So Bakdash has written a book, "Inside Syria: A Physician's Memoir," and given talks around Milwaukee. He has gathered the small group headed for Jordan: three doctors, two nurses, a social worker and a young man planning to become a pastor.

***

Evening, Feb. 18. Twenty-nine days—almost 28—until the plane.

Jennifer Nitschke-Thomas and her husband, Xavier Thomas, both in their late 20s, can feel the trip fast approaching as they sit in an office at All People's Church on N. 2nd St. in Milwaukee. They are newlyweds, married just six months. She is a nurse, he, a youth director with ambitions to become a pastor. Not wealthy people.

Both have been active in causes, most recently Black Lives Matter. They are going to Jordan because Nitschke-Thomas watched Bakdash give a talk on the refugees and was moved by his passion and, truth be told, by the awful photo he showed: row upon row of dead children laid out on the ground, their bodies uncovered.

When she thinks of the camp at Zaatari and the 6,000 miles that stand between her and the refugees, she says, "Because we have the privilege to turn away, I want to stand in the discomfort... until that pain becomes my pain."

Thomas, an uneasy flier, was not thrilled the first time his wife mentioned the 11-hour plane trip. He worried at first about the question of safety. He broke the worry down into specific scenarios, short films in his imagination. He planned what he would do if each dangerous scene played out.

But the more he thought about it, the more this journey seemed to suit a future pastor.

"It's so close to the Promised Land," he says of Jordan. "It's so close to Jesus. It's very special to be able to walk those steps and feel that presence. I get to play with God's children in God's land."

So, the couple made a GoFundMe page and raised almost $3,500 for their airfare, hotel and meals.

***

February 26. Twenty-one days.

Stacey Volkman, a 36-year-old social worker at Froedtert Hospital, sits in a coffee shop in Glendale, describing a talk she heard Bakdash give in December.

There were photos of the devastation in Syria. There was the doctor's impassioned voice as he described the children and the mission to help them. Volkman remembers turning to the social worker next to her and saying, "I want to go."

"It was just an overwhelming feeling," Volkman says. "I want to go. I need to go. I can help."

She spoke with her husband and with her two young sons, 8 and 10 years old, explaining the trip and the duty she felt. The boys worried more about the plane than about Jordan. She has reassured them.

So Volkman is packing. She is bringing a suitcase containing 18 puzzles and 18 deflated soccer balls for children in the camp.

"Good luck," a man tells her at the coffee shop, after overhearing some of her story. "You are doing sacred work."

***

March 4. The plane is two weeks away. Thomas Chelimsky, a 59-year-old neurologist, is explaining how a chance conversation with Bakdash led to his decision to fly to Jordan.

Bakdash was talking about the mission, and it turned out Chelimsky had always wanted to make such a trip. He'd thought of traveling to Argentina, his wife's homeland, to work with the poor. When the idea of going to Jordan first arose, Chelimsky and his wife considered going together, but decided that since they have two adult children, and since the risk seemed "more than minimal," only one should go.

Chelimsky waited weeks to buy the ticket.

"I really came to God about this," he said. "I said, 'Lord, is this what you want me to do?' I just got a general sense of: 'Go.'"

Now he is listening to "teach-yourself-Arabic" CDs in his car and reading the Qur'an.

"Each of us is on a journey of some kind, of faith," he says. "And that faith involves God removing pillars way down deep inside ourselves — the habits, the routines, the hopes, things that sustain us, that we rely on. God is saying, 'No, no, no. I want you to learn to rely on me.' He replaces the pillars with aspects of himself."

***

March 9. Nine days to go.

At 6:00 am, Bakdash makes his weekly Skype call to the clinic inside Syria. He sees a 4-year-old boy with seizures.

He sees a bearded man with sleep lines around his eyes, holding his 11-year-old son, who has trouble walking and needs surgery, but has no way of getting it.

"Peace be upon him," the doctor tells the father. "I pray to God that he will cure him."

He sees a 3-year-old girl who suffers 22 seizures a day. Bakdash helps the pharmacist treating the patients at the clinic inside Syria. And after the morning's work is finished, he thinks it is not enough.

"What I'm doing is nothing," he says. "It's like a drop in the ocean."

***

That evening Joanna Balza, a 32-year-old nurse at Froedtert Hospital, reflects on the experiences that have led her to the mission.

She worked in the Peace Corps in South Africa from 2008 to 2010, helping nurses in the fight against HIV.

Last year she flew to Sierra Leone for three months to help with the response to the Ebola virus. She was supposed to work there for only six weeks but asked to extend her stay.

These experiences have impressed upon her the difference health care makes in the lives of both the person who has access to it and the person who does not.

She is not afraid about Jordan, about her personal safety.

"Jennifer and I have talked about this," she says, "and our biggest worry is hoping we can do something to be useful.

"We don't really know what we're going to be doing. I mean, if they need somebody to wash dishes, sure. I'll do it if it helps."

***

They can feel it.

The plane is coming.

It leaves Friday night.
RELATED ISSUES