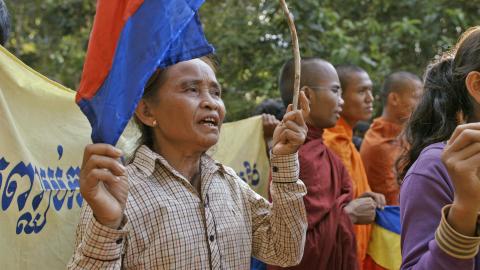 Editor's note: Award-winning filmmaker and Pulitzer Center grantee Kalyanee Mam submitted an essay to VOA Khmer following the murder of journalist Taing Try. It is accompanied by a short film she edited in remembrance of him and the environmental issues Cambodia still faces.
Cambodian journalist Taing Try was shot dead early Sunday morning (Oct. 12) for investigating illegal logging in Kratie Province. Taing Try joins two other journalists and environmental activists - Hang Serei Oudom and Chut Wutty - who have risked their lives to expose the social and environmental injustices of Cambodia. Their deaths remind us of the purpose of their fight - to protect Cambodia's forest and to preserve a vanishing way of life that cannot survive without nature. Their deaths also remind us to reflect on what matters most. Is it money, power, and wealth? Or is it love, compassion for our fellow being, and a life living in peace and harmony with nature?
​Earlier this year, my film crew and I traveled to Areng Valley in Koh Kong Province, to document the story of the Chong people and their fight to stop the proposed Stung Cheay Areng dam, which they fear will destroy their forests, livelihood, and heritage. The Chong, who are considered Khmer Daeum (or original Khmers), have lived, farmed, fished, and hunted in this valley for more than 600 years. Each person that we met in the valley, expressed the importance of the land, the forests, and the river to their personal lives and spiritual well-being as well as that of future generations. These things were so important to them that no amount of money could buy the wealth of resources and happiness they believed they already possessed.
One elderly woman, vehemently refused to accept the compensation that would be given to her and other villagers if they would only agree to give up their land. "Even with all this money, I could only spend it in this life. I wouldn't be able to pass it on to my grandchildren. I just want my village and my land for the future of my grandchildren."
"Everything that I have is a gift from nature," said Reem Sav See, a woman we followed while in Areng and featured in the video, "Not even the most valuable gold or diamonds can compare with the value of this nature or the love and peace that we have."
The people of Cambodia want their land, their forests, their rivers, and their way of life steeped in the beauty of nature. They also want education, electricity, running water, roads, and access to all the amenities of modern life. However, none of these things need be gained by sacrificing our natural and spiritual heritage or the lives of people fighting to protect them.
RELATED ISSUES