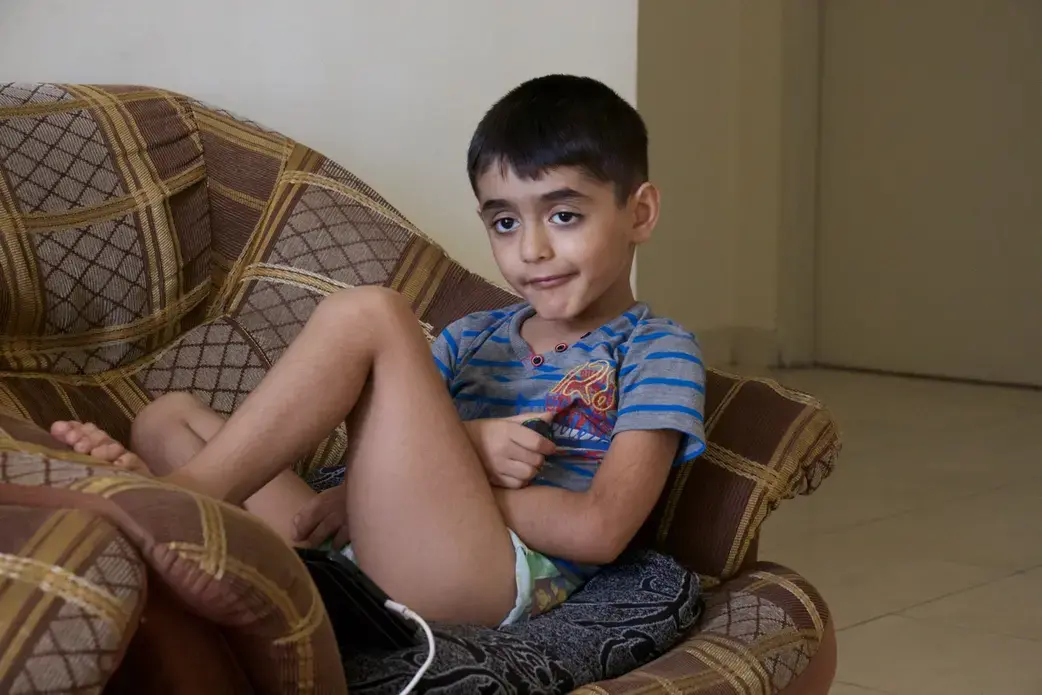 Yahya Al-Zuhairi, a six-year-old autistic boy from Iraq, is sitting on a couch in his home. Image by Ifath Sayed. Malaysia, 2017.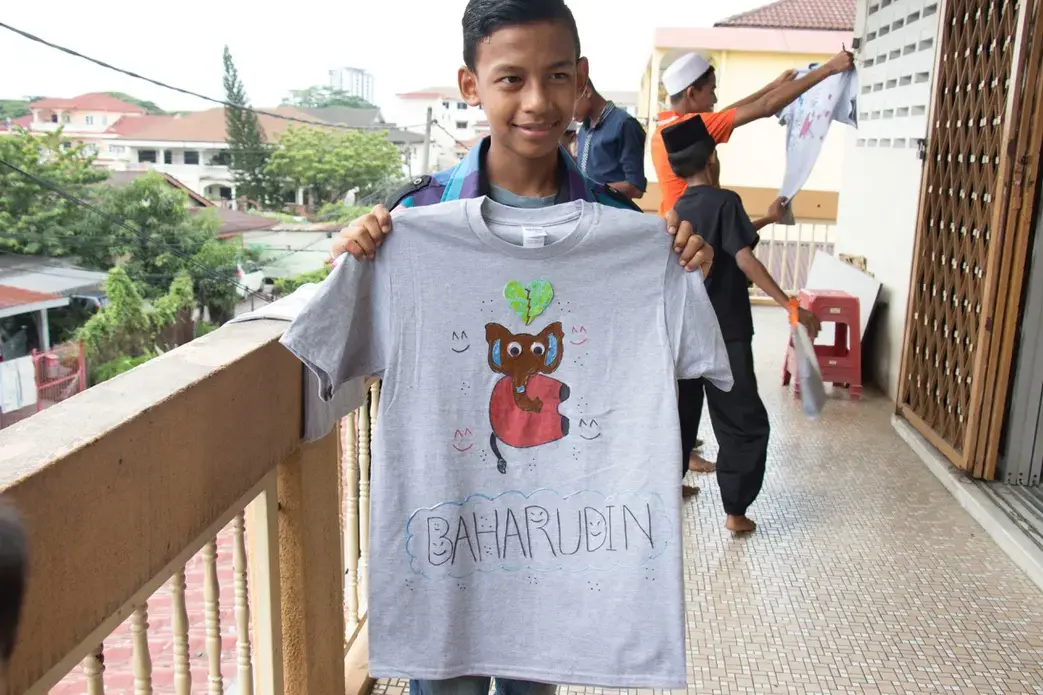 A Rohingya refugee boy holds the tshirt he designed in an arts workshop organized by CreaTee, an NGO that organizes arts workshops for refugee children for confidence-building. Image by Ifath Sayed. Malaysia 2017.



A frail boy of pale complexion is scared to go to school by himself. When he does, the only way to stop him from crying is for his mother to sit beside him in the classroom. He cannot speak. When he's hungry, he stares at people eating, hoping that they would understand his need. At home, his parents can't sleep because they don't know when the boy will run outside or attempt to jump off their balcony. Yahya Al-Zuhairi is a 6-year-old boy with acute autism, astudent at World of the Refugee School in Malaysia.
"He is 6 years old but acts like 2 so I am always worried about him," said his father, Raed Al-Zuhairi. The Christian Iraqi family fled from their homeland in September 2016 to escape threats from their neighbors, such as the kidnapping of Yahya's father. The parents hoped to find safety and better medical care for the son.
With monetary support from United Nations High Commissioner for Refugees (UNHCR) in Malaysia, Yahya's parents visited many doctors, tried various medicines, and attended counseling sessions with their son, but in vain. Their doctor suggested that Yahya attend a special needs school, which could cost up to $165 per month. However, since it is illegal for refugees to work in Malaysia, the family's only source of income is a $200-$300 monthly stipend from Yahya's paternal grandparents in Iraq.
"We wish we could send our son to a special needs school. Maybe he'll finally show some progress. But the tuition fee is too expensive," his mother said in Arabic. She added that the tuition fee for a special needs school is double the price of a typical NGO-sponsored school. Yahya's school is run by volunteers and has a shortage of Arabic-speaking staff, which makes communication even more difficult for him.
Other refugee children, even those who do not have autism, are having trouble adapting in Malaysia. They come from Myanmar, Somalia, Iraq, Syria, and Pakistan, and other countries—most are traumatized and suffer from deteriorating mental health. Approximately one-third of refugee youth experience significant PTSD symptoms, according to B. Heidi Ellis, director of the Refugee Trauma and Resilience Center at Boston Children's Hospital,
Some have witnessed the destruction of war first-hand. "I have seen houses being destroyed, schools being bombed, blood everywhere, dead bodies," said Mohammed,* a Syrian refugee.
Distressed after witnessing his best friend's murder, Al-Akraa refused to make friends when he came to Malaysia. "In all these five years, I didn't have friends. Because I have this trauma from the war—what if I lose them again the way I lost my best friend before?" he asked.
According to Kenny Ng Suet Choon, a counselor at Malaysian Social Research Institute (MSRI), some of these children immediately forget what their teachers teach in class because their brains are wired to erase memory. "Their memory or mind helps them to block the traumatic experience that affects their daily lives in Malaysia," he said. PTSD can decrease one's ability to recall neutral information, according to Evert Bloemen, Erick Vloeberghs, and Celine Smits, who published "Psychological and Psychiatric Aspects of Recounting Traumatic Events by Asylum Seekers," in 2006.
"Imagine with all those limitations, they keep it inside. And they feel the emotional pain and they don't know how to deal with it. So they need to express this pain so sometimes they have suicidal thoughts," said Ronald Sutedja, a counselor at MSRI.
Choon says school is a venue for children to "relieve their stress" and it "sets up a place for them to be a normal kid" and have friends. According to Peter Mittler, a psychologist and emeritus professor of special needs education at the University of Manchester, education helps children and youth deal with traumatic memories. It gives them hope and information on how to meet their daily challenges and adjust to a new environment.
Despite the benefits of education for refugee children, the opportunities for them to attend school are scarce. They have no legal access to public schools and cannot afford private schools, so they can only go to NGO-sponsored schools that often do not have proper resources or space. These schools have the capacity to accommodate only about half the refugee children in Malaysia, according to Arsahd Khokhar, principal at Light of the World Refugee School.
Youth are denied a regular childhood and instead grow more mature. According to Choon, these children often have clearer ideas than local children on what they want to do in the future. "They have amazing goals for future. They actually want to go back to their country or to different countries to help people who are still suffering in their country to make a change," he said.
Mazura Manshoor, co-founder of CreaTee, an NGO that organizes arts workshops for refugee children for confidence-building, says communication with refugee kids aids their mental health. "I honestly think the [refugee] children are feeling vulnerable. They don't know what's coming up next. They don't know if people care about them. And not too many people want to communicate with them. Children love being spoken to and feel that they're being seen," she said.
*not his real name
RELATED ISSUES

Issue
Migration and Refugees
Migration and Refugees

Women

Children and Youth