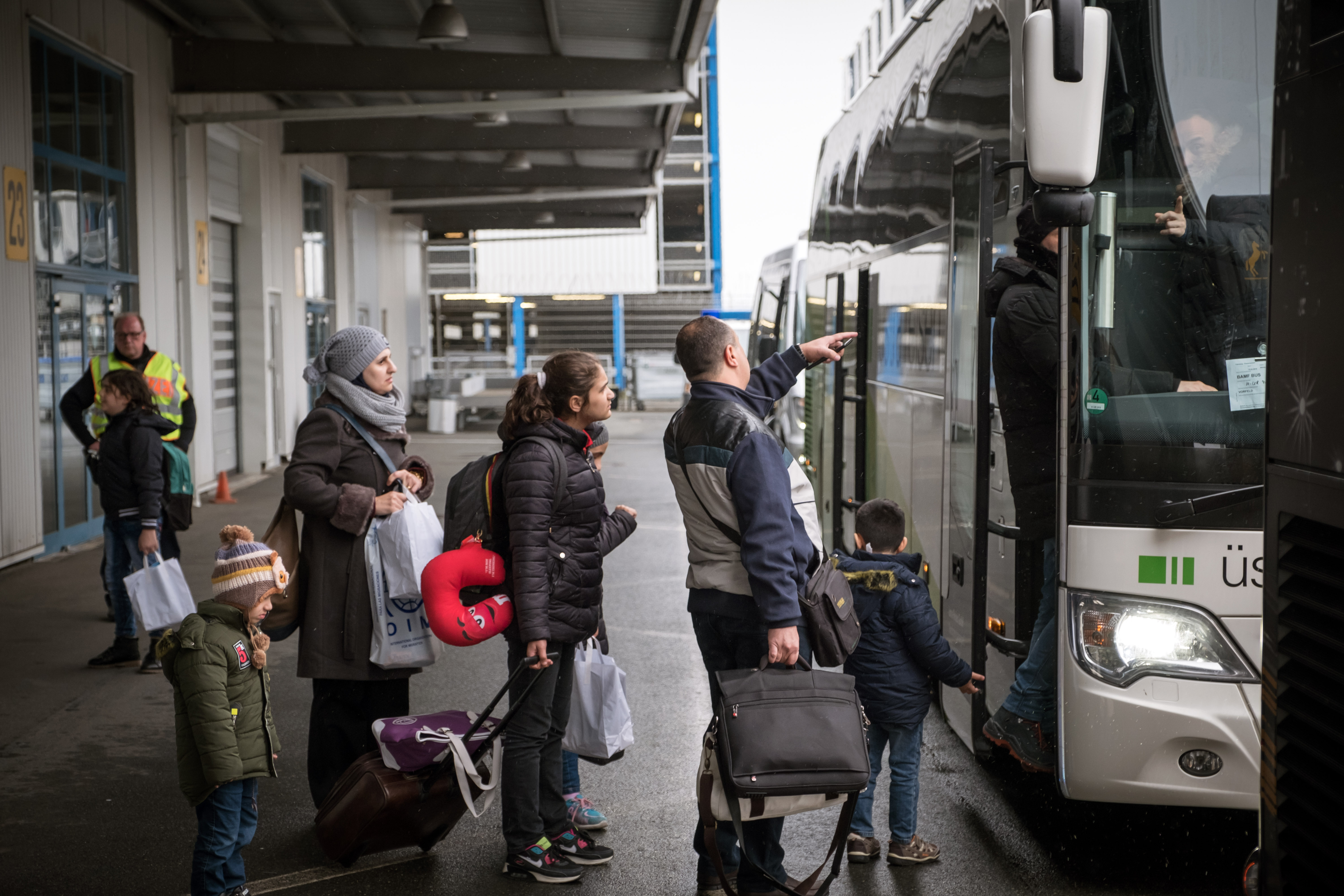 "The definition of a refugee is a person fleeing from conflict, persecution, or human rights violations," according to Martin Rentsch, press officer for the United Nations High Commissioner for Refugees in Germany. "They mainly come from a handful of countries. The majority come from Syria, Iraq, and Afghanistan. And then, from conflict-torn countries in Africa, including Eritrea and Somalia." 
The UNHCR is the first point of contact for resettlement programs in Germany, said Rentsch. According to UNHCR data, at least 82.4 million, or one in 95 people, worldwide have been forced to flee their homes. This includes 26.4 million refugees, half of whom are under 18 years old. 
The onset of COVID-19 has created significant barriers to entry for refugees. In Germany, the borders were never closed, and the possibility of seeking asylum was always there. Resettlement and humanitarian programs were suspended for several months; however, they have since resumed. 
Dr. Marcus Engler, migration researcher at the DeZIM Institute, said, "Last year, for the first time since 2011, the German population didn't grow. This has to do with shrinking migration due to COVID-19."
As for healthcare, once you are admitted into the country as an asylum seeker, you have the right to access all basic medical services, said Rentsch. Essentially, you fall in the same category as any unemployed German citizen, which includes many welfare benefits.
Despite establishing legal status, which is difficult enough as it is, refugees face discrimination and prejudice in day-to-day life. "For people in Germany, when they hear about refugees in the media, it scares them because they are portrayed as a huge mess of people coming into the country," said Anne Langhorst, officer of integration services at Malteser International, a nonprofit humanitarian aid organization.
"What is important not to forget is that these people are not here because they chose to leave their country," said Langhorst. "They had to leave their country." 
Agyad
"I really miss my past life. But the problem is, it doesn't exist anymore," said Agyad. "Even if I go back. I wouldn't find it. It's only memories now."
When Agyad, now 33 years old, embarked on his journey in August 2015 during the height of the Syrian civil war from Damascus, Syria, to Berlin, Germany, he left behind everything except a backpack with a toothbrush, toothpaste, underwear, shorts, and three t-shirts. 
He was raised in a privileged family in an upper-class neighborhood in Damascus, but when the war escalated, he knew he had to leave. He and his friend began their journey by flying to Istanbul, then Izmir, Turkey, searching for smugglers to bring them to Greece—but they did not anticipate the dangers that awaited them. 
"We found the smugglers and arranged a deal to transport us to a Greek island called Lesbos. We gathered at the beach in Izmir, where he [the driver] took us by bus for four hours to the middle of nowhere. We stayed there for a day waiting for people to bring the boat for us. The next day, it took us two to three hours by boat to reach Lesbos. During the boat ride, the motor stopped twice. I was scared to death because we were almost 60 people in a boat meant for 11. I didn't even know how to swim," Agyad said. 
After walking 80 kilometers to arrive at a refugee camp where they registered themselves, they traveled by ferry to Athens, took a bus to Macedonia, and then a taxi to Serbia's borders. 
"In Serbia, as we slept in the woods, it was almost four or five degrees [Celsius] at night. I was sleeping on the wet grass when my friend woke me up, and I couldn't move. I was shaking the whole time. He borrowed something from the other guys to cover me up. It took me two hours to come back to normal. I was in shock from the cold," Agyad recounted. "The first night I spent on the street, I thought to myself, I never thought this would happen to me. In a way, it was a good experience because every time I complain about something, I tell myself that I'm blessed, I have a bed to sleep in now."
From Serbia, they were smuggled by van through Hungary to Austria. Agyad said, "It looked like the same van from the incident where about 30 illegal migrants died from suffocation. I understand how because it's completely closed off. They even put another wood layer inside."
In Vienna, they boarded a train that would bring them to Berlin, but the German police caught them mid-journey. "This was the most terrifying incident. All of them were police members. But one—he didn't have a uniform, and he was the only one with a machine gun and a walkie-talkie. He was really angry and shouting the whole time. Everyone was afraid of him, even the police officers," he said. 
The group of refugees Agyad traveled with were gathered at the station, with Syrians standing to one side in a line. "I was the first one facing him, and I thought, I'm the first one he will kill," he said. Suddenly, the officer spoke English and asked, "Are you all from Syria?" Agyad responded, "Yes, all of us are." 
Agyad remembers the officer smiled and told them, "You are in Germany. You are safe now. You don't have to worry anymore. Welcome to Germany." 
"I spoke with him that night, and I apologized for crossing the border illegally, but I didn't have another choice. He said he totally understands. If a war were to happen in Germany, he would be afraid for his life too, and he would want to be treated properly. It was really a relief. They processed us, and I told them I would like to go to Berlin, so they sent me to Berlin," he said with a sigh of relief. 
Since he has settled in Berlin, Agyad feels at home. He said, "The place you enjoy, have friends, and memories is the place I feel like I belong to." He is currently studying politics at the University of Potsdam, and he is a volunteer coordinator for the aid organization Malteser, helping refugees like himself integrate into society. 
The sisters: Sahar and F.A.
Two Afghan sisters faced an entirely different set of challenges in their hometown of Kabul, Afghanistan, under the Taliban terrorist organization's control. The young women fled to Iran in hopes of a better life, but as problems persisted, they returned to Afghanistan only to flee again, this time to Germany. 
Sahar, 21, said in German, "Life in Afghanistan was very difficult. We were not allowed to go to school or work. It was dangerous for women to go out alone because we were afraid of rape and sexual harassment by men or by the Taliban." 
She recalls more negative experiences than positive ones. In particular, the frequent suicide bombings put their family in constant danger. 
"At the time, we were really scared because suicide bombings happened all over the place. I remember one day my family and I went to the market square to shop. When we got back home, we saw in the news that right after we left, a suicide bomber detonated a bomb in the market square. We felt so lucky to have escaped," she said. "Another time, we were at home, and we heard screams coming from outside. We saw there had been an explosion next door." 
The dangers facing them on their doorstep forced the family to leave. The parents decided to take the sisters and their two brothers to Iran. "We thought it would be easy to take a plane, but you couldn't get tickets because the Taliban was not allowing people to leave the country. So, we drove to a city called Herat by car and illegally purchased tickets from there." Sahar said. 
Sahar's 25-year-old sister, who wishes to be identified by her initials F.A., said that although life in Iran was slightly easier, they felt the country was not suitable for living. They returned to Afghanistan where they stayed until relatives in Frankfurt convinced them to seek asylum in Germany. 
"We traveled for about 20 days from Afghanistan to Germany. We had basically no money. Often, we did not have a place to sleep so we slept on the streets, and we couldn't find anything to eat," F.A. said.
When they arrived in Germany, they lived in a recreation center with other refugees for two years while awaiting their residence permit from the government. During these two years, they were not allowed to go to school or take language courses. 
"It was very difficult to learn German, and we can't speak any English either. For our parents, it's even more difficult because neither of them went to school. They can't read or write in our native language, Persian," Sahar said. 
Since the pandemic, their parents have stopped taking online courses because they struggled with the technology. They have been staying at home in the refugee shelter where they live. Neither of them has a job, but the financial support from the government keeps the family afloat. 
"It creates stress at home because my mom is very controlling. She's always asking me where I'm going, who I'm meeting, and when I'm going to be back. That's annoying sometimes," Sahar said. 
They have their own rooms and bathrooms in the refugee shelter, and a communal kitchen is used for cooking. F.A. no longer lives with her parents or Sahar. She moved to a women's home after an argument with her father. 
"I did not get along with my parents, especially my father. I have a boyfriend, and my father does not accept him. We were fighting every day, and at one point, I said, if you can't accept it, I'm going to leave. So I left, and now I'm living here alone," she said. 
Although the COVID-19 pandemic has affected their studies, the sisters are still determined to pursue their dreams. Sahar said her dream is to become a dentist, and if that doesn't work, she wants to be a dental assistant. 
She added, "My other dream is to get a driver's license and my own car. In Afghanistan, women don't even dare to dream of driving because it's not allowed. I think it's really cool that I now have the opportunity to." 
F.A.'s dream is to become a kindergarten teacher. But she said that right now, she's focused on graduating, finding a job and an apartment. 
Their father still dreams of moving to Canada, but the sisters feel that they've already experienced tremendous trouble. If it means experiencing it again, they would rather stay in Germany. 
Ahmed
Forty-one-year-old Ahmed* and his family have become a target for the Iranian police after a military branch affiliated with Ahmed's former place of work found out he converted from Islam to Christianity—an act that is forbidden and subject to imprisonment or execution.
Formerly a successful lawyer traveling the world for work, Ahmed has been educated in Islamic law. He began reading the Bible and talking to priests. That's when he realized he liked Christianity better. 
"Sometimes I regret having studied Islamic law, but the good thing is that I know a lot about how people think and what the laws are," he said. "I had a good job and a lot of money back in Iran, but I don't need it. What I want is calmness, peacefulness, freedom of opinion, and to see my children grow up happily in a free country." 
He remembers the exact moment when he knew he was in danger. "The company I worked for has close ties to an army branch. I found out they were looking for me because one of my colleagues reported me to my boss. He asked me if I changed my religion. At that moment, I knew I was done for, that I needed to leave," Ahmed said. 
The dangers became even more real when the police showed up at his house a week later. With his wife pregnant at the time, Ahmed had to find a safe place for them quickly. He got on a flight to France, entering on a multi-entry visa, before coming straight to Germany, where he applied and was granted permanent residency in 2018. His wife, 41, and two children, a 10-year-old daughter and three-year-old son, joined him a year later on a family visa. 
Although Ahmed, his wife, and kids are safe in Germany, he is concerned about his family members back in Iran. When he left, the police wouldn't leave their family alone. Instead, they confronted his brother. 
"My brother had problems with the police for over a year, and they are still facing problems today," Ahmed said. "Every six months, they need to go to the police station where they are interrogated. The police will find them and tell them a time and day. You don't have a choice. If you don't go, I can't imagine what would happen to them." 
Ahmed teared up while talking about his family. He said, "I love my family so much. They mean everything to me. I don't have a choice, they are so far away and I can't see them. My parents are over 70 years old now, and they still have to go to the police station every six months. For what? Just because I changed my religion." 
He doesn't paint a picture-perfect image of Germany. It is nice to express your beliefs freely, he said, but the church isn't perfect. He said some priests insist on denouncing Islam, but he sees no reason for that. 
Now living in Berlin, he has a daughter in fourth grade and a son in kindergarten. His wife is taking an integration course to learn German. The family has no Iranian friends in Germany because Ahmed is afraid the Iranians they meet may be working for the Iranian government. Although he has cut ties with his past life, he still has a deep emotional connection with his family back home. 
"Life is tough, but you take one day after another. I'm sure I can make it because I have goals. I'm sure I will see my mom and dad again," he said. 
Ahmed is currently studying and working toward getting an I.T. internship. He is also writing a book about his life, Iran, and why refugees flee the country. He hopes to publish it one day to share his story with the world.
*Ahmed's name has been changed to protect his identity for safety and security reasons. Last names have been omitted to keep the identities of the refugees safe.
German-speaking parts of this interview have been translated by Mina Jaff. Special thanks to the Malteser, Anne Langhorst, Susanne Schattschneider, Mina Jaff, and Joachim.
RELATED ISSUES