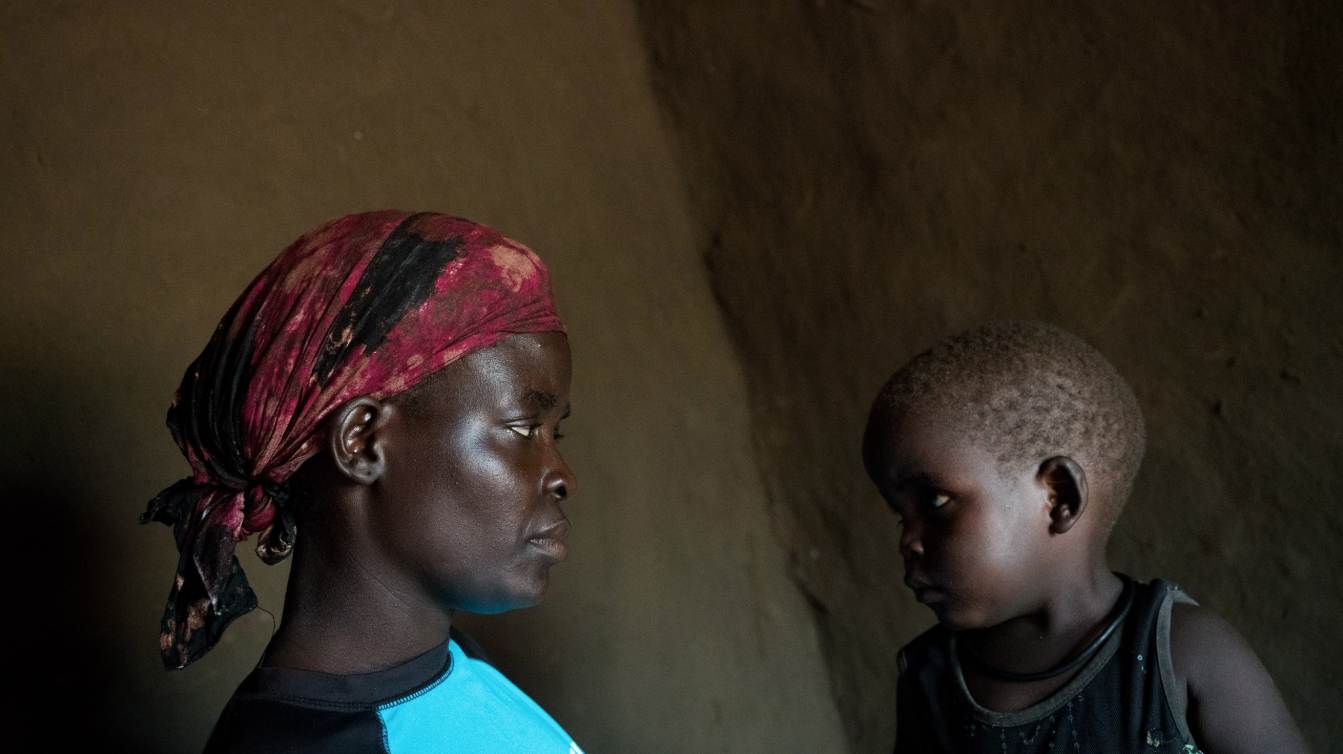 She named her child Abraham, after the forefather who would have killed his son. The verses in the Bible about Abraham and forgiveness are the ones that speak to her the most. Lilias Diria has five children, the youngest of whom was conceived in a gang rape by five men. She has also prepared to kill her son.
Diria, in her early 30s, is a pillar of the community in BidiBidi, the refugee settlement in northwest Uganda. In the span of about 10 months between July 2016 and April 2017, BidiBidi became the largest refugee settlement on the planet and is now "home" to over 250,000 people. There, Diria is a leader at a church and volunteers for food distributions. Abraham is two years and three months old. She no longer thinks about what happened every time she looks at her son.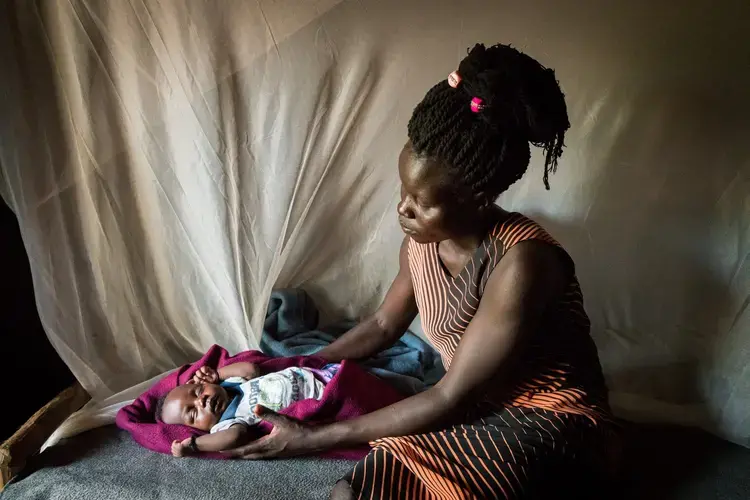 Speaking informally, a staffer at an international humanitarian organization that treats survivors of assault estimated that 90% of the 438,555 women who have crossed the border into Uganda, part of the biggest refugee exodus in Africa since the Rwandan genocide, have been raped. The refugees have fled a six-year civil war that has ruined the country next door—the world's youngest nation, South Sudan. While the fight has raged, sexualized violence has been strategically used as a weapon and has spiked in a climate of total impunity, with the government existing in name only. (Filda Ayet, 23, for example, who has two children, a three-year-old girl and a three-month-old boy, from two separate rapes, says she believes she was assaulted in South Sudan in part because there is "no order.")
Asked how she would narrate her situation to women around the world, Diria says, "I would use myself as an example to explain that this happens to everyone."
The war in South Sudan started in 2013 and was initially a battle of grievances between the two largest ethnic groups in the country. They had been united in the fight to gain independence from Sudan. But once that aim was achieved and South Sudan was formed in 2011, the groups turned on each other. Since then, factions have splintered, sub-splintered, and divided again: Opposition groups have formed in opposition to the opposition, and local quarrels have been exacerbated by national politics, all springing up in a climate of extreme anger and bitterness. Two peace deals have been signed, but neither was ever implemented. The leader of an influential opposition group formed in 2017 has refused to acknowledge the most current version of the agreement. A September briefing included a note about a "sharp increase in harassment by armed men at checkpoints at night" in Juba, the capital. Civilians, including international aid workers, have been assaulted and robbed, and it is "unclear who's behind the attacks."
Through it all, rape has remained a constant.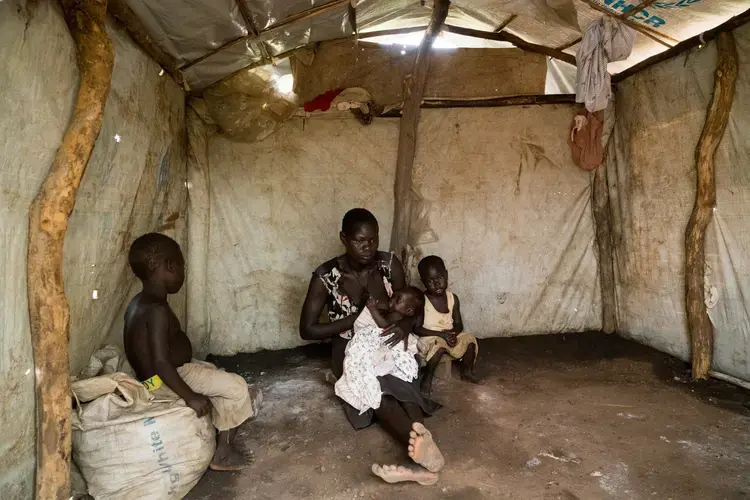 "Rape is a defining characteristic of this war," Alan Boswell, the senior analyst on South Sudan for the International Crisis Group, tells Glamour. "Rape is now so rampant, on such an atrocious and mind-numbing scale, that we've run out of words to adequately describe it. This is South Sudan's quiet epidemic."
Over almost two weeks in June, Glamour interviewed women in the refugee settlements in northwest Uganda about sexualized violence in the war. While the women were just a short walk from the South Sudanese border, the divide made up for the lack of distance; it's safer for them to speak outside their homeland. Though the number of people killed in the war (estimated at 382,000 in 2018) would be impossible to calculate, it is certain that the extent of rape in this war has given rise to a generation of children born of sex by force and, often, gang rape, with women like Diria not even knowing which man who violated her is the father of her child.
Holding a baby created by rape is strange. A baby is a baby—a small, light bundle of possibility. But a baby created by rape is born with baggage.
The war came to the Equatoria Region, where Diria lived, in 2016. That area sits at the bottom tip of South Sudan, and Diria resided in a village called Lasu Payam. When the fighting broke out, she, her four children, her sister-in-law, and some other women in the community hired two vehicles to drive them to the Ugandan border. Diria sat with about seven other people, including her sister-in-law. Her children were in the car ahead. She recalls to Glamour that the group had been driving for three days, inching past checkpoints, when soldiers blocked the path around Mugo Payam, about 50 miles from Uganda, directing their guns at the vehicle transporting her. It was early afternoon.
The soldiers' faces were covered. They told everyone to get out of the car. Then the men were taken. Diria hasn't seen them since. The soldiers separated the women into two groups. As she remembers it, the soldiers took the women to the bush and hit them with their guns. Diria still has back pain from the abuse. She heard shouting in Arabic, commands directed toward her to lie down. All the women were gang-raped. Her sister-in-law, killed. After Diria had been sexually violated by five men, there was a cascade of shooting and the soldiers ran. Diria and three other women struggled back to the roadside and saw the driver of their car, shot. They managed to wave down a driver in another car headed for the border who let them hitch a ride. It took another two days to cross into Uganda.
In Keri, the transit center where refugees stay for days or weeks for processing before getting settled in one of 11 areas allocated to South Sudanese refugees in Uganda, Diria started throwing up. She went to the health center and took a pregnancy test. It was positive. The doctor offered to sell her a pill that he said would make the baby "go away" for 200,000 Ugandan shillings (about $54), but she couldn't afford that price. She tried drinking two cups of herbs she mixed together, hoping the cocktail would make her bleed. Nothing happened. She told her husband. He beat her. He went back to South Sudan. Now he's blocked her from calling him. Twice she almost hung herself. Then she figured that after giving birth, she'd kill the child.
But when Abraham was born, he went to her to nurse. After he drank from her breast, she says couldn't bring herself to kill him. Three months later he started to smile. That's when she says she started to love him. During the first of three interviews with Glamour, Abraham toddles over to his mother and throws himself in her lap, face down, little arms splayed across her thighs. She looks down and the corners of her mouth tick up; her face is thick with affection. At church she holds him close throughout the entire service.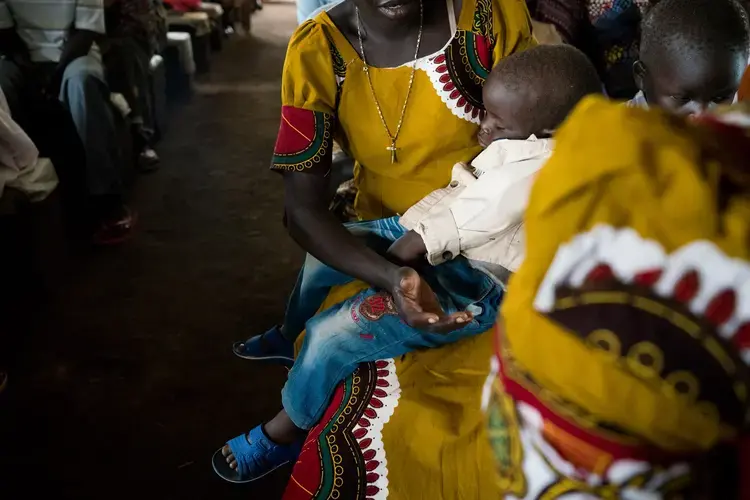 Diria's eldest child, 15-year-old Margaret, knows about the circumstances of Abraham's conception. Diria worries Margaret doesn't love him. Her other children notice he looks different—the differences in their complexion in particular stands out—but they don't know the specifics. Sometimes they'll tease Abraham about his unknown origin, and when that happens Diria says she will yell at them and ask them, "Who told you it is okay to talk that way?"
Most of the women who have children from rape that Glamour interviewed said if their children ask about their father they will tell them he is dead. Alun McDonald, a representative from the aid organization Save the Children who works with the refugee population in Uganda explains, "Some of the communities we work in often call children born from rape 'fatherless children' to try and avoid some of the stigma associated with rape—there are many children in the settlements whose fathers have been killed or are missing or who have returned to South Sudan, so calling children of rape 'fatherless' can help avoid them being singled out and stigmatized." McDonald tells Glamour he doesn't have an exact number but said Save the Children sees "numerous cases" of women who have given birth after rape.
"One of the tragedies of what's happening in South Sudan is that the conflict is creating a new generation of South Sudanese who are hardened with hatred by the extreme violence of this war," Aaron O'Connell who was the U.S. defense attaché in South Sudan from 2014 to 2015 tells Glamour. "When whole villages are burned and women and even children are raped and killed, their relatives—and the men in particular—become devoted to revenge for a lifetime. It is a sad fact of life for people in the world's newest nation, and what's even sadder is that most Americans don't even know it is happening."

Antonia Mulvey, the founder of Legal Action Worldwide, a nonprofit law firm that has documented human rights abuses in South Sudan, thinks there is no way for the communities to move forward and coexist without addressing justice. "Justice must include community reparations that allow communities broken by sexual violence to rebuild where possible," Mulvey says. She also notes that it is critical that peace processes should fully engage the country's women, including the survivors of sexualized violence themselves. "We've seen elsewhere in Africa, in the Middle East, that [when] women are involved in peace discussions, the resulting peace is more stable and longer lasting," she says. "The Institute for Peace found that the involvement of women in peace processes meant that any peace achieved was 35 percent more likely to last at least 15 years."
On top of leaving an entire country traumatized and birthing a generation created by the worst kinds of violence, getting impregnated by force is keeping young women like Stella Keji and Helen Keji (no relation) from going to school.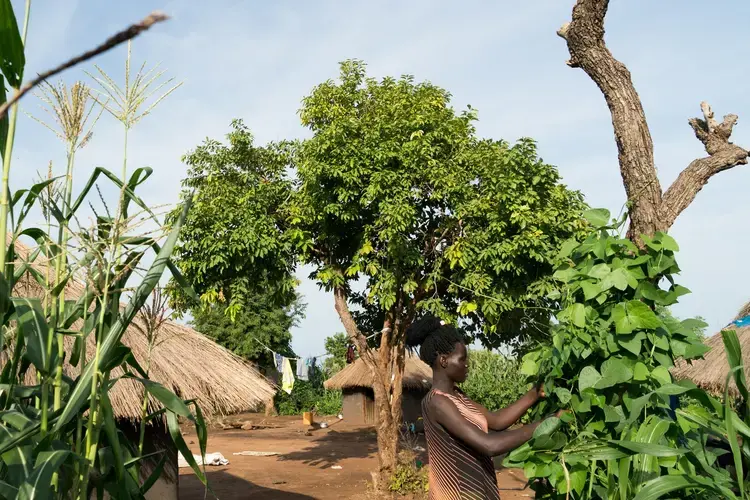 Both women are teenage mothers who were raped when they were underage. Stella, now 18, was gang-raped twice in the past three years; first by soldiers in South Sudan in August 2016, then by civilians in the refugee settlement, less than a year ago (she did not report the incident). She has a one-month-old baby named Nelson (nicknamed Given) from the second gang rape, when three men whom she thinks were all about 19 years old assaulted her on her walk home after getting water from a borehole. Stella at times seems stiff with Given. About halfway through the interview she introduces him, holding him out like a tray in front of her. She says, "I love the baby," flatly, in English. Later, she's more tender. Stella speaks some English—more than most South Sudanese women—and she's demonstrably upset that she's had to leave school because of her child. She had been a diligent pupil in South Sudan and was attending school in the refugee settlement before she got pregnant. Now she's desperate to go back. At several points in the interviews, she works school into the conversation, mentioning her concerns about missing her education and stating her plans to return after Given is about seven months old. It's as though if she keeps repeating that she's going back, she'll make it happen.
Helen, now 19, has a two-year-old son named Nicholas. She had been moving in the bush for about a week, hiding from fighting with her mother and others from her community. She went to the roadside alone and was raped by a man around twilight. She didn't tell her mother what happened because she was worried she'd get in trouble for being irresponsible for traveling on her own. Eventually she says her mother noticed changes in her body and thought she might be pregnant. Helen wanted to have an abortion but wasn't able to put the plan into action, she says. She was in school in South Sudan, and like Stella, she emphasizes it in interviews. Helen says she doesn't want to get married; she wants to finish school. "When I think about what happened to me, I get mad," she tells Glamour. When she grows up, she wants to be a nurse.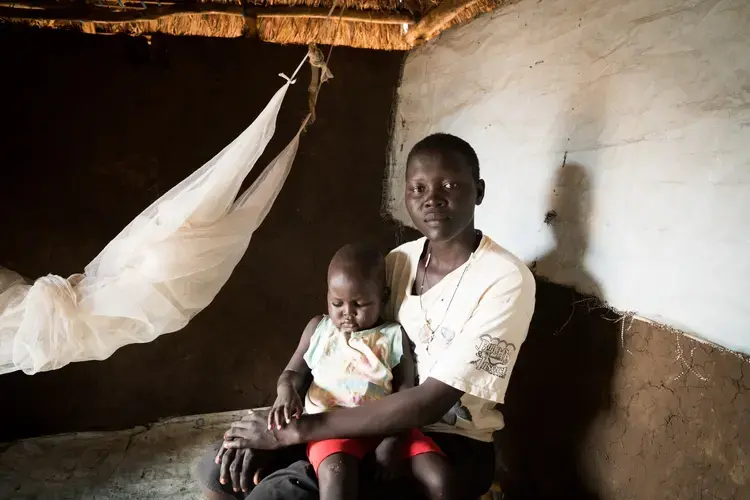 Diria only went to school for a few years. When asked if she can read or write, she shrugs, opening up her hands to demonstrate "empty." Then she laughs. But though she hasn't had a formal education, Diria has formed her own interpretation of historical texts. In the Old Testament, Abraham was ready to murder his son to show his complete devotion to God, and then God released him from the duty, saying his willingness was enough of a demonstration to form a total covenant. Like Abraham, Diria was prepared to kill her son. But she alone decided she would not. Like Abraham, Diria chose faith in an impossible situation. But in the Old Testament it was God who tested Abraham. For Diria and countless other women in South Sudan, the decision is forced by man.
RELATED ISSUES

Issue
Conflict and Peace Building
Conflict and Peace Building

Women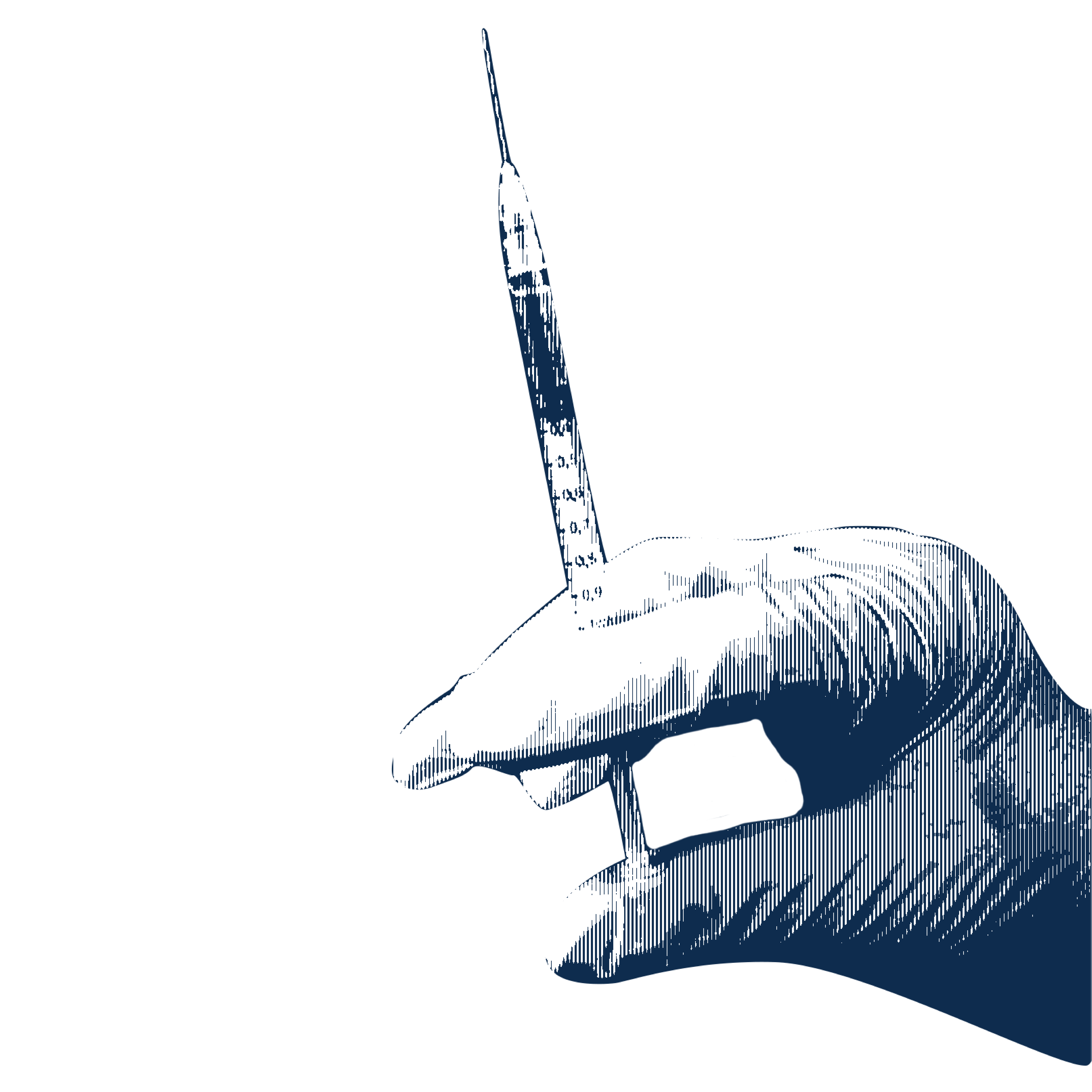 Health