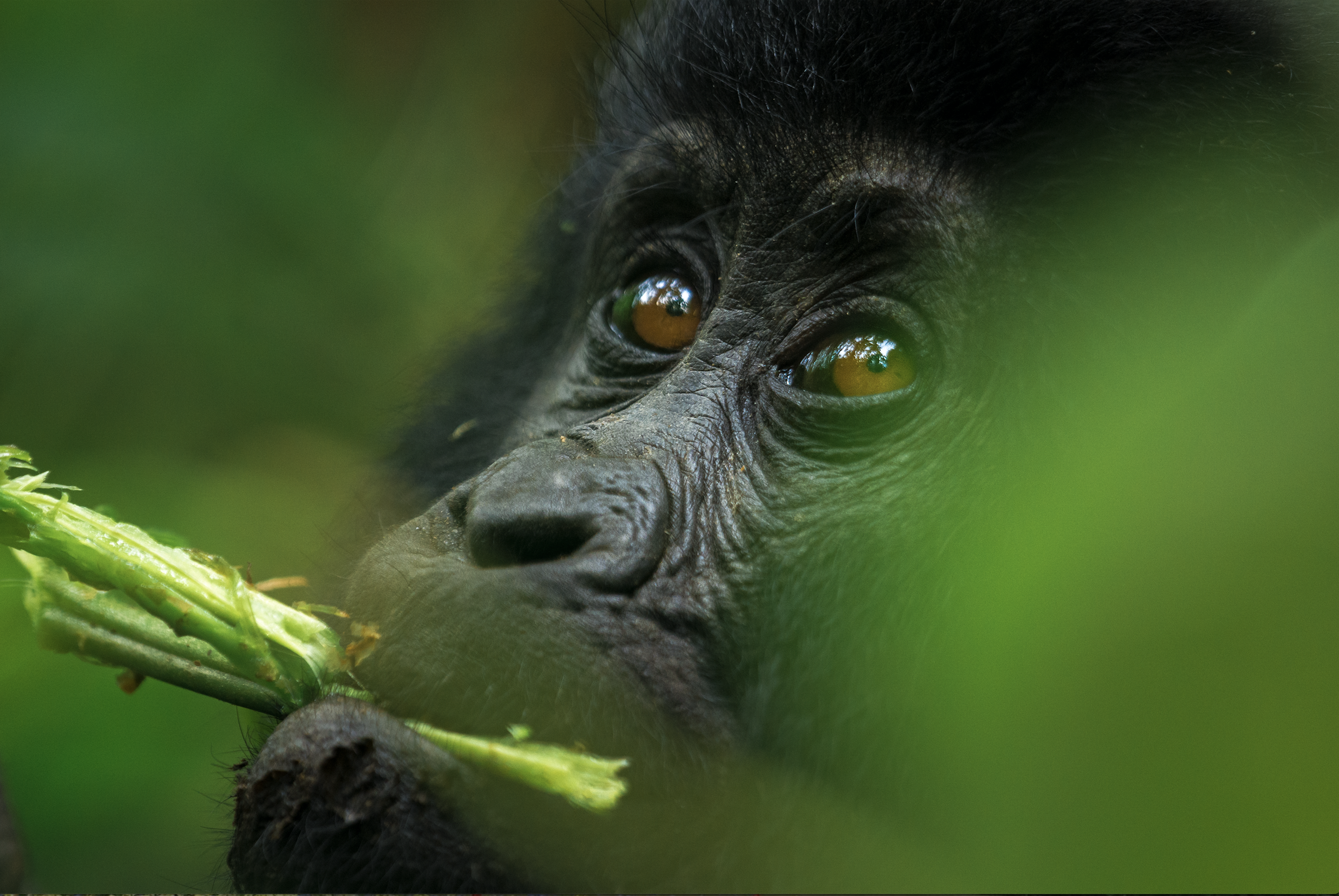 Seven years ago, a respiratory virus swept through the 56 chimpanzees in the Kanyawara community at Kibale National Park in Uganda, where researchers have studied chimp behavior and society for 33 years. More than 40 apes were sickened; five died. "Chimpanzees looked like limp dolls on the forest floor," coughing and sneezing and absolutely miserable, recalls disease ecologist Tony Goldberg of the University of Wisconsin, Madison. "It was just horrendous."
The culprit? Rhinovirus C, a human common cold virus, which researchers found after genetically analyzing samples from a dead infant chimp. Goldberg is "100% certain" the virus came from a human—perhaps a tourist, researcher, worker, or villager.
Human respiratory viruses are already the leading cause of death in chimp communities at Kibale and at Gombe Stream National Park in Tanzania, where Jane Goodall worked, according to a study by Goldberg and colleagues. Now, as COVID-19 spreads closer to endangered great apes in Africa and Asia, researchers and veterinarians are gearing up to protect the apes as well as local people. They are cordoning off preserves, working with local villagers and government authorities to reduce contact with apes, and wearing masks in the forest.
The ape form of the angiotensin-converting enzyme 2 receptor that the new coronavirus uses to enter cells is identical to the human one, making it likely that apes can be infected, according to an 11 April preprint on bioRxiv. And if the virus gets into ape communities, flattening the curve will be all but impossible. "Gorillas can't social distance within groups," says primatologist Tara Stoinski at the Dian Fossey Gorilla Fund. Goldberg adds: "We can't give them oxygen. I bet the case fatality rate is going to be sky high."
The virus would hit already depleted populations. Among chimps at Taï National Park in Côte d'Ivoire, researchers have detected repeated outbreaks of viruses and strep since 1999, including a human coronavirus in early 2017. Each time a respiratory virus sweeps through, about one-quarter of the chimps have died, says primatologist Roman Wittig of the Max Planck Institute for Evolutionary Anthropology. Those deaths, coupled with poaching and habitat loss, have shrunk the Taï forest chimp population from 3000 in 1999 to 300 to 400 today, he says.
Among mountain gorillas, respiratory viruses cause up to 20% of sudden deaths, according to a report published in February in Frontiers in Public Health. Only 1063 mountain gorillas are left. Half live at Bwindi Impenetrable National Park in Uganda, where 40,000 tourists visit every year. The February study found that more than 98% of the observed tourist groups violated a rule to stay 7 meters from the gorillas, and that sick tourists tried to hide their illnesses, Bwindi veterinarian Gladys Kalema-Zikusoka said in an Ape Alliance webinar last week
Primatologists fear the new coronavirus could take a similar toll—or worse. In the past week hundreds of researchers, conservationists, and veterinarians gathered virtually for three back-to-back webinars held by the Ape Alliance and the African Primatological Society, where Kalema-Zikusoka and others raised the alarm and shared strategies.
At all sites in Africa, governments have already stopped all tourism. At Bwindi, Kalema-Zikusoka held a COVID-19 training session with 130 Ugandan Wildlife Authority rangers on how to keep coronavirus away from the gorillas and monitor them for signs of sickness. At Taï and Kibale, researchers who observe the apes are quarantined for up to 14 days, change their clothes and take their temperatures before they go into the forest, wear masks, and keep their distance. At Taï, researchers have arranged to test the chimps' feces for COVID-19 and other viruses, Wittig says. If prevention fails and the apes sicken and become too weak to climb into their sleeping nests in trees, the researchers may sleep nearby to protect them from leopards or poachers, Wittig says. But there are no plans to isolate or treat sick animals.
All these teams are working with local communities to encourage them to stay away from the apes. To reduce hunting of wild meat, some researchers offer goats to local people or help them farm coffee and other cash crops. In Lomami National Park in the Democratic Republic of the Congo (DRC), researchers had to chase a female bonobo to train her to stop wandering into a nearby village, primatologist Jo Thompson, director of the Lukuru Wildlife Research Project in the DRC, said in the Ape Alliance webinar.
African apes aren't the only worry. On the Indonesian island of Sumatra—where tourism has not been banned—the Orangutan Project has been moving some of the island's 800 most critically endangered orangutan to a second site, says conservation director Ian Singleton. He hopes splitting up the population will maximize the chances that some will escape the virus. "We consider ourselves in an emergency situation here," Singleton told the Ape Alliance webinar.
---
COVID-19 Update: The connection between local and global issues–the Pulitzer Center's long standing mantra–has, sadly, never been more evident. We are uniquely positioned to serve the journalists, news media organizations, schools, and universities we partner with by continuing to advance our core mission: enabling great journalism and education about underreported and systemic issues that resonate now–and continue to have relevance in times ahead. We believe that this is a moment for decisive action. Learn more about the steps we are taking.