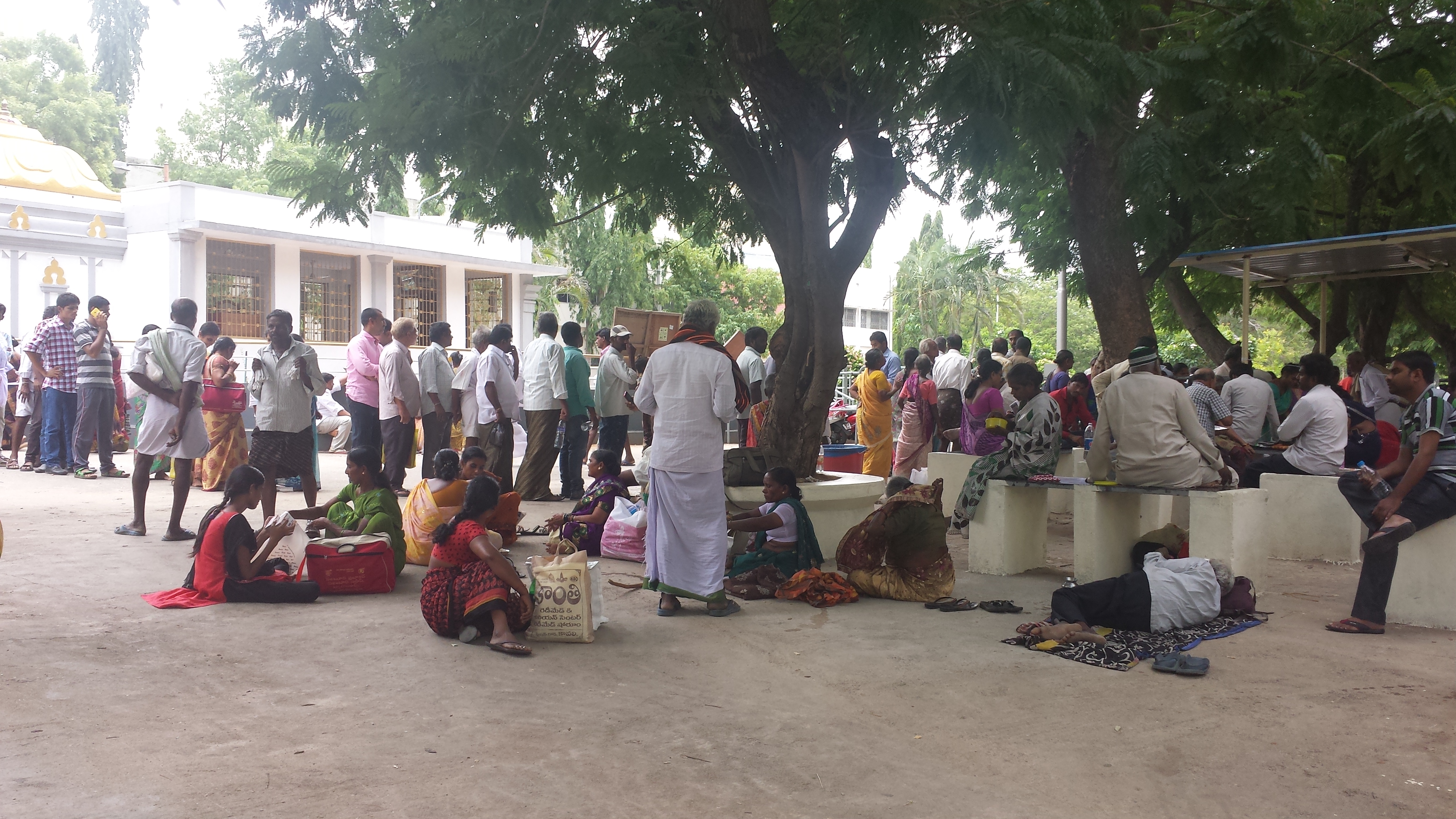 Mariamma, a young mother of 25, was hesitant to talk while waiting with her daughter Srilata who was lying in a bed in the respiratory intensive care unit at Sri Venkateswara Institute of Medical Sciences (SVIMS), in Tirupati, a city in Andhra Pradesh. She had already been questioned by many people who had shuffled Srilata from one hospital to another. Srilata has Guillain-Barre syndrome, an autoimmune disorder that can cause muscle weakness, the inability to breathe, and heart failure.

Mariamma's family, like 88 percent of those in the state of Andhra Pradesh live below India's national poverty line, according to a 2011 estimate by Commissioner of Food and Civil Supplies Harpreet Singh. For patients like Mariamma and her family, financial assistance for medical emergencies can mean the difference between life and death. The help provided by the Pranadana Scheme payment program at SVIMS manages to relieve the financial burden of Andhra Pradesh's impoverished while still providing them with quality and equitable care.

After taking Srilata to local clinics, Mariamma boarded a seven-hour bus ride to a hospital in Nellore where she was told that she should go to SVIMS instead. By the time Srilata had arrived at SVIMS, it had been a week since her symptoms of Guillain-Barre syndrome began; without treatment, Guillain-Barre can become deadly in a few days.

The young doctors working in the RICU said that this type of transfer is common, as many regional hospitals lack the technology and expertise needed to treat rapidly progressing cases of Guillain-Barre syndrome. When Srilata arrived at SVIMS, she was sent to the casualty ward immediately before beginning plasmapheresis, a treatment that removes harmful proteins from the blood that attack the immune system. Payment was discussed only after treatment was started.

Mariamma was told that the regional hospital in Nellore recommended SVIMS because of the NTR Vaidya Seva Scheme. The program, started in 2007 by the government of Andhra Pradesh, provides government funds to cover treatment and post-treatment medications for specific diagnoses. The ventilator support required for Guillain-Barre often exceeds the cost of NTR Vaidya Seva coverage by several thousand rupees. This financial strain is impossible for many like Mariamma, who work by laboring in rice paddies along the coast.

But the doctors at SVIMS told Mariamma's husband that additional ventilator costs would be covered by the Pranadana Scheme.

"She's less worried about the cost now," said translator Dr. Brinda, a third-year anesthesiology resident. "Her daughter is getting better. She will only come to SVIMS from now on. The staff is very helpful." Srilata, well on her way to recovery, was later transferred to the Female General Ward,

While Srilata seems to have been a close call, others like C. Polaiah were luckier. The 36-year-old farmer first noticed that something was wrong with his 15-year-old son when he began to complain about pain in his lower limbs. He rushed his son to a hospital in Venkatgiri, where treating physicians didn't do much.

"The doctors said that everything was okay," Polaiah said. When his son arrived home, the pain and weakness began to spread to his upper limbs. Polaiah remembered that a member of his village was working at SVIMS. He rushed his son to SVIMS immediately via bus, a short 70 km away.

Polaiah didn't hear about the Pranadana Scheme until his son was admitted to the intensive care unit. Until that point, he was sure that he would have to sell his land to pay for his son's care. As soon as he heard about the required poverty-line verification process he left to visit his regional administration and came back within two days.

When asked about his general impressions about treatment under the Pranadana Scheme, Polaiah was satisfied.

"There is an in-patient block, the staff is here 24 hours, and the facilities are excellent," he said. He told his family and friends about the payment plan and his experience at the hospital, saying he would certainly return if there were future problems.

Pilgrimages to Tirupati for medical reasons or otherwise are a tradition that has been ongoing for hundreds of years. The donations received by the Tirumala Venkateswara Temple, one of the busiest holy places in the world, with 50,000 to 100,000 daily visitors, are enough to support the trust, which now maintains its own tourism industry, universities, and hospitals. The Pranadana Scheme, a program started by the trust and implemented at SVIMS, pays the astronomical costs that can come with complex procedures necessary for many of the poverty-stricken and severely ill patients at SVIMS.

The program began in 2001 during Brahmotsavam, one of the largest festivals in Tirupati. A trial of 50 patients were admitted to SVIMS for free treatment. Upon seeing their recovery and positive response to the experience, the temple established a base fund of 1 billion Rs ($15.2 million).

The Pranada Scheme requires that recipients, who can belong to any nationality, race, religion, or creed, are below poverty line status. In order to be provided with funds, patients must provide signed documents from regional officials.

Pre-existing conditions are treated, as are referrals from other hospitals. Diagnostic tests and post-treatment drugs are also covered. Cases that receive coverage include chemotherapy, transplant surgeries, and surgical oncology, as well as all emergency cases, MRIs and PET/CT scans. Because the strain of travel can weigh on patients, the Pranadana Scheme provides for food and accommodations for patients and their attendants.

In addition to providing free medical facilities to poor patients afflicted with life threatening diseases, the Pranadana Scheme encourages research and development. Funding is also allocated for a blood-bank, artificial limbs, and physical therapy.

Key to the success of the Pranadan Scheme is Dr. K. Vivekanand, the chief of the Medical Records Department, who oversees the workflow of the outpatient department and Pranadana Scheme coverage. A graduate of military school prior to receiving his doctorate, Vivekanad displays an efficient managerial style and also shares a genuine belief that all patients, regardless of background, are entitled to good healthcare. He believes the family must be allowed to become advocates. "The best medical manager is a mother," Vivekanad says.

Many patients have told Vivekanand about the impact the Pranadana Scheme has had on their lives. "God is in the relationships we form with each other," Vivekanad answers.
RELATED ISSUES