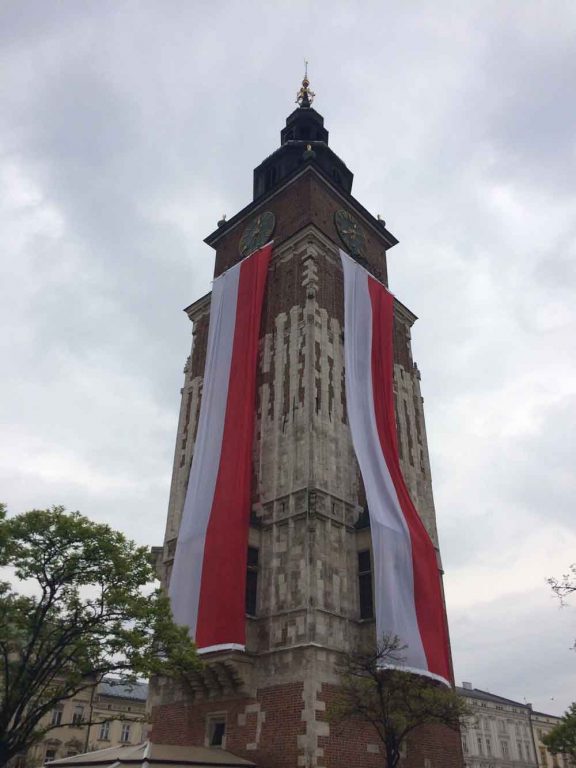 On the afternoon of my fifth day in Warsaw, I find Nura sitting in the rear courtyard office where she sits every day. I've had some difficulty tracking her down – the building is unmarked, and distinguished only by some scrappy red ivy climbing the walls — and when I walk in the man at the front desk seems to think I'm lost.

Every day, women make their way to Nura. If it's their first time they glance nervously at the men until she appears, then smile when, lo and behold, she speaks their language. She takes them into a private room and guides them through their housing search or the job market, explains how to navigate grade-school registration or a Polish doctor's office — whatever they happen to need. That she knows how to sew, and toiled for years as a seamstress in a refugee camp, endears her to new arrivals looking for work.

Nura offers guidance where the government is silent. For years Poland has lacked a meaningful support system for refugees, and the new pseudo-autocratic state, led by the far-right Law and Justice party (PiS), is committed to an explicitly xenophobic platform. Life for foreigners has become increasingly complicated since the elections in October 2015. There has been a collapse of support for migrants, a rapid conflation of the terms 'Muslim', 'refugee' and 'terrorist'. Liberal Poles have protested this attitude but it seems to have reached critical mass anyway. 73 per cent of the country believes refugees from Syria and Iraq are a major threat, according to a Pew Research Center survey, and another poll found that 58 per cent of the country are against refugees totally. It is rarely reported that the largest group of asylum seekers who come to Poland are Chechen women traveling alone with their children. The men at home are dead or missing. In this respect Nura knows she's lucky. She has a husband by her side, even if he is always sick.

Today Nura is wearing a loose violet scarf and knee-length skirt. Her outfit reads Western but she recoils when I reach out to shake her hand. 'No, don't do that,' our translator advises. The clothing, it turns out, is a subterfuge. Nura isn't her real name, either. She has seven children, including a two-year-old, and she fears retaliation either from the authorities who determine her legal status or the thugs who have grown emboldened in her neighborhood since PiS came to power. Her home was vandalized the week of my visit. She's learned to say as little as possible.

'What made you decide to come to Poland?' I ask.

'There was an accident,' she says.

'What sort of accident?'

'A car accident.'

'Well, what happened?'

'A Russian tank ran into our car.'

Several of her young children were inside the car at the time, she adds.

So in 2006, at the end of the second Russian–Chechen War, they packed their things and crossed the border into Poland at Terespol, the most popular entry point for emigrants escaping through Belarus. She moved with her husband and five children into a refugee camp near Lublin. A year passed while the authorities processed their application for asylum. During the first six months they were forbidden to work. Instead, Nura took classes — language, computer, integration — in the hopes that she might find a job once her probation ended. When the year was over, so were their benefits, and no jobs appeared. They spent a fruitless five months in Paris, where they had no access to government aid or job centers, before returning to Poland, where they received the purgatorial 'tolerated' status: permission to live and work, but no financial assistance.

In Warsaw Nura found a job cutting onions in a kebab shop, then, a year later, as a seamstress in a camp outside the city. After itinerant years in shared rooms, they found an apartment of their own.

In 2013, Nura was hired at the NGO where she works today. Overall, she likes it. 'It was sometimes hard, sometimes easy,' she says. 'Sometimes I felt Poles didn't want to see me here.' She sighs, and seems to arrive at a decision.

'My oldest son was shot three times.'

'You mean he was attacked?'

'No, shot. With a gun.'

'Why?'

'Because he was a foreigner, it's clear.'

'Didn't you go to the police?'

'They didn't want to do anything. They said it wasn't extraordinary, that sometimes people get shot. They didn't want to accept our application.'

'What about the newspapers?'

Her translator, a Georgian coworker, steps in. 'She didn't want us to tell anyone. She was afraid. She has five young girls.'

Her son was lucky, Nura says. One of the bullets entered through his cheek and could have paralyzed him down his left side. But he escaped with a few scars and last year they sent him to live far away. She won't say where.

All nations strive toward the superlative. Lesotho produces the least amount of carbon dioxide per resident of any country. Niger has the highest birth rate, Russia the most time zones, Switzerland the longest railway tunnel. Poland happens to be one of the most homogenous countries on earth. Few places so large and populous can claim to be as unified in race, ethnicity, language, religion — you name it. The country is a monoculture on the order of Japan or Portugal, both of which rank alongside Poland near the bottom of what sociologists call the 'ethnic fractionalization index'. (North Korea comes in last.) About 97 per cent of Poland's population are ethnic Pole, descendants of the West Slavs who settled around the primeval forests of the European Plain in the seventh century. Another 1 per cent are Silesian. You can wander around a bustling metropolis like Katowice or Warsaw for hours and encounter maybe a single person of color — usually a tourist or student — to say nothing of smaller towns, where you are unlikely to get far without a firm grasp of Slavic affricates and Catholic saints. In Poland, nine out of every ten people are Catholic, compared to a mere eight out of ten in Italy.

This combination of ethnic and religious purity is unique in Europe, and was unknown even in Poland until recently. From the Middle Ages through the Second World War, multitudinous thriving worlds orbited the ethnic Pole. My own ancestors were for generations wanderers through the Pale of Settlement — with stops along the way in Lithuania, Prussia, Poland and Ukraine — living what I imagine were very Sholem Aleichem lives as village innkeepers and middle-class jewelers. Jewish and Roma communities may have suffered centuries of abuse, but we were an unwavering presence in Poland – until the Holocaust. Enclaves of Ukrainians and Lithuanians persisted right up until Stalin's deportation orders. The country's ethnic pluralism never recovered. The largest concentration of Jews in pre-war Europe is remembered today in walking tours of wartime ghettoes and 'Lucky Jews', the popular wooden tchotchkes of bearded rabbis grasping golden coins. (Like a lot of first-time Jewish tourists, I find these offensive but am compelled to buy one right away — so I do, from a whittler in Krakow's town square. I ask whether they're for good luck. He laughs. 'Something like that.')

Which isn't to say there haven't been attempts to recapture the country's former diversity. Since 2004, Poland has been a full member of the European Union. It is neighbor to seven other countries and shares open borders with five of them. Centrist politicians see the EU as the diplomatic antidote to decades of totalitarianism, and their plan since the early nineties has been to emulate the West, court foreign investment, and reap the miracles of market capitalism. So you get Hard Rock Cafe across the street from Stalin's Palace of Culture and Science. You get ESL ads at every bus stop. You get guides to Auschwitz in a dozen languages and shimmering museums in glass and concrete, the winners of international architectural prizes. You get Airbnb. You get thousands of seasonal Ukrainian construction workers hauling stone and steel for low wages. You get puzzlement among many Poles that visiting Jews might see anything less than honorific in their wooden totems of entrepreneurial spirit. You get kebab stands and queer nightclubs and, for a few years, the fastest-growing economy in Europe.

Some of these impulses have triggered resistance among believers in the True Pole, a mythological figure of intransigence and national spirit. Like the more familiar (to me) Real American, the True Pole signifies whatever you need him to, but he is mainly a figure for nativists, and in Poland he represents, often in masculine form, the country's ethnic and religious purity. More than one Polish acquaintance invokes him by way of explaining to me the current political situation. ('Who the hell knows what a True Pole is?' a friend says. 'Only nationalists.') Forged in ages of violent oppression, the True Pole would prefer the economic benefits of Europeanism without the vitamin-rich word salad of multiculturalism, tolerance and diversity. He is suspicious of strangers. History has taught him that they are as likely to be victimizers as victims. He remains, as one friend puts it, unconverted.

Of course, most Poles do not believe in the True Pole, but his purifying influence is widely felt. Today about a third of Polish citizens admit to holding negative attitudes toward Jews, and more than half hold unfavorable opinions about Muslims — among the highest figures in Europe. Attitudes toward people of color are especially dim, and have been for years. A 2013 survey found that 69 per cent of Poles do not want non-white people living in Poland.

The True Pole's influence has expanded of late. Last year he claimed most of the top positions in Poland's government. The foreign minister, Witold Waszczykowski, has said that 'there is no place for migrants on the Polish labor market' and party leader Jarosław Kaczyński has claimed that refugees are bringing 'cholera to the Greek islands, dysentery to Vienna, [and] various types of parasites.' The government has recently suspended local border traffic with Russia and guards near Belarus have refused to permit entry to asylum seekers from deteriorating Tajikistan, in violation of the Geneva Convention. The reason, they say, is obvious. Once in Poland, a migrant has reached the fabled Schengen Area of control-free travel that stretches from Knivskjellodden to Gibraltar. Whatever its final destination, the fox enters the henhouse at Terespol.

Yet actual refugees in Poland are rare. In 2015, just 13,000 people applied for asylum. Most are Chechen, Tajik, or Ukrainian, and are survivors of war and political persecution. About 8 per cent are accepted annually, which comes out to about a thousand official refugees per year in a country of 38 million. Several thousand Syrians did make their way here in 2015 — via Hungary and the Czech Republic, not across the infamous non-EU land borders — but nearly all of them left for Germany as soon as they could.

'Poles have no credible information on refugees in Poland,' Rafał Kostrzyński, a representative of the UN High Commissioner for Refugees, tells me at a Warsaw cafe. 'If you ask, they give you figures from outer space. Two million? Come on.' The actual figure, between four and six thousand, is fuzzy, he says, because refugees aren't tracked by the government after their first year, whereupon welfare benefits are cut off. Even other migrants tend to discover the route to a good livelihood closed. Poland is one of the only countries in Europe where immigration has declined over the past five years. 'As far as foreigners go,' Kostrzyński says dryly, 'Poland is possibly the "cleanest" country in the world.'

For a few days in Warsaw I explore green neighborhoods of weather-beaten housing flats and gawk at old workers' murals: the clear-eyed women wielding pickaxes, the men with keystone jaws. I eat at milk bars and follow free walking tours (Soviet architecture, ghetto rebellion) and I meet with a lot of levelheaded people like Kostrzyński. They are NGO workers, activists, employees of charities and intergovernmental bodies. Everyone says roughly the same thing. Whatever's happening, it's new.

'Until the crisis in Europe, asylum politics wasn't part of our public debate,' Jacek Białas, a lawyer with the Helsinki Foundation for Human Rights, tells me at his office, a few blocks from the Palace of Culture and Science. Białas provides legal aid to asylum seekers whom the state has imprisoned. Detention is legal if the state is collecting evidence for an applicant's asylum case — the process can take months or years — but Białas believes the rules are not always followed, and he contends that children and victims of trauma or war should not be detained in the normal facilities, or even at all. There are long-standing arguments at play here, but now Białas sees the media working to justify detention as never before, even as the number of asylum seekers has remained constant. There has been no mad rush on Białystock or Wrocław. 'Asylum seekers perceive Poland as a poor country,' Białas says. 'The level of assistance for refugees is very low and hasn't been raised since 2005. People want to leave.'

Why, then, did PiS make the threat of radicalized refugees central to their 2015 election campaigns? And what, if anything, does this have to do with the mythic idea of the True Pole, which seems to wield greater influence now than at any time in the nation's post-Soviet history?

I don't know. I don't suspect I'm in a position to find out. In Poland I'm little more than an interested sightseer. I visit churches and museums and memorials of old massacres, and I think about the breed of nativism ascendant all over Europe for which the migrant is the great villain of our time. In the United States, Donald Trump expounds fantasies of ideological purity exams and mass deportations. Poland, a country of little to no immigration, has already embarked along a similar path. So it feels exactly appropriate when, caught in a rainstorm one afternoon, I duck into a bookshop in the middle of Warsaw to find The Art of the Deal displayed on a tall plastic plinth.

The Law and Justice party rode to victory in October 2015 on the three-horse chariot of nationalism, ethnic solidarity and Catholic values. Make Poland Great Again would have been an appropriate slogan, although the ones they used — We Can Do It; Time for Bold Decisions; Work, Not Promises — were no less vague or galvanizing. Party leaders promised to tax foreign-dominated industries and redistribute the proceeds to Poles. They also promised to enact a generous per-child welfare policy for Polish families; to criminalise abortion, forcing even rape victims and women with life-threatening pregnancies to carry fetuses to term; and to fight 'multiculturalism', meaning EU asylum politics and the perceived threat of Islam. The plodding incumbents of the Civic Platform party didn't stand a chance against this steel-clad conservatism. Voters were fed up with the country's slow if steady economic improvements. They had embraced the market as instructed, yet in many towns lives were still ruled by apartment shortages and gray-market privation. Despite the growth in Poland's largest cities, the promises of the West have been slow in reaching the rest of Mitteleuropa. The continent's refugee influx last year, with its countervailing rhetoric of fear on the far right, played directly into these resentments.

PiS's intellectual forefathers are Jarosław and Lech Kaczyński, the identical twins who entered the public consciousness in 1962 as the pale child stars of The Two Who Stole the Moon, a children's film. (Sample quote, via Wikipedia: 'If we steal the moon we would not have to work.') Both brothers claimed to have participated in the Solidarity labor union movement in the early eighties, although the extent of their involvement is unclear. The memory of Solidarity is rightfully unimpeachable in Poland. The movement's peaceful protests and calls for modest work and trade reforms proved to be a serious challenge to Soviet rulers, who struggled to quash the protests without provoking outright revolt. Its leaders were arrested, driven underground, or killed during a period of martial law that began in 1981. When the Soviet Union collapsed, Poles looked to former members of Solidarity to help write the new constitution, and to serve as the first prime minister and members of parliament. Few were old enough to recall the country's last era of political independence, the short-lived Second Republic of the twenties and thirties. Solidarity, a trade union, was the only bona-fide Polish political organization anyone could remember.

The Kaczyńskis claimed to be its authentic heirs, initially as centrists. Jarosław founded the Centre Agreement party in 1991, and Lech joined him in founding the then-moderate Law and Justice party in 2001. A family man, charismatic and savvy, Lech was the face of the movement and president of Poland in the late 2000s. Jarosław was the ideologue and history buff who stood behind his brother. When Lech died in a plane crash near Smolensk in 2010, Jarosław, who had briefly served as his brother's prime minister, found himself at the center of a nation in political disarray. Along with many Law and Justice supporters, he blamed Russia for Lech's death despite an investigation that indicated pilot error. The party drifted rightward the more it looked to external threats to explain Poland's problems. Anti-Russian sentiment had always been a hallmark of Kaczyński thought, and this new tale of Polish martyrdom contributed to the groundswell that brought PiS back to power last year.

Officially, Jarosław holds no government office, but his power as party leader is remarkable, and most people consider him the de facto head of state. Both the prime minister, Beata Szydło, and the president, Andrzej Duda, were handpicked by Kaczynski, who understands his party's victory as a clear mandate to overturn a few tables. 'All that has occurred in the last twenty-six years was wrong and shameful,' he said at a rally in December 2015. 'And we want to change it.' A few weeks later, with most of the country on holiday, parliament took control of the country's nonpartisan public media channels, which have since been rebranded as National Media. Station heads were fired and replaced with apparatchiks. EU flags vanished from official press briefings. The party has also stripped the country's highest court, the Constitutional Tribunal, of its most important power: to determine whether laws are constitutional. Poland's government now operates without judicial oversight.

PiS leaders say they are simply redressing imbalances and bias created by a quarter century of liberal compromise. 'We only want to cure our country of a few illnesses,' said Waszczykowski, the Kaczyński-tapped foreign minister. He continued by decrying 'a new mixture of cultures and races, a world made up of cyclists and vegetarians who only use renewable energy and who battle all signs of religion.' In March, following the Brussels terror attacks, Szydło reneged on the previous administration's promise to accept 7,000 Syrian refugees in the coming year, saying that she wasn't comfortable inviting any refugees into the country at all: a headline-making symbolic act. For PiS members, the foreigner lurks behind even seemingly unrelated political issues. In response to an informal letter of concern from the European Commission over the Constitutional Tribunal controversy, officials accused Brussels of blackmailing Poland in order to get them to accept more Syrian refugees. 'This resolution is absurd, harmful, incomplete and countereffective,' one member of parliament told a newspaper. 'There are bombs exploding, a refugee crisis underway, looming Brexit, and the EU focuses on a problem which is not even a problem.'

In June, both houses of parliament passed a new anti-terrorism bill whose language is textbook dictatorial. Developed in secret by PiS party leaders, the law gives the state broad powers of surveillance over all foreigners, including tourists and business travelers. Phones may be wiretapped and fingerprints taken without court oversight. Police can now hold terror suspects for two weeks instead of forty-eight hours before judicial review, which may then incorporate secret charges. Under the new four-stage system of terror alert level, the government may prohibit public assemblies. The law also prohibits the purchase of anonymous prepaid cell phone cards and grants paramilitary troops (now considered members of the state defense) broad and unregulated access to information about Polish citizens.

Concerned liberals have described these events as the 'Orbanization' of Poland. Kaczyński would probably prefer Hungarian Prime Minister Victor Orban's own term, illiberal state. Foreigners are not the only targets, and in fact leaders claim to be most concerned with bringing expatriated citizens — and their money and labor power — back to the motherland. Polonia, the Polish diaspora, is one of the largest in the world, with about 20 million people of Polish ancestry living outside the country. Some members of my family, Polish Jews who fled westward to escape the pogroms of the twenties, would surely qualify. But foreigners are the first to feel the effects of Poland's new illiberal state. If you want to gauge the density of freedoms in a democracy's atmosphere, you could do worse than to talk to the nearest foreign passport holder, or even those with no passport at all.

I meet Omar at a coffee shop near Warsaw Polytechnic, where he's about to graduate with a degree in programming after a decade of instruction in three countries. Omar is an unfortunate Odysseus of disintegrating states. His family left Baghdad in 2006, when every Iraqi who could afford it was fleeing the capital. He was sixteen when they settled in Syria.

Damascus wasn't perfect. A lot of Syrians held low opinions of Iraqis, Omar tells me, not all of them undeserved. There were a lot of nouveau riche Baghdadis flashing wads of cash around the Syrian city. More than once a landlord showed him photographs of a trashed rental property and apologized: 'Sorry, I don't rent to Iraqis. It's nothing personal.' His family moved to friendlier Raqqa but Omar stayed behind to study at Arab International, a prestigious private university where he paid $7,000 a year in tuition. (It was a whopping sum; college in Iraq would have been free.) In 2012, with Omar a year away from graduation and Syria in the early days of civil war, the Iraqi government began offering cash gifts to entice its citizens out of exile. Omar's family was promised five grand, plus the assurance that he would be able to transfer his college credits to the local university. Instead, the college secretary in Baghdad told him he'd have to start from scratch.

'You have to understand,' he tells me, 'my surname is unmistakably Sunni. I was already having trouble at every checkpoint. The woman told me that, with my name, I shouldn't even bother trying to get my credits to transfer.' He shrugs. 'Four years of work, gone.'

An Iraqi in Syria, a Sunni in Iraq, Omar quit school and accepted a job at his father's ISP company, installing routers at the homes of the diplomatic set. A chance encounter with a friendly Polish consul proved life altering. 'He knew what was up. He knew it was every young man's dream to leave this shitpile.' Though his family would later claim asylum in Germany, the consul arranged for Omar to receive a 'language' visa to learn Polish. Once he arrived in Warsaw, in March 2014, he applied to the Polytechnic and was upgraded to a student visa. By the time we meet in May 2016, however, this visa has expired and he is receiving 'subsidiary protection' as an asylum seeker whose hometown is yet again a war zone.

Omar is equanimous about life in Poland. People aren't unfriendly here, he says — not exactly. He has dated Polish girls and collected a circle of lovely cosmopolitan friends. Yes, his first assigned roommate in college was a foaming racist, but then again Omar antagonized him with promises to pray to Mecca five times a day. ('I left religion long ago,' he says, 'but I didn't want to live with that guy.') And yes, there have been other incidents. A friend of his — also named Omar — was beaten up by skinheads. His professors have joked about refugees commanding Polish resources. One said that Omar might kill him over a class interruption 'because this is what you do where you come from.' The same professor later took him out to dinner. Apparently he was a pretty nice guy.

Then Omar says something I've often thought to myself but have never said aloud. 'Ultimately,' he says, 'I believe all humans are racist. We group ourselves naturally and then we have to overcome it.' We've been talking for hours and our conversation has drifted into the philosophical. Omar is well read and his enthusiasm is infectious. We talk Arab Spring. We talk behavioral psychology. Before I realize it we're talking about those moments in your life you never mention: the shameful ones. Moments of rash judgment, prejudice and weakness. It takes a lot of education not to be a bigot, he says. Each person must struggle for it. 'In my country, to call someone a Jew is the worst thing you could possibly say to them.' We laugh. Night has fallen. The cafe is filled with students cramming for finals.

Omar says he's confident the shift in Polish politics is just a phase, a human passage. These are good people who feel victimized and afraid. 'They have changed in the past and can change again.' I want to weep at his magnanimity.

I think a lot about my conversation with Omar. His words remind me of an experiment that is famous in certain academic circles, although less widely known than your Milgrams or Stanford prisons. In the late 1960s a British psychologist named Henri Tajfel began to wonder about prejudice. He wondered: Why are attitudes toward foreigners so similar across cultures, nations and classes? Why do we discriminate against others even when it serves no obvious purpose?

They weren't easy questions to approach scientifically, or even pseudo-scientifically. Tajfel came up with a methodology he called the minimal group paradigm. The MGP invites subjects to play a game to determine the minimal amount of 'difference' that must exist before people start to favor members of their own group over members of another. In the simplest of these games, a subject is told he must allocate reward money to two groups. Tajfal's idea was to begin with groups based on utterly meaningless distinctions and add 'meaning' through subjective details until discrimination began to emerge.

He never got that far. What Tajfel discovered, and what has since been confirmed and expanded over the decades, is that there is no bottom to the human propensity to discriminate. There's no attribute too trivial, no distinction too arbitrary. Forget race, religion or language. Tajfel found that people are happy to discriminate against others based on whether they tend to pick heads or tails when a coin is flipped, whether they over- or under-estimate the number of dots in a diagram, or whether they prefer Kandinsky to Klee.

In the preface to the article he published in Scientific American in 1970, Tajfel does not appear flabbergasted by these results. Instead he laments the way prejudice creates a feedback loop of suspicion and antipathy. First, he writes, economic competition causes people to favor members of their own group over outsiders, however arbitrary those terms are defined. Next, that behavior is justified through attitudes of prejudice ('Well, foreigners can't be trusted!') which in turn lead to new forms of discrimination, which lead to crime and other social problems that only 'prove' that people were right all along to discriminate. The cycle goes on and on, unstoppable, so long — he argues — as resources are limited.

Except that, as he continued to come up with more MGP variations, Tajfel found that discrimination takes place even absent any competition for resources. When members of one group have the option to give more money to another group without giving any less to their own, they still choose to practice what Tajfel calls 'gratuitous discrimination', maximizing the relative difference of money distributed. Groups will discriminate even when it means their own group also receives less money as a result. In the same way that the smile is often said to signify friendliness in every human society no matter how remote or untouched, the desire to get one over on some other bastard appears to be an absolute bedrock principle of human interaction.

A few years ago, a group of researchers tested a 'migrant' variation of Tajfel's minimal group paradigm. In this scenario, subjects weren't divided into groups at all. Instead they were asked to imagine a throng of people divided into the standard minimal groups of meaningless difference, and then to imagine that some members from group B moved into group A and vice versa. Even under such abstract and arbitrary conditions as these, subjects rated the 'migrants' as less honest, attractive and friendly, and more aggressive and rude, than 'native' group members. The study's subjects told the researchers it was just harder to think about migrants, period.

It's only while revisiting his research that I learn Tajfel was actually a migrant himself, and a Pole. He was born Hersz Mordche in Włocławek in 1919. Stymied by the strict quotas for Jewish students at universities in the 1930s, he emigrated to France to study chemistry at the Sorbonne, where he volunteered to serve in the French army during the Second World War. He claimed French citizenship when captured and so he survived the war in a POW camp. On returning to Poland after Germany's surrender, he learned that the Nazis had killed his entire family. He worked briefly for a Jewish relief group for orphaned children before moving to England, where he studied at Oxford and helped to develop what became known as social identity theory. He settled in as the chair of social psychology at the University of Bristol. A British citizen, he died in 1982, during Poland's nightmare era of martial law.

I'm afraid of what's happening in Poland. Who wouldn't be? The unsubtle grasping at myth, the paranoid claims of persecution, the widespread ressentiment. I'm afraid for the lovely and tolerant people I meet in Warsaw and Krakow, Poles and foreigners alike, who refuse to accept what's happening to their country. I'm afraid because it feels of a piece with what's happening all over, a glimpse into our own possible future. I drive around the German countryside before election weekends and count the extreme right-wing posters zip-tied to private fences. I read the running tally of unarmed black Americans executed by warrior cops. I follow Trump's latest untrumpable horror. It all seems part of the same lizard-brained conspiracy of racial fear. If Poland is special owing to its history — which has conferred on the national character a few well-earned insecurities, and has forced out or murdered the minorities whose numbers tend to correlate with a kind of begrudging tolerance — if Poland is special among nations, the difference is a matter of degrees, not of kind.

I share a draft of my thoughts with my friend in Warsaw. She asks why I haven't talked more about the hollowing out of Poland's labor force, and the pockets of rural poverty left untouched by the invisible hand. I'm focusing on symptoms, she says, not causes. Don't I know that the whole city of Warsaw mourned the Brexit vote, that most Poles still adore the EU despite feeling like the continent's unwanted stepchild? I know she's right. I'm being unfair, performing acts of national psychoanalysis with Wikipedia-sourced hash, conflating a country's government and its citizenry. I'm a tourist. I don't even speak the language. Yet because I arrive with my bag of Enlightenment tricks I feel I have the right to condemn a whole country. The emissary of the enlightened West with his banner of slavery and torture and CIA-sponsored coups.

Chastised, I tell my friend what I told Omar: that no one is innocent. Growing up white in and around Baltimore, I learned early on when I was supposed to cross to the other side of the street or lock the car doors. I parroted Israeli Defense Force talking points in Hebrew school with the confidence of every ten year old. In high school I attended a 'cultural stereotype' party, photos of which I'm not keen to revisit. I felt at times there were perhaps too many Chinese exchange students in my college seminars. I was racist, I was — still am — a bigot. I don't believe we ever reach the plateau of perfect tolerance. Even leaving Nura's office I cluck my tongue at the culture that saddles a woman with seven kids and a full-time job, and won't let her shake a stranger's hand. She says her husband is sick, but I've read that a lot of Chechen men in Poland simply refuse to work, that they consider the menial jobs on offer to be beneath them (if not their wives).

And while I know that statistically I should be more concerned about my cholesterol level, I'm afraid of dying in a terrorist attack. I scope emergency exit signs at airport terminals. I keep to the edges of crowds.

That said, I seek out one crowded Warsaw scene before heading home. Street vendors selling flags of all sizes, ribbons, flowers, lightsabers. One vendor at Stare Miasto sells pins of Poland's heraldic crests next to others depicting crossed-out silhouettes of minaret and dome. It's the eve of Constitution Day. Sporadic downpours interrupt the chords of afternoon sunlight singing down on Nowy Świat. I sit at a Costa Coffee across from the church where Chopin's exhumed heart floats in a jar of brandy encased in a pillar.

His body is buried in Paris, in that famous cemetery where Jim Morrison and Oscar Wilde suffer the graffiti and hemp votives of gap-year pilgrims, but his heart made its way to Warsaw thanks to his uncommonly devoted sister, who returned to Poland after the funeral in a train carriage with the brandy jar hidden under her skirt. The year was 1850. Thus the heart found its way back by sense of ownership to the land of its first beating: back to the Catholic Church, to be exhumed and reinterred during Nazi occupation, exhumed and reinterred again by the Soviets, and a third time in 2014. This macabre symbol of patriotism can never rest. Like the legend of the True Pole, its portion of history can never be finished.

As I eat a slice of dry Costa cake, Legia Warszawa fans are stumbling back from the stadium on the other side of the Vistula, where their team has just won its eighteenth Polish Cup. They are headed for Sigismund's Column in the palace square. Even the drunkest fan seems to manage the route, falling into patches of fresh mulch and statues of Mickiewicz and Copernicus for the amusement of tourists. In Copernicus's hand someone has placed the bicolor. At his feet someone else has spray-painted the phrase REFUGEES WELCOME.

The next day my friend and I meet at the palace square, together with a few thousand Varsovians. We're surrounded by the sweetly marzipan buildings that were demolished during the Warsaw Uprising. Under siege by the Germans, abandoned by the Russians, Poles held onto their city for a savage month of combat. The Old Town has since been reconstructed with Epcot attention to detail, the houses painted vintage shades of apricot, lilac, ivory and coral. It's hot and dusty. No one is permitted anywhere near the temporary stage, where President Duda is busy heaping praise upon the Polish constitution.

My friend translates the speech for my benefit. Duda mentions 'a bloodless discussion', and how we must study the constitution not only academically but 'to see what kind of country we want to make.' It's boilerplate, she tells me. As the speech ends, a parade begins inching toward the presidential palace. We seek out the liberal counter-protest and are dismayed to find just a dozen or so people waving banners that spell out PiS's constitution-trampling reforms. A few yards beyond them, a larger demonstration gathers around a boyish student who is screaming through a bullhorn. Some of the people gathered — about an even split between young and old — are wearing green armbands showcasing the Słoneczko, a pagan sun symbol and neo-swastika for white-power Slavs. It's a bad scene. A huge EU flag is dragged across the wet pavement until it's a sopping blue tarp. Several pairs of boots grind it into the earth.

During the years of Soviet rule, hundreds of thousands of brave Poles registered — through protest, work slowdowns, strike, and revolt — their desire to join the West, a land of material fortune and personal freedom. They did so at great personal cost. Protest leaders were killed or imprisoned, workers were beaten and shot. Against this brutality, they developed an enviable awareness of their own history. Now even drunk football fans know how to play the heaving cello of Polish nationalism, singing patriotic songs around the column of a national unifier 500 years dead. As a typical American (by which I mean a person who struggles to recall the words to our national anthem or anything at all about the Stamp Act), I find it deeply impressive.

But the West is not just a place one joins. It is a process of migration and exchange. There can be no compromise on this point. Difference and tolerance are written into its founding documents. No matter how sorry our track record when it comes to enlivening the principles of those pages, we have more or less agreed not to abandon them. When made to confront the errors of my past, I reform, or try to. When made to face the most rancid hypocrisy — slavery, genocide — we revise. We improve. We enfranchise. That's the idea, isn't it? The Enlightenment project? I realize it has its critics as far as projects go. On the academic left, in particular, it is seen as the engine of colonialism and conquest – and fair enough. The sleep of reason produces monsters. But show me an alternative that doesn't drop us back into the deep well of mythology. It is because of this project, this 'unfinished project' in Habermas's phrase, that no country can afford to cling for very long to its blood myths, those stories about Real Americans and True Poles, about a land with no strangers. A land of pure citizen. For while this myth must speak to something deep within us, something as primal as lust or hunger, no such land has ever existed on any continent. When we try to construct one, the effect is grotesque precisely because the myth's falsehood is so apparent, so irreconcilable with the project we've signed on to. It remains false even if our belief creates its own contemporary mini-realities of apartheid, civil war, internment camps, Palestinian slums, or Guantanamo Bay. These places don't validate the myth. They only show that progress is not a given. We can slip backwards. Poland is the home not just of Chopin but of Chelmno, Treblinka, and Auschwitz-Birkenau. In Krakow I take the local bus to Auschwitz on what feels like the sunniest summer day in human history. Although I spend hours there, I find that I have no thoughts worth recording except to wonder where all my great-great-aunts and uncles were murdered, whether it was Auschwitz or another camp, or the ravine of Babi Yar, and if there are records I might consult to find out. It seems a little crass, even obvious, to mention — but we must mention — that the myth of the land without strangers is as dangerous as any in human history.

Poland is once again fighting a battle on two fronts: against a small but vocal part of itself, and against the globalized future. The country is aging rapidly and its native labor force is in decline. 500,000 Poles left the country in 2013 alone. In a restaurant looking onto the old kosher slaughterhouse in Krakow, now a flea market for jazz records and Nazi memorabilia, I meet Beata Kowalska, a veteran activist who once marched with Solidarity and today marches for refugees. She tells me that virtually every person in Poland knows a family member who traveled to some strange land to pursue a better life than they could find at home. According to her, the real migrant crisis is the fact that people can't connect their own family's experience to a larger narrative of migration: a story to rival the great and ruinous myths of nations. A story to lift the weight of difference.

At the start of May I head back to Berlin, where for a few years now I've lived the comfortable life of an American expat. Just days later, on 7 May, a quarter of a million people protest in Warsaw against the new administration. It's a spontaneous and peaceful uprising on a scale unknown since the Communist era. Nearly one-fifth of the city's population gathers in the street: students and pensioners, Poles, Ukrainians, the equivalent of at least a hundred Constitution Day parades. More assemblies follow in June, and in October hundreds of thousands of women all over the country walk away from their jobs to protest PiS's proposed abortion law, forcing parliament to retract plans to vote on the measure. A small but powerful step. The people are not hiding. They have changed in the past and can change again.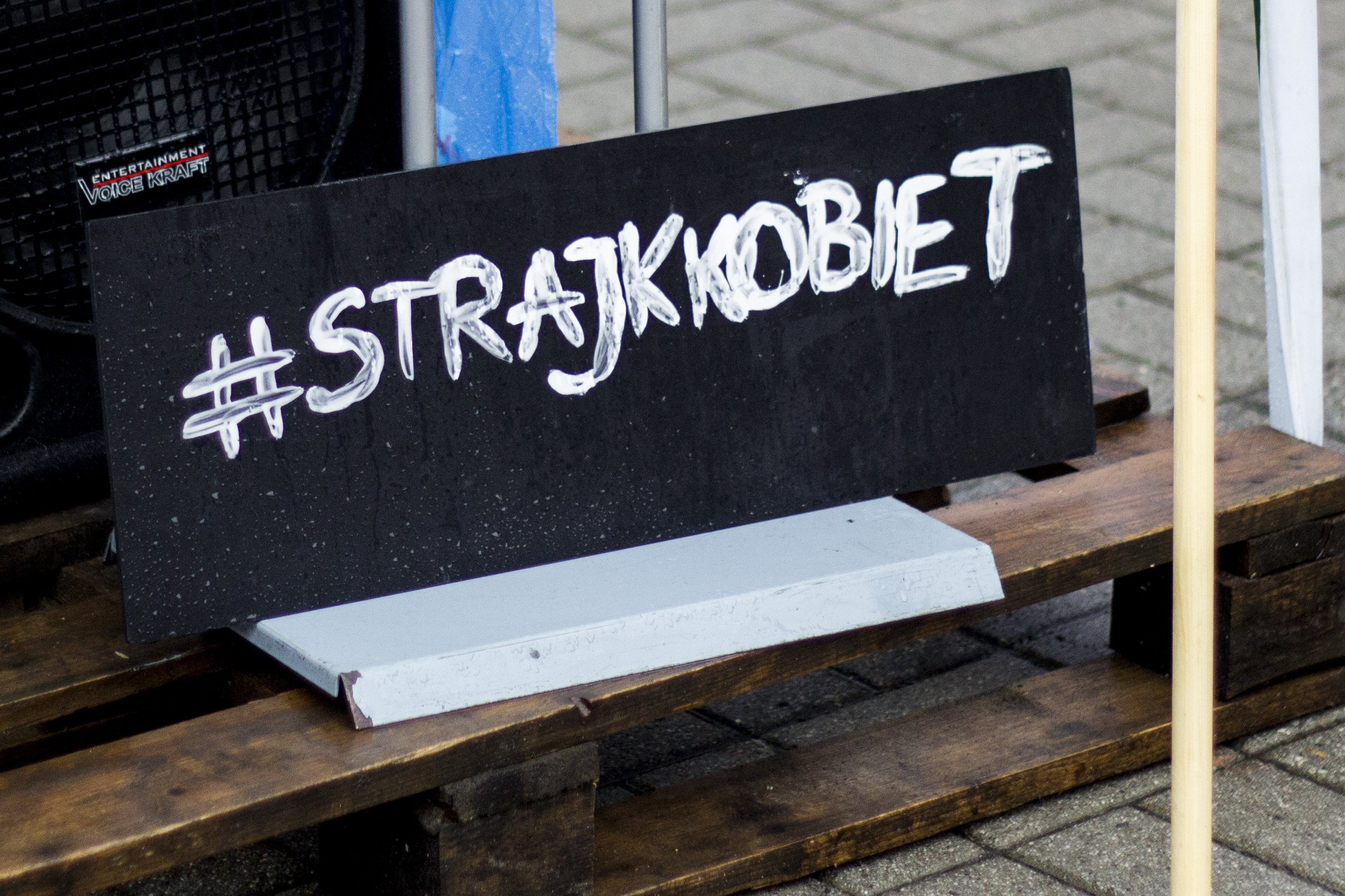 Since gaining an outright parliamentary majority in October 2015, Poland's Law and Justice Party has...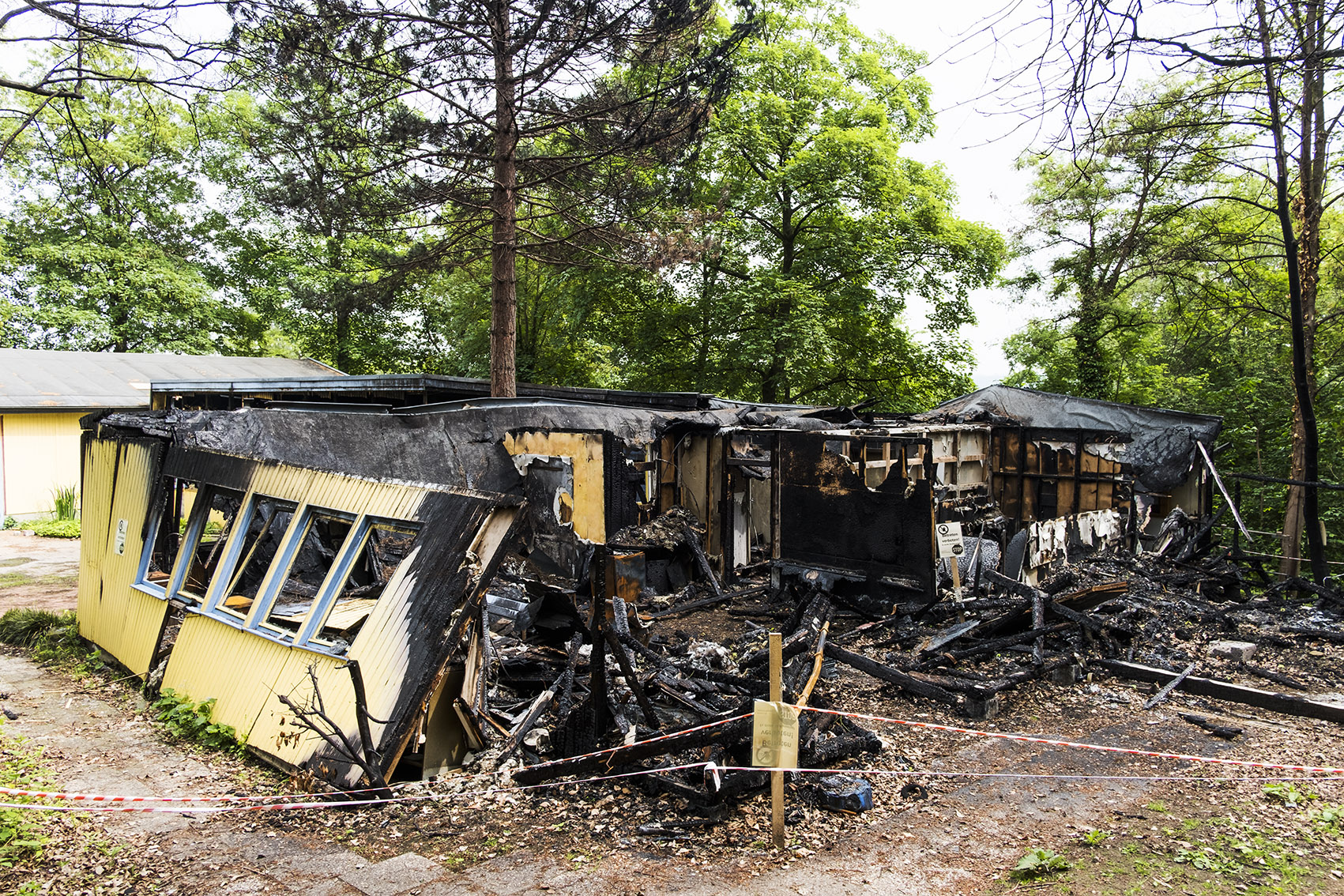 Ben Mauk discusses his year-long Pulitzer Center project on the EU asylum crisis, which culminated...
RELATED ISSUES