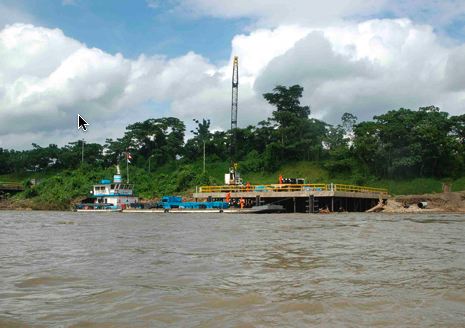 Raised in palm huts deep in the Peruvian Amazon, Gregorio Torres never imagined that below his home was something called natural gas.

Now his Machiguengua Indian settlement in this rain-forest river clearing has solar-powered radio gifted by an international oil company, corrugated tin roofs, T-shirts with company logos, and a shelf of Western medicine.

But this incipient natural-gas boom is bringing new worries, too.

"We want oil companies to leave the rivers and the forests like they found them," says Mr. Torres.

The Peruvian government is increasingly pushing an oil and gas boom through some of the world's most biodiverse rain forests. In 2006, 70 percent of the country's pristine Amazonian rainforest was zoned for oil and gas, up from just 13 percent in 2004, according to a study by groups including Environmental Defense and Oxfam. This year the country is tendering an additional 22.2 million acres – an area larger than the state of Maine – the report states.

And as ethnic Amazonian natives are increasingly lured by hydrocarbon development but threatened by contamination, disease, and culture shock, international supporters are working to press governments, companies, and banks to develop the rain-forest regions in low-impact, sustainable ways.

"There is now 75 to 80 percent of Peru's rain forest under concession for oil and gas, and there doesn't seem to be much planning on how to do that sustainably," says John Sohn, senior associate with World Resources Institute.

Lily de Torre, director of the indigenous rights group Racimos de Ungurahui, says semi-nomadic indigenous groups such as the Nahua, Nanti, and Kirineri are increasingly threatened by fatal illnesses caused by contact with oil workers.

In February, Ms. Torre and a delegation of Amazonian tribal leaders flew to an oil industry meeting in Houston where Peru's state oil company, Perúpetrol, was tendering rain-forest tracts.

"We told prospective companies that seven of the blocks being offered were superimposed on isolated indigenous territories," she says. "And we told them to expect problems because there they were going to come across people that would reject them and get into altercations with their workers."

Segundo Pergara, an official for the Peruvian health ministry, says his agency is working to educate native populations about natural resource management and public health.

But both oil companies and their antagonists say the Peruvian government could do more to protect fragile cultures.

"The state has always been absent from the region," says Lelis Rivera, the executive director of the Center for the Development of Indigenous Amazonia (CEDIA). Mr. Riveras says his group helps natives "prepare to deal with people who come to trample on the rights."

Though communities have the right by Peruvian law to be consulted, and oil negotiators seek "social licenses" with them, they are powerless to stop companies carrying government concessions, he says.

"When no agreement exists between the communities and the companies," he says, "the state in the end guarantees that it will deliver the resource for the company."

With few legal options, native supporters are turning up public pressure on companies they say threaten the environment and fail to properly consult with native inhabitants.

Last week, Amazon Watch, a California-based conservation group, and Earth Rights International released a report accusing US-based Occidental Petroleum of polluting native communities in northern Peru by ignoring industry standards and following out-of-date practices in oil operations, a claim the company denies.

In southeastern Peru activists are fighting Camisea, a $1.6 billion natural-gas project backed partly by Hunt Oil, a Texas oil company, and the Inter-American Development Bank (IDB).

Camisea has generated some $700 million in government royalties in three years but has also suffered a series of contaminating pipeline spills and is accused by natives of ruining fishing holes and hunting grounds.

Backers say the problems are fixed. But antagonists like E-Tech, a California non-profit engineering firm, disagree and want the IDB and other potential funders to deny loan requests for Camisea II, a piggyback project to export liquefied natural gas (LNG) to the US by 2010.

"People are looking to Camisea to set a standard for what goes on in the Peruvian Amazon." says Peter Kostishack, a Washington-based human rights activist.

The Argentine company Pluspetrol, leader of Camisea's development group, says Camisea companies have helped natives, including village reforestation projects, clinics, doctors other development benefits. "[But] we were very blunt from the beginning in stating that we are not going to substitute the function of the state," says Sandra Martinez, a Pluspetrol spokesperson. "We can collaborate with the state."

Conservation groups say a challenge is how to hold oil companies – which are bound to serve shareholders – to higher and often more costly environmental and social standards in poor countries with inefficient or corrupt regulators.

Private investment arms of Washington-backed development banks are meant to raise those standards through loan conditions.

But experts say they must increasingly compete with private financiers.

"The world is awash in private capital," says Mr. Sohn. "We see number of banks adopting better standards but many still don't see the business case for environmental standards or for free, prior, informed, consent of native groups."
RELATED ISSUES