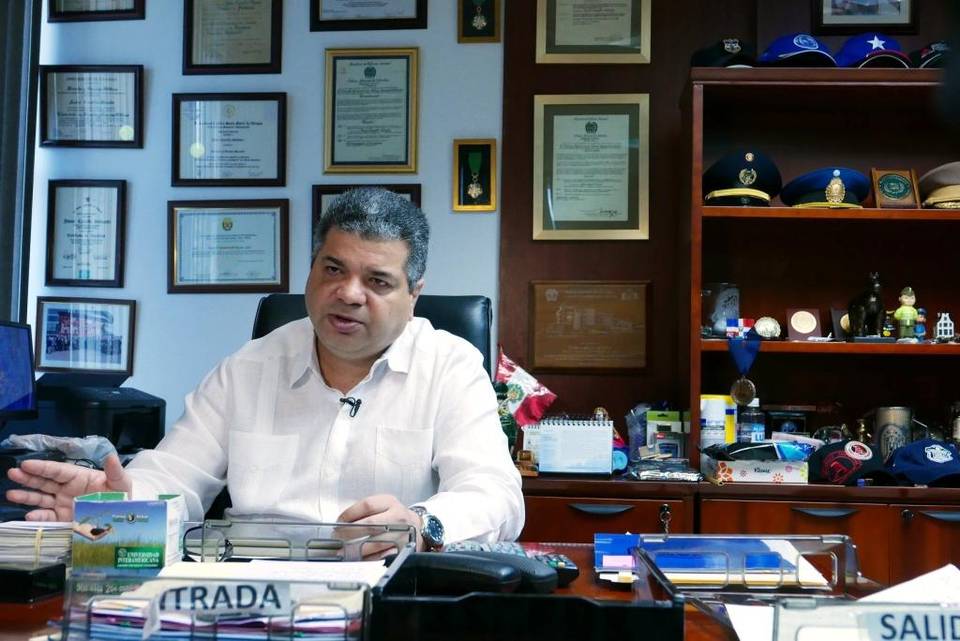 PANAMA CITY, PANAMA–Javier Carrillo Silvestri, Panama's head of migration services, is accustomed to order and hierarchy. So he is matter-of-fact when he says that his nation has nothing against Cuban migrants, but that those who enter the country without the legal documents will be returned to the island.
"The Cuban who wants to come is welcome, but we ask that you do it in an orderly manner, legally, to avoid dealing with traffickers and the trafficking of people," he says.
Panama grants 500 visas per month at its consulate in Havana. In a few weeks, the number of visas will be doubled to 1,000. That is a much higher number of legal entry permits issued to Cubans than other citizens from Caribbean countries.
"These people enter and leave the country without any problem. Panama is not closing the door to Cubans," Carrillo said. "Panama is closing the door to irregular migration, no matter who it is. There is no distinction."
Carrillo, who has been in charge of migration since 2011, has been dealing with a huge spike in the number of migrants crossing through Central America to try reach the United States by crossing the border in Mexico. The number of Cubans passing through escalated to the thousands.
"The crisis [of Cuban migrants] began in November 2015 when Nicaragua closed its border. Since then, more than 40,000 undocumented Cubans have passed through Panama," said Carrillo, who is known as "the bad cop" among Cuban migrants because of his strong stance on deportations.
Following two organized airlifts to Mexico in which more than 4,400 Cubans were evacuated from Panama, Carrillo said that his country fulfilled its obligation in an effort to resolve a brewing crisis.
"We decided to make a humanitarian gesture and that was done in an orderly fashion, but we saw that in a few days there were more Cubans," he said. "After the second airlift it was decided that we could not be the traveling agent for Cuban migrants, because that is not the role of a state. We closed the border and began negotiating a deportation agreement with the Cuban government because at that time we did not have one."
For months, the Panamanian government provided food and shelter for the thousands of Cubans who were stranded in the country following border closures at various Central American nations. It also paid air fare for almost 300 migrants who did not have the money to pay for the tickets on planes that flew them took them to the U.S.-Mexico border.
"We have many needs here, we have many humble people who also need humanitarian aid. We can't be using our resources solely on this migratory issue," Carrillo said.
The deportation agreement was signed on March 1 in Havana, during the IV Round of Migration Talks between both countries.
"The Cuban government did not ask us for anything," said Carrillo. "That deportation agreement was an absolute initiative of the Panamanian government to alleviate a crisis that we were living through with the passage of undocumented migrants."
Since March 2017, 87 Cubans have been expelled or deported from Panama, while 23 have returned voluntarily to the island, according to official Panamanian statistics. Cubans are the second highest number of deportees, surpassed only by Colombian nationals.
Following the deportation agreement with Havana, any Cuban national discovered in Panama without documents who is recognized by the Cuban government as its citizen is subject to deportation. Cubans who spend more than 24 months abroad, are officially deemed as "emigrants" and lose their rights in Cuba.
"The Cuban authorities explained that they did not retaliate against the deportees. In fact, when we have sent Cubans, they always go with two custodians and they are asked if there was any kind of problem, and they always say that nothing happened," Carrillo said.
The Panama Embassy in Havana also has not received any allegations of mistreatment or human rights violations of the deportees: "Many have returned voluntarily and nothing has happened," he said.
Following the Jan. 12 termination of the so-called "wet foot, dry foot" policy, which allowed most Cubans who made it onto U.S. soil to stay, more than 300 Cubans en route to the U.S.-Mexico border became stranded in Panama. Some 128 were transferred to a shelter in the province of Chiriquí and dozens more are living and working as undocumented migrants in the country.
"Cuban migrants did not come to stay in Panama, but rather to apply pressure on the government to take them to their final destination," Carrillo said. "Panama can't be doing that on a permanent basis, much less now that wet foot, dry foot no longer exists."
Panama's Deputy Minister of Security, Jonathan del Rosario, recently made a final offer to the Cuban migrants in Gualaca: $1,650, a one-way ticket to Havana and a multiple-entry visa to return to Panama as visitors. The money is intended to help them launch a private enterprise and become cuentapropistas or self-employed. Almost a dozen have since left the shelter to continue their journey to the United States. The others have until July 31 to decide whether to return to Cuba or remain as undocumented migrants.
For Carrillo, the only viable option is for them to return to their homeland.
"Like I said, Panama is fulfilling it's obligation. We have no issues with Cubans coming here," he said. "But they need to do it correctly. We can't foment disorder."
RELATED ISSUES