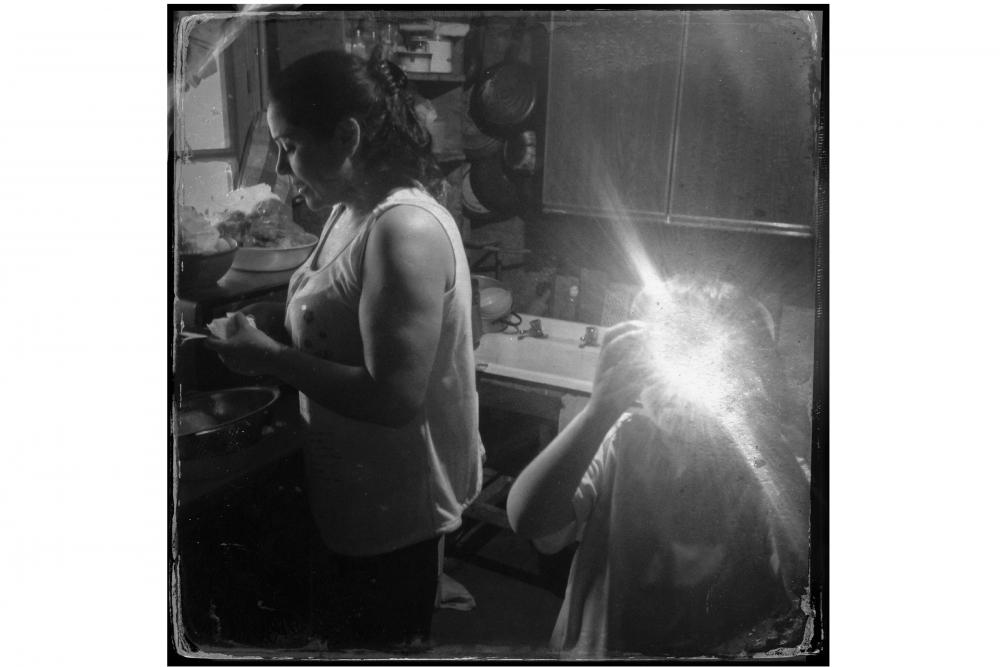 Pamela Betancur's face still fills with light when she starts to recount the dream that drove her in 1999 to borrow money from her friends and cousin to leave her hometown of Los Angeles in Southern Chile for the big city of Santiago.

"I wanted to study and to gain a profession," said Betancur, who stopped attending school around eighth grade.

Her father had never been an active presence in her life.

Her mother had died of uterine cancer when Pamela was just 10 — a wound that is still fresh more than two decades later: "You have many other relationships in your life, but only with your mother are you a daughter," said Betancur, who has dark black hair that flows below her shoulders.

She could barely contain her excitement on the bus.

All she had was the money for the trip and the sack her cousin had bought for her. She had packed the fewest clothes necessary and hidden them under her bed.

Pamela snuck out of the house where she was staying and caught the 6:00 a.m. bus — the only one that was available for the day.

Her enthusiasm continued when she arrived and stayed at a friend's house.

But after a week the friend told her she had to leave, and her troubles began.

She found work as a housekeeper for an Arab family who made her work from 5:30 a.m. to 11:00 p.m. and yelled at her for her inability to cook the food they wanted.

"I didn't know," she said, wincing slightly at the memory.

One day, about two months into her time there, Pamela started crying uncontrollably.

I couldn't do it anymore, she said, simply.

After staying wherever she could — a period that included sleeping at a social service agency — Pamela found a campamento, or shantytown, in Santiago's La Florida community. The once-established neighborhood had been devastated by a flood in the late '90s.

Little remained but rock and rubble.

Pamela started to build a house.

She's been in La Florida since.

She got a major boost about 10 years ago. That's when her brother Rubis, whom her mother named after a famous singer, moved to Santiago and joined her.

Together they've expanded the house, which is built from sheets of wood from wherever they can find them and powered by electricity diverted from the local power grid. The family drinks water from a poached source. They've saved and scrimped and installed a television, bought a computer for her son Juan Jose, her 8-year-old son, and purchased a washing machine.

We met Pamela while we were visiting the campamento to observe the work of TECHO, a Chilean-based non-profit that works with vulnerable communities to diagnose, and then help them meet, their needs.

After a while she invited us behind the wall that encases the two-story house. We walked into the yard. A cousin was washing and rinsing a rug by hand. An empty barbeque grill stood against one of the walls.

The ceilings are quite short — I am 5'8" and easily touched the ceiling with my hand — and the kitchen is cozy and clean. A wooden staircase leads up to the second floor.

Juan Jose sat on a living room couch, playing a game on the computer as the television droned in the background.

A picture of Pamela's mother, his late grandmother, a luminous smile on her face, hung above him.

We talked for a while in the house, which had a quiet hum of activity.

Rubis, who has thick hands, a firm handshake and a scruffy beard, explained how he had learned to install electricity by himself. The mother of his son came in, holding their round-cheeked, serious-looking boy who will soon celebrate his first birthday.

One cousin dropped by, then another.

Then a niece who lives next door.

Pamela told us that she had just returned from visiting her hometown. Life there is tranquil, the pace of life slower.

But as before, she could find no opportunities in one of the country's poorest regions.

Pamela always tells her relatives that everything is going well for her in Santiago so that they don't worry. She brought back a home-grown vegetable specialty that tastes like a mushroom.

Along with other children, Juan Jose is getting tutored through TECHO. Pamela attends weekly meetings as a member of the local board that represents the campamento with the city's government. She's excited about the construction of the elevated blue and white community center with an elevated roof built by volunteers wearing blue and red t-shirts.

Work has been erratic for Pamela. The schools aren't great and have far fewer resources than those in other Santiago neighborhoods.

But Pamela still holds firm to the vision that propelled her from her home and into the world.

"I believe I can do it," she said.
RELATED ISSUES

Governance

Issue
Conflict and Peace Building
Conflict and Peace Building