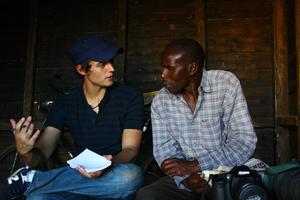 It was a run Sara Mudhoui wants to forget.
The chase pitted her and her family against machine gun-toting looters and murderers who ruthlessly set ablaze everything in sight.
It was the stuff nightmares are made of. But it wasn't a dream – it was real-life terror for Mudhoui, her personal hell.
"(My town) was very dangerous," the 34-year-old said somberly in Swahili, tears tumbling down her dusty cheeks. "We had to jump over seven dead bodies just before reaching the main road."
It sounds outrageously explicit, but Mudhoui's plight was pretty pedestrian. Hundreds of thousands made the exact same journey that December 2007 night in central Kenya. Not all lived to talk about it.
Her husband was murdered and flames swallowed her home, but Mudhoui sided with the fortunate majority – she left with her life.
This is the terror that is post-election violence.
It erupted on Dec. 27, 2007. It continues to plague thousands today.
Displacement defined
The vicious attacks left somewhere between 500,000 and 750,000 Kenyans without homes. Entire families were burned inside their homes and could only escape to the row of machine guns waiting outside. Mass shootings and beheadings occurred in the middle of day. The late-December rampage created masses of internally displaced persons, or IDPs.
Scattered throughout the Rift Valley Province in Central Kenya, crowded IDP camps served as safe havens for those who lost their businesses, homes and families. Global aid provided essential items such as tents, food and water to grief-stricken Kenyans.
In September 2009, Kenyan president Mwai Kibaki pledged the government's support to IDPs in the Rift Valley, saying both money and 2.5 acres of land for each family were on the way. Two weeks later, the government closed down the camps on the heels of an International Criminal Court investigation of the post-election violence. Fearing repercussion for involvement in the attacks, Kenyan leaders felt dismantling the very visible camps was the best way to mask their alleged involvement in the bloody attacks.
Though the camps were officially closed in October, little changed. While some IDPs went back to their fire-devastated hometowns, others were simply moved from a visible, central location to patches of land off the beaten path.
Officially, IDPs don't exist. Just don't tell that to anyone whose life was shredded and has spent two-plus years under a weathered tent.
"I have heard many news or a lot of statements here and there saying, 'Oh the camps. We are no longer having any camps (in) the country,'" said Rueben Kinyua, who leads a camp of about 900 IDPs in Eldoret. "But you have seen they are still there. That's the problem. They are still there. They are still there. And if they are still there, now, what is the action the government is going to take?"
Nothing to be had
After the shutdown, outside food, medicine and drinking water was scarcely provided to remaining camps. The IDPs themselves struggle to create a self-sustaining society. They have no money. Nothing to sell. No land to harvest. No consistent jobs to be had.
That leaves self-supported non-profits as the only line of defense.
"Sometimes we are just like someone who's looking at a burning house but has no firefighting equipment," said John Seii, director of Eldoret-based Crisis Response Group. "And if you try to put out the fire using only a bucket of water, you can imagine what's going to happen. You'll waste energy, but you will not put out the fire."
IDPs say the onus is on the government to end their suffering. Therein lays a growing feud between remaining IDPs and the government. Kenyans feel the government did not provide enough security to protect them from the attacks many knew were coming, as the violence after the election is as likely to occur as the election itself. Also, leaders promised displaced people money and land, a gesture that may have been more to calm IDPs about the closing of the camps than an actual guarantee.
IDPs want the government to get them out of camps because they say it was political leaders who orchestrated the attacks. As Kenyan tribes are politically aligned, displacing an entire tribe of people creates an overwhelming political advantage.
"So whoever engineered that displacement, will now get the maximum vote from the people who are not displaced," Seii said.
Re-location hasn't happened yet largely because IDPs say they haven't received their stipends. Some received 10,000 of the 35,000 Kenyan Shillings they were promised, or about $132.
But dispersing monetary aid in Kenya is much like asking starving people to feed other starving people.
"These government officers who are given the responsibility to actually distribute the money were developing their own list of farce IDPs – IDPs who don't exist," Atemi said. "So they purport to have paid these IDPs, then they pocket that money. So at the end of the day, a big fraction of IDPs don't actually get this money that was supposed to be given to them. But the government has records to show that all IDPs have been paid."
But some did receive the pledged compensation. IDPs in Eldoret and Nakuru, for example, pooled their compensation together to purchase the land they were moved to. That's actually one reason, Lucy Ndemo said, the government cannot help displaced people.
"These people have created (the new camps)," said Ndemo, a government district officer in Nakuru. "This is the first problem of its type. The level of fear is so high that people opted not to go back to their homes after (the camps closed).
"It's not the government's policy to help people come out of certain areas." The government planned to offer registered IDPs 2.5 acres of land, Ndemo said. However, she admitted that plan has fizzled and may never see fruition. Even if the government had the money, there might not be ample land that exists.
"One of the problems is this is a lot of land and (the IDPs) might have a bias of where they do not want to go," Ndemo said. "And who is going to give this government money to buy land from its own citizens to give to its own citizens?"
Unwelcome home
Two years have passed. Suffering hasn't. Media coverage and aid have waned, being replaced by hopelessness and despair.
Pain, poverty and sickness ravage IDP camps now more than before. Because the government no longer recognizes the camps, most non-profits which were working in the area such as the Kenya Red Cross are now handcuffed. When the government said in October that IDPs were private citizens, non-profits were cut off from government money and international aid. The constant meals, drinking water, medication and education non-profits provided were gone. Granted, such suffering isn't uncommon in Kenya, a country that hosts some of the world's largest slums.
But that's what makes IDPs struggle unique – they weren't born into poverty. People living in camps once had booming businesses and close-knit families. One sadistic outburst of violence changed that.
"We did not have food. Everybody had to struggle on how your children were to eat," said former IDP Mary Njoki, who has since struggled to re-integrate back into society. "Even with (the aid) we were not content with the life (at the camp). You can't be content compared to the life you lived previously."
The lives IDPs live now are a mixed bag. Some have gotten their lives back on track. But most remain affected, with many still living in the very tents they believed were a temporary dwelling.
One such case is Maina Kimani Lazoro, a 93-year-old man living with his wife in an IDP camp outside of Eldoret. His struggles epitomize IDP life.
He had everything. Now, he has nothing. The tattered tent above his head reminds him of a life that was stolen from him. The tent signifies a promise that turned to suffering, hope that turned to despair.
The same tent, though, is the only future he foresees.
"We don't have food. We don't have anything. Ever since (the violence) we've still been suffering," Lazoro said, his bruised feet fidgeting in the dirt. "Now we don't have houses. We don't have anywhere to sleep. I can't go back (home), even if I left something there. I can't go back. Going back means death."