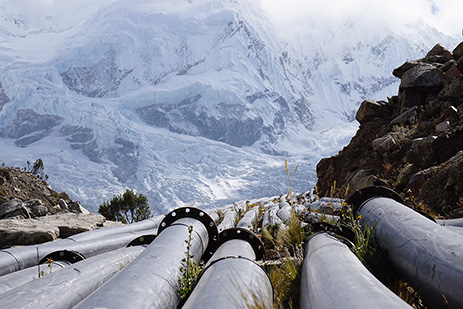 Saul Lliuya's home is under renovation, but the changes are far from aesthetic.
The Peruvian mountain guide and farmer is in the midst of reinforcing his adobe house with concrete so that it has a chance of surviving a mudslide caused by Lake Palcacocha, the glacial lake that lies 14 miles above his home in the Cordillera Blanca. Should a large chunk of glacial ice fall into the lake, an event that would most likely be the consequence of an earthquake, the lake could overflow and barrel down into the city of Huaraz, carrying rocks and debris with it.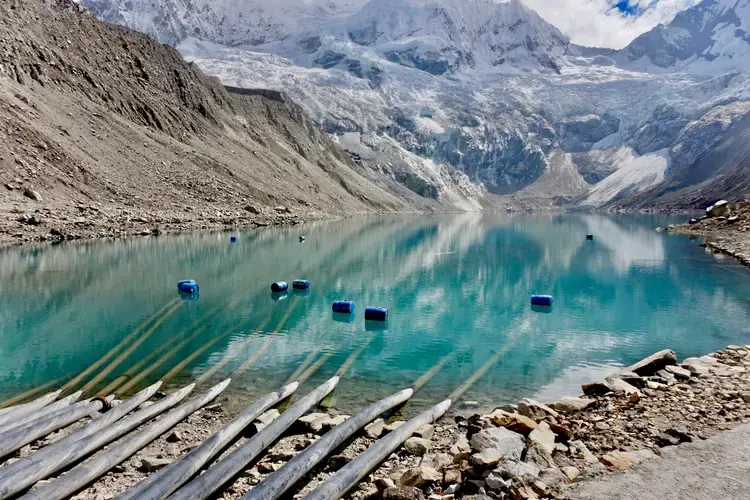 Lliuya and his family live at the edge of town in a neighborhood called Nueva Florida—the first set in Huaraz to be destroyed in the event of a mudslide. Two stories tall, Lliuya's yellow home sits on a slanted street, and every time a car or truck chugs past, dust from nearby piles of cement lands their front step.
Lliuya and his family share a single room while their home is under construction. Behind the door draped in plastic and nestled among piles of books and folded clothes sat Lliuya's 19-year-old son Brandon. He was typing at his laptop, busy studying for his engineering exam.
Lliuya quipped that he wished Brandon would pursue environmental studies. The playful dig was demonstrative of a larger pattern in his community: The public is generally unconcerned with the possible flooding of Lake Palcacocha. Lliuya, on the other hand, is perpetually consumed by the threat, so much so that he's suing Germany's largest energy company, RWE. He's attempting to hold environmental perpetrators accountable. Invisible greenhouse gases originating in affluent nations are today's modern iteration of violent foreign invaders that once pillaged Peru.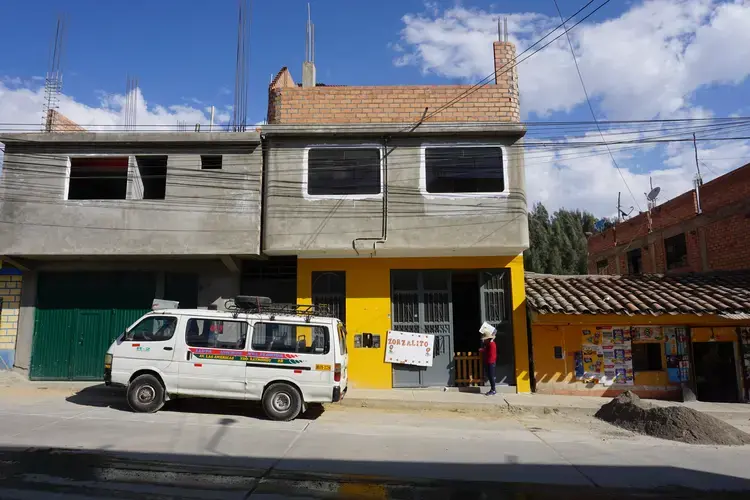 Many longtime climbers from all over the world share Lliuya's concern; they experience the dangerous conditions created by softer ice and have watched as the death rate of climbers has risen as mountains' snow lines have receded. In 2014, Lliuya spoke with a foreign climber familiar with these issues, and soon Lliuya was collaborating with that traveler-turned-friend's legal contacts at Germanwatch, whose website describes the organization as an entity that "promotes North-South equity and the preservation of livelihoods." In 2015, Lliuya flew to Germany to file a lawsuit against RWE.
With the support of Germanwatch, Lliuya built a case that rests on the findings of the Carbon Majors Database, a compilation of the top 100 global fossil fuel producers wherein RWE is noted to produce half of one percent of the global emissions that are causing our climate crisis. Lliuya said that the suit states that "our homes are in danger" and that RWE should be responsible for half of one percent of the cost of containing Lake Palcacocha, the lake that could destroy those very houses and communities. Lliuya is requesting $19,000. Mirroring the systems of colonialism that ruled over Peru, powerful people—whether they be Peruvian or foreign energy companies, politicians, or scientists working to protect the earth—withhold knowledge and ultimately clash with local communities.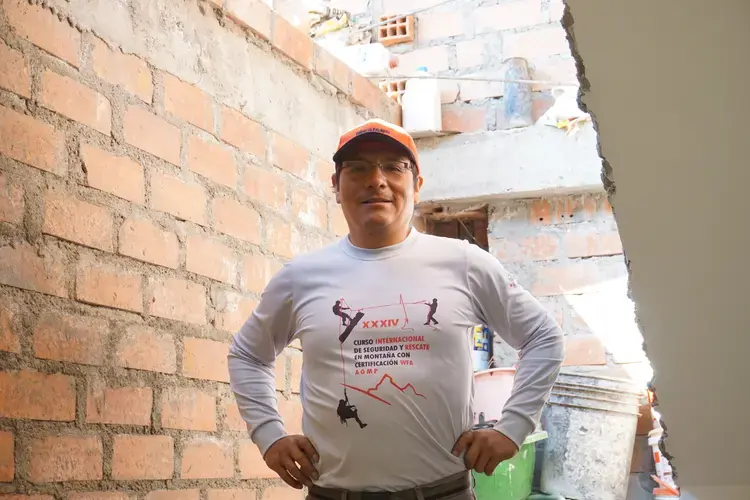 Lliuya's case is currently in legal limbo. Despite national and international efforts to better understand Lake Palcacocha, a German court appointed two scientists to determine if the lake poses a legitimate flood risk. Lliuya says that there are "different opinions… but there are people that know [Lake Palcacocha] and are sure that a disaster can occur." Lliuya is in the minority of Huaraz residents in that addressing climate change is a priority for him. But no one is more familiar with Lake Palcacocha's temperament than its guardians who live and work from a hut above it.
For decades, mountain guide Víctor Morales protected adventurers from the hazards of climbing the glaciers that top the Cordillera Blanca. His current role however, is to "safeguard my city," from those same glaciers. Morales is one of three rotating guards whose job it is to keep watch over Lake Palcacocha around the clock. Every two hours, the lake's guardians measure its depth—if the level of the lake is dangerously high, the men inform colleagues in Huaraz via radio or WhatsApp.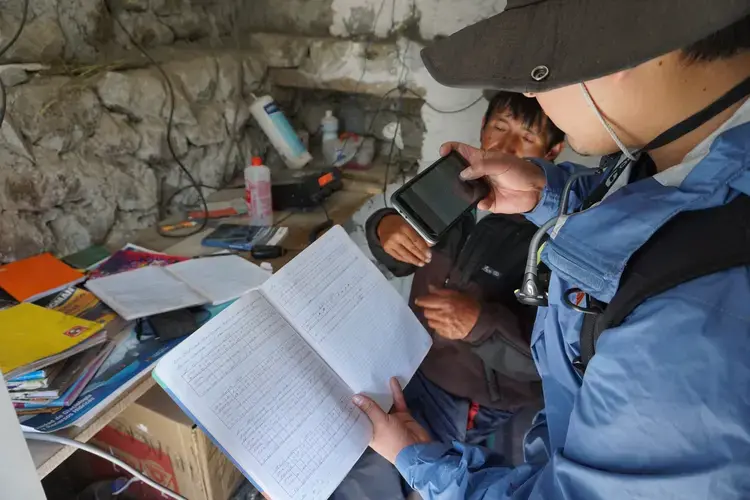 Countless public agencies and organizations as well as foreign research teams are involved in efforts to get ahead of catastrophe—they know what can happen if they don't. In 1941, an earthquake caused a chunk of an adjacent glacier to brake off and fall into Palcacocha, raising a wave that hurtled into Huaraz, carrying 4 million cubic meters of debris that it picked up along the way. The mudslide killed roughly 2,000 people. Today's human-induced rising temperatures are creating a reality in which glaciers are melting rapidly and are even more susceptible to breaking off.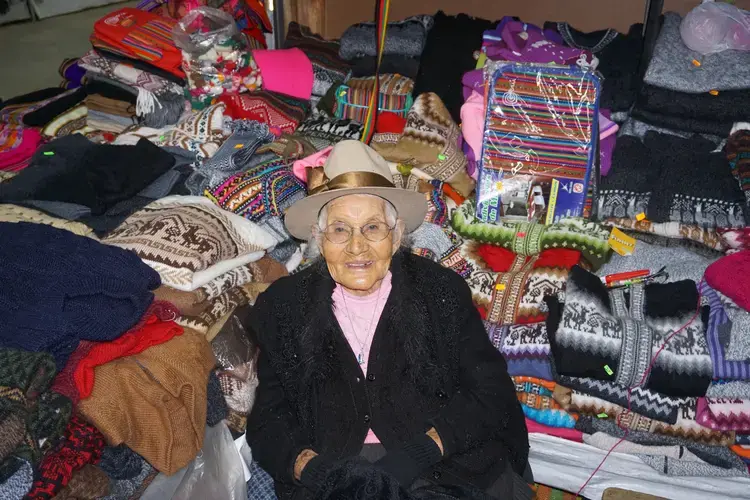 Since that catastrophic mudslide, officials have addressed a growing Palcacocha; melted glacial ice was causing the lake to rapidly expand, increasing the chances of detrimental flood. The regional government installed large plastic siphons to drain the lake and has relied on an unstable dam to prevent a mudslide. In addition to these measures, the Peruvian government oversees efforts to implement an alarm system that would automatically warn the people of Huaraz if a large ice chunk caused the lake to overflow again. In theory, this alarm system could save thousands of lives.
But government officials, leaders of monitoring agencies, and scientists disagree about the level of risk that Palcacocha poses—sometimes so that they personally benefit. Often, adopting the attitude that Palcacocha is merely a latent threat is financially advantageous for politicians, even if the science suggests otherwise. Lliuya noted that "politicians will adjust [their statements] to calm people to minimize panic, saying that everything is under control."
It is true as Morales said that there is always a chance of "exaggerated irresponsible statements" wherein monitoring agencies like the National Institute of Glacial and Mountain Ecosystems Research (INAIGEM) inform the public of minor glacial breaks and thus create unnecessary panic, but INAIGEM would rather be safe than sorry. The organization even allows the public to watch Palcacocha for themselves through the 24 hour livestream. Now, Morales said that "there are always occasional events such as four meter waves [but] we keep this to ourselves."
As a result of a lack of unity among people in power, there is also a lack of communication between those individuals and the people of Huaraz; Huaraz's population suffers from a lack of knowledge surrounding Lake Palcacocha and in turn is generally unconcerned with the body of water that looms over them in the mountains.
While there is not a large rural population near Palcacocha, many rural communities do live near dangerous lakes similar to Palcacocha. And like their urban Huaraz counterparts, these communities generally do not feel threatened by the nearby lakes. Instead, they feel threatened by the presence of projects—including those which aim to mitigate the repercussions of the climate crisis—near their homes. It is the sense of threat that captures this colonialism-like clash.
This clash is so severe that an early warning system for Lake 513, which lies above a nearby city called Carhuaz, was destroyed by mountain-dwelling locals. Lliuya described how after monitoring tools were installed at the lake, Indigenous communities believed that the lack of rainfall they were experiencing was a result of interference from the equipment. "It did not rain and people were desperate, [they] need to eat," Lliuya continued, his eyes growing wide. "The people went to the lake and destroyed the sensors thinking that this mechanism was preventing the rain." After they destroyed the equipment, rain arrived.
Lake 513 is not the only instance of a demonstration of this mistrust. This August, a team of scientists extracting ice cores on Huascaran, Peru's tallest peak, retreated from the mountain due to opposition from nearby Musho village. Lliuya explained the way that colonial conditioning is ingrained in the way Indigenous communities react to any nationality of outsiders: "There is a special relationship between people who live here and the mountains. The mountains are like their roof. It is like having [a stranger] who lives far away come and work on your roof."
Education about climate change "is not readily available [to all]," Lliuya said. Regarding responsibility, he believes it falls on the government. Unfortunately, the government's pace and disorganization mean that sometimes education is left up to locals.
Morales and his fellow guards are local educators and translators, acting as scientific language liaisons between people who are quite literally kept out of discussions about climate change; many rural locals speak the Indigenous language Quechua rather than Spanish. When Morales and his fellow guardians are not living at Palcacocha, they live with their families in mountain communities below. In physical and socioeconomic terms, the men are representative of Huaraz's urban and rural citizens who lack political power regarding climate change.
Yet their access to knowledge means that they are also representative of external entities like government officials and monitoring agencies who are at the decision-making table. Morales said that "many… authorities, do not know nor care about this, because they do not live our reality." Pointing to the aqua lake, he said, "we perceive the latent risk at all times, every day, every minute. However, authorities who live far away do not care…the political situation is disconnected from reality."
Nestor Coral Sotelo is the Regional Director of the National Civil Defense that oversees Ancash, the region that contains Huaraz. When asked about the fears of people like Morales and Lliuya—of a clash between people like him and local residents—he replied that "Palcacocha does not represent an imminent danger." He reiterated the benefits of an early alarm system and emphasized that with Palcacocha, "there is no significant conflict with nearby communities." He did however highlight Lake Parón, a lake that threatens nearby Caraz and has monitoring equipment like Lake Palcacocha and Lake 513: "We do have a conflict."
Nestor noted that the community around Lake Parón has "endured some type of abuse from the mining industry." It is common for illegal and legal mining to destroy Indigenous land, causing detrimental health and environmental consequences. In the case of Parón, the mining project brought to light questions as to who "owns" the land and the lakes within it. Nestor said "it is the state, not [the communities], who own the lake." However, the communities are within that very state—the lakes belong to all Peruvians, not just those with power. What's more is that while Nestor identified the local communities as the party most difficult to work with, an engineer who works closely with Palcacocha said that when he and his team propose projects to install permanent pipes as opposed to the temporary siphons, he was met with resistance from "the regional government authorities."
This engineer did not call Nestor out by name—the complicated nature of all the existing agencies makes it difficult to do so—but he did not mince his words or hide his frustration in saying that "the regional government only wants to make a profit." He added, "evidence is difficult to obtain, because corruption does not leave a trail." As if quoting Nestor directly, the engineer said "[the regional government] will say that a matter is 'not under my scope of responsibilities' and they will direct me towards another group or another instance. Like they always do. They will not do anything."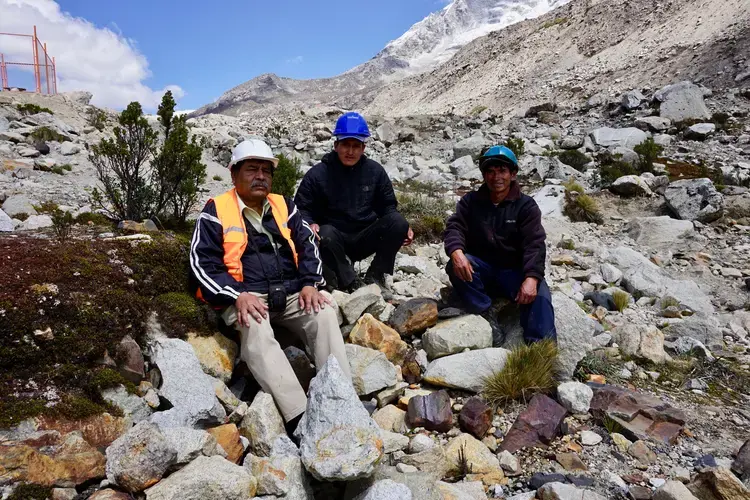 Lliuya is attempting to educate his community, to hold those in power accountable—but does not see himself as a hero: "I do not take this [role] as me being a public figure, but simply as the duty of an individual trying to make something [about the problem], just as anybody else would."
The climate crisis is not beyond remedy—we have the technology, financial means and innovation to combat it. However, trust is not a commodity we can simply design and implement. Trust must seep into the alarming divide that lies between official entities like government agencies and scientific teams, and a public excluded from access to knowledge.
As Lliuya said, "it can be changed, but it is going to take years." He didn't think we could wait that long.
RELATED ISSUES