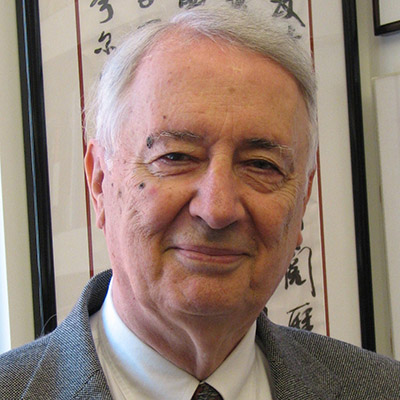 WASHINGTON
The death this week of a revered and beloved Harvard professor saddened generations of students he nurtured and a global community of China watchers and exiles he helped shape far beyond Cambridge. For me, as a former student, his passing marks not just the loss of a larger-than-life thinker, but the vanishing of a pursuit of deep understanding of the world in an era when everyone thinks they're an instant expert with Google and Wikipedia in their pockets.
Roderick MacFarquhar, 88, a former chairman of Harvard's government department and director of its Fairbank Center for Chinese Studies, was celebrated for exhaustive primary-source scholarship interwoven with contemporary narratives to illuminate the roots and ravages of Chinese Communist Party politics. His three-volume study of The Origins of the Cultural Revolution that terrorized China for a decade, until the death of Mao Zedong, in 1976, is a definitive compilation and analysis of documents, speeches, economic statistics, newspapers, personal journals, even propaganda posters dating back to the failed Great Leap Forward that killed tens of millions of Chinese by starvation.
His provocative insights into current-day backstabbing in the halls of power in Beijing and the party's vise-like grip on the politics that circumscribe a liberalized economy were rooted in real knowledge, not the glib cleverness of cable talking heads who are the oracles of our shallow, speed-obsessed culture. The style of learning that MacFarquhar embodied — a holistic understanding of a country's politics through a culture, its people, its history — is dying out as educational institutions prioritize the technical and utilitarian and celebrate Internet research reliant on patterns and PDFs over fieldwork and digging for documents.
"His kind of scholarship is no longer recognized or rewarded by academia," Minxin Pei, MacFarquhar's first PhD student, now a professor at Claremont McKenna College and Carnegie chair in US-China relations at the Library of Congress, told me. "The fad now is to construct a data set, run regressions, and find patterns. If you can't quantify it, it's not considered knowledge."
That shift in what we value and how we pursue it is not just an inside-the-Ivory-Tower debate. It has profound implications for our ability to perceive how states wield power — and how our leaders should respond to a rival as complicated and "foreign" as China.
Leta Hong Fincher, author of "Betraying Big Brother: The Feminist Awakening in China," recalled her most vivid memory at Harvard as a moment from MacFarquhar's Cultural Revolution class that we both took at Sanders Theatre, the biggest lecture hall on campus. To help hundreds of neophytes comprehend the cult of Mao, MacFarquhar urged us to chant in unison, "Chairman Mao, 10,000 years!" just as impassioned masses had done, waving Little Red Books. It was terrifying and effective and a powerful exercise to connect the scholarly world to the real one.
Born in 1930 in Lahore, where his father was a British diplomat, MacFarquhar grew up between colonial India and a Scottish boarding school. He served in a tank regiment in Egypt and Jordan before pursuing Chinese studies and journalism as a premeditated, if circuitous, path to British politics. "Plan A was always to be a politician," his son Rory told me.
MacFarquhar won a Labor Party seat in Parliament in mid-1970s, but when Margaret Thatcher's Tories came to power, he was voted out. In exile from Westminster, he presented BBC programs, and was awarded a doctorate by London School of Economics for his first book on China. He wrote at the time in The Economist that Confucian culture could create conditions for economic success — a prediction that sounded bizarre in 1980 when China's economy was in shambles, but was later cited as the first recognition of the Asian Tiger phenomenon.
After he failed to win back his seat, MacFarquhar accepted a tenured post at Harvard, having leapfrogged the "publish or perish" rat race that robs academics of time for students. MacFarquhar, in contrast, mentored legions of future scholars, journalists, diplomats, policy makers, entrepreneurs, even an Academy Award-winning actress, Mira Sorvino.
He "treated his students like his children," Pei said. MacFarquhar hoped his Chinese graduate students, who affectionately called him "Lao Ma" (Old MacFarquhar), would go back to become "a new generation of intellectual leaders," Pei recalled. After the bloody crackdown on democracy protests in Tiananmen Square in 1989, it was inconceivable for many to return, and MacFarquhar helped those exiles and dissidents forge new lives here. Unlike some foreign scholars who kowtow to the Chinese government to curry favor, Pei said, MacFarquhar stood by his values and spoke his mind, even when he was invited to speak to party officials.
US academia today is far less welcoming to foreign students and professors, with restrictions of H1B visas and a climate of suspicion stoked by the current White House. MacFarquhar "was an immigrant-scholar himself, who proved the great value of having an open society and open minds," Pei said.
In the last 20 years, MacFarquhar became more pessimistic as he watched elites keep a stranglehold on China's political system. He was critical of successive US administrations for engaging China for certain goals while failing to pressure the regime on human rights, politics, and fair play. He agreed with Donald Trump on one thing: shifting from engagement to confrontation over such differences. "Rod thought this system needed a big shock, even though the person administering shock therapy now is not the right person," Pei said.
MacFarquhar's son told me his father regretted not fulfilling his political ambitions. I believe he had a longer-lasting impact through thousands of students he taught to think. In a digital culture that values speed over depth, I dearly hope the values he embodied don't die with him.
RELATED ISSUES