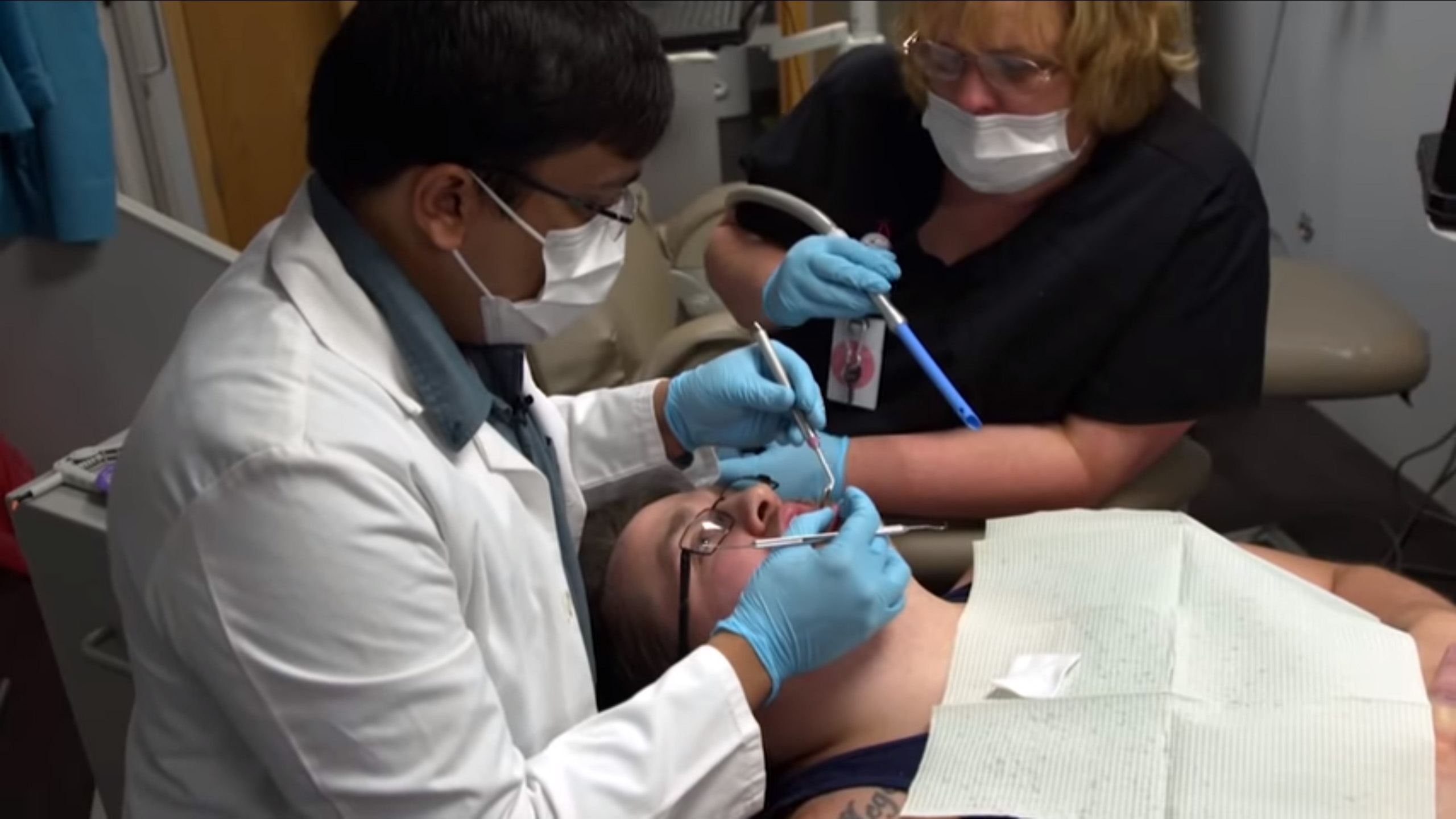 SIMON OSTROVSKY: McDowell County is emblematic of the poverty still dragging down parts of America. It leads West Virginia in the number of people hospitalized for opioid related reasons, over 36 percent of residents live below the poverty line and the population has dropped from 50,000 to less than 20,000 since 1970. A disproportionate amount of residents here rely on medicaid and medicare as their primary health insurance. Because those programs don't cover dental in a meaningful way it's led to a dental health crisis. The crisis is playing out in a town called Welch. This facility is run by Health Right. It's a nonprofit medical group that deploys a mobile clinic staffed with three health professionals to areas of the state underserved for dental care.
GRETA NELSON: We expect about 17 patients today all from the surrounding area, near Welch itself. Welch is one of our counties that we can't see as many patients because we have to travel longer to get here.
SIMON OSTROVSKY: Nearly 57 million people in the U.S. Live in areas designated by the health resources and services administration as "lacking basic access to dental care."
DR. MALAV SHAH: And Open.
SIMON OSTROVSKY: McDowell County is one of them, because of its distance from larger cities, a shrinking population, and an increasing amount of those living in poverty, state officials say.
DR. MALAV SHAH: A lot of patients that we see never had any type of dental care before. Because they could never afford it. I grew up in India and you see this a lot, I didn't really expect to see that in a developed country. But we do see that pretty much every day.
GRETA NELSON: I have 60-year-old patients who have never been to the dentist. Who don't know what dental floss is. No one's ever taken the time to show them how to brush their teeth.
SIMON OSTROVSKY: In 2014, West Virginia's then-Governor, Democrat Earl Ray Tomblin, expanded Medicaid under Obamacare, providing nearly 170,000 low income people medical coverage who had none before. But Medicaid doesn't help much with dental problems. Neither does Medicare, which serves the elderly. Medicare patient Patricia McGuinness is well aware of that.
PATRICIA MCGUINNESS: Dentist wants anywhere between 230 to 500 dollars to pull a tooth. And I don't have that much money. And thank god to the Health Right. I'm grateful. They're gonna let me come and get my tooth, uh, pulled.
DR. MALAV SHAH: Here it comes, ok? Deep breaths. I'm done.
PATRICIA MCGUINESS: You're done?
DR. MALAV SHAH: Yep.
PATRICIA MCGUINNESS: Thank you, Jesus! Thank you, Jesus.
DR. MALAV SHAH: No problem, dear.
PATRICIA MCGUINNESS: Some of us who are on Medicare, no offense, but the program is not working like it should be working. Even when Obama was in and even though Trump is in, it's not helping us any. Thank you.
DR. MALAV SHAH: No problem, no problem.
PATRICIA MCGUINNESS: Thank you. (sobbing)
DR. MALAV SHAH: No problem, all done dear. Ok?
GRETA NELSON: Medicare pays for nothing as far as dental goes. All that a Medicaid card will cover is extractions.
SIMON OSTROVSKY: A couple days after our first visit, the mobile clinic has moved on to another area of the state.
LEDFORD HUNT: Start there and don't stop 'til you get over there!
SIMON OSTROVSKY: Ledford Hunt, a retired coal miner who once worked for a unionized mining company, has arrived to have his entire top row of teeth removed, a procedure that would have cost him one month's Social Security check had he gone to a private dentist. When you were still in work, what was your dental care like back then?
LEDFORD HUNT: I had dental covered everything. Didn't have no problem, I had a good hospital card. It covered everything and didn't have no problem with it.
SIMON OSTROVSKY: What do you think is the overall reason that there are so many people who can't afford their dental ot their other medical care?
LEDFORD HUNT: There's not enough work. I've worked all my life since I was a baby, but this is something else. If it wasn't for this I couldn't have my teeth fixed. I couldn't afford it.
SIMON OSTROVSKY: This black rock was once the lifeblood of the West Virginian economy, but these days retail chains are the biggest employers. And the share of West Virginians getting health insurance through their employers has dropped from 62 percent in 2000 to just over 52 percent in 2017, according to the U.S. Census Bureau. And so, the state stepped up. Remember how West Virginia, under a Democratic governor, expanded Medicaid to cover another 170,000 people? That coverage has continued under the current Republican governor, Jim Justice. He declined an interview request with NewsHour Weekend on gaps in health care coverage and frequently harangues reporters for negative press.
JIM JUSTICE: When all we write and all we look for is bad, you know what it does? It drives people away. We have to stop that because we want people to come here and we want to be happy.
SIMON OSTROVSKY: Seth Distefano is the Policy Outreach Coordinator for the West Virginia Center on Budget and Policy which campaigns on behalf of low income West Virginians. He believes several pieces of legislation backed by Governor Justice and passed by the legislature will ultimately hurt the state's poor.
SETH DISTEFANO: To the surprise of a lot of people um, there were a series of bills that took upwards of close to a hundred million dollars out of Medicaid um, and pushed it towards things that had nothing to do with healthcare. Among those things, Senate Bill 385 took a significant chunk of money um, and put it towards fixing facilities under the domain of the Department of Military Affairs and Public Safety, prisons, basically.
SIMON OSTROVSKY: Distefano says he and other advocates had lobbied for a different state-spending path.
SETH DISTEFANO: One of the things that was put forward, was that maybe we should look at taking this money that was being dedicated fixing roofs on, you know, correctional facilities and instead, maybe dedicate it to restorative dental work. We could have made a generational impact on something that has drug West Virginia down for a very, very long time.
SIMON OSTROVSKY: Back at the Health Right mobile medical unit, I asked dental hygienist Greta Nelson if she expected the situation to change any time soon.
GRETA NELSON: In my lifetime I don't see it changing to where we're going to get a health care system that's going to take care of people the way that it should. A lot of our patients are working poor. These people work two jobs but still don't have the means necessary to provide you know dental care for their family or for themselves.
RELATED ISSUES

Issue
Migration and Refugees
Migration and Refugees

Women