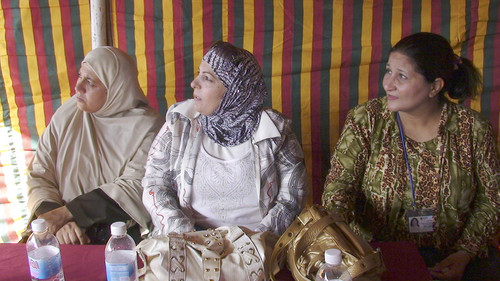 AMMAN, Jordan -- Najim Abid Hajwal thought he would be back in Baghdad by now.

The 49-year-old businessman fled Iraq after a worker in one of his factories warned that his name had appeared on a local hit list. He needed no convincing: By then, he says, two of his sons had narrowly escaped kidnappers, and a brother and a nephew had been shot to death.

Still, he expected the exile to be brief. Packing up his wife and their seven children, he imagined a sojourn lasting weeks.

That was four years ago.

While violence in Iraq has declined in 2008, kidnappers, car bombers and other killers continue to menace Baghdad. Hajwal, a Sunni Muslim, says his once-mixed neighborhood has been taken over by Shia Muslims. If he were to return home, he says, he would be killed.

"Every day, I'm waiting for things to improve, but I don't see it," Hajwal says in the apartment he rents with his family here in the Jordanian capital. "I feel as if, in one moment, I lost everything."

As the United States shifts its military focus from Iraq to Afghanistan, it leaves behind a humanitarian crisis. Since the 2003 invasion, more than 2 million Iraqis have fled the chaos of their homeland for the relative safety of Jordan, Syria and other neighbors. The greatest movement of people in the Middle East since the Palestinian flight of 1948 has impoverished hundreds of thousands of families, drained a crippled nation of its professional class and strained relations in an already volatile corner of the world.

It is an exodus that has occurred largely out of sight. Sixty years since the Palestinian flight transformed the Middle East, the region's governments have been reluctant to recognize this new wave of refugees. Iraqis, unable to live or work legally, arrive and disappear into the shadows of Amman and Damascus, Cairo and Beirut.

A fortunate few - under 23,000 in the past two years - have been resettled in Europe and North America. Two hundred and two have landed in Maryland, several of them congregating in and around an apartment complex in Northeast Baltimore.

An additional 110,000 have returned to Iraq to take their chances. But the great majority of them remain in exile, caught between a homeland most believe remains unsafe and countries where they fear detention and deportation.

The U.N. High Commissioner for Refugees describes an unusually well-educated diaspora, one that includes doctors and nurses, teachers and engineers, now exhausting their savings while waiting for conditions to improve in Iraq or opportunities to resettle abroad.

"Their exile has lasted longer than they ever anticipated," said Imran Riza, the top U.N. refugee official in Jordan. "They're getting quite desperate."

In Jordan and Syria, which have received more that three-quarters of the refugees, Iraqis are blamed for crowding schools, straining hospitals and health clinics and driving up the costs of housing, fuel, food and other basics.

With pressure building on Iraq to support its citizens abroad, the government of Prime Minister Nouri al-Maliki is offering cash payments for refugees to return. Iraqi embassies in Syria and Egypt have organized flights and bus rides home.

They have found few takers.

Marwan Abdullah still has nightmares about his kidnapping in 2005. His family paid $15,000 for his release and fled immediately for Jordan. When his father returned to Baghdad to sell their house, he was shot dead.

"We have no one to protect us," says Abdullah, 18. A member of the persecuted Sabean Mandean religion, he hopes his family will be resettled to a country outside the region: "I would never go back."

With such sentiment common, officials on all sides are bracing for an open-ended displacement - and one that could have far-reaching effects.

"These people represent to a large degree the talent of Iraq, and the hope for Iraq's future," says Ambassador James B. Foley, the top State Department official on Iraqi refugees. "If they are not able to go home and go home successfully, then that is going to cast a long shadow over Iraq's long-term ability to return to normalcy."

The United States has resettled more than 16,000 Iraqis over the past two years. The Bush administration has contributed more than $500 million to the United Nations and other organizations to address the crisis.

Critics say the country that unleashed the chaos that triggered the exodus should be doing more.

"What we are seeing is small numbers," Kristele Younes, a senior advocate for Refugees International in Washington, says of the resettlements and assistance. She says the United States should be putting the same effort into solving the refugee crisis that it has put into prosecuting the war.

"Frankly, it's in its interests to do so," Younes says. "If the U.S. wants the educated Iraqis, the middle class to return to Iraq in safe and dignified conditions to rebuild their country, it needs to assist them in their countries of asylum now so that they keep their education, they keep their skills, they're able to survive."

In a sparsely furnished apartment in Amman, Hajwal clutches the documentary evidence of a prosperous life: Ownership papers to the factories that produced marble and sheepskin for export, deeds to the house where his family lived in the fashionable Mansour district of Baghdad and the farm where they raised chickens and grew oranges.

All have been overrun, he says, by squatters or soldiers. Now the family of nine lives in a four-bedroom apartment hard by a scrubby hillside in the Jordanian capital. Hajwal says he has run through the $100,000 he brought at the end of 2004. He has sold his car; his wife has sold her jewelry. They have pulled a son out of college and married off a daughter.

"I didn't want her to get married," he says. "I wanted to send her to university. She wanted to finish, maybe become a doctor. But I told her I couldn't afford university any more.

"I had 30 employees in Iraq," Hajwal says. "Now look at me. I'm asking for aid."

Similar laments echo across the region. In the sunbleached Damascus suburb of Saida Zainab, men in white robes and women in black burkhas dodge yellow taxis along the dusty, garbage-strewn thoroughfare now known as Iraqi Street.

Saida Zainab, named for the golden-domed shrine to a granddaughter of Muhammad that dominates the local skyline, has become the center of the Iraqi Shia refugee community in Syria.

"The good thing is security," says Sebti Jouma, a 65-year-old driver who fled Iraq after receiving an anonymous letter warning him to leave his home. "Here I can walk where I want."

The downside is poverty. Iraqis generally are not permitted to work in Syria; those who work illegally earn less and are vulnerable to exploitation.

"You make less money, and you are easily threatened," says Sura Jabbar al-Sheik, a refugee who now works as an outreach coordinator for the United Nations. "Your boss can say, 'If you don't do this for me, if you don't do that for me, I will report your to the police.'"

Some Iraqi women and girls have been pushed into prostitution. The town of Maraba, west of Damascus, has become notorious for a sex trade that caters to wealthy Gulf Arabs vacationing in Syria. Syrian officials say the majority who work the nightclubs now are Iraqis.

"This is sad," says Imad Moustapha, the Syrian ambassador to the United States. "Iraq is a proud nation. It used to be a rich nation. It breaks the heart to think of what has happened."

At the Sameena in Saida Zainab - the restaurant takes its name from the Iraqi slang for "fat woman" - Hamid al-Dulayme serves up bowls of tashreeb, the traditional dish of lamb in onions and tomatoes, to a clientele he describes as 99 percent Iraqi. The 43-year-old former interpreter came to Damascus after the deaths of three brothers - one, he says, killed by the Mahdi Army, one by the Badr Brigade and one by al-Qaida.

"The Americans brought al-Qaida with them," Dulayme says. "Iraq was secure before the occupation. Now it is full of militias and criminals."

Among the refugees, nostalgia for Iraq under Saddam Hussein is common - and anger at the United States is palpable.

"Bush came in and destroyed the country," Wafa Ibrahim, a chemical engineer in Iraq before the war, says at a gathering of refugees in Amman. "He wanted the Iraqis to fight each other. He wanted to destroy our history."

The exodus is overwhelming Iraq's neighbors. Syria, a nation of 19.7 million, has taken in 1.2 million Iraqi refugees, according to the U.N. refugee agency. Jordan, with 6.2 million people, has absorbed 500,000 refugees. While neither has recognized the Iraqis formally as refugees, they have allowed access to schools and hospitals.

Officials speak of the obligations of Arab brotherhood - but they also describe a multibillion-dollar burden.

"It's like having 30 million in the United States," says Jordanian Foreign Minister Salaheddin al-Bashir. "Jordan is a small country with few resources. Water - we are the fourth-poorest country in the world with water. Having our Iraqi brothers in Jordan puts a significant challenge."

Abdul Rahman Attar, president of the Syrian Arab Red Crescent, says the influx is transforming local communities.

"You are living in a place like Saida Zainab or Jaramana, which have 150,000, 200,000 people, and suddenly it's coming to 600 or 700 or 800 [thousand]," he says. "It makes a strain on the infrastructure, on the hospital facilities, in water, in electricity, in fueling, in congestion."

In the bustling Damascus suburb of Jaramana, Ali Kasho joins fellow Syrian day laborers on a traffic island looking for work. Since Iraqis began arriving, he says, the room he rents has climbed from about $33 a month to more than $90.

Salaam Marougi, an Iraqi Christian living in Jaramana, says he understands the hostility he sometimes encounters here.

"There's no shame in being annoyed by high prices," he says. "We are like guests who have stayed too long."

The longer their exile continues, the more officials worry about the next generation. Back on Iraqi Street, 13-year-old Ussam al-Sharraf ladles steaming bowls of kuba - fried lamb dumplings served in a tomato broth - for customers at the al-Baracka.

Out of school for four years, Ussam is delighted to spend his days helping his father, the owner of the storefront restaurant. His father, none of whose eight children are in school, sees childhoods lost.

"Of course I worry about their future without education, but I don't know what to do," says Nabil Hassom, 60. "I can't afford to send them to school. I need them to help me in the restaurant."

Dulayme, himself a college graduate, echoes Hassom's concerns.

"After my son and daughter left school, something of my life was broken," he says. "A human being without education is like an animal."

Jordan and Syria have added second shifts at schools in Amman and Damascus, and aid groups have set up tutoring programs and other alternatives to accommodate Iraqi children. But by some estimates, four out of five still are going unschooled.

"It's dramatic," says Laurens Jolles, the UNHCR representative in Syria. "Iraq was a country with a very sophisticated education system and where the level of education was considered to be quite high. ... We've had now several years of either non-access to education or limited access to education or interrupted access to education."

Foley, the U.S. ambassador, says educating Iraqi children is a U.S. national security interest.

"We do have at risk a generation of Iraqis who, if they are sort of left adrift and are not being integrated or educated, risk being fodder for others - for the extremists," he says.

It is a point on which U.S. and Syrian officials agree.

"They might be a good recruiting ground for these people," says Moustapha, the Syrian ambassador. "And on a strategic level, a security and strategic level, this can be a danger. ... These problems are actual and are serious."