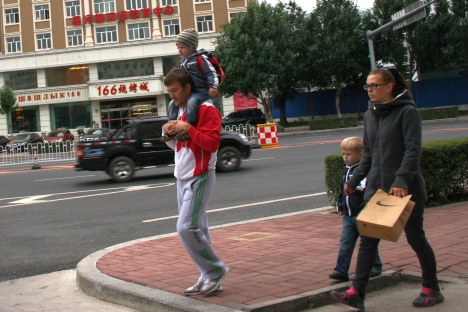 A few years ago, Igor Putilov, who was studying Chinese at Blagoveshchensk State Teaching University, slept in and missed two of his morning lectures. He said the solution to his malaise came over him like an epiphany: It was time to move to China.

"I didn't see any future for myself in Russia," he shared in a recent interview in his new, comfortable apartment in Heihe.

On his last day in Russia, Putilov jumped out of bed, packed his backpack and ran to the river port separating his town from China. Twenty minutes later, the ferry took him across the 800-meter wide stretch of the Amur River to his new home, the modern and vibrant Chinese city of Heihe.

Thanks to a free economic zone, there is no visa requirement for Russians traveling across the river border. Cheap rent, affordable restaurant food and the possibility to earn some money sounded like heaven to the student. The young linguist perfected his Chinese, started blogging, and became manager of a mail-order business.

"I frequently meet flocks of happy Russians residing in different parts of China—most of them come here from Siberia and the Far East," Putilov said.

While Russians have often expressed concern that Siberia's declining population of 23 million will be overwhelmed by the 111 million Chinese who live in the Manchurian provinces along the border, the rate of migration has been relatively small. In reality, both Russians and Chinese are crossing the border.

The number of Chinese in Siberia's Far East peaked at about 500,000 in 2010 and has declined by 20 percent over the last two years, according to a study by the Russian Academy of Sciences. Thirty to forty thousand Russian professionals have purchased real estate and found jobs in China in the last decade, according to different expert sources.

Young people in Siberia want to learn Chinese, and many consider the possibility of moving there for employment. A survey by a Khabarovsk-based Far East Research Group found that while 37 percent of residents in that city see a threat coming from China nearly 50 percent thought the region's major problem was the economic and development policies formulated in Moscow.

Putilov, 26, is a pioneer among Russians who are building lives on the other side of the border with China. Putilov's mother, a retiree, joined him in Heihe last year. And these migrants trumpet the quality of their new lives: the early morning street markets with fresh vegetables, giant river fish and heaps of mushrooms; affordable child-friendly restaurants; and luxurious 24-hours spas that cost as little as $5 to enter.

Vera Davydova, another Russian immigrant in Heihe, revels in the evening ritual on the river bank when hundreds of Chinese line up to perform a synchronized dance.
"It's a healthy tradition that gives you energy," said Davydova, a 58-year-old pensioner who moved to Heihe from Tuva in Siberia. She added that her "youth finally began" in China.

Last September, Victoria and Konstantin Petrashev strolled along the brightly illuminated riverbank in Heihe with their two sons, aged seven and four. Local pedestrians hugged the blonde boys and congratulated the couple. This is "the usual expression of warm feelings" of Chinese for foreign children, the Russian parents explained.

"In China people often tell me that I am beautiful, something I never heard from strangers back home," Victoria said.

The Petrashev family moved east from Abakhan in search of a better life. They said they grew tired of trying to find an affordable home and the common tactic of paying bribes to get their children into kindergartens.

"It can only inspire drinking," said Konstantin of the life he left behind.

The father of Russian drama, Anton Chekhov, wrote about independent, brave Russians who lived in the eastern parts of Russia: "the poorest exile breathes more freely on the Amur than the highest general in Russia," Chekhov wrote from his trip along the Amur River in 1890.

But for an increasing number of families, China offers the fresh air Chekhov writes about. At a dinner with journalists, a rock musician, a writer and businessmen, Igor Gorevoi, the minister for foreign economic relations for the Amur region, spoke openly of his school friends who have moved away recently, "some to central Russian cities, others abroad." Last year's statistics sounded especially frustrating to local officials: 6,080 people moved out of the Amur region, twice the migration in 2010.

Gorevoi is at the helm of the Blagoveshchensk response to the flow of residents out of the Amur region to China, and cities in central Russia. Gorevoi is charged with building up tourist infrastructure to attract Chinese visitors and create local jobs.

He also said that the authorities recognize that affordable housing and quality kindergartens and schools are essential to reverse population decline. But emigration to China, and even other Asian countries, is increasingly a viable option for Russians.

Natalya Legotina, who runs a modeling agency in Khabarovsk, is making sure that her daughter learns Chinese. Legotina has even bought an apartment in the Chinese city of Dalian to avail of business opportunities across the border. "Immigration is a solution for me. I want my daughter to speak fluent Chinese and have a good education," the businesswoman said.

"At this end of Russia, our students are keen on exchange programs to China, Japan, Korea or Malaysia. Asian languages have grown just as popular as English," said Vladimir Kuznetsov, the director of the School of Regional and International Research at Far East Federal University in Vladivostok.

According to Kuznetsov, the idea to make English a required language for university lectors proved very unpopular. Kuznetsov, also known for pulling back the iron curtain in the 1990s, when he was the first post-Soviet governor of the Primorye region, believes more reform will come to Russia from the East.

On the other side of the border, Chinese students at Heihe University are also diligently studying Russian grammar.

"Maybe one day I can open my business in Russia," said a Chinese student who goes by a Russian name he invented, "Schastye." A group of Russian professors who were recruited to teach at the Heihe university said they are thrilled with their $2,000 a month salary and free housing.

Back at the river embankment, Konstantin Petrashev shows off his newfound vigor. He breaks into push-ups to the delight of a group of Chinese women, who stop what they are doing to count his push-ups and applaud loudly. Earlier that day, the young Russian family gives the reporter a tour around their spacious four-bedroom apartment. The rent? $2,000 for the entire year. The colorful new kindergarten complex has web cameras, flat screen computers and friendly service.

At the elementary school attended by the Petrashev boys, they thank their teachers at the end of the day with a cheery "Xiexie!"—the word almost every Siberian knows these days.
RELATED ISSUES