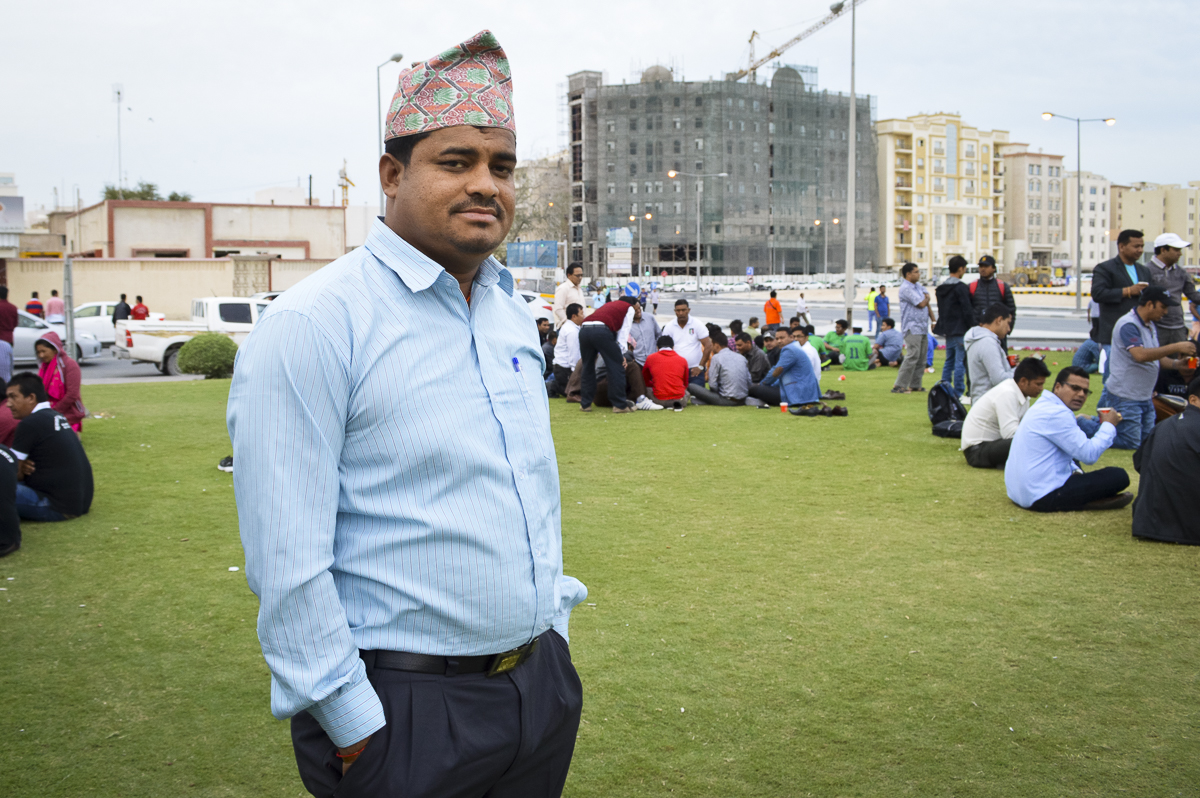 DOHA, Qata -- Dhurba B.K. counts himself among the lucky ones. Thousands of people died in an earthquake that rocked much of Nepal in April 2015, but his family survived.

"My house was damaged, and my family is living in a tent, but it's ok," he says. "At least they are alive."

B.K., 33, says he spoke to his wife just hours before the earthquake that devastated Nepal on April 25, 2015. When the quake struck at 11:56 a.m., his wife, their children and his father were shopping in preparation for a family trip to visit other relatives.

B.K. was at work in Doha, Qatar, where since 2007 he has driven a truck that moves heavy construction machinery. He was on the road when he heard from another Nepalese worker that there'd been an earthquake back home.

He immediately started calling his loved ones but he couldn't get through. Fear and dread filled him.

"I was worried," B.K. says. "I was scared."

And he felt helpless.

"I have to think about my family," he says, remembering the anguish he felt that day. "I have to take care of them."

It was several hours before B.K. reached his brother, who confirmed that the family was safe. But their home, which B.K. had paid for through his work in Qatar, was seriously damaged.

"I never got to live in that house," B.K. says.

The older family house next door, where relatives lived, was also badly damaged.

For many of the millions of Nepalese people who were working overseas in April 2015, the earthquake sparked severe distress. Many of them lost much of what they'd worked for years to build.

Now, like B.K., they're starting again, earning and saving money to rebuild their lives.

B.K. is one of about 400,000 Nepalese migrant workers in Qatar, and one of roughly 2 million Nepalese workers abroad. That number doesn't include the Nepalese workers who cross their country's open border into India to find jobs.

The money those migrants send home accounts for just under 30 percent of Nepal's GDP.

With their overseas earnings so critical to their families, migrant workers faced a grave quandary in the days, weeks and months after the earthquake.

"They were of two minds—to come home to their families or stay back and work," says Sanam Poudel, a psychologist at the Center for Awareness Promotion Nepal, a non-profit organization based in Kathmandu, Nepal's capital. "What is the right choice? They could not decide."

A survey of 408 displaced households conducted a month after the earthquake found that 13.2 percent of Nepalese people who worked abroad prior to the quake returned home after it occurred, according to a government report.

While hospitals were crowded with patients who sustained injuries in the quake and its aftershocks, an untold number of people were also suffering from psychological trauma. (Read our story here.)

Mental health services are "too meager" in the context of post-earthquake Nepal, Dr. Saroj Prasad Ojha, head of the psychiatry department at Tribhuvan University Teaching Hospital's Institute of Medicine told Global Press Journal last year. Nepal has about 110 psychiatrists and about 400 general counselors.

People who were working overseas at the time of the earthquake need mental health care, too. Poudel has counseled around 20 female migrant workers, as well as family members, who were traumatized by the earthquake, even though they were working abroad when it struck.

"Migrant workers faced anxiety and restlessness," she says. "They didn't know what was happening at home."

B.K. was among those who says he felt pulled in opposite directions.

"I was worried for my family, and I wanted to go home," he says.

But were he to return home, his income would disappear.

He works six days each week, and often adds four hours of overtime on Fridays, which are otherwise his day off.

He was single when he left Nepal in 2007. He returned home in 2010 to marry Rupa B.K. In March 2011, not three months after his wedding, he returned to Qatar.

"I was two months pregnant when he went back to Qatar," Rupa B.K. says. "It was difficult to give birth and raise a child without a husband. His love is there but he is not physically present."

In October 2013, Dhurba B.K. made another brief visit when their daughter, Puja, was around 2 years old, Rupa B.K. says. Puja did not know who he was, she says.

"This is our country's situation," Rupa B.K. says. "People have no choice. Our government cannot provide jobs. At least people going abroad are finding jobs."

The full multimedia article by Global Press Journal can be read here.
RELATED ISSUES