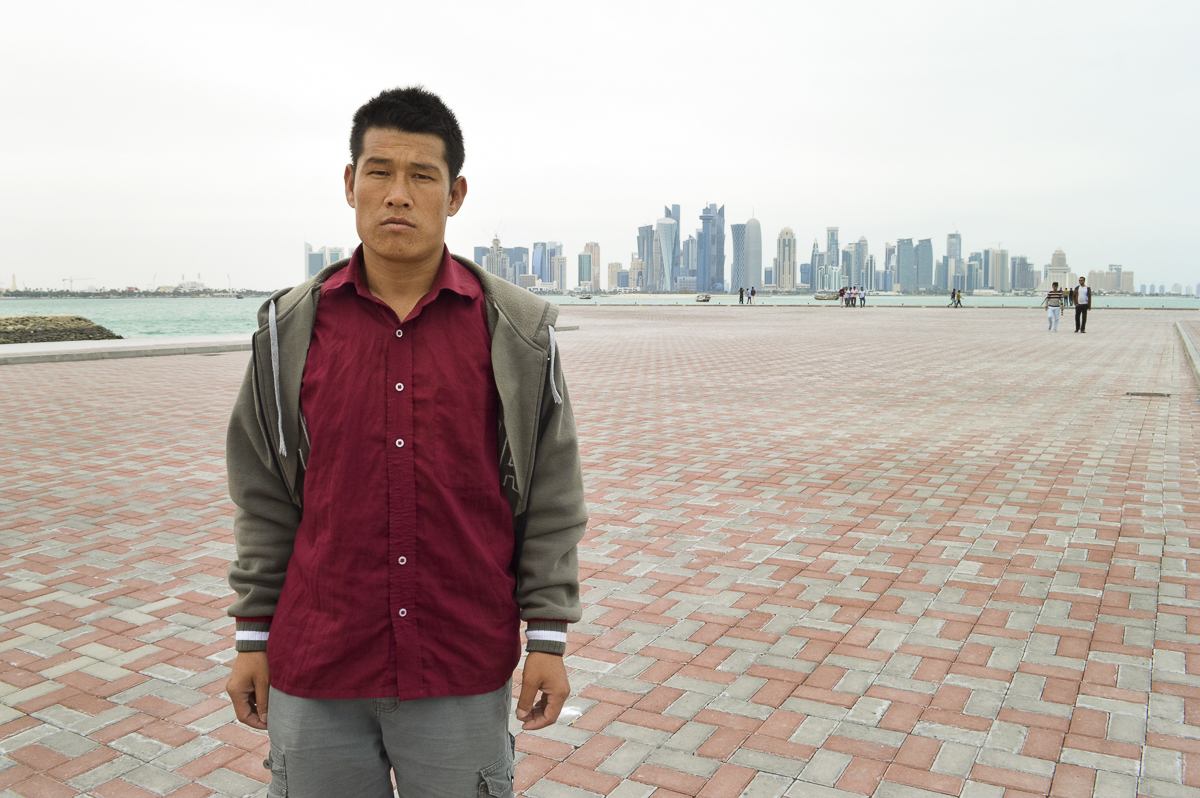 DOHA, Qatar -- Tirtha Raj Tamang worked only 18 months in Qatar before he quit to return home to Nepal. But getting home wasn't easy.

In Qatar, his salary was lower than promised, he says, and living conditions were deplorable.

"I came to Qatar for better opportunities," he says as he walks along a waterfront promenade in Doha known as the Corniche, where many Nepalese workers gather on their day off. "I wanted to earn money to take care of my family."

In May 2014, the livestock farmer got a job through Motherland Overseas, a manpower agency in Nepal.

The agency, one of about 750 in the country, sends workers, often men from poor, rural areas, abroad for various jobs doing things such as construction or cleaning. Tamang wanted to work as an electrician, so he took a two-month course, hoping to earn more money.

Tamang says he paid the agency 55,000 Nepalese rupees (now $512), which was supposed to cover his application fee and airfare. His contract stated that he would work in Qatar at Specialized Trading & Contracting Co. as an electrician for 900 Qatari riyal ($247) per month.

But when he arrived, he was given a job carrying parts for air conditioning repairs and a monthly salary of 800 riyal ($220). He complained repeatedly, he says, and was finally given an electrician job. But his pay didn't increase, he says, and paychecks were infrequent.

"I never got my salary on time," he says. "We spend so much money to come here. At least we should get what was promised to us by the manpower company."

Living conditions in the labor camps, the sprawling complexes where migrant workers usually live, were dismal, he says. The company covered food and housing, but 10 men slept together in one room, he says. And the company didn't pay for his medical expenses, as promised. The few minor issues he had treated while he was there, including a fever, were paid for out of his own pocket.

Tamang's patience wore thin. He wanted to go home.

In October 2015, he says he told the company that he wanted to leave, but the company refused to terminate his employment contract, pay him what he was owed or give him his passport, which was confiscated when he arrived.

They also started sending him notices about poor performance and work errors, Tamang says.

In desperation, Tamang says, he tried to file a lawsuit against the company in Qatar's court system. He was sent to the Criminal Evidence and Information Department, a government agency which handles many migrant worker issues. There, he was told to pack his bags and show up at the airport the next day. By then, it was late April. Tamang got his passport, but not the paychecks he was owed.

"I did not ask for my salary again," he says. "I took my passport, paid for my ticket and headed straight to the airport."

Tamang was frustrated, but could not afford to stay in Kathmandu to file a complaint against Motherland Overseas.

"I don't even know if I can file a case," Tamang says. "I don't know the procedures."

GPJ twice visited the Kathmandu offices of Motherland Overseas, but staffers refused requests to speak with the company's director. Numerous phone calls and emails sent to the director were all unanswered.

As of April, Motherland Overseas had 30 complaints filed against it at Nepal's Department of Foreign Employment.

Meanwhile, Tamang is using the little money he has to repair damage to his home from the 2015 earthquake. But he knows that his leftover money from working abroad — 150,000 rupees ($1,396) — won't go far.

As for recourse against Motherland Overseas, Tamang knows there is none.

"We cannot win because we have no proof," he says.

The full multimedia article by Global Press Journal can be read here.
RELATED ISSUES