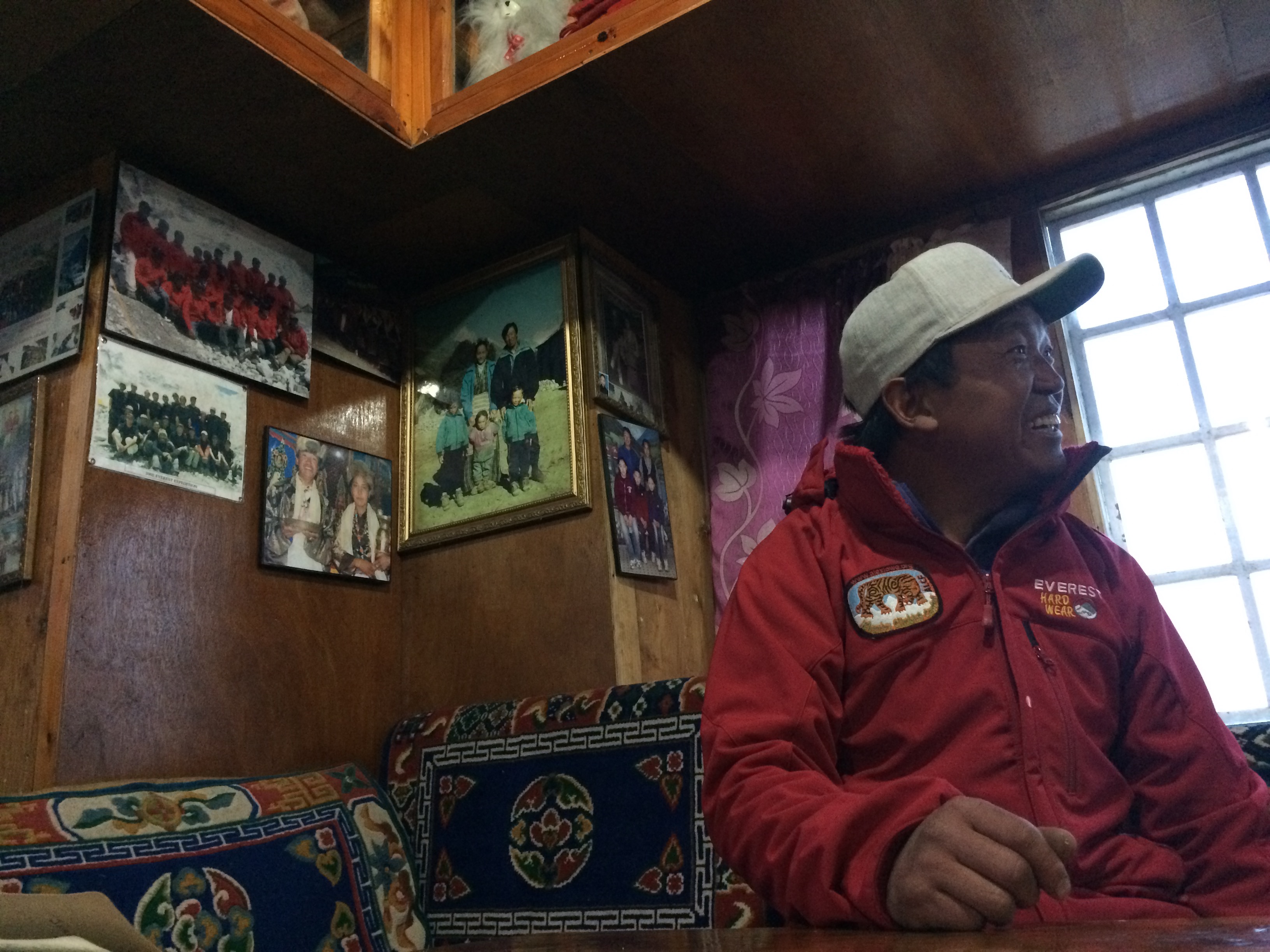 The walls of Panuru Sherpa's guesthouse in Phortse, Nepal are decorated with every mountaineering award imaginable. Hung next to pictures of his family are accolades from the Nepal Mountaineering Association, Star Awards from Denali National Park, and letters of appreciation from the Chinese Mountaineering Association, to name a few.

He took his first expedition to Mount Everest when he was 17, and has since summited the mountain 10 times. Everest sits at 29,000 feet in the highest mountain range in the world, the Khumbu Himalaya—Panuru's backyard.

Finding work as an experienced mountain guide shouldn't be hard for Panuru, and it normally isn't.

But this year he's worried. Come next spring, finding clients to lead up the mountains might be a bit harder than usual.

Panuru thinks he'll see less tourists in the coming months because of the earthquake that rocked his country last April.

"The Nepalese government says it's not safe, but in the Khumbu, it's safe here. People think it's scary."

The fear he's talking about stems from Nepal's recent string of natural disasters. In April 2014, an avalanche on Everest killed 16 Sherpas, members of the ethnic group from the mountainous Khumbu region of Nepal, whom are considered some of the most skilled mountain guides in the world. It proved that everyone was vulnerable.

A year later, on April 25, 2015, Nepal felt the biggest earthquake it has had in 80 years. A 7.8 magnitude quake struck around noontime on a Saturday, and killed nearly 9,000 people. This caused an avalanche at Everest Base Camp, killing at least 21 climbers and guides. It is referred to as the deadliest day in the mountain's history.

The epicenter of the earthquake was in the Gorkha district, about halfway between Kathmandu and Pokhara—Nepal's two biggest cities. Sections of Kathmandu were flattened, and the some of the city's old architecture, such as the iconic temples at Durbar Square, collapsed under the initial quake—even more so with the aftershocks. Although cities to the west like Pokhara were left almost untouched, most of the country felt repercussions of the quake's damage, in ways not only visible by rubble and damaged houses.

Tourists saw Nepal as a no-go destination. Some, like Panuru mentioned, think Nepal is still damaged and unsafe for trekking and travel, which partly explains such low numbers.

Nepal has seen a significant decrease in tourists since the earthquake. October sees the highest numbers of tourists—especially in Sagarmatha National Park, home to Everest and many notable peaks in the Himalaya (the Everest Base Camp trek is the main attraction for trekkers coming to Nepal). According to the Nepal's Department of National Parks and Wildlife Conservation, the park saw 9,463 tourists in October 2014, and a drop to 5,212 in October 2015.

"We just watched all our bookings at Alpenglow - and all of my competitors - our business essentially went away. A 50 percent reduction in numbers is a conservative estimate."

Adrian Ballinger, founder and owner of Alpenglow Expeditions, where Panuru currently guides, recalled a recent trip to Makalu, a high peak in the Khumbu range. He too saw a drop in clients.

On this expedition, he had five people signed up for the trip. "After the earthquake, four or five cancelled."

"We just couldn't persuade people to go. It was a combination of reading and hearing in the media that the devastation was bad."

It was a huge hit economically. Nepal thrives on its tourist money, which is vital to its economy. According to the World Travel and Tourism Council, the tourism sector employed 1,112,000 jobs in 2013, and is expected to rise to 1,696,000 jobs in 2024. Similarly, the tourism sector's total contribution to Nepal's GDP sat at 8.2 percent in 2013, and is forecasted to grow to almost 10 percent in 2024.

Those regions that see the most tourists, such as the Solukhumbu Region (Everest Region), make money from park entrance fees, permit fees, and lodging. But the entire country was affected by the drop in visitors, not just the parts of Nepal that see high rates of tourists.

"Tourism isn't a local phenomenon, or a local business," says Professor Gyan Nyaupane, who teaches at Arizona State University.

Nyaupane thinks the media played a role in shooing away tourists. Because Kathmandu was severely destroyed, many foreigners assumed the damage spread to all of Nepal. He used major cities as an example:

"When something happens in New York City, people think these events happen in all of the U.S."

And since the international news constantly replayed images of Kathmandu's fallen buildings, those images became stuck in viewers' heads, Nyaupane says.

"You see the images more frequently, and that collects in your memory. Collectively, the damage will be bigger—you feel like the impact is higher than what it really is."

Ghazali Musa, a professor at University of Malaya, Kuala Lumpur, thinks this repellence is only temporary. He says things will inevitably bounce back.

"It is like the Bali Bombing. People will not go for a while, for fear of safety and security. Fear of inadequate and unsafe infrastructure and facilities, et cetera. But tourism will always rebound because of demand forces. After a year or two, tourists will forget about the earthquake."

He also mentioned a major reason why people take flights to Nepal in the first place.

"The Himalaya and Everest are too strong of images to ignore. People will risk their lives to experience them."

***

What draws many tourists and backpackers to Nepal is the opportunity to trek in the foothills of the Himalayas, the world's highest mountains. Most trekking is low-cost and accessible, because of the infrastructure: The Khumbu and Annapurna regions support tea-house trekking, where tourists hike from town to town, eliminating the need to camp in tents.

But as you trek through the Khumbu region while the damage is fresh, you'll be sure to see evidence of the earthquake: piles of bricks, tin roofs and wooden planks spill onto the trails throughout town. The wooden frameworks of re-built homes stand like skeletons, all in recovery mode. Some towns look like construction sites.

The region has seen its fair share of quake damage. The village of Thame was hit particularly hard, and efforts were raised to send supplies to the more inaccessible towns in the Khumbu. "In Thame, 95 percent of the homes were damaged," says Norbu Tenzing Norgay, the son of Tenzing Norgay, who, along with Sir Edmund Hillary, was the first to summit Mount Everest in 1953. "Things are pretty bad right now."

As winter continues, rebuilding is necessary to keep houses warm and livable. "Most of those homes have now been rebuilt — to the extent that they will survive the winter."

While these structures may look fine from the outside, Norbu says they make for quite difficult living conditions. "The damage doesn't look that visible, but once you go in the homes, you see that the living spaces are cut to half."

"People have put aside their reconstruction efforts to the spring, because of the massive cost of labor," says Norbu.

Homes may be undergoing construction into the coming months, but what you will see open and running (albeit slowly) are the guesthouses. An average guesthouse or lodge will accommodate trekkers for a small fee (100 to 200 Nepalese rupees; the equivalent of one to two U.S. dollars), as long as they purchase meals during their stay.

The people who run the tea houses and lodges in the Khumbu are mostly Sherpa–the ethnic group from the mountainous Solukhumbu region. The Sherpa play a major role in Nepal's tourism sector. They have become known to western audiences for their skill in the mountains, and the region has lent many Sherpa the opportunity to work in the Himalaya, such as with climbing outfitters. Most of them take jobs as climbing and trekking guides, as well as porters, cooks on expeditions, and other jobs. So it's not surprising that the name "Sherpa" has become synonymous with "mountain guide."

***

Professor Nyaupane made it clear that while both tourists and climbers might have a low turnout in the coming months, climbers have to call shots and make accommodations much earlier than an average trekker. "Mountaineering works differently from modern day-to- day tourism," he says. "Mountaineers make their decisions way in advance." If Panuru predicts these clients will drop, it speaks to how concerned they are about conditions on the mountain–enough to cancel trips planned months, even years, in advance.

Ballinger also mentioned there was another factor in his clients' decision to back out of his Makalu trip. He called it a "selfish attitude."

"They don't want to go if there's one more thing that will make their trip unsuccessful." Success can be defined as summiting the peak. Failure accounts for anything else: canceled plans, turning back, etc.

"People are waiting to see successful trips in Nepal before they return."

There's a high possibility that some climbers will see past any warnings and continue to climb. It is likely that these climbers have had bookings in advance, and thus have prepared accordingly. Mark Jenkins, an accomplished climber and writer, believes that the earthquake and its effects won't change anything.

"My guess: Nothing will change.  More trekkers to EBC, more climbers attempting Everest."

The ultimate goal for these mountaineering workers and guides is safety. But sometimes client happiness can be the leading narrative when it comes to business. Some might call it dependence, but Nyaupane believes the Sherpa are too reliant on the Western tourist money. Because even when there's no business, there should still be an incentive to work.

"But people [the Sherpa] think, 'As long as we have Everest, people will still come.'"

When mountaineering workers are in the off-season, things are relatively quiet.

"They work for three or four months, and make enough money to last the rest of the year." Some Sherpas earn enough to send their kids to school in Kathmandu. Their work is sought after, because it pays so well.

But the danger of the mountain is what makes it risky, and the Sherpa know that. This feeling has only been heightened by the 2015 quake, if it wasn't already by the 2014 avalanche.

"They are trained to be sherpas, but not trained in the global impact of tourism. They shouldn't rely on tourism. The Sherpas think it's constant, but they don't realize that things can fluctuate."

In recent news, there has been discussion about Sherpa mistreatment on the mountains, mostly concerning wage. This has been brought up in light of the recent Hollywood film, Everest (2015), and its counterpart, Sherpa (2015).

"There is a segment of workers on mountains like Everest that are being exploited - that's absolutely true,"

Ballinger says. "There are now cut-rate companies offering Everest trips for a quarter of what my trips cost."

These companies are paying less for Sherpa to work on the mountain. "My sherpa make eight to ten thousand dollars per season, for six weeks on Everest–there are companies that are paying less than a thousand dollars for an entire season."

He explained that Sherpa are taking the low-paying work, because they need to. And this is proving increasingly true as there are less clients showing up at the other end of the job. "There are Sherpa who are taking that work, because there isn't that much work in the country."

The Sherpa are being paid less to do the same job, and to take on everything it encompasses: the risk of avalanches, the risk of collapsing seracs, the risk of falls, and what it ultimately boils down to: the risk of death.

Ballinger was quick to say that this disparity is only one small part of work on the mountain. "Any reputable company is paying really great wages, and run really safe operations in Nepal. For the reputable companies, the Sherpa desperately want work."

Panuru expressed his worries about a less-busy spring season for climbers. But there's some hope—he mentioned there could be more climbers in the following fall expeditions, but it all rests on what happens up at 22,000 feet in the Himalaya.

"It all depends if there is success on the mountain in the spring."