It's Saturday afternoon in the Port-au-Prince community of Delmas 75. The music ministry of Rendez-Vous Christ Church is practicing, belting out the high-energy Hezekiah Walker gospel song, "Every Praise." Throughout the church there's a buzz of activity as young adult men, all members of the church, install electrical lines, lay down flooring, check on the multimedia technology, and pray in the corners. They are laying hands on the very church that has laid hands on them. They are giving back to the church that gave many of them new hope and new direction to stand strong in the battle against inequality and corruption.
Rendez-Vous Church is nearly four years old and one of the fastest-growing churches in Haiti. It began in Delmas in 2016, in an empty house on a wide dirt road adorned by the bougainvillea blooms. Although it opened some years after the earthquake, its roots can be traced back to that time, when its founder, Julio Volcy, was inspired to help young Haitians and travelled to Haiti from Florida repeatedly to offer assistance.
When Rendez-Vous Church opened, its congregation consisted mostly of 40 young men who were alumni and students of Haiti Teen Challenge, a program that reaches out to those broken by addiction, abandonment, and abuse. Today, it's a multi-site church whose more than 2,800 members represent a mosaic of Haitian life. It's a church that provides education and health services to those that even the government fails to reach. 
It's not just young men who flock to Rendez-Vous. Young women come, too. They wear jeans and tennis shoes, have body piercings and wear their hair in dreadlocks and other contemporary Afrocentric styles. They unashamedly bring with them their Bibles in Haitian Kreyol and their pasts, unafraid of being judged for struggling with poverty and other life challenges. 
In Haiti, more than 80 percent of the nation is Christian. But many churches can be very traditional and youth and others can be ostracized for not wearing suits and ties and proper dress. To be a Christian, you have to look like a Christian, with attire typically informed by conservative Western ideas of what's acceptable.
These practices pushed youth away from churches. For the young people graduating from Haiti Teen Challenge, this was not a good thing. They needed the support of a community and a disciplined life of faith to encourage their overcoming. Without that support, they were left vulnerable.    
A Fire in the Soul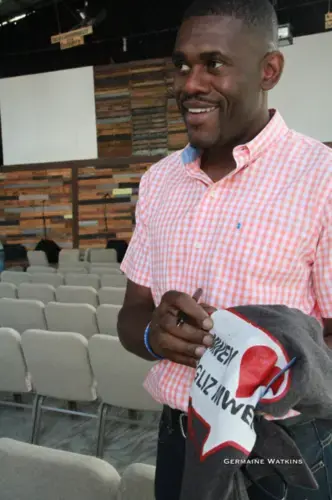 So, in 2016, Julio Volcy, a charismatic young minister with a sonorous voice, created Rendez-Vous. He called it a church by believers for non-believers. "I wanted to take the passion of the young people and use it," Volcy said. "I told them we love God and we love the people. We are going to have a church."
But the young man, who grew up in the Montagne-Noire area of Haiti, didn't return to his homeland to create a church. Nevertheless, his journey to the United States and back—and his desire to equip the next generation to battle corruption and poverty—has its roots in how he saw his own family spiral into "misery" when his father left. 
"I hated everything that I saw my mother going through," he said. "I hated poverty." 
The struggle put a fire in his soul. He determined he would work hard and make a difference. At 12, he mopped floors in a mission house, earning a $1 a week. He plucked oranges and grapefruit from his grandmother's yard and sold them at the market. 
But, at 12, something else was also happening to Volcy. Based on his experiences in Vacation Bible School, he gave his life to Christ. "I didn't fully realize what was going on, but I knew that God had placed something inside me, I just didn't know what it was." 
This emerging faith led him at 16 to decide he would live an honest life. At 19, he started a small Bible study group to teach literacy in his home village. It later became a not-for-profit organization, Hope Outreach International, which his wife currently leads. Still, as a young Christian, as he walked through the mountains, he saw nice homes and cars and he aspired to a more prosperous life. He determined that education was the way out – and up – for him.
At 23, he moved to America. He landed in New York but moved on to Boston. Shocked by the cold weather, he soon headed South, to Atlanta, where he earned a bachelor's, master's and doctorate in Biblical Studies at Beacon University, a school devoted to developing Christian leaders.   
Volcy lived in the U.S.  for 17 years. He studied hard, built influential relationships, started and led a church in Florida, and married a Haitian native who grew up in New York. But he never stopped wanting to return home. During his first 10 years in the U.S., he purposely drove "beat up" cars, did not invest in a house, or pursue more lucrative employment because he "didn't want to get stuck in America," he said. 
He went home three or four times a year, mostly to support ministry efforts and Teen Challenge, an international program he brought to Port-au-Prince in 2009. And, then, on the morning of Jan. 10, 2010, he was at a business meeting in Atlanta when he announced he was resigning from his Florida church to return to Haiti. On his way from the meeting, he received the call that Haiti had been struck by a 7.0 magnitude earthquake. Whole swaths of Port-au-Prince, the capital, were destroyed. More than 250,000 people were killed. 
Volcy rallied friends and businessmen for support. NASCAR Florida loaned a private jet and the next day flew Volcy and 44 physicians into Haiti to aid in recovery. "When there is a disaster," said Volcy, "the light comes on. Then the light goes off and people look away." Support for Haiti waned, too, but Volcy didn't look away, he kept going, and going, and going. After 2010, it was not unusual for him to travel to Haiti every other week.
Finally, he said, to make a real difference he needed to stay. In 2014, the native son came home.
He came to strengthen Haiti Teen Challenge,  which provides outreach, mentoring, and services to young men ages 16 to 24 to help them turn around their lives. Volcy wanted to address issues of fatherlessness and to attack the mindset that nothing good could come of being in Haiti. He and his wife soon created a Teen Challenge for women, too. But when he saw so many young people being rejected by Christian churches, he felt compelled to act.
At 44, Volcy says he is the "old man" of the church. Rendez-Vous is intentionally welcoming to young people. But the doors are open to all. And the growth is driven by cultural change. He told the poorest of the poor in Haiti that God loves them. The people without shoes were welcomed in the church and could stand side by side with the well-heeled. LGBTQ individuals, often shunned in Haiti, are welcome. "We have a theology of love, based on the death and resurrection of Christ," says Volcy. 
"Rendez-Vous is a table of inclusion," said Odneal Eleazard, who left his Catholic congregation to join the church. Eleazard advocates for the disabled and lives across the street from the church. He recalled that when the church started, Volcy knocked on every door in the neighborhood to explain the mission and let residents know he wanted to be a part of the neighborhood.
A Welcoming Space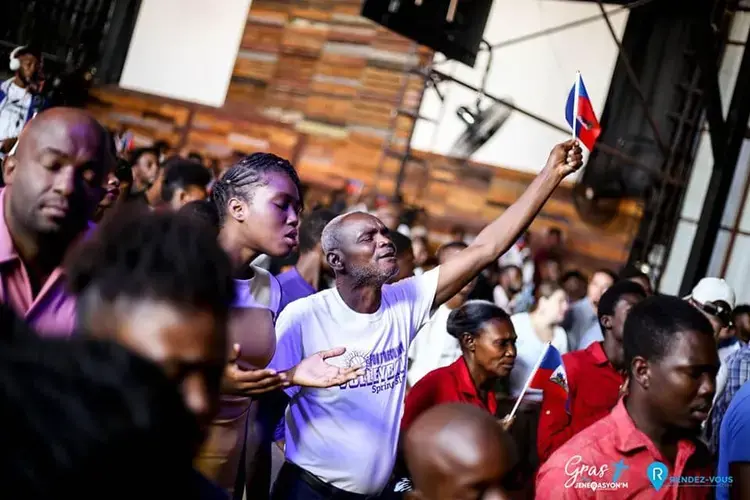 Rendez-Vous is one church with two campuses. The main campus in Delmas sits about 500 people and each Sunday morning, its two services fill to overflowing. There are more than 350 kids in the children's ministry.
The 80-minute worship begins on time and ends on time. ("This is big for Haiti," said Volcy.) Volcy often preaches in jeans while reading from his iPad to enhance the service, which is conducted in Kreyol, French, and English. His core message to the congregation: Do for one what you wish would do for thousands. He believes that to turn Haiti around, believers can start with themselves, build their faith, their integrity and should not be afraid to start small. 
From her first day at Rendez-Vous, Nathalie Phillips, said "her spirit felt at home." She returned from Canada and found that Rendez-Vous was the "boost" she needed to continue to help develop her nation.
Rendez-Vous employs 118 people. They are assistant ministers, counselors, administrative workers, musicians, and teachers. They serve with Haiti Teen Challenge and fuel the church's community outreach, which is powered by Volcy's determination "to do more with less." This philosophy has pushed the church toward innovations in health and education programming to care for community when the Haiti government often can't—or won't.
Rendez-Vous is within walking distance of Hope Hospital. Rather than build a clinic, Volcy partnered with the hospital. Congregation members and participants in the Haiti Teen Challenge program can use the hospital and pay later. Normally, in Haiti, to receive hospital care, you must pay first. If someone can't afford the care, the church pays 50 percent of the costs, while, under an agreement Volcy forged with the founder, the hospital forgives the remaining half. Rendez-Vous also sponsors a mobile clinic that visits the poorest sections of Port-au-Prince.
In Haiti, where 65 percent of the population is under 25, Volcy believes that to "change the youth is to change a nation." Part of that change, creating a mindset of integrity and prepping a new generation with new ideas, is through education. "We have to do it—someday, [from this new generation of] young men and women will come the next president of this country," he says.
It's a tough job, as the government provides little support to public education. More than 80 percent of the schools in Haiti are private. Rendez-Vous has a school in Cazeau, which enrolls about 450 students ages 6-18 who never had the chance to be educated, and another in La Mothe, in the mountains, which educates 200 underprivileged children. The schools employ 61 teachers and staff. In addition to operating a Vacation Bible School, he also partners with a well-regarded local Christian school where church members and Teen Challenge participants can use the basketball and soccer fields. (In the past 18 years, he's used Vacation Bible School to reach more than 43,000 children.)
He's built collaborations with the so-called Mayor of Delmas, the community's elected leadership, and launched "I Love Delmas," a campaign to clean up waste. Many of those in the campaign pick up trash without pay and do it as a way to restore pride to the community and themselves. The mayor sends trucks to pick up the trash. He also has the young men in Haiti Teen Challenge paint and do small home repairs for single mothers in Delmas, Cazeau, and Bolosse. 
He's business-minded, too, employing the philosophy of social entrepreneurship. For example, in St. Marc, a seaside community about 90 miles away, he raised roughly $400,000 to invest in the creation of the Daily Bread, a bakery and snack shop that has 22 workers. In addition to providing jobs, the bakery carries bread to a nearby prison to feed the incarcerated. In the past year, Rendez-Vous has opened a mechanics shop a few doors from the church, and coming soon, about 2 miles away, is a beauty salon and restaurant. 
"Haiti is a country where the need is great," Volcy says. "But instead of giving something for free, we try to provide dignity through giving people skills and confidence and honest work."
The evidence is clear: As young people sing and hammer away in Rendez-Vous on Saturdays, they are not only preparing the church for Sunday worship, but also preparing themselves and their community for the rest of their lives. 
RELATED ISSUES

Governance

Religion