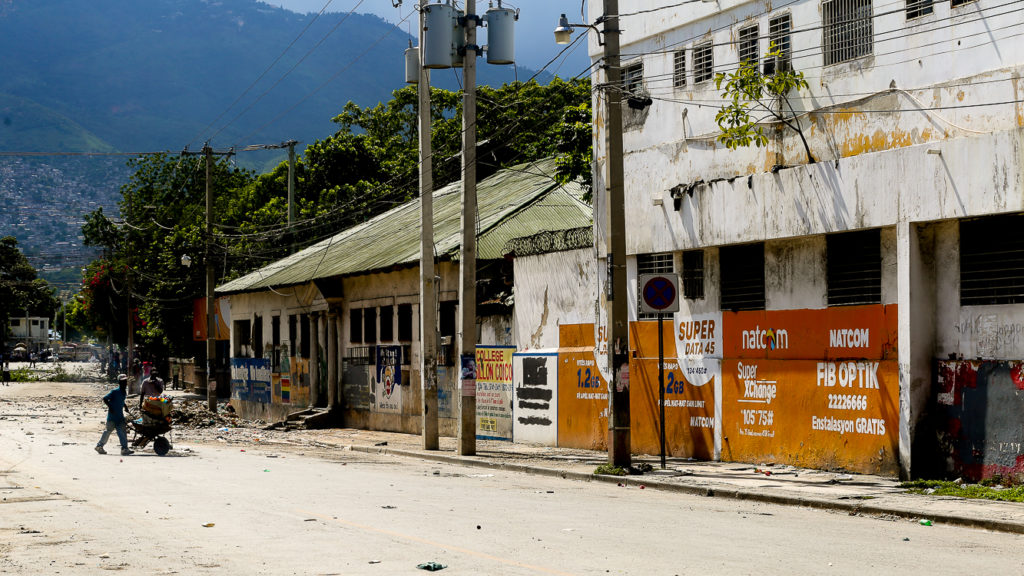 PORT-AU-PRINCE, Haiti –  Jan. 12, 2010 was a cold Tuesday. I was at home shivering when I heard the news the earthquake had hit Haiti. I knew this would be a big story. I put together a team and headed toward the country.
Ten years later, I sought to retrace my steps as again, Haiti was experiencing another earthquake, this time man-made and self-inflicted. I flew to Santo Domingo as I did in 2010 and planned to take a bus to the capital city. But it didn't work out as expected. There were no buses because the border had been closed for months after buses were regularly attacked and looted as they tried to make their way across the border. Widespread protests had essentially paralyzed the country. Port-au-Prince was cut off from the rest of the country with all roads too dangerous and impassable. 
So I stayed in Santo Domingo for a few more days until there was a flight to Haiti. Flights as well had been cancelled. The roads to and from the airport were also dangerous to traverse. The city had been segmented as well with local gangs controlling who could enter their zones. 
It was under these conditions that I braced myself as I head to Haiti. In nearly 30 years of covering the country, I was never afraid. This time, unfortunately, I was. Like 10 years ago, I was apprehensive as to the depth of the death and destruction, this time I was unsure what I would find when I hit the ground. 
The Haitian Times' coverage of the earthquake had been personal. Family and friends were displaced and there were few provisions, particularly in the first few days after the earthquake. So in between interviews, I also drove to the Dominican border to buy food for our staff's families, all of whom were sleeping in the courtyard, spooked by the constant aftershocks, some of whom measuring a Category 5. 
This time again was eerily similar. I stocked up pasta, canned tuna, salmon and sardines, as well as, chips and crackers in the Dominican Republic because supermarkets were closed  and street vendors couldn't bring their goods for sale. Again, it was too dangerous. It had been that way for months by the time I landed in Haiti last November for our coverage of the 10th year anniversary.
Haiti Earthquake 2010





Vania Andre, the Haitian Times new editor and publisher would join me a few days after I arrived in Haiti. It was difficult to find anyone to go around with us. The streets were too dangerous to ask any of our friends to go with us because if anything were to happen, our conscience would be laden with guilt. 
So for the first time covering Haiti, I had to hire a "fixer." Ours was a mild-mannered operative of the opposition party, which was behind the persistent protests that brought the country to its knees. Even he had his limits because his contacts did not extend everywhere. We drove around and photographed some areas of this usually teeming city, which was eerily empty at the height of the day. 
We were one of the few cars circulating around. After an interview in Petionville, we were headed down toward the Champs de Mars, the city's main square, where most government buildings and monuments of Haiti's heroes are erected. 
However, we turned around when we heard on the radio that there was a protest taking place near the marche in Petionville. We caught up with the marchers and as we began to take pictures we were approached by the organizer who wanted to know which media we were working for. 
Our fixer told him and asked him for an interview, which he promptly agreed to. We pulled our car away from the marchers and began the conversation. About three minutes into the interview, gunshots rang out, sending marchers and some brave street vendors scurrying for cover as bullets flew in every direction. 
One of our Haiti correspondents was with us. She turned ashy white and was so scared that she begged us to leave. We dropped her off at the Marriott Hotel not too far from her home. We drove back to our place and tried to make sense of what we've just experienced. 
But it wasn't supposed to be that way for Haiti. There was optimism in the air then, even as the sky was covered with clouds of dust emanating from the debris, and rubble littered the city's streets. Everywhere there were buildings flattened like pancakes and cars twisted into pretzels. The stench of dead bodies was inescapable as the smell of rotting corpses filled the air. 
The optimism stemmed from the outpouring of support from the world of nations, the largesse of individuals and the resiliency shown by Haitians in Haiti and its diaspora. Billions were pledged and millions were collected and sent to Haiti. It was made clear that the funds and goods that were donated en masse, would go to the myriad of aid organizations that had been working in Haiti for decades. 
The fanfare yielded nothing much. Some of the government buildings that were destroyed have been rebuilt. Some are still under construction. The bright white National Palace, once a symbol of Haiti's grandeur was knocked down with extensive damage. It remains unexplainably unbuilt. While it was razed a few years ago, makeshift offices have been erected on the ground, completely surrounded by a covered fence.
The earthquake story had received wall-to-wall coverage on every major news outlet in the United States and other countries. In an ironic twist of fate, many experts thought that after the debris and rubble were removed, Haiti would have a chance to build back this seaside city better and stronger. 
Unfortunately, it wasn't meant to be. A couple years later, under the administration of President Michel Joseph Martelly, Haiti went back to its old self. The international community proved that it wasn't up to the task of rebuilding Haiti and went on to take care of their own domestic affairs. The Haitian government never set up a mechanism to make sure that parliaments around the world would follow through on their pledges. 
To be sure, there were some improvements. New hotels were built, mostly to replace a few that were destroyed during the earthquake. Roads were rehabilitated and people felt that things were moving forward. 
But it was mostly a mirage. Martelly thought that tourism was the way out of Haiti's abyss and he commissioned some plans and began circulating architectural renderings on social media. They gave false impressions to everyone, including members of the Diaspora, who were certain that the musician turned politician was putting on a show that their beleaguered country was on its way to prosperity. 
Up to this date, most of his grand plans to bring planes full of visitors have been shelved. The number of travelers has decreased significantly as Delta Airlines announced that it will cease its daily flight from Atlanta to Port-au-Prince. His successor Jovenel Moise continues to struggle to provide basic necessities like potable water, electricity and medical care to name a few. He had made electrifying the entire country 24/7 the cornerstone of his administration. Chronic blackouts rule the night. 
After Martelly left office two years ago, his incompetence, his corruption were laid bare and his reign has become a cancer on the country and has dashed the hope and optimism that was oh so prevalent after the earthquake.
RELATED ISSUES