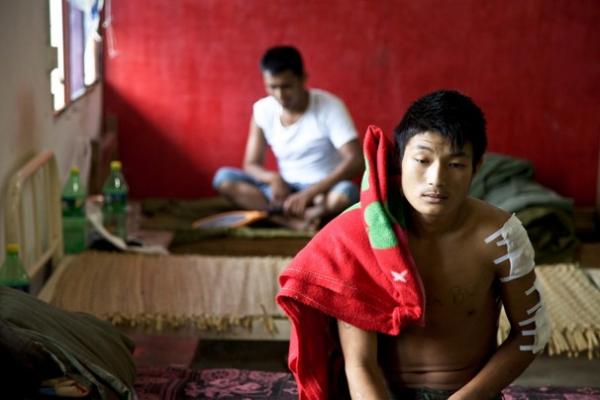 BEFORE the war resumed, this border town in northern Myanmar pulsed with Chinese traders who kept gambling halls and brothels open around the clock. These days the streets are nearly empty, but scores of ethnic Kachin civilians continue to pour into desolate camps on the edge of town. A fierce Burmese military campaign is driving them into the camps, and it shows no sign of abating one year on.
While the world's attention is diverted by the political thaw in lowland Myanmar, more than 75,000 Kachin (and counting) have been displaced from their native lands since the army attacked a Kachin Independence Army (KIA) outpost last June near a contested hydropower dam site, ending a 17-year cease-fire. Rights groups accuse Myanmar's army of intentionally targeting civilians as part of their counter-insurgency strategy. They also stand charged of such abuses as rape, torture, forced conscription and summary executions.
Residents at a large camp on the outskirts of Maija Yang speak of artillery barrages that have lasted for days, killing and maiming civilians as they fled to the bush. Fresh waves of Kachin are still arriving on foot from northern ShanState. Hostilities persist near the route of the Shwe pipeline, a multi-billion dollar joint project that is set to deliver oil and gas from Myanmar's coast to south-western China.
Children separated from their parents sleep three to a bed in sweltering concrete barracks. With Burmese authorities blocking their access to the United Nations relief agency, they subsist on rations of rice and salt provided by local Kachin organisations straining under the pressure of new arrivals and monsoon rains. "It's very bad right now…and sooner or later it could be a worse situation," says May Li Awng, a Kachin aid worker who has been helping tend to the displaced since fighting erupted last year.
May Li Awng says that conditions are even worse for the 10,000 or more Kachin refugees who are stranded on the Chinese side. There relief is almost non-existent, due to China's outright ban against foreign aid groups and media coverage of the refugees. Basic necessities such as food and medicine have to be smuggled across the border, where they are desperately needed to treat a surge in water-borne disease. Some of the refugees must even pay rent to the local landowners.
In a report released earlier this month, Human Rights Watch alleges China has gone so far as to order several hundred Kachin refugees back into the war zone. To date, the Chinese government has refused to classify the Kachin migrants on its soil as refugees. Were it to grant them the status, China would be obligated by international conventions to allow the UN and various Western monitoring groups access to the borderlands, a scenario it wants to avoid.
Indeed, despite its decades-long support for Myanmar's regime, China has never taken an official stance on its conflict with the Kachins. Like the powerful Burmese generals who operate on the other side of the border, it has sought to downplay the fighting in Kachin state, in order to cultivate its business interests in and around the afflicted area. Though remote and still economically under-developed, Kachin state is rich with jade, gold, tropical hardwood and hydropower potential—in which China has already invested billions, feeding a construction boom in Yunnan province.
Both Myanmar's army and the KIA have repeatedly linked Chinese-funded dam projects to the fighting, none more so than the controversial Myitsone dam. Set to be the first and largest of seven dams that are planned down the length of the Irrawaddy river, Myitsone would have sent 90% of the electricity it generated to China, in exchange for $17 billion over 50 years.
Adding their numbers to the tens of thousands displaced by the war, another 12,000 Kachin have been forcibly relocated by Myanmar's government into Chinese-built "model villages" (pictured above), in order to clear the way for the dam site. The transplants have received free homes and appliances but they lack freedom of movement. A host of mining and timber projects have ravaged their native lands in the meantime.
Last year the work at Myitsone was halted by the president, Thein Sein, after unprecedented protests over its social and environmental impact. His move was a shot in the arm for civic groups, yet many observers are convinced it was merely a temporary postponement. China is lobbying hard in Myanmar with a mix of carrot-and-stick measures designed to jump-start the dam's construction; sometimes they insist that work on the dam has never actually stopped. The rights groups also harbour doubts about the ultimate authority of Myanmar's new civilian leadership, which is bound by a rigid constitution and anyway largely comprised of former military figures.
The consensus among locals in Kachin state is that work on the Mytisone dam will start up again at full steam after the monsoon rains have subsided. "Even if [Mr Thein] Sein is serious about reforming this country, his power is limited; he can be removed at any time," says a Kachin community leader in the northern city of Myitkyina, who refused to be identified. "How do we really know he's not just being used by the military leaders to extract more money and prestige from the West?"
In Kachin state, business as usual may suit the interests of Burma's shadowy generals and some of their Chinese counterparts. So long as the fighting continues, the prospects for a peaceful homecoming for the thousands of Kachins stuck outside their homeland look as bleak as ever.
RELATED ISSUES

Religion

Issue
Conflict and Peace Building
Conflict and Peace Building

Trade