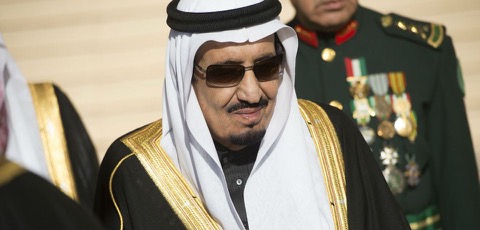 RIYADH, Saudi Arabia — Saudis awoke this morning to what is arguably one of the largest royal shake-ups in their kingdom's history. At 4 a.m. local time on April 29, King Salman issued a series of royal decrees that mapped out Saudi Arabia's future, hastening the transition to the next generation of princes and cementing his direct descendants' power for decades to come.

The decrees reverberated far beyond the Saudi royal court: Businessmen rescheduled flights, and investors canceled meetings, scrambling to react to the news. "Of course, I can't travel now," one local media commentator said of his scratched plans.

As part of the royal decrees, King Salman relieved Crown Prince Muqrin bin Abdulaziz — the youngest surviving son of the kingdom's founder, King Abdulaziz — of his post. King Salman replaced him with Interior Minister Mohammed bin Nayef, his nephew and the architect of the kingdom's counterterrorism strategy, who now becomes the first grandson of King Abdulaziz to be next in line for the throne. King Salman appointed his favorite son, Mohammed bin Salman, who by most accounts is in his early to mid-30s, as deputy crown prince.

Crucially, Crown Prince Mohammed bin Nayef has two daughters but no known sons. He is therefore unlikely to shake up the order of succession when he becomes king in the same way that King Salman just did.

In a kingdom used to slow, evolutionary change, this pre-dawn reshuffling of Saudi Arabia's top leadership is tectonic. The changes were not entirely unexpected, however, though few expected it would be so soon. Since King Salman ascended to the throne in January, his son Mohammed has risen sharply through the ranks. He was appointed defense minister and head of the royal court, a position that has been compared to a Saudi version of prime minister. It had become clear to everyone in the kingdom that the young prince was going places.

"Someone outside might perceive this to be divisive, but what they don't realize is that it is based on consensus," says John Sfakianakis, Middle East director at investment firm Ashmore Group and a former advisor to the Saudi finance minister. "They consulted a lot of princes before this."

Even for the public, the optics of the power shift have been emerging for months. Mohammed bin Salman, or MbS, as he is now called among diplomats and in Twitter shorthand, has been the public face of the Saudi-led military operation in Yemen. His picture has also popped up frequently in the media as he inspects ministries and hosts government meetings.

The shift to younger leaders is "a reflection of the demographics of the country," says Hussein Shobokshi, a Jeddah-based businessman and commentator. "These changes are a natural evolution of the country, but they had never been reflected in the leadership before. Now they have been. And people have been receiving it with full optimism."

Analysts here say that the new succession plan is indicative of the new monarch's control over the levers of power in the kingdom. King Salman — in contrast to his predecessor, King Abdullah — is close to the religious leadership and is known to be a more conservative man personally. Unlike King Abdullah, he is also one of seven full brothers from the same wife of King Abdulaziz who together are known as the Sudairi Seven, the largest and most cohesive bloc within the family.

"Why is King Salman strong? Because he is close to the ulama [religious authorities], and he is close to the ruling family," says Abdullah Al Shammari, a former Saudi diplomat.

The elites aside, the new king has also attempted to build a reputation that appeals to many average Saudis. Shammari says King Salman is at the office by 8 a.m., before civil servants arrive at their desks. Faisal bin Farhan bin Abdullah Al Saud, chairman of Shamal Investments, recounts a story of how a citizen could ring Salman's house and get the then prince on the phone. True or not, that image of an accessible king plays well in a country that likes to think of its rulers as making decisions based on traditional consensus building.

The new appointments also appear geared toward improving the state of Saudi Arabia's lethargic bureaucracy, which is bogged down in process and paperwork. Shamal Investment's Faisal bin Farhan pointed to the fact that the royal decrees also sacked the health minister and two of his deputies, moving the head of oil giant Aramco, Khalid al-Falih, to the helm. "You usually see someone with a medical background in this position, but now we have a CEO type," he said approvingly. "We needed a manager."

Indeed, the appointments are part of a broader governmental shift that began in January with the king's coronation. At that time, King Salman abolished the 17 councils that had managed government affairs. In their place, he streamlined the bureaucracy into just two national committees. Mohammed bin Nayef now oversees all ministers in the political and security realms, while Mohammed bin Salman watches the economic and social spheres. Since those changes to government structure, Sfakianakis said, "there is less bureaucracy, and the bureaucracy is also more efficient than before."

Internationally, the appointments signaled that King Salman is keen to end several years of stormy ties with Washington. In addition to the changes to succession, the announcement included several other ministerial swaps, most notably removing Foreign Minister Saud al-Faisal, who had been in his post for four decades, and replacing him with Adel al-Jubeir, the outgoing ambassador to Washington. Prince Saud had overseen testy relations between Riyadh and Washington, which disagreed with a host of regional policies in the post-Arab Spring Middle East.

Jubeir, who is known and trusted in Washington, is a less divisive face. He has been the primary media spokesman of the Saudi-led campaign in Yemen, even announcing the beginning of the military operation from the Saudi Embassy in Washington. He is not a member of the Al Saud family — a rarity for such a senior position — and insiders expect that his role will be to implement the decisions made by the royal court in Riyadh.

"We don't care about [U.S. President Barack] Obama; we care about Washington," says Shammari. "Before, we were moody, but now things will go more smoothly and clearly."

King Salman finalized these changes on the evening of April 28, hosting an allegiance ceremony after the evening prayer. But the monarch may yet have a few surprises in the works: Analysts here say there are likely even more shake-ups to come, perhaps including key portfolios like the Petroleum Ministry and the National Guard.

"This wave is momentous — historic," says Sfakianakis. "The next wave could be more evolutionary."

A new generation of leaders is now in power in Saudi Arabia and shape the Kingdom's future for...