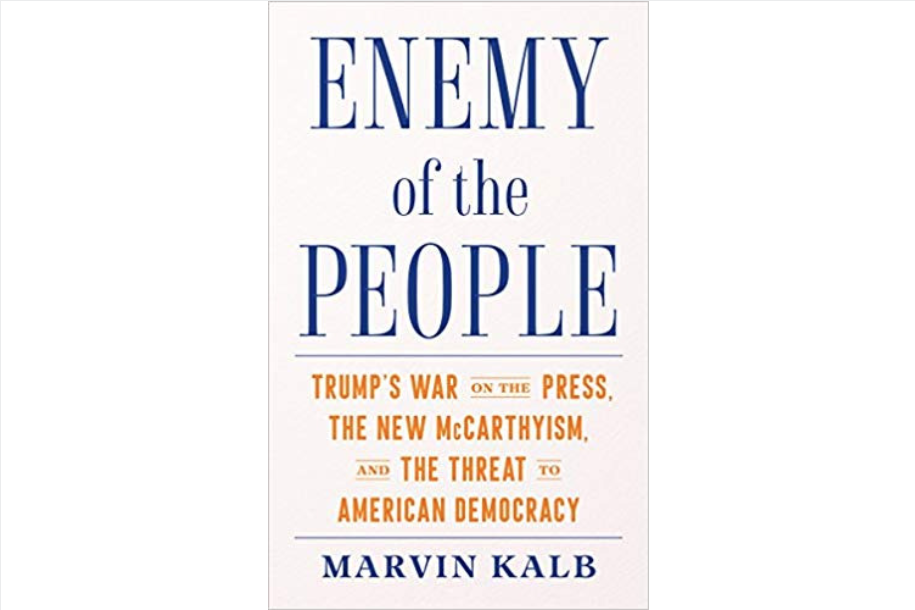 "The FAKE NEWS media (failing @nytimes, @NBCNews, @ABC, @CBS, @CNN) is not my enemy, it is the enemy of the American People!"
So tweeted President Donald Trump, not even a month after his inauguration in 2017.  His efforts to delegitimize the mainstream news media—at least, the outlets critical of him—have sown confusion in the public's mind about what is truth, and what is falsehood. 
In his new book, Enemy of the People: Trump's War on the Press, the New McCarthyism, and the Threat to American Democracy, Marvin Kalb writes that in attacking the press as the 'enemy of the people,' Trump undermines the very heart of American democracy. By using such a phrase, uttered by 20th-century dictators like Stalin, Hitler, and Mao, Trump reveals the depth of his disdain for criticism—a necessary component of a healthy democracy.  Kalb draws on his years of experience as an award-winning American journalist to voice his concerns about the future of American democracy and its relationship with the free press.  The two are inextricably linked, Kalb writes.  American democracy needs an independent press, with journalists like Edward R. Murrow, whose television broadcasts turned the tide of Senator Joseph McCarthy's 'Red Scare' in the 1950s, and Bob Woodward and Carl Bernstein, whose reporting exposed the Watergate scandal and led to President Richard Nixon's resignation, in order to flourish. 
Kalb's book is an indictment of Trump's efforts to debase the news media.  It represents a departure, for Kalb, from the journalist's traditional dedication to objectivity, as he seeks to illuminate the role, and the necessity, of the free press in today's world.  Otherwise, Kalb says, the very foundations of American democracy—the sanctity of law and indeed, the press—are at risk of collapse.
"When Trump attacks the press," says Kalb, "probably unbeknownst to him, he is attacking one of the foundations of American democracy.  The founding fathers deliberately placed 'freedom of the press' into the First Amendment to the Constitution, because they understood that only this 'fourth branch of government' could keep the other three in line.  Far from the press being 'the enemy of the American people,' it is a foundation of freedom and democracy—and therefore should be cherished, not criticized, strengthened, not undercut and undervalued."