Tyra Johnson, 31, had been planning a graduation ceremony for her children and a few of their friends for the past three weeks, but the morning of the event she was running three hours behind.
Like many of her best-laid plans, things were not going exactly as she had hoped. This morning of the last day of virtual and homeschooling started out like a repeat of the disastrous first day in August.
She had been up until 4 a.m. trying to get things ready, but then she and the kids overslept. She had to fix the hair of her 5-year-old daughter, Madison, help 6-year-old Meegale get ready, pack the baby bag for 10-month-old Mason, cook breakfast for everyone she had invited to the event and load up her car with the boxes of decorations and food.
Plus, her cell phone battery was dead.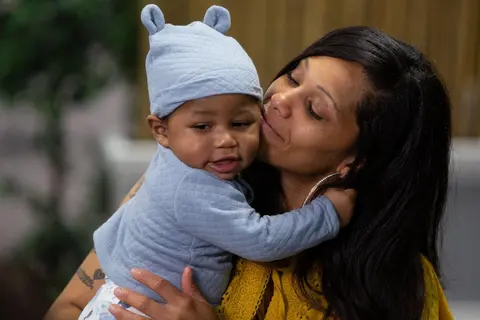 Two other moms had arrived earlier at the large empty multi-purpose room she had rented in the co-working space in Overland. Their children helped set up 8-foot tables and chairs in front of a small elevated stage. They rolled out a red plastic runner to create a runway to the stage. Jalesa Kirkendoll moved a rectangular table to the side for the snacks and set a tray of cupcakes and bananas on it.
Her son, Robert Pruitt III, 6, is also finishing first grade. He's been friends with Meegale since they met at the Flance Early Childhood Center at 15 months old. Robert and his younger brother, Legend Stevenson, 4, are decked out in their graduation caps and gowns and getting antsy for the festivities to begin. Deneisha Watson had brought her daughter A'layna Caves, 5, who will be starting kindergarten in the fall — just like Madison.
To pass the time, they had the children take turns standing on the stage saying their names and ages and what they wanted to be when they grow up. Eventually, the children got tired of sitting and started running around the large room, chasing one another.
One of the administrators of the co-working space popped in to ask them to quiet down.
"If they put us out, then it's over," Kirkendoll said to her sons, who kept eyeing the cupcakes.
Johnson finally texted to say she was on her way from Cahokia.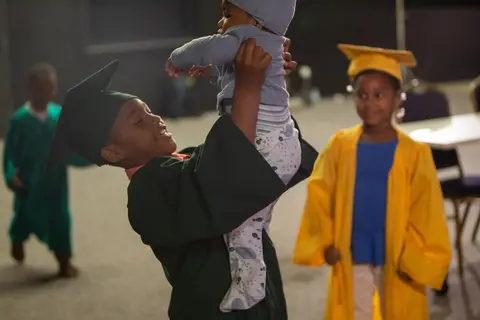 She and her kids have been through a lot in the past year-and-a-half. Her husband, who lived in another state, died unexpectedly in February 2020. She was pregnant with their child and slid into a depression. A month later, the pandemic shut down her children's schools in St. Louis. She lost her job. Random gunshots fired into her apartment. They bounced between her mom's home in Cahokia to her sister's place in St. Louis to their apartment. Meegale and Madison's father called the Department of Family and Child Services on her, who investigated his allegations and found them unsubstantiated.
Through it all, she tried her best to keep her kids' learning on track. She bought workbooks and subscribed to learning apps. She helped Meegale log into his virtual classroom. She kept a schedule, prepared healthy meals and kept them isolated during much of the past year.
That's why today mattered so much.
Her children lost out on more than a year of classroom time. They missed one-on-one instruction from their teachers. Madison missed the games of preschool that get kids ready for kindergarten. Meegale missed the closely tracked literacy development that happens in first grade. Most of all, they missed their friends.
When Johnson finally arrived, she burst into the room with a wide smile — carrying more than a dozen balloons and balancing Mason on her hips. She greeted each child and set the baby down on the carpeted floor, who took off crawling. She went back to the car to bring in pans of turkey sausage, bacon, fruit and pancakes.
The other moms rushed to help her hang the foil signs and balloons of "Congratulations." She arranged the decorated jars of candy and lined up a row of goody bags she had made for each child. She had also printed out diplomas for each child, which they carefully placed inside plastic frames.
Finally, shortly before noon, it was time to start.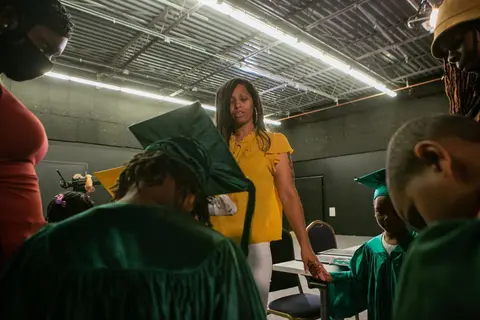 "Meegale Hundley," Johnson called out. Meegale walked across the stage, said his name into a toy microphone and accepted his diploma.
"You had a great year," his mom said. Her friends recorded the ceremony on their cell phones.
Each child had a moment in the spotlight. The three women who had shepherded them to this point clapped and cheered — a mixture of joy and relief that the difficult year was finally over.
The children sang a song of thanks.
"Thank you, thank you, everyone for all you've done," they sang, and signed the words "thank you."
Johnson turned toward the children after their performance and said, "Everyone say, 'We did it!'"
The children raised their arms in the air and yelled, "We did it!"
RELATED INITIATIVES