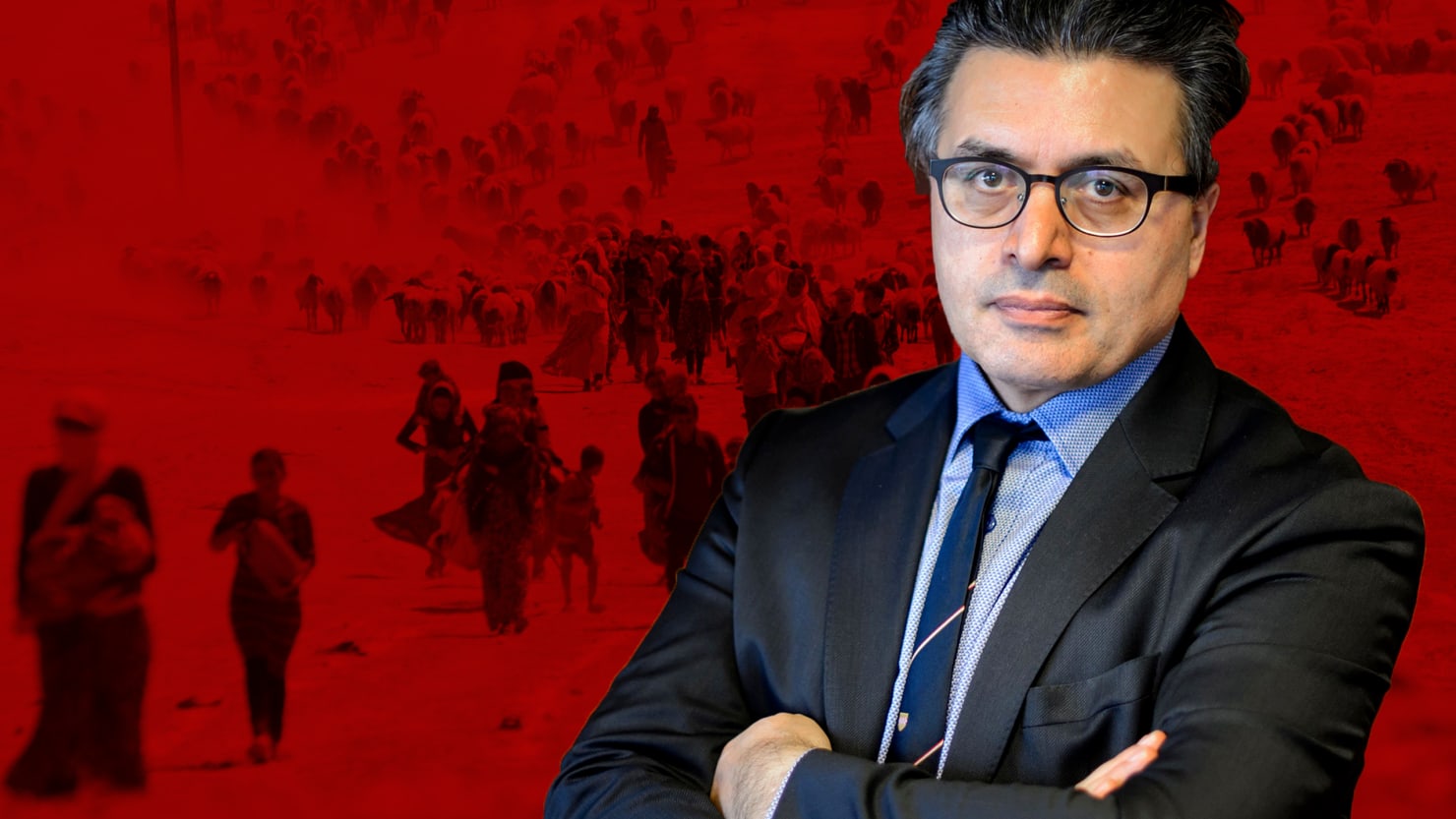 A year after helping more than 1,000 escaped ISIS captives resettle in Germany, Kurdish-German psychologist Jan Ilhan Kizilhan has returned to northern Iraq with a plan to save thousands of other psychologically scarred war victims left behind.
With backing from the German state of Baden-Württemberg, Kizilhan has set out to train a new generation of psychologists and trauma specialists he believes will be among the most qualified in the Middle East.
After years of war, Iraq and Syria are struggling with a mental health crisis neither country has the capacity to address. In northern Iraq alone, where more than 1 million people are displaced by violence, just a couple dozen local psychologists are believed to be treating patients.
Various nongovernmental organizations and government initiatives have sought to fill the gaps, including Baden-Württemberg's asylum program, which physically transported some of the most psychologically scarred women and children in northern Iraq to a part of the world where they could more easily access mental health care.
As a dark measure of the German program's effectiveness, its directors boast that of its 1,100 beneficiaries—mostly women held as ISIS sex slaves and their children—not one has taken his or her own life in contrast to some other ISIS survivors who didn't get a spot in the program.
Mindful of the deadly stakes for those left behind, Baden-Württemberg invested 1.3 million euros, a small fraction of its annual budget, into Kizilhan's new institute, which aims to cultivate the experts where they're needed.
The Institute for Psychology and Psychotraumatology sits on a neatly manicured hill at the University of Duhok in northern Iraq. On a sunny morning in May, the campus, set against the backdrop of picturesque mountains, hummed with the sounds of lawn mowers.
Just a short drive away, hundreds of thousands of displaced people live in sprawling camps, each one having risen up in the wake of an exodus—from an ISIS advance, bombings, or clashes. Just 40 miles to the south, chunks of Mosul lay in ruin from a months-long battle to oust ISIS from the populous city. Forty miles to the west: the Syrian quagmire. And despite the campus' unblemished appearance, everyone at the school seems to have been touched by war. 
Hewan Avssan Omer, a 26-year-old secretary at the institute, only escaped a 2014 ISIS attack on her village because she happened to be away at school. The militants kidnapped other members of her family, some of whom escaped just months ago. Omer's 7-year-old cousin spent two and a half years in captivity and returned to society unable to speak his native Kurdish, confused about who his parents are and where he is from.
The staff's proximity to and familiarity with the local crisis is intentional.
One of the biggest criticisms of the German program was that it exposed trauma victims to the additional stress of culture shock by transporting them to a foreign place. 
At his office in Baden-Württemberg in early 2016, Kizilhan said the United Nations refugee agency was one of the critics to raise this concern of detaching victims "from their roots." The German team responded that it was a price they were willing to pay, at that precarious time, for potentially saving lives. "In Iraq they are living in camps, their parents are killed, they have no roots!" Kizilhan responded. "It's ridiculous. They need stabilization and security before they can talk about how it felt to be raped and helpless. How do you do this in a tent?"
Kizilhan and the program directors were always careful to frame the program as an emergency operation and not a sustainable solution for the larger mental health crisis in Iraq. They are proud that their program has since inspired similar emergency asylum programs in other German states and in Canada, but understand that simply exporting Iraq's trauma victims to developed countries is not, ultimately, a long-term solution.
With that in mind, the Duhok institute recruited its inaugural class of 30 graduate students exclusively from the local population. Most are trained nurses and social workers and more than half already have bachelor's degrees in psychology. They are all committed to staying in Iraq. 
At the institute's opening ceremony in March, Kizilhan told them that when they graduate in three years, they would be among the best trained academic psychotherapists in Iraq "and as far as I know, the entire Middle East."
The program, which adheres to Germany's rigorous standards, requires students to complete 4,200 hours of education and 1,800 hours of clinical work—of which there is plenty to do.
As ISIS continues losing its last territory in Iraq, civilians who have suffered under the group's control for years are returning to society with deep psychological wounds. Among them, is a 9-year-old boy named Akram, whom ISIS tore from his family at age 6 and enrolled in a combat training camp, where he was encouraged to volunteer as a suicide bomber. 
When he escaped his captors and reunited with surviving members of his family earlier this year, they were overwhelmed by the ways he had changed. Despite being Yazidi and not Muslim, he recited verses from the Koran. He complained of nightmares and was violent toward other children. Sometimes his uncle caught him performing exercises he had learned in ISIS training camp. "These things are not for here," his uncle would gently tell him.
Now he is under the care of a team of students and supervisors from Kizilhan's institute. Naji Haji, one of the graduate students on his case, meets with the boy and his family once a week. 
Before addressing the roots of his trauma, Haji and his colleagues are first working to gain Akram's trust and to re-acclimate him to daily life—the routines of going to school and playing with other children.
Haji is optimistic about Akram. "He's smart and is able to form relationships with adults and children," he says. Kizilhan, who's also gotten to know Akram, agrees. "Those communication skills helped him survive for two and a half years under ISIS. And now he's using those same skills to survive."
The team will continue working with him until he no longer needs the extra support, which they say can take up to two more years. At that point, Baden-Württemberg's funding for the institute will nearly be gone and Kizilhan, who is only serving as the school's dean until 2020, will be on his way out. But in the meantime, he and his colleagues are determined to make it self sufficient.
They are already training some of the inaugural students to take the reins of the institution—and even replicate it in other Iraqi cities. "Our aim is to get more and more psychotherapists in Iraq. If we do the same thing in universities in Erbil and Sulaymaniyah, maybe in 10 years we will have 1,000, 2,000, 6,000 psychotherapists," he said. "We have to be realistic. Several more [psychologists] are not enough for Iraq or for the region. But this is the first step."
RELATED ISSUES