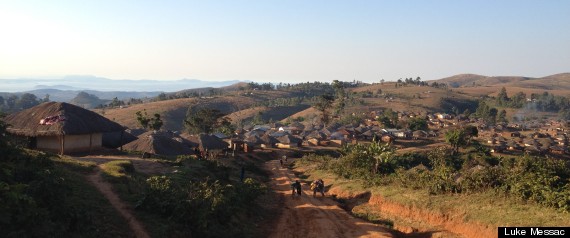 Fagnes Matunga lives about as far away as a Malawian can from the country's capital city of Lilongwe. Her village of thatch-roof huts is perched on the summit of a windswept mountain. The dirt road that serves as the main thoroughfare doubles as a porous border between her native Malawi and neighboring Mozambique. Trucks that carry her meager crop of Irish potatoes to urban markets — and the ambulances that transport laboring women in urgent need of C-sections — travel hours to reach the paved highway.
Despite this distance, with less than 10 months before national elections, when Mrs. Matunga and other rural subsistence farmers speak of health care, a politically important public good, officials in Lilongwe can scarcely afford not to listen. Like every one of the dozen rural Malawian farmers interviewed for this story, Mrs. Matunga, 73, believes that healthcare in public hospitals and health centers should be free. "The government has that responsibility to the poor," she explains. "Someone can fall ill at home and have no money. But with government hospitals, because they are free, people can go though they don't have money."
The near unanimity of Malawi's rural poor on this point helps explain why health care at public facilities has been provided free of charge for most of Malawi's half century as an independent nation. In this landlocked country with few natural resources, health care is one of a few valued services that the impoverished government has been able to provide, even if Mrs. Matunga and her neighbors must walk five hours to reach the nearest public hospital.
In recent months, Mrs. Matunga and others have had reason for concern, as officials have issued a series of announcements about the future of free health care in Malawi. In May, while unveiling the fiscal year 2013-2014 budget, Minister of Finance Ken Lipenga announced that the government "had allowed some health facilities to open or introduce fee paying windows to allow those who can afford. . . to be able to use them."
Henry Chimbali, Ministry of Health spokesman, explained that while care in public facilities would continue to be provided free of charge, compulsory fees could be introduced at hospitals in the future. The idea of nationwide user fees was furthered in July, when Treasury Secretary Radson Mwadiwa told a meeting of doctors that while there should be exemptions for the poorest Malawians, "patients have been failing to ask for quality health services because the services are free."
These announcements come amidst particularly trying times for rural Malawian farmers, who make up the vast majority of the country's 15 million people. In 2011 and 2012, as a result of a fall in demand following the global financial crisis as well as a decline in production during weak growing seasons, earnings tumbled for Malawi's main export, tobacco. With Malawi's currency—the kwacha—pegged to remain strong while exports plummeted, the nation suffered a shortfall in the foreign currency used to buy oil and other imports. Former President Bingu wa Mutharika refused to devalue the currency, a demand of the International Monetary Fund. When the IMF expressed disapproval, Malawi's government saw other creditors and donors stanch the flow of vital budgetary assistance, further exacerbating the shortages.
However, when the president died suddenly in 2012 his successor, Dr. Joyce Banda, quickly ordered the devaluation of the kwacha. This move—and the reopening of aid that followed—helped relieve the shortages of foreign exchange and oil, but the weakening of the kwacha precipitated a drastic increase in prices of essential medicines, foodstuffs and other basic goods.
While salaries for members of Parliament and civil servants have increased since the devaluation, many rural farmers have struggled mightily. While the market price of Irish potatoes has risen, Mrs. Matunga and her neighbors have not offset the increased cost of living with higher income because cold weather in recent years has depressed crop yields.
The International Monetary Fund has praised the devaluation and counseled continued "fiscal restraint." Malawian economic officials have not stated that health fees are in keeping with IMF counsel to control spending, but in the budget address in which he announced the fees the finance minister pledged austerity.
For their part, rural Malawians interviewed for this story are less likely to see such charges as a route to "macro-economic balance" than as yet another burden for their struggling communities. "We are unable to dress, unable to eat, why should we pay for medicine?" asked Samuel Jameson Kaphale, 78, an orange farmer and retired teacher who lives in a valley visible from Mrs. Matunga's mountain village.
While her ministers have touted the virtues of fees, President Banda has made an effort to acknowledge the concerns expressed by Malawi's citizenry. "To me, poverty reduction means people have access to health services, have food, money, good houses, potable water, education, and that they are able to access loans to conduct business," said President Banda after laying the foundation stone at a new health center on July 18. In the wake of a punishing currency devaluation and with talk of new hospital charges, it remains uncertain whether Malawians at the polls will agree that her policies are bringing these aims to fruition. In the eyes of many of Malawi's smallholder farmers, the goal of social protection does not appear so close at hand.
RELATED ISSUES