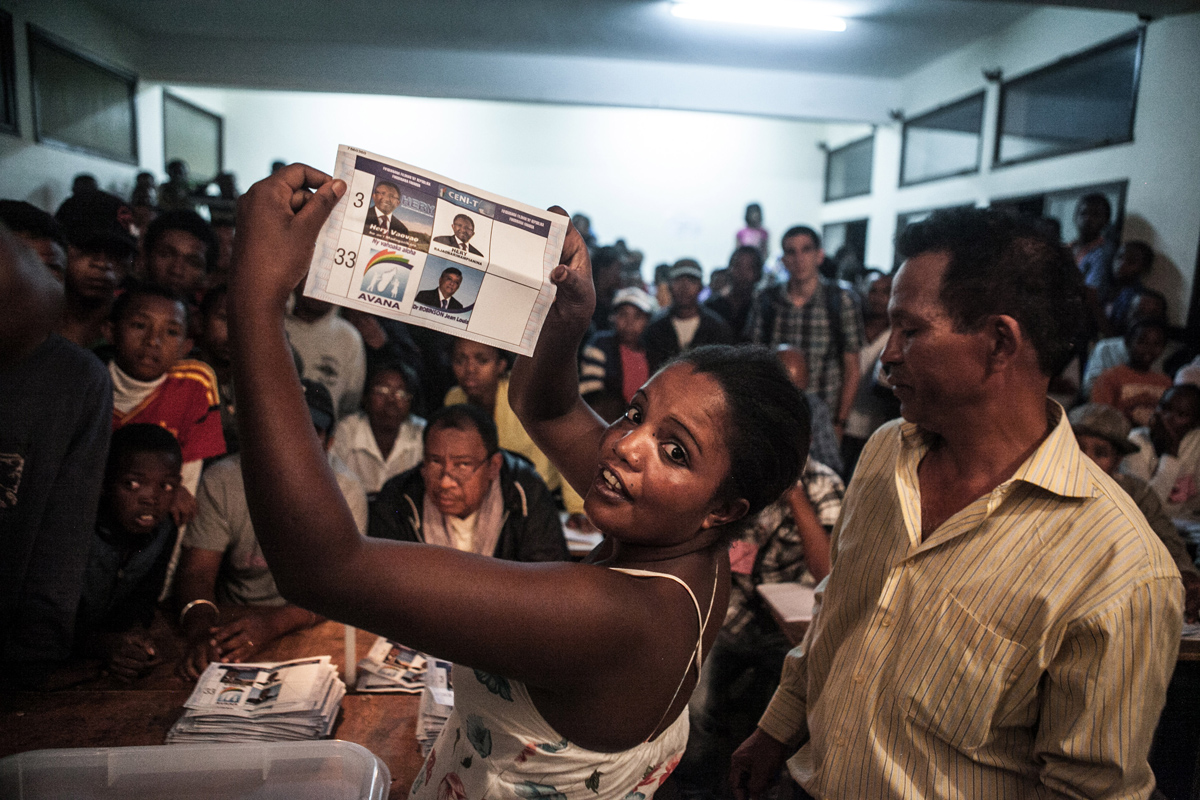 Shaded from the blazing midday sun, Justin Mbehosoa Sambon enjoys a brief respite from hacking away at a gravel formation, whose fragments he sells to building contractors putting up houses in the nearby coastal town of Mahajanga. The contractors' trucks have come less and less often of late. "Time advances, but life moves backward," he says. His collar bone protrudes from his gaunt frame. Like most of Madagascar's impoverished population, he and his four children eat sparingly. When asked if he expects the country's recent presidential election to improve his lot, he musters only a weak shake of the head and a bitter smile.

Some Malagasy have allowed a bit more sunlight to creep into their forecasts since the final round of a presidential election on December 20th, whose results are due to be announced on January 7th. "I have hope, but not confidence," offered Lalaiana Razamaniriama, a school administrator, as she stood outside a polling station in the capital, Antananarivo. She had cast her ballot for Hery Rajaonarimampianina, a former finance minister backed by the current president, Andry Rajoelina. Mr Rajoelina seized power from Marc Ravalomanana in a February 2009 coup d'état. Mr Ravalomanana, who is in exile in South Africa, supports Mr Rajaonarimampianina's opponent, Jean Louis Robinson, a former health minister. Under international pressure, Messrs Rajoelina and Ravalomanana were barred from running this time around. But their respective proxies navigated the first-round field of 33 candidates in October to set up the December 20th run-off.

The lack of cheer among many Malagasy is understandable. After the coup, international donors slashed aid, which had previously accounted for 40% of the government's budget. Hundreds of health centres closed. Economic growth, consistently near or above 5% a year under Mr Ravalomanana, ground to a halt. In 2008, seven in ten Malagasy lived on less than $2 a day. Now more than nine in ten do. As if subject to some cruel joke from above, the country has simultaneously been hit by its worst locust plague since the 1950s.

The election is expected to unlock donors' coffers, now that domestic and foreign monitors have declared the vote clean. But the interlude before the result is announced has inspired little confidence. The release of early returns has set off a nasty round of sniping between the two camps. The preliminary results show Mr Rajaonarimampianina with a small but probably decisive lead. Mr Robinson, who has repeatedly raised questions about fraud, looks set to launch a volley of legal challenges in the coming days. Most Malagasy have little appetite for a fight after five years of deadlock between the country's political elites. They may get one anyway.
RELATED ISSUES