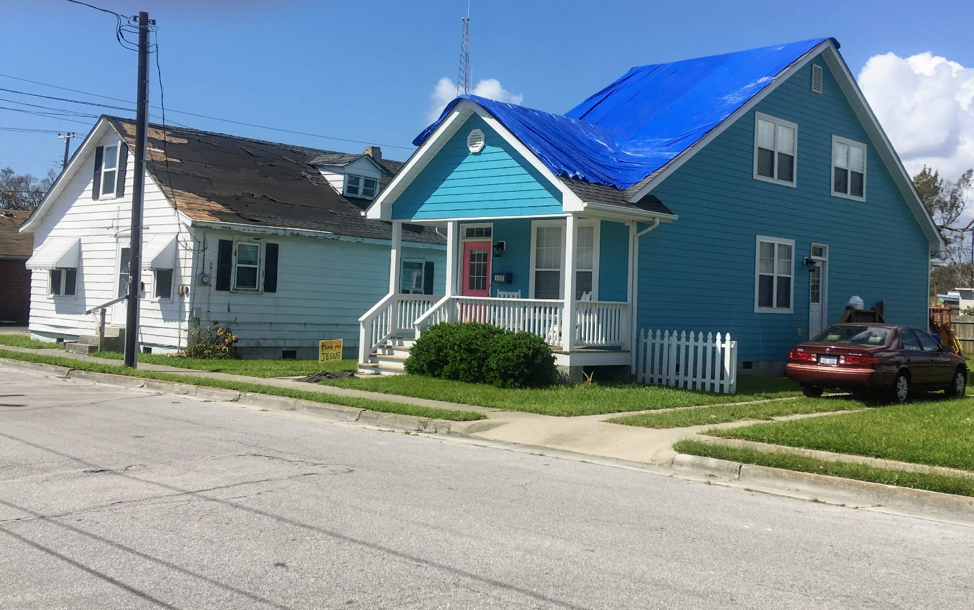 On a cold afternoon earlier this year, the wind whistled through downtown Beaufort, N.C., fluttering brown leaves against a January sky. Blue tarps sat askew on roofs, pinned down by bricks and awaiting repair that was still months in coming.
North Carolina's Crystal Coast is a long, narrow strip of sand, dotted by towns with brightly-colored beach houses. During the summer, tourists flock to the coast and fill the area's restaurants and docks. But the winter winds had forced that summer bustle far away, leaving shuttered windows and the popping of pneumatic nail guns as reminders of storm damage that refused to fade with time.
On Friday, September 14, 2018, Hurricane Florence made landfall on the coast of North Carolina as a Category 1 storm. It hit north of Wilmington, a bustling beach town home to the University of North Carolina at Wilmington, and soon slowed, idling over the coast.
Moving at a pace of three miles an hour, a fast walker could have outrun the storm. This sluggish pace meant the storm pummeled the same communities for days, with damaging winds and a record-breaking storm surge of between nine and 13 feet. Rainfall topped 20 to 30 inches, and nearby Fort Macon recorded 105 mph winds. By the time the storm cleared, it had devastated swaths of North and South Carolina, leaving billions of dollars in damage.
Everett Newton, who tells everyone to call him Rett, sits at a corner table in the Cru Coffee Bar, a local coffee shop that becomes a wine bar as the sun sets. Newton, a Carteret County native, is wearing jeans and a dark green, long sleeve shirt, alternately studying his laptop and greeting neighbors who enter the shop. Newton wears many hats, as both mayor of Beaufort and a Ph.D. student at the Duke University Marine Lab, which sits across the water from downtown.
Newton was conducting seal surveys in the badlands of Alaska for his doctoral work when he learned a Category 4 hurricane was approaching Beaufort. The eye of the storm was heading right toward the town, but the model shifted, the storm weakened, and Florence headed south toward Wilmington, a few hours drive away. But Beaufort was still in the storm's path and was battered by strong winds and heavy rain.
In the town of Beaufort, the power went out on day one, hour two of the storm, taking with it access to the Internet. The town remained without power for the next seven days.
"It just never stopped. Right? It was just here and dumped all this water on us," said Newton.
When the flood waters receded and work crews brought back the power, the community began putting back the pieces. Many were left without housing. Four months later, people were still searching for housing solutions, say community members.
"As soon as the storm—the main brunt of it—passed, you could hear the generators crank up. You also could hear the chainsaws. And generators. [Those were] the two things you heard constantly for a number of days. As a matter of fact, every once and awhile, you still hear the chainsaws, because people are still on the list, as we call it, to get their property back in shape," explained Marianna Hollinshed, a Beaufort town commissioner.
On September 11, a few days before Florence made landfall, Taylor McCune created a Facebook group she named, "Beaufort - Florence Support Group." McCune was born in Carteret County, moved away for college to study journalism, and later returned home. She had weathered many hurricanes and chose not to evacuate after she learned Florence would be downgraded to a Category 1 storm.
"I set up a Facebook group about Florence, and that turned out to be the only media that anybody had for days. But I didn't do it on purpose. I did it to try to figure out where my friends were so we could all cook hotdogs together and stuff when the power went out. But I left it open, and I have almost 4,000 people on it now," said McCune.
What began as a joke among friends became a support network both for those who stayed and for those who evacuated. McCune describes it as an online newspaper of sorts. People joined the group for different reasons: some had property in town, others wanted to check in on family, and some wanted updates on Beaufort, their favorite vacation spot. Some group members lived as far away as Florida.
In the beginning, the group provided weather and storm updates, but its role shifted over time as the recovery efforts continued. Group members checked on houses of those not in town to assess damage, and others checked on family members who had refused to evacuate.
McCune said that even the mayor reached out to her, asking her to disseminate information through the Facebook group she had begun. With the town's internet server down, information was scarce and hard to disseminate.
"So maybe that's an interesting tidbit as far as rural disaster recovery kind of thing. Information is nowhere. I mean, in the middle of the storm, there was hardly any information, and after the storm, there was hardly any information," McCune said.
A few days after the winds had subsided and flood waters had dissipated, the mold and mildew problems began, said Newton. Some homes were flooded by the storm surge, while the strong winds ripped off shingles, which allowed water to leak into homes from above.
After Florence, three apartment complexes, as well as many rental and vacation homes, were condemned, according to Elizabeth Ponder, an attorney-at-law and housing advocate for those who were displaced by the storm.
When the apartment units closed, residents had to find housing elsewhere. Carteret County had a shortage of housing, explained McCune, especially affordable housing prior to the storm, which made finding a place to relocate after the storm particularly challenging.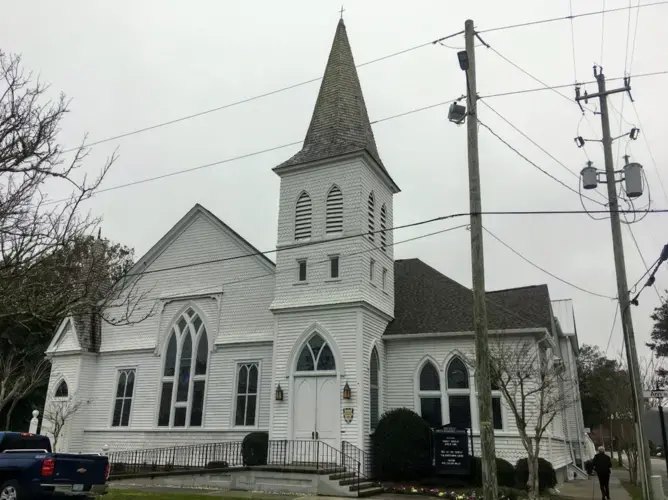 As the flood waters receded, officials from the Federal Emergency Management Association (FEMA) came to town to begin assessing damaged homes. FEMA arrived quickly after the storm hit and got to work.  "They were fully staffed. They were here. They were visible," Newton said.
FEMA was present at the request of the state of North Carolina, which is in charge of recovery efforts. FEMA works with other federal agencies, including the Department of Transportation, the Army Corp of Engineers, and the Department of Housing and Urban Development, as well as the American Red Cross and other non-profit and faith-based organizations, explained John Mills, FEMA External Affairs Officer for North Carolina.
"FEMA is just part of a large team. FEMA is a very well-known brand name and is a very large Federal agency, but FEMA is just part of a large team involved in the Hurricane Florence response in North Carolina," said Mills.
FEMA Individual Assistance provides grants for temporary rental assistance for those whose primary residence is uninhabitable. These grants can be used to pay for an apartment, or a hotel or motel room.
"FEMA Individual Assistance is not designed to rebuild houses after disaster. It is a hand-up to help people get back on their feet and begin their recovery. It is easily understood to help prevent large numbers from becoming homeless by providing people with money to get a roof over their head," Mills said.
In Carteret County, however, there were just not that many places to go. The area has many second homeowners who maintain their houses as a vacation homes but few homeowners wanted to turn their vacation retreats over to newly homeless residents. While these homes sat empty, other families were homeless, says Ponder.
Some rental properties also experienced damage or were offered at vacation rental rates, which were cost-prohibitive for many families, especially for families still paying their monthly mortgage, according to Ponder.
The area lacks high-rise hotels and vast apartment complexes like those found in Myrtle Beach or other destinations along the coast. To compound the problem, many of the area's hotels were also damaged by the storm, making them uninhabitable.
Many of the hotels that could house people and were working with FEMA are located in the metropolitan areas of the state near Raleigh or Charlotte, both of which are more than two hours from Carteret County. While these hotels could provide shelter, the commute was not feasible for many, especially for low-income families, says Robbie Phillips, a local pastor and co-chair of the Carteret Long Term Recovery Alliance (CLTRA).
Some residents found temporary shelter at one of Carteret County's emergency shelters, such as the Leon Mann Jr. Enrichment Center in Morehead City. The shelters were not a long-term solution, however, and although the county kept the shelters open as long as possible, the last one closed October 29, 2018. That left many people to stay with family or friends or remain in damaged houses, because there was nowhere else to go, explained Ponder.
"FEMA programs do not solve the issue of a shortage of available housing in hurricane-prone and flood-prone areas in eastern North Carolina; some survivors, especially those without insurance coverage, will face a more challenging recovery. Some people may need to relocate. That may present additional challenges for them if they have a job in that location–if they have family or friends in that location it is certainly a challenge," Mills explained.
Although FEMA approved temporary travel trailers and manufactured housing units to 13 southeastern North Carolina counties, there weren't enough to meet the need in Carteret County, says Phillips.
"We definitely are coming up against people who are not in their homes for really good reasons, and then we are also coming up with people who shouldn't be in their homes but are there because they don't have any other place to go," said Phillips.
"Major disasters can exacerbate already challenging conditions that people may have been facing, such as financial difficulties prior to the hurricane hitting. So while nearly $900 million in Federal funding has been approved to help people in Eastern North Carolina recover, we are very mindful that a lot of people will have serious challenges going forward and will have a more difficult recovery than others," said Mills.
The process to apply for FEMA assistance is complicated, and often people must apply multiple times after being rejected for technicalities.
"You gotta understand the people can't take this. I mean they've lost their home and you're going to deny them. You know what I'm saying? I mean it's hard emotionally for people to take," Phillips said.
"There were some problematic things–like FEMA openly admits they have a high refusal rate and… if it's refused, it may just be for a technicality, and people have to resubmit, and that's pretty deeply frustrating, but it's just part of the process right now. FEMA just will tell you that, just because you are refused once, doesn't mean you can't come back." Newton said.
"You know it's not perfect. Not everybody gets assistance. But everybody should at least have the opportunity to talk to FEMA to see what they can provide," Newton said.
The Beaufort - Florence Support Group on Facebook became the place where community members met others online, shared ideas, and pooled resources.
Ponder, the attorney in neighboring Morehead City, joined the group. Ponder peppers her speech with sarcastic comments and speaks energetically. She moved from Ohio to Carteret County in the summer of 2017. Through the Beaufort - Florence Support Group, Ponder reached out to family and friends throughout the country to tell them that, although the news cameras had largely left the area, places hit by Hurricane Florence were far from recovered.
On September 30, Ponder posted:
"To all my wonderful friends asking how I'm doing, asking about my home, asking if we need anything: we are going to make it just fine. But let me tell you about a VERY REAL AND VERY SERIOUS PROBLEM down here in Carteret County. There isn't enough housing or storage. People have lost their homes in the storm or due to mold…. Housing, more than anything else, appears to be the most prevalent, pressing need. Everyone deserves to know where they are sleeping tonight," Ponder wrote.
The Beaufort - Florence Support Group connected McCune, Ponder, and Julia Royall, the youth minister at the Ann Street First United Methodist Church. The three women saw a tremendous need to address the shortage of housing following the storm. They met on a Tuesday for coffee and divided up tasks to create a housing fair that would connect those in need with the resources they sought.
Prior to the housing fair, Ponder estimates she called between 100 to 150 rental offices, real estate agents, and individual landlords to spread the word about the housing need in Carteret County.
The group's original goal was to 'play matchmaker' between the people who needed housing and the people who had it, Ponder explained.
"And it became very clear, very quickly, that there was absolutely no way that we were going to be able to do that for even 10 percent of people that walked through the door," Ponder said. The amount of available housing was so low compared to the number of people who needed it, she explained.
In early October, the housing fair was held at Ann Street United Methodist, a large white church two blocks from the waterfront. More than 150 families attended, coming from all over Carteret County, as well as neighboring Onslow County.
The housing fair brought many of the groups associated with recovery together into one place and stepped in where the local government did not have the capacity.
"It is a web of things to navigate and it's really difficult. And I don't understand why one group doesn't just have this list of how to do it. They don't. SBA tells you what to do for them, FEMA tells you what to do for them. Homeowner's insurance tells you what to do for them. So we were trying to get all things in one place," Royall said.
"You could be in one place [the housing fair] and bounce between these groups and figure out what triage of things that would best help fit your situation," Royall explained. "I think a lot of people came with an unrealistic expectation. They didn't leave with a house, but I think they left with the tools to understand the scope of what was going on." Royall added.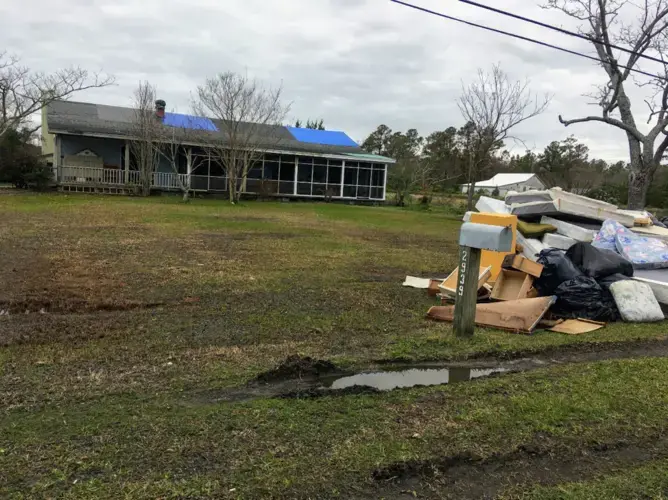 Scrapbooks lay on a card table in the garage, in the hope that the dry January air will pull out the moisture that remains between the pages months after the flood. The colorful pages are warped and musty, carefully captioned pictures smudged away by the flood waters. Pictures of graduations, children's births, and years of military accomplishments are marred by the muddy waters. When the tributary of the Newport River overflowed its banks, 3.8 feet of tar-colored water flooded into the house of Donna McDougal and her husband, Jim McDougal, forcing them to evacuate from their Newport home.
For now, the McDougals are staying in a house lent to them by one of Jim's co-workers. Donna retired in January and is working full-time on preparing her new home and picking up the pieces from her flooded home. She had a good experience with FEMA. The agency's representatives came in and quickly surveyed the house, not long after she and her husband had been able to return home for the first time. But building a new house isn't how she planned to spend her retirement.
There isn't a fix-all for housing recovery following a storm, especially in areas like eastern North Carolina, which had an economic divide before the storm and a pronounced housing shortage following the storm.
"Economic divide is a big, big deal. We have to talk about it. We have to figure out some solutions for it. You know I've got a billionaire who lives right here and just a couple blocks later on we've got deep, deep poverty," Newton said.
He nodded toward the waterfront, where large colonial homes with wide front porches stretched along Front Street. The view–horses wandering on Carrot Island across the water and boats parading past–easily puts these houses into the million dollar price range. Walk a few blocks away from the water, and the town changes. Homes are modest, cottage-style, some of them falling into disrepair.
"I have known about an economic divide in Carteret County…you sense it, you know it's there, but Hurricane Florence exposed it," Newton said.
On a cold January day, questions that began in balmy September remain unanswered. People are still without housing, and some businesses have yet to reopen their doors.
"Now, what keeps me up at night as mayor is, 'What do I not know? How many people are living in cars or in unsafe homes?'" Newton asked.
Since Hurricane Florence, Carteret County and the Town of Beaufort have made many changes. Carteret County formed the Carteret Long Term Recovery Alliance (CLTRA), a community group guided by FEMA documents to bring volunteers in to bridge the gap between state and federal assistance and the work that remains to be done. Reverend Phillips is one of the co-chairs of the newly-formed group. The group is currently comprised entirely of volunteers, but they are working to hire permanent staff to help with the overwhelming amount of work that remains.
CLTRA came off the ground incredibly quickly due to the energy of the community and the need for this sort of organization. Phillips believes CLTRA fills a need not completed at the government level, and she traveled to Houston to learn about long-term recovery efforts there.
"We gotta do it at a different level, and that's what I really like about these long-term recovery groups. We are at that level. We can be a powerhouse if that's what we choose to be about. You know? Making sure the federal government and the state government and the emergency management and all of those governmental agencies hear, that they hear our voices, because we will speak for the community," Phillips explained.
"This is all community-based people who have a heart to restore our community. We love our community, and we want to help our people restore their homes and get their lives back," said Phillips.
And their work is far from over. For Phillips, one of the saddest moments, was learning it would take the community five to seven years to recover–and that's if they don't get another hurricane.
"The clock is ticking, people are living in mold-infested houses or they're doubled up with family, all of those kind of horrible things that cause a lot of tensions in the community," said Phillips.
Phillips explained that there are people whose homes were damaged by the storm who did not apply for FEMA assistance. Often these individuals are from vulnerable populations, like the elderly and disabled who need extra assistance with the application process. She added that there are others who received some insurance or FEMA money, but not enough to cover the costs they incurred.
Right now, the priorities are repairing damaged homes. But in the future, Phillips hopes the group can drive change in housing policy and public policy, creating change in Raleigh and Washington based on their experiences.
"We will be resilient. We will learn from this. Our county will. And we will be stronger because of it. I am convinced of it," said Phillips.
While new initiatives are still needed, Carteret County moves forward with rebuilding. As of January 9, 2019, almost $108.6 million in state and federal funding has been approved for residents and local governments in the county. CLTRA is lining up volunteer teams to repair people's homes. And one by one, the blue tarps held down by bricks are being replaced with new shingles.
Editor's Note: A previous version of this article erroneously referred to the Beaufort - Florence Support Group as the Beufort Support Group. This has now been corrected.