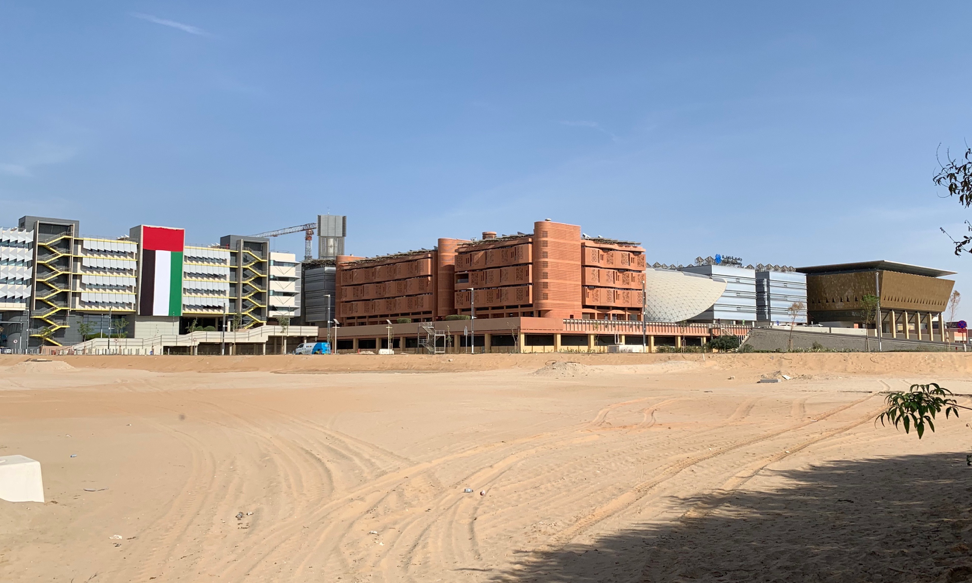 In the United Arab Emirates (UAE), long plighted by extreme climate conditions and vast resource consumption, there is a new type of city cropping up amidst the sand dunes. These meticulously–and expensively–designed "sustainable cities" are touted as models for green development: examples of how, in an inhospitable environment, humans can live with minimal impact on the earth.
These cities are no stranger to criticism, ranging from charges that claims of "sustainability" are inflated at best, to accusations of elitism. But a visit to two of the most prominent sustainable cities in the desert sheds light on their complex legacy: Environmental innovation is indeed happening. Whether it is replicable, analysts say, is a far more complex question.
As the result of massive energy and water consumption, sustainability, referring to economic development with minimal degradation of natural resources, has become a significant pillar of growth plans in the UAE. According to a U.S. Energy Information Administration figure, as of 2017, the UAE was the world's eighth-largest producer of oil. At the same time, the country is looking to "reduce its carbon footprint, meet its own domestic energy needs and expand exports," says a UAE Embassy in Washington, D.C. webpage. The UAE Energy Strategy 2050 aims to convert 50 percent of its energy to renewable sources and reduce its carbon footprint by 70 percent by 2050.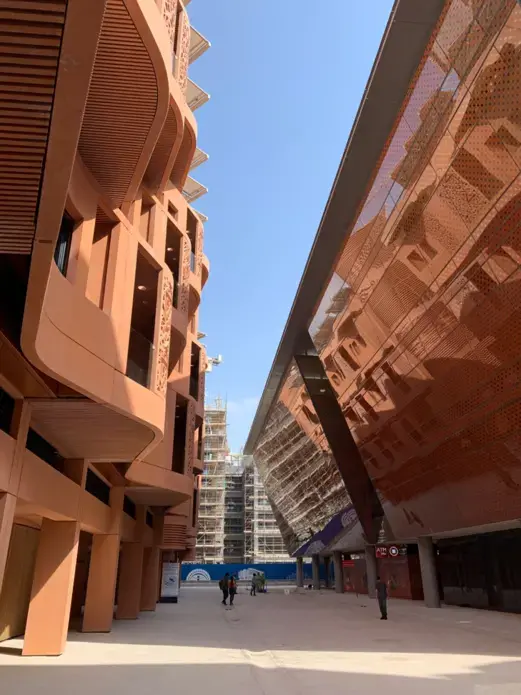 Masdar City's streets are narrow and lined with buildings that promote cool street temperatures. The terracotta residential building on the left has screens which shade the rooms inside. The incubator building to the right slopes outward to further shade the streets below. Construction continues in the background. Image by Anna Gleason. United Arab Emirates, 2019.


Masdar City was the first sustainable city project created as part of the government's effort to mitigate the impacts of climate change, an uncharacteristic goal among oil-producing countries who largely do not actively combat global warming. Initiated in 2006 on the outskirts of Abu Dhabi, Masdar was intended to be the world's first carbon-neutral planned city.
Driving into the city past kilometers of undeveloped desert, one can see ultra-modern buildings with hints of traditional Middle Eastern design in earth-toned hues. Their angular features curve and zig-zag unlike the boxy towers of downtown Abu Dhabi. Behind them in the sandy haze emerge far-from-complete structures covered in scaffolding, like gifts yet to be unwrapped.
Walking through the completed portion of the city, one cannot help but look upwards at the intricately designed huddle of buildings that distract from the vacant streets below.
The city was built on a raised platform 23 feet off the ground to take advantage of naturally-occurring breezes in the desert. Combined with a shaded labyrinth of foot traffic-only streets, the city is naturally cooler than the outside temperature, reaching a sweltering 50 degrees Celsius in the summer.
Other features of Masdar's original master plan provided for zero cars, an automated Personal Rapid Transit (PRT) system, and a new Masdar Institute for Science and Technology, which now offers degrees in sustainability-related fields. The plan outlined housing for 50,000 people within the city, with another 60,000 commuting in via rail.
Initially slated to be fully operational by 2015, Masdar has pushed its completion date out to 2030.
Masdar officials have publicly blamed the global economic recession, which hit just as workers were breaking ground on the project in 2008, as a driving factor of the timeline change. Chris Wan, head design manager for Masdar, said in a 2016 interview with The Guardian that Masdar City investors were wary to move forward during the period of economic uncertainty.
In previous reporting, journalists have labeled Masdar as a ghost town due to the lack of completion and inability to meet carbon-neutrality goals. Other scholars have a different take on Masdar's impact.
"I wouldn't describe it as a ghost town. I think that mischaracterizes it; it's a development that is taking place," says Dr. Yasser Elsheshtawy, an architect and professor at Columbia University. "I would question its impact, its broader relevance. I suppose it was admirable in its initial objectives, and those have been cast aside."
Masdar City no longer aims to be carbon-neutral, but instead is promoting the development of technologies that reduce energy consumption and rely on more renewable sources. Solar energy is captured through on-site panels and at the nearby 2.5-square kilometer Shams 1 plant, the largest renewable energy project operating in the Middle East.
Today, Masdar City houses approximately 400 businesses and 500 students from Khalifa University, which joined with Masdar Institute in February 2017. The city is a designated free zone, where businesses are not subject to taxation.
The streets still are largely uninhabited for an afternoon in January when the climate is more temperate, but tour groups from the Abu Dhabi Big Bus periodically arrive to marvel at the impressive engineering feats that aim to reduce energy consumption. Other than a man helping to operate the city's only above-ground PRT vehicle, tourists are left to their own devices to take in this peculiar city.
Also of note is the hesitation of Masdar City employees to speak on the record with journalists. Through lengthy correspondences that get lost in cyberspace and meetings resulting in verbal confidentiality agreements, getting individuals to speak openly about their experience in the city is a near-impossible task.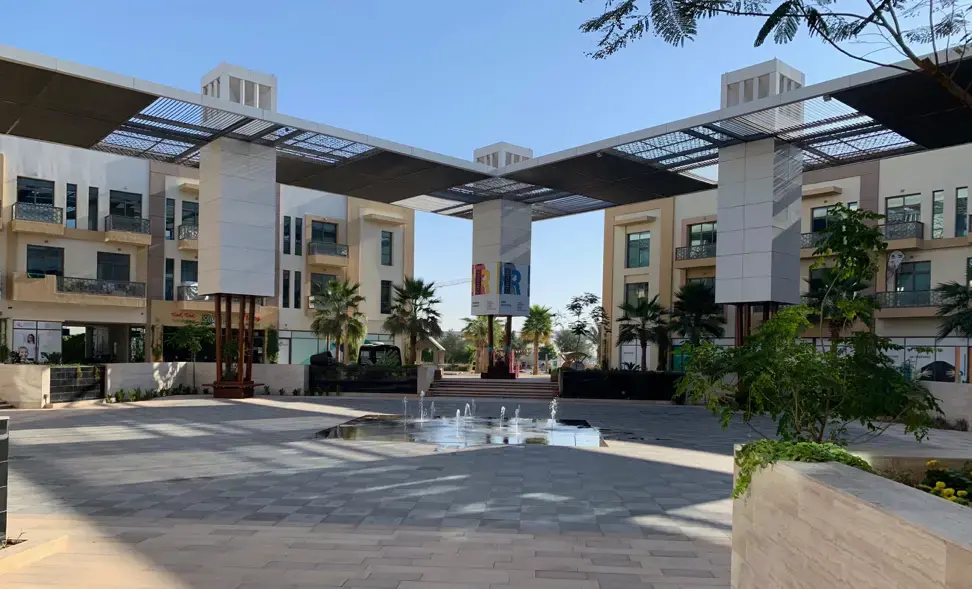 The main plaza of The Sustainable City is lined with apartments, shaded by a solar panel covering, and features a fountain which uses recycled grey water from the villas. Image by Anna Gleason. United Arab Emirates, 2019.
A view from the rooftop of a villa in The Sustainable City's residential sector. The large tan building in the background is the newly-opened Fairgreen International School. Image by Anna Gleason. United Arab Emirates, 2019.



Driving away from the looming towers of downtown Dubai into housing developments, the tree-lined perimeter of The Sustainable City come into view. This aptly-named development was the second major planned eco-city to take shape in the UAE.
Established in 2015, this primarily residential development uses passive and active sustainable technologies to keep the city running. Passive technologies reduce the need for energy consumption by increasing material efficiency, including UV-reflective paint on houses and orienting windows on buildings away from the sun to promote naturally cool indoor temperatures. Active technologies, including solar paneled rooftops and greywater recycling, still provide residents with resources such as electricity and water, but do so in a more sustainable way.
The 46-hectare city's bright, clean streets are walkable, but public-use electric golf carts frequently drive by to help residents spend less time in the heat. Every grouping of villas is no more than 90 feet from a car park, each of which is topped with solar panels to shade vehicles while harnessing the sun's abundant energy.
The newest projects being built in Phase 2 of The Sustainable City are a rehabilitation center, school, and SEE Nexus, a sustainability innovation center that mirrors Masdar City's research and development initiatives.
"We have three pillars of sustainability that are equal and important, which are environmental, economic, and social sustainability," says Anastasiia Onishchuck, a young Visitor Relations representative who has offered to give me a tour of The Sustainable City.
Environmental sustainability includes the energy-reducing active and passive technologies mentioned above. Sustainable greenhouses, called 'biodomes,' grow herbs and vegetables for residents. Ninety percent of construction materials were recycled and now outfit many of the decorations and seating areas in the public spaces.
Economic sustainability involves revenue generated from the rental properties in the city. This revenue is used to fund services for the residents, including the community golf carts, sumptuous equestrian center, two community pools, and biodome projects.
Social sustainability is also very important to The Sustainable City: "We want to make the residents very involved in the community so that they know their neighbors," Onishchuck describes. To achieve social sustainability, the city offers weekly educational and sports programming. Residents have also begun to start community initiatives of their own, she says.
Developers have worked hard to sell their city, attracting a sustainability-driven expat population named 'Happiest Community' at the 2018 Gulf Real Estate Awards. What is even more impressive, my guide adds, is the city's ability to reach 97 percent residential capacity and 100 percent apartment occupancy as of January 2019, with homes for sale starting at $1 million US dollars. Scholars of the city think that there is more to the story.
"It sounds great when you read the media reports and promotion by the developer," says Elsheshtawy, "but when you actually look at The Sustainable City, it is this very tiny spot in Dubai. It is located in the desert, so I'm not entirely sure if that constitutes a model for moving forward, or if it is just a curiosity available for people who can afford it."
Both Masdar and The Sustainable City are self-contained communities relatively far from their respective metropolises. While the F32 city bus makes a stop at The Sustainable City, no such service yet exists for Masdar City, raising questions for sustainability experts as to whether these communities are in isolation, and what purpose they actually serve.
Dr, Gokçe Günel is an anthropologist at the University of Arizona. Her forthcoming book, 'Spaceship in the Desert: Energy, Climate Change and Urban Design in Abu Dhabi' metaphorically relates the boundedness of sustainable cities to a spaceship.
"The spaceship becomes a model for the sophisticated technological space with a clear separation between the interior and the exterior. The spaceship generates its outside as a sort of unlivable space. The inside becomes a safe haven. Everyone who is in the spaceship is there for a reason. It's almost like Noah's Ark. It also has a future – the spaceship is able to live on in the future. The land around it might be destroyed due to environmental catastrophe, but the spaceship inside is durable," she says.
The residents and workers in these sustainable cities also have a mission, says Günel. "The idea of the spaceship is interesting because there is this kind of exclusivity, but at the same time it promises something for all of humanity. Think about every science fiction movie you've seen. The people on the spaceship are there, they're going to make a compromise, and they're going to save the world."
These cities have not yet saved UAE residents, who have no input in the construction process, says Elsheshtawy. "These projects are top-down – instituted or initiated by the state – or by the private sector developers, merchant families, and so on – and the main aim is profit, to sell real estate, to generate income from these projects," he adds.
This profit-driven mindset has contributed to the protracted completion date for Masdar City.
"One of the problems with Masdar was that they planned on developing an area for 50,000 people and then selling it to companies and individuals. So that model proved to be quite difficult, especially after the 2008 financial crisis," says Günel.
The rapid development of projects is not unusual for the UAE – see the Burj Khalifa, Dubai Marina, or Abu Dhabi's Yas Island tourist attractions. Diversifying the economy to include renewable energy and encouraging residents to decrease consumption habits, however, is a greater challenge as it requires increased spending.
Dr. Ahmed Kanna, an anthropologist studying globalization and urbanism, argues that if the UAE, one of the largest petroleum exporters in the world, was serious about climate change, they would keep their oil underground. "Global warming is not something you will solve by having individual small countries or cities developing these Disney-fied, sci-fi projects. Thinking about this as an urban-based, locality-based thing is not serious in my opinion."
"They are within a context of material inequality and global capitalism and imperialism. What do they do in this context? One of the things they do is that they are greenwashing the politics of the Gulf countries."
'Greenwashing' occurs when actors sell their ideas as eco-friendly, when in reality they have less of a sustainable impact than consumers are led to believe. Many scholars, such as Kanna, feel that the UAE overstates the positive environmental impacts of these cities, which occupy relatively little space when compared to the larger, oil-producing Emirates in which they exist.
The design and building processes have adapted to a changing economy, becoming more realistic, and consequently less green, over time. Once hailed as a vision for a more sustainable future, Masdar and The Sustainable City may continue to exist as living laboratories that pioneer green technology, but cannot be replicated on a larger scale.
"At some point oil is not going to bring the kinds of wealth that it is bringing today and there may need to be some kind of transformation. I don't know necessarily if Masdar or The Sustainable City are doing this. I agree with the people who say that they are prestige projects; they are very much about branding these countries," says Günel.
Other initiatives have been implemented to promote sustainable building in the Emirates. Abu Dhabi Urban Planning Council's sustainable development initiative, Estidama, has mandated a sustainability rating system. Akin to LEED certification, their Pearl System operates on a one- to five-point scale. All new buildings must at least achieve one point on this scale. Though small, efforts like these are beginning to put the UAE's explosive development on a more sustainable path.
Some say that these measures are not enough. "You can still have showcase projects – there's inherently nothing wrong with that. But you also need to go back to your city, see what's wrong there, and do it in a meaningful way – not just fixing a street here, renovating a building there – to have a clear framework that encourages sustainability," says Elsheshtawy.
Currently in Abu Dhabi, Emiratis pay a fraction of the energy costs that expatriates pay, discouraging environmental awareness, he argues.
"If you take that away, that becomes a sort of political problem. So it's an issue that transcends even urban planning and there has to be a sort of political will to take risks and make people aware about all of these unsustainable practices. Having a few showcase projects here and there is not going to do anything."
These curiosities in the desert have not had an impact on the dense populations of the urban UAE, although future projects are in the works. According to a UAE government web page, further sustainable cities are currently under construction, such as Desert Rose, a solar-powered development located in the sandy outskirts of Dubai. As of this article's publication, no further information is available online aside from architectural renderings.
Although commendable in their design, sustainable cities cannot be a primary focus of the UAE's sustainability efforts, says Elsheshtawy.
"What I think is that these projects are being used as a sort of façade to hide unsustainable practices that are taking place. The stuff that would really make a difference – housing policy – that's not being changed at all. That continues unabated, as if climate change doesn't even exist. These projects may be admirable on their own, but unless this is being implemented and applied across a much broader scale and has a meaningful impact on policy, it's really meaningless."