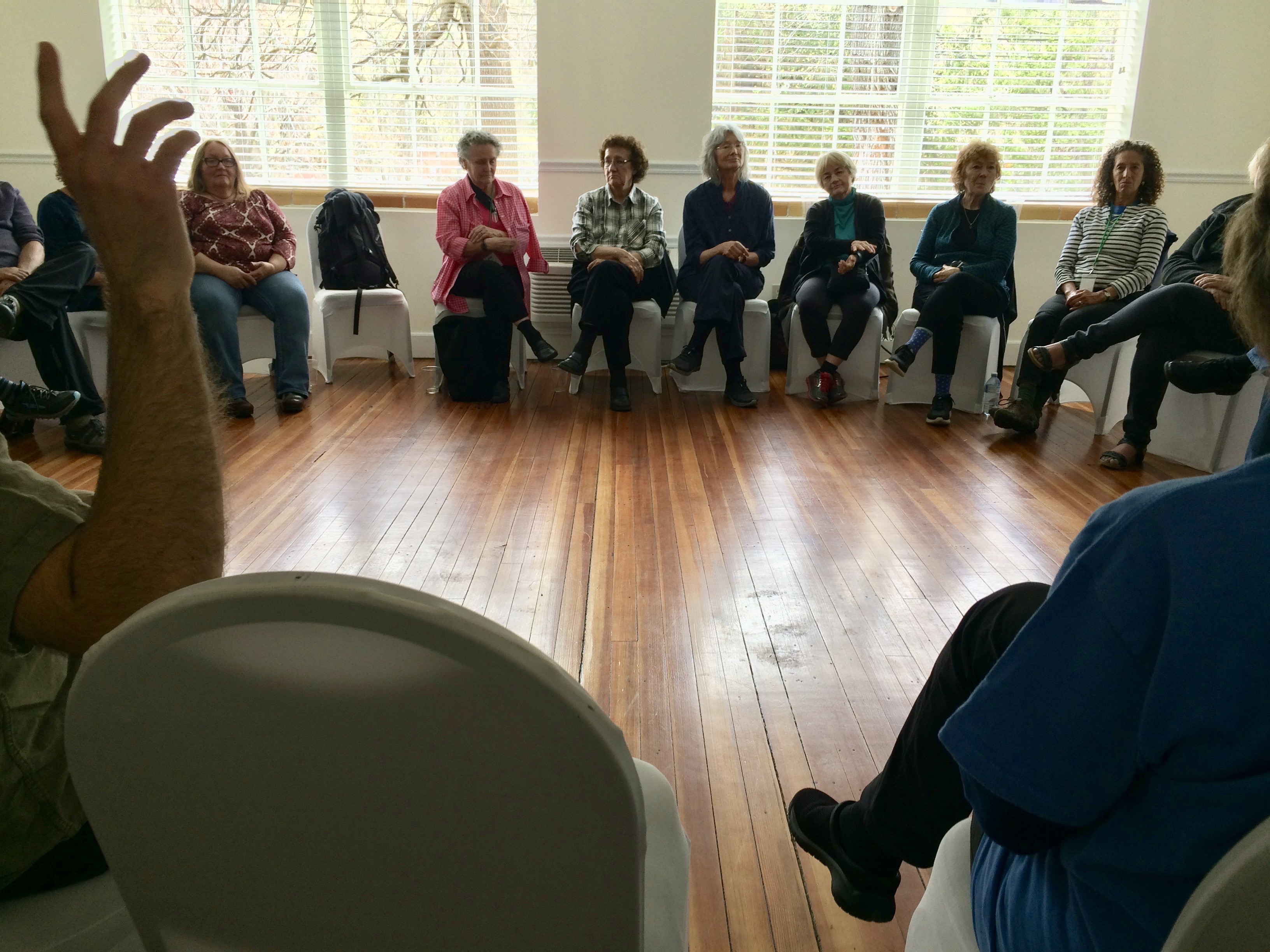 Like many voters around her, Susan Hackney remembers feeling "distressed" after the 2016 election.
"I didn't understand how so many people could have voted as they did," said the Bernardston woman, who as a semi-retired mediator says, "My role has always been in reconciliation."
And so, scared that "it would blow up in my face," she phoned her brother, with whom she had been "on opposite ends of everything" — simply trying to understand something so bewildering.
In the end, Hackney — who had summoned her every communication skill in reaching out — recalls, "The conversation went really well. I called to understand him. He was very open to my distress" — something she hadn't even considered. "We wanted the same things, our values are very similar, but we have different information, and we believe different things. It was a very heartwarming discussion. And since then, I've felt closer to him than I have since we became adults."
Hackney is part of a "Community Conversations — Franklin County" group that is reaching out across the political divide in hopes of having a "Better Angels" workshop sometime this fall or winter.
"It's always been important, and there's always been polarization, but it's so much more extreme now," says Karen Fogliatti of Greenfield, who is coordinating a group of seven or eight people who have been involved with a Community Conversations of Western Mass., which first came together in Amherst in the aftermath of the 2016 election.
"It seems our communities are just being fractured so terribly by all this anger. How can we get anything done unless we're able to listen to each other and respect each other so we're able speak our truth without attacking or bullying?"
The larger organization has since adopted the national "Better Angels" model that had 40 workshops around the country in 2017 and has had workshops in Northampton and Easthampton.
There's been a problem in both those communities, and here as well, though, Fogliatti said: "We couldn't get people of the 'red' persuasion to come. … I think it's hard because the area is so blue. From what we've heard, the 'red people,' so called, get a lot of flak from the 'blue people,' with a lot of vitriol sent their way. They're just gun-shy and don't trust they'll have a space to say what they want to say from their perspective."
Shredding of common life
A Leverett group attempting the same work last year ran into a similar roadblock, which left them to seek out their cultural and political counterparts in Kentucky.
"This country's feeling so deeply pulled apart," said Paula Green of Leverett, who used her expertise in international "conflict transformation" to lead cross-cultural dialogues with the Kentucky group after trying to find conservative participants closer to home. " Our hope is to encourage people to feel more connected, to counteract the shredding of our national common life."
Green helped train Fogliatti and others in the Community Conversations group, which meet this week with the Greenfield Republican Town Committee, where chairman George Gohl agreed to serve as a "red organizer" to find seven or eight conservative participants for a workshop, as a counterpart to "blue organizer" Sandra Boston doing the same.
Gohl was unavailable to comment for this article.
Better Angels would provide two moderators for a six-hour session, said Fogliatti, who is among nearly 190 trained moderators around the country who lead the highly structured workshops with an equal number of designated conservative and liberal participants who say they're willing and interested to hear from the other side and willing to speak respectfully to the others.
"People find the process transformative, and many want to continue to meet together" as a Better Angels "alliance," said Bob Robertson of Amherst, who as Better Angels volunteer Northeast coordinator has arranged three sessions in Massachusetts and one in New York.
"If you have a workshop in the community, it offers people the opportunity to work together on divisive issues in community, digging into differences between them. These groups get to know each other's positions better in an environment where relationships have been established and people have explicitly agreed to treat each other with respect."
Stereotypes
In separate red and blue groups, participants discuss stereotypes they believe others have of them that are false and what are the kernels of truth, then discuss them all together to demonstrate being self-critical and having humility. Participants share what they learned they have in common, then have lunch together.
Sitting in a "fishbowl" surrounded by the others and 15 selected outside observers, each group in turn discusses why its values and policies are good for the country and their reservations and concerns about their positions. Afterward, as a mixed group the participants explore what they've learned about how the other group sees itself and what they share in common? Finally, members ask "questions of curiosity and understanding" of the other group.
"There's no back and forth, no argument," says Robertson, "just listening to the answer."
The session ends with a discussion of what participants have learned and how they can proceed, as individuals, members of their group and part of society.
"Regardless of the party in power, our system is broken," said Robertson. "It's impossible to fix it at the top level, because those folks are bought and paid for and accountable to their funding sources. That's not a place you can start, though that's where dysfunction affects government most critically. The only way to do something about this is for us to take personal actions that begin to heal the rift between us."
He added, "I became a moderator and wanted to run red-blue workshops because I saw the horrible spew that fills Facebook …. My heart was breaking because of what we've done to our country. You talk to people across the country and they say, 'We can't go on like this; we have to do something.'
"We offer a something," Robertson said. "People's hearts are crying out for this, I think."
Balancing the bias
In the Community Conversations-Franklin County group, which is considering marching in the Franklin County Fair parade next week, the main focus is to seek out conservative participants to balance the bias in a region where Donald Trump won in just two towns and received less than 27 percent of the overall vote.
"We all live in a silo," said Boston of Greenfield, one of the group members who does "conscious communication" trainings but admits she doesn't know anyone personally who voted for Trump. "We're really making person-to-person connections and asking all of our friends to do the same to help us find somebody 'red.' It's a little like being a missionary. It's an alternative to sinking deeper in the mud."
Boston, like Hackney, believes political divisiveness has been reflected in local politics, "playing out right now on the Town Common" and the homelessness issue.
Boston said that because of a strong progressive bias here and growing polarization, a friend who's lived in Greenfield most of her life told her she plans to move to Tennessee, "where my people are. I feel like an alien in Greenfield."
"In the Northeast, those people feel very marginalized. That lends itself to them just hiding out in the shadows."
She said groups like Community Connections and Better Angels, which also provides training for people to bridge political differences, as well as speakers like Robertson who offer public talks about the importance of building connections, offer "a way I can feel I'm doing something effective. This really feels like it gets to what's at the heart of democracy."