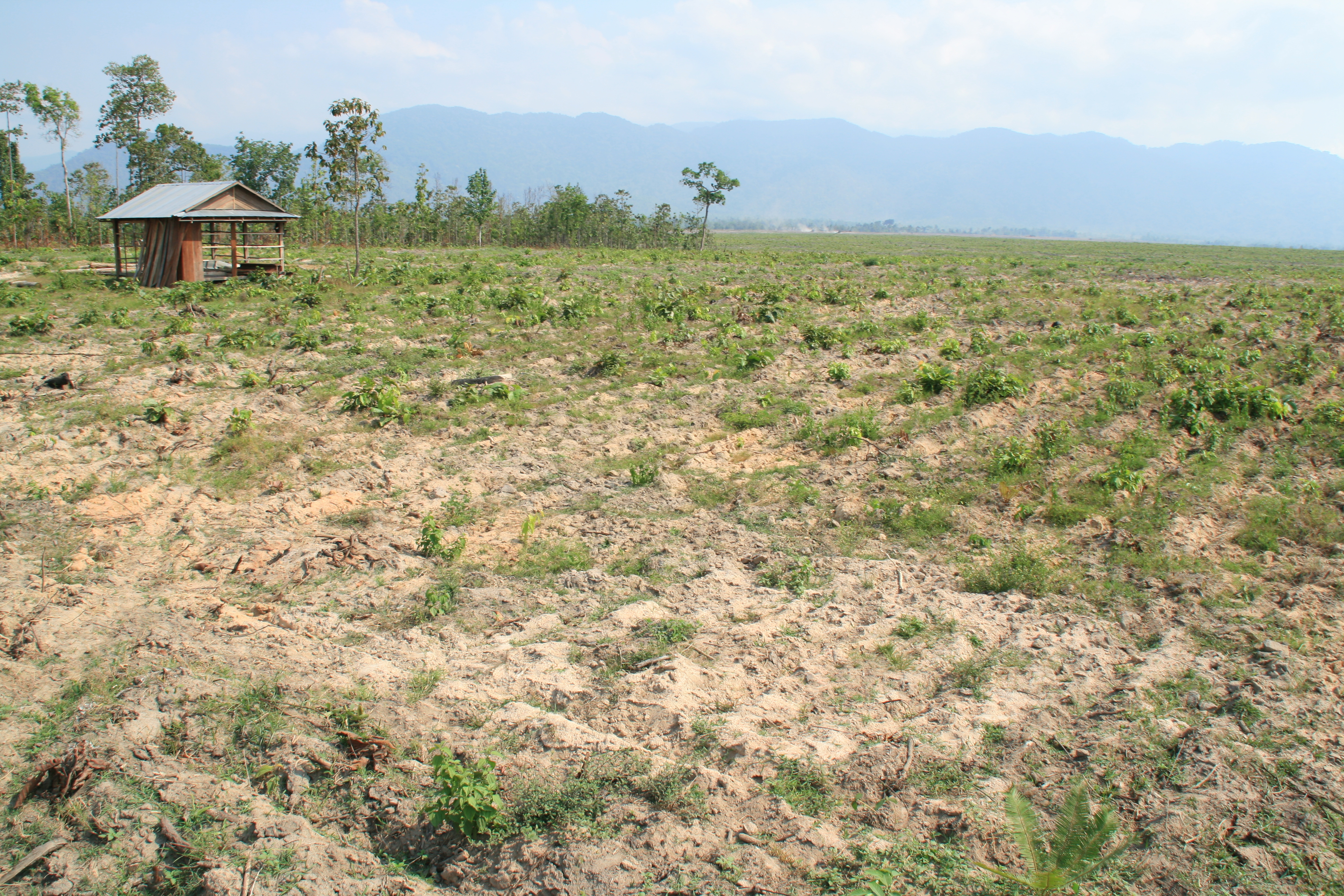 "My life is important," said Yin Chum, an activity leader with the Prey Lang Network (PLN) in Cambodia. "But the forest is my number one priority."

Many villagers across Cambodia who share Chum's attitude have created grassroots organizations such as PLN to protect the country's quickly disappearing forests.

In March 2012 the Prey Lang Community Network coordinated a five-day operation to search the forest of Prey Lang for signs of illegal logging. Four hundred villagers from the four provinces surrounding Prey Lang forest in northeast Cambodia—Kampong Thom, Kratie, Stung Treng and Preah Vihea—traveled on foot and by motorbike for four days before meeting to patrol the forest.

"The villagers are here because they have lost confidence in the government," said Wutty Chut, the slim and sharp-featured director of the National Resources Protection Group (NRPG), a local environment watchdog NGO.

During the first four days of their campaign, the villagers found and burned over 370 cubic meters of illegally cut timber. On March 28, 2012, over 30 police and military personnel confronted villagers as they demanded access to a government-sanctioned sawmill.

In response to the military presence PLN posted the following on Facebook: "Government officials have repeatedly claimed that they do not have the money and personnel to monitor the forests to stop illegal logging. How then do they have the money and personnel to monitor those people who are voluntarily giving their time and resources to protect Prey Lang on behalf of the whole country?"

PLN's campaign ended with a public forum hosted by the Cambodian Center for Human Rights. It featured a panel composed of local officials as well as members of four Cambodian political parties.

"The government officials didn't know how to answer the public's questions," said Chut. "Overall it was a success, but the government doesn't care very much. I think the illegal activity will keep moving [happening] after we leave."

The area that the network aims to protect is the Prey Lang forest, the largest primary lowland evergreen forest on the Indochinese Peninsula, spanning six districts. Approximately 200,000 mostly indigenous people live in the area and depend on its resources for their livelihood.

"Our goal is to stop the cutting down of trees," said Chut. "If the tree falls down it is too late."

To many of the 80 percent of Cambodians who live in rural areas, the forest is important both spiritually and economically. Forest resources contribute between 30 and 40 percent of the rural population's total household income, according to the United Nations Development Program.

"In terms of the history of forestry in Cambodia, it [the country] was opened to free market economics after general elections in 1993," said Sophat Seak, deputy head and senior lecturer/researcher of Natural Resource Management at the Royal University of Phnom Penh.

Between 2001 and 2002 the government tried to monitor logging because of international pressure, Seak explained. "Even now it [government monitoring] is ineffective," he said.

According to the World Bank, as much as 94 percent of the total volume of logging in Cambodia is illegal. Much of the illegal logging is made possible by widespread corruption in Cambodia.

"Sometimes a government official has very little salary," said Seak. "He needs the commission from illegal loggers to survive. This is a root cause of deforestation that policy cannot fix."

The illegal loggers do not need to be secretive since they have no fear of consequences. In the countryside, several rangers from the Ministry of the Environment make no effort to hide the large piles of timber outside their house. Ox carts carrying a full load of illegal wood stop next to the Forestry Administration office to pay their commission as they head into town.

With such blatant ministry corruption, organizations such as PLN have lost confidence in local authorities. Instead, villagers are patrolling the forest themselves. When they find illegal loggers they burn the wood and chainsaws and take the fingerprints of the loggers as evidence.

"The villagers cannot keep the wood: they would be accused as thieves," said Marcus Hardtke, an independent forest watchdog from Germany who works throughout Asia. "And if they return it to authorities it will just be sold for profit. Destruction is their only choice."

Recently, the Prime Minister of Cambodia Hun Sen issued a sub-decree declaring approximately 1,186,000 acres of Prey Lang—an area slightly larger than Montana's Glacier National Park—as protected.

"Most people are not confident in the government's promises," said Hieng Bun, project coordinator for Forest Livelihoods & Plantation Project at the NGO Forum on Cambodia, a membership organization composed of local and international NGOs working in Cambodia. "It is what experience tells them."

When planning their most recent protest in March 2012, leaders of the Prey Lang Network barely gave community representatives time to pack when they called for a two-day meeting in Kampong Thom province. Members were also not told the purpose of the meeting until they arrived at the hotel conference room. PLN took these measures to ensure that no government or company officials could learn of or interfere with their plans.

PLN has protested before: In November 2011 villagers "occupied" the forest, patrolling for almost a week, and in December they painted themselves as Avatar characters to demonstrate in Phnom Penh and Angkor Wat.

Chann Thoen Mao, an elderly woman with wrinkles worn well into her face, took part in the November protests. She walked seven days through the woods searching for illegal timber. "Sometimes people got sick," she said. "Sometimes there was no food and we only ate what we found in the forest."

Mao comes from a farming family in Sandan District in Kampong Thom Province. "Authorities protect the rich people," said Mao. "They do not care about us."

An illegal logger in Mao's village recently threatened her for organizing villagers to protect the forest. Threats are common when villagers try to stop illegal logging and interfere with a profitable market—Chut reports more than ten cases of such threats.

"It is a hot topic," said Bun. "When you get threats you know you are doing something right."

Chut has received threats on his life as well as the possible suspension of his NGO because of his active role with PLN. He uses his military background to teach community members to operate the Global Positioning System (GPS) and to coordinate patrols.

While villagers around Prey Lang protest against illegal logging, the forest in protected areas is being cut legally through economic land concessions (ELCs). Granted by the government to private investors, ELCs are plots of land to be used for economic purposes such as plantations.

According to the Phnom Penh Post the government has granted approximately 65,000 hectares of protected land (wildlife sanctuaries, national parks and public reserves) to private companies since January 1, 2012.

"This is a relatively new phenomenon," said Hardtke. "Even in the old days of large-scale logging they still respected the protected areas. In the last two years it's as if someone decided that we don't listen to laws."

National human rights group Cambodian League for the Promotion and Defense of Human Rights (LICADHO) estimates that 10 percent of Cambodian protected areas are concessions. Without clearly defined and monitored boundaries, it is easy for companies to log outside their concessions. Once the timber is cut, it can be transported back to the concession and sold legally.

"The boundaries are not monitored by government officials," said Sinthay Neb, director of the Advocacy and Policy Institute. "So there is no way to see the actual land usage versus the assigned."

While community efforts can hinder illegal logging, it seems impossible to stem the flow of ELCs assigned by the government. According to LICADHO, private investors control 22 percent of the country's land surface.

With six ELCs, the Aoral Wildlife Sanctuary, just west of Phnom Penh, is a typical example. As you drive through the sanctuary it is difficult to believe it is a protected area—the landscape varies between a few sparse, deciduous trees and complete clear-cut ELCs.

Only after traveling 30 kilometers inside can you experience the dense and lush primary forests that used to cover much of Cambodia. But even then it is still impossible to escape the sound of chainsaws that echo through the forest.

"I have been coming here since 1993," said Chut. "Before, you could not see the sun from the road because of the trees."

Chut estimates that 70 percent of the forest cover in the area is now gone. "I don't want to call it a wildlife sanctuary anymore," said Chut. "It is a lie."

While companies such as Singapore-based HLH Agriculture are responsible for much of the deforestation, villagers also contribute. "Before, everyone had their own plot of land and enough space to sustain themselves," said Hardtke. "Now people are forced off their land [by the companies] and have to find new resources for their livelihood."

As the forests continue to disappear, individuals and communities are becoming increasingly committed to change. The NRPG is helping to form a volunteer committee—connecting communities to provide support for each other. In the past, communities have found strength in numbers when they stood up to authorities or illegal loggers.

Chut tried to create a similar network three years ago but it failed once he left the region. "Maybe it will work now because people are educated and have seen the effects [of deforestation]," said Chut.

Only a few lone trees stand around the wooden shelter that serves as a military office on the dirt road that runs through the Aoral Wildlife Sanctuary.

"In the past the military officials in the region did not like me interfering in their profits. Now that they see the wood disappearing they are asking me to come help them," Chut says. He hopes that as more people observe the effects deforestation has on their livelihood they will take a more active role in the forest's protection.

In Aoral, down this dirt road marked with large potholes caused by logging trucks, lives Socheat Prum, a Buddhist nicknamed "the forest monk." Prum, dressed in traditional orange robes, has a round face, soft features, and is quick to laugh. He devoted the last 10 years to protecting the two by three kilometer area on which he lives.

"It is the only area around that is still protected," said Chut. "It is good to protect the last one at least."

Prum has been threatened many times before. When he visited Phnom Penh for a weekend he returned to find "a message" from the loggers: The tree outside his house had been girdled—loggers had removed bark in a circle around the entire trunk in an attempt to kill the tree. Many of Prum's beloved peacocks, with whom he practiced his English, had also been poisoned.

Today local villagers gather at Prum's house for meals, but they receive threats and warnings not to provide help with his patrols. "Sometimes the children from the local school join me," said Prum. "It is good to teach the next generation, and I am scared by myself."

The new Aoral volunteer committee will provide support and connect the monk with other active communities. And Prum will continue to protect the forest—displaying a sign on the wall of his house: "We are the ecology monks. Virtue and science must be practiced together."

For more information on deforestation in Cambodia:
• Natural Resources Protection Group (NRPG): Environmental watchdog agency
• The NGO Forum on Cambodia: Membership organization composed of local and international NGOs working in Cambodia. http://www.ngoforum.org.kh/eng/
• Cambodian League for the Promotion and Defense of Human Rights (LICADHO): Group that aims to protect and build respect for the civil, social, economic and political rights of Cambodians. http://www.licadho-cambodia.org/
• Cambodian Center for Human Rights (CCHR): Independent organization promoting human rights and democracy. http://www.cchrcambodia.org/
• The Advocacy and Policy Institute (API): Institute providing services in advocacy and policy to promote working towards social and democratic development. http://www.apiinstitute.org/

RELATED ISSUES