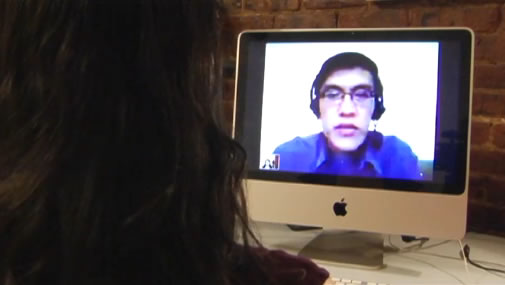 Alexandra Poolos, for the Pulitzer Center
When I traveled to Kyrgyzstan a few years ago, I had reservations about meeting with Edil Baisalov. At the time, he had lost his funding support through a major U.S. democracy organization and pointed the finger at organization leaders reluctant to further aggravate declining U.S.-Kyrgyz relations. I wasn't sure what to expect from this young reformer or the remote Central Asian country that happens to house the sole U.S. forward operating airbase into Afghanistan.
But the second I met Edil, I was struck by his idealism and charisma. He had spent his senior year of high school in North Carolina and said that year influenced his entire perspective on freedom and democracy.
On our first day, he warned me that the government had begun targeting him for his work fighting corruption and media censorship. Just moments later his phone rang with the message that he was now under investigation for tax fraud. Edil accepted the news with good humor and quoted Henry David Thoreau, telling me that it was only the beginning of the government's crackdown on opposition voices.
It wasn't log before his prediction came true. Just a few weeks after I met with him, he was physically attacked in the south of the country and threatened with jail. He fled the country with his young wife and daughter and was largely confined to the role of internet activist.
I stayed in touch with Edil online, but I worried about him, stateless, and living in exile in Europe. In a strange way, his predicament mirrored that of Kyrgyzstan's -- stuck and not progressing. The country was becoming more and more repressive and U.S. officials worried that democracy, once promised through the Tulip Revolution, was on its way out.
For Edil, good news came late last year when he was accepted into Harvard's Kennedy School of Government. But then just a few weeks ago he wrote that he couldn't go because he didn't qualify for fellowship aid when he was living outside Kyrgyzstan. It seemed the ultimate irony: an activist living in exile unable to study democracy.
Then in April 2010, violent protests rocked the capital Bishkek, and suddenly there was Edil back in the center of things appointed the chief of staff for a new interim government. With his new role, came an evolution of his personality. Although optimism and idealism still inform his view of Kyrgyzstan's future, Edil is realistic about the challenges that lie ahead. Growing from a youthful protester into a real leader, he is someone to watch in the years to come.