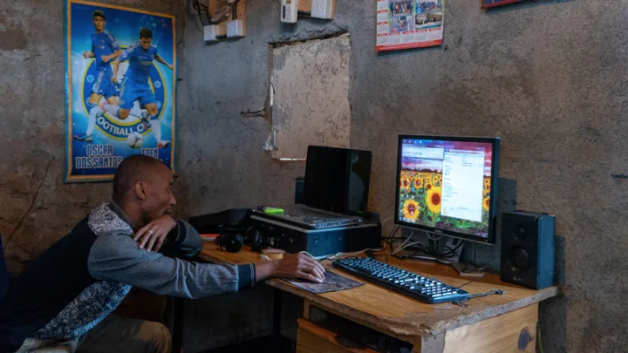 View the original version of this story at Devex
KIBERA, Kenya—Agnes Nabwire lives in a small mud-walled house overlooking the Nairobi River in the Gatwekera neighborhood of Nairobi's Kibera slum. Dozens of similar mud-walled, tin-roofed houses crowd together in Soweto and thousands more stretch across Kibera. It is dark inside Nabwire's house, which has one small window next to the door, and which opens to a corridor she shares with fellow tenants. Since she has no electricity connection, Nabwire relies on a kerosene lamp.
On a mid-morning in May, Nabwire, a 48-year-old grocer, sits on a wooden stool in a narrow alley a few meters from her house with her back against the mud wall of her neighbor's house, her small stock of products laid out on a low table in front of her. Most of her customers are fellow tenants.
Her neighbor Caleb Yongo — who runs a photocopy, typesetting, and printing shop from his 8-by-8-foot room — is hunched over a computer choosing Swahili gospel music from a playlist, nodding in rhythm to the song blaring from his speakers. Yongo's business depends on a steady supply of electricity, but his house is not connected to the national power grid either. Yongo draws his electricity from an illegal power connection.
International organizations, including the World Bank, that have tried to work with the government to improve access to basic utilities have found themselves locked in a battle with cartels who supply residents with illegal utilities, according to multiple people interviewed by Devex. When projects don't go according to plan, these organized groups — that residents believe are working with employees of the local utility company — are quick to fill the vacuum, safely or not.
In Soweto, Devex happened upon a group of people gathered around one of the village kiosks. They were discussing an accident that had taken place earlier in the day. A young man, in his early twenties, had arrived in the morning to open the roadside cafe where he sells french fries. When he attempted to connect his cooker to the electrical wires, he was fatally electrocuted.
Devex reporters learned of the electricity projects problem in Kibera after residents called in to the radio station Pamoja FM, in response to a request for information about failed aid projects. The callers were particularly concerned about electricity and water connections, which they said had received significant international funding, but were still often controlled by illegal groups.
"There are groups of young men who have taken over the pipes," Ali Cleanman, a resident of Lindi in Kibera, told Devex during a visit to Kibera.
Others have tapped into Kenya Power and Lighting Company's transformers to illegally connect thousands of households in Kibera. The connections hang precariously from low roofs and run along the ground in Kibera's back alleys.
Slum electrification was one of the subcomponents of the $406 million World Bank-funded Kenya Electricity Expansion Project, which closed in December 2017.
According to Vera Rosauer, communications officer at the World Bank, the project had four components: construction of 280 megawatts of geothermal capacity; construction of 334 km of transmission lines and substations; construction of 1,100 km of distribution lines and substation; and connection of new consumers and technical assistance.
"The distribution component included a very successful pilot program of increasing electricity connections in slum areas throughout the country at a cost of ($28 million) financed by IDA [International Development Association] and GPOBA [Global Partnership on Output-Based Aid] resources. About 98,220 beneficiaries in slums in 18 counties of Kenya including Kibera were connected to electricity," she wrote in an email to Devex.
The World Bank agreed to pay part of the connection fee for all electricity connections to be made in Kibera and other slums. According to the financial arrangement, the bank paid 19,350 Kenyan shillings ($193) per connection, while Kenya Power paid 11,970 shillings ($119) toward the standard capital contribution of 32,480 shillings ($324). The residents of Kibera paid 1,116 shillings ($11) per connection.
According to the World Bank, Kenya's national utility had "found a way to bring electricity to the country's poorest neighborhoods" through a community-based approach. This meant bringing community representatives into the project. By doing so, Kenya Power hoped to transition the slums from haphazard illegal connections installed by cartels to universal electrification.
It was through this approach that Wanaume Family, a community-based organization, was brought on board. William Ongule, the leader of the organization, chose 45 young people from villages in Kibera to become members. Wanaume Family worked as casual laborers for Kenya Power to make connections in Kibera, the hope was that as residents, the laborers would have a better understanding of the geography of the large slum.
According to Ongule, the youth worked under the supervision of Kenya Power employees and started with simple tasks such as digging holes. Kibera's villages had been assigned to different private contractors, who installed legal connections and then moved on.
"Our work was to remove illegal connections and connect the token meters," Ongule said.
All was well for some months. Ongule and his team would arrive in a village and begin to disconnect the illegal power connections and exchange them for the legal ones. It was smooth in some villages, but in Soweto East, the legal connection was without power. They informed the contractor and moved to the next village, where they hoped for better luck. The team began to discover that some villages had power connections while others did not.
"What the contractors did was not a good job. They didn't finish their work, and so we try to solve the issues that we can. Things like a CIU [customer interface unit], or a communication cable, a meter or a disconnection," Ongule said.
The incomplete work gave the cartels an opportunity to get back to their business. The cartels reconnected their cables where Ongule's Wanaume Family had disconnected them, charging $3 per month per connection. It then became a cat and mouse game, Ongule installing legal connections during the day and the cartels reconnecting theirs later in the evening. As this continued, the cartels started issuing threats to Ongule in person and by phone, he said.
Inside many houses in Kibera, there are now two connections: illegal and legal. The Kenya Power meter boxes hang unused in many houses, and residents say the illegal connection is often what is available to them. Many of the Kenya Power connections have no power. In some parts of Kibera—Soweto, for instance—the meter boxes were installed but the power was never switched on, according to residents.
The World Bank's Rosauer believes that some houses without electricity may not have paid their bills to Kenya Power. She is also aware of the cartels.
"There could be several reasons why some beneficiaries do not have supply—like disconnections for nonpayment for supply and interference by the cartels who managed the illegal network previously. This is reported to be happening in Mathare slum where they have already cut and tapped into the network, yet KPLC [Kenya Power] is not able to go to the areas to stop the illegal activities for security reasons," she said.
Ongule insists that the cartels have become more brazen, continuing to disconnect from the national grid and connect their own lines. "We have vandals getting into our lines and cutting them so that they can make illegal connections," Ongule said.
They even steal Kenya Power's cables for their own use. All Ongule can do is inform the utility company and the police about what he finds.
Continue reading the series, Part 3: Information gaps drive mistrust in cash transfer programs and learn more about What Went Wrong? here.
RELATED ISSUES