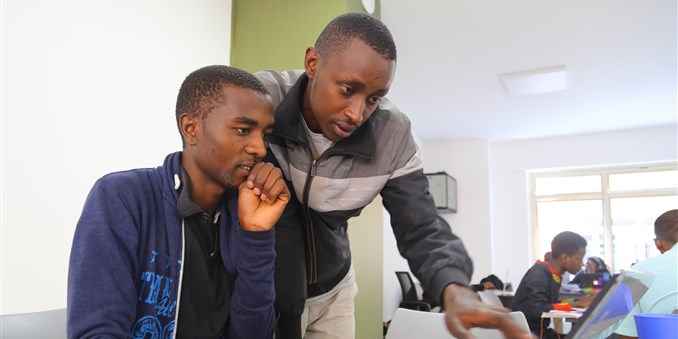 NAIROBI, Kenya — In Kenya, youth under 25 years make up the largest number of people unemployed in the country, according to The World Bank. Audrey Cheng, 24, is trying to change that.
Raised in Maryland, Cheng moved to Nairobi three years ago to work for a global fund. She realized that entrepreneurs in Kenya were struggling to find talent to fill jobs in their companies.
"I went to colleges and universities and a lot of these training programs in Kenya and I talked to students, I talked to professors and I tried to understand where was the problem," said Cheng. "Computer science specifically, was being taught in a very theoretical way, the technology they were teaching was very outdated… they were teaching like lecturing and that's not how you learn how to code."
That led her to co-found the Moringa School with former partner Frank Tamre, in 2014 as a way to equip aspiring software developers with the necessary skills to enter the job market. Students are between the ages of 18 and 25 and have the option to join a variety of programs that range from five to 15 weeks. This year, the school is graduating 500 students and says they have a 95 percent job placement rate, with many students becoming junior or mid-level software engineers in the Kenya technology market.
"The really exciting part of us is not just that they get their first job, but that their salary doubles within six months to a year," said Cheng. "And we're seeing that because a lot of our teaching is about helping them learn how to learn. So when they get on the job they're not just stagnant but they're constantly developing themselves so that they can learn even faster and add more value to their organization."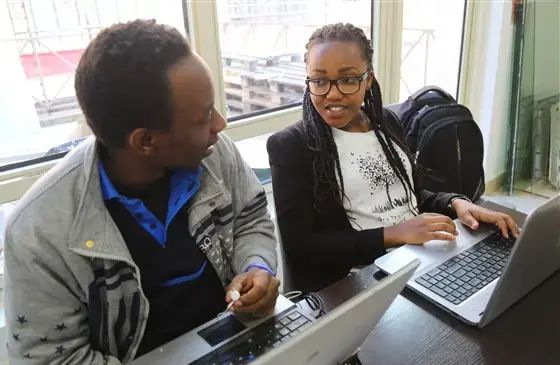 In the classroom, the mood is quiet and serious as students hover over their laptops in pairs, furiously typing their assignments — but they are still having fun.
"Moringa is not your typical school," said John Mutavi, 26, who is studying to become a web developer.
"We don't have lecturers that come in front [of the classroom] and teach you stuff. We do peer programming where we learn in pairs. We're given content and we go through it."
Mutavi's ultimate goal is to a start tech company that helps his community in Kenya. He believes the first step to achieving his dream is mastering the skills to enter the workplace upon graduation from Moringa.
The school is shifting its focus toward recruiting more women with a boot camp they're launching at the end of November.
"A lot of women don't consider tech a career option in Kenya," said Stacey Ondimu, 28, director of operations. "So, at Moringa School we're really trying to bring awareness, expose them to the tech industry early enough."
Esther Muchei, 27, is four months into a program at Moringa and is already adding on to the skills she gained working at a software firm before joining the school.
"I want to be a software engineer," explains Muchei. "I want to code, I want to make applications. I want to be able to make applications that will be able to help society."
For Muchei, being able to network weekly with women working in technology is an added bonus. At the Moringa School, exposure for students is a priority.
"I want to see in three to five years more women in tech," said Ondimu. "More women developers, specifically engineers. You know, women can confidently walk into a room and say, I'm a coder. And not feel like, this is something only men can do."
RELATED ISSUES