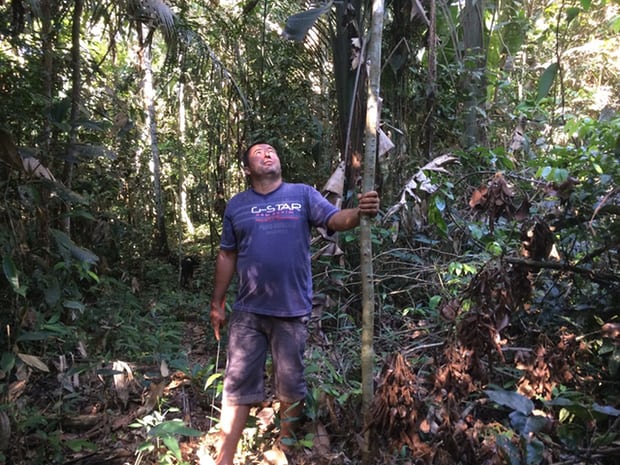 In a cool forest patch along a rutted dirt road outside the Amazon jungle town of El Retorno in Guaviare, southern Colombia, Luis Vergara lifts his machete to clear a path through the brush. He walks through a 90-hectare plot of land he has replanted with valuable abarco trees – Colombian mahogany – in an attempt to replace what he logged from it.
"Almost everyone in this area grew coca. Many still do," he said. "We grew tired of the coca and decided not to work that again." Vergara eradicated the coca through an agreement with local authorities, and then cleared additional land for cattle. But evidence of deforestation still appears all along the hour-long journey to his farm.
The 52-year conflict with the Revolutionary Armed Forces of Colombia (Farc) provided a violent environmental shield against widespread deforestation, because the trees provided refuge for the guerrillas. The Farc built an illegal road south of Vergara's farm, hidden under a canopy of trees, to transport coca from deep within in the jungle. As the Farc demobilised, deforestation soared by 44% in 2016 with a rush of land-grabbing to plant coca and clear land for cattle ranches. The Farc road has widened and now expands further into the Amazon, leaving an environmental scar of war.
"The peace process in some parts of Colombia is backfiring for the environment," says Cristián Samper, executive director of the Wildlife Conservation Society, who also sits on the national science advisory council in Colombia. "Right now there is real danger from the lack of environmental governance. We will lose some of these places before we even have a chance to conserve them."
The Amazon Scientific Research Institute of Colombia (Sinchi) is now trying to scale up their efforts to work with more farmers like Vergara. They are seeking to stop the advance of the agricultural frontier and change the social mindset to value the Amazon forest for its biodiversity and income potential from rural development. The Colombian Amazon is also important for international climate agreements, as it is a vast carbon sink.
Colombia is the second most biodiverse country in the world, trailing only Brazil, and more than half of its territory is covered by forest. But the race to conserve woodland, identify species, and promote sustainable social and economic development for lasting peace may lose to continued violence, extortion, weak governance and rampant deforestation. Farc dissidents still operate in Guaviare, continuing to tax farmers – including Vergara – and violently protesting against government efforts to eradicate coca.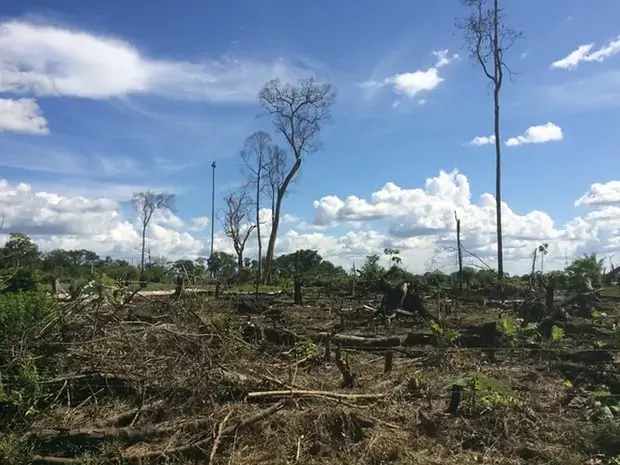 Over the years, Vergara has cleared 100 hectares of his land for ranching. "It is far too much land to support his cattle herd," said Marco Ehrlich, deputy director at Sinchi. "Theoretically, there should be no ranching here by law, and practically, there should be no cattle ranching because the soils are poor. Within a few years of deforesting, the cattle ranches become covered with piles of termites and the rancher then cuts down more forest. It's a perverse system that is supported by incentives from the agricultural ministry."
Sinchi has convinced 550 families in Guaviare and 400 in neighbouring Caquetá to reforest parts of their land in the past 10 years. After signing voluntary conservation agreements, the families qualify for free tree seedlings and technical assistance to restore forests, which could provide them incomes from selective harvesting of mature trees and the sale of fruit. Sinchi plans to enlist 2,500 families in forest conservation agreements by 2020.
The peace agreement came with a commitment by the government for investments in rural development, but the expectations for rapid transformation are a problem for forests. "What is more short-term than livestock ranching or coca?" said Ehrlich. "One is unsustainable in the Amazon and one is illegal."
Guaviare's post-conflict adviser Marco Antonio Fonseca oversees the province's crop substitution programme. "This territory has been historically abandoned by the national government, but now, with the peace deal, campesinos see a huge opportunity to abandon illicit crops and get into legal crops with the government's support," he said, adding that 9,000 families in Guaviare have agreed to voluntarily eradicate their coca crop for 1,000,000 pesos ($330) per month, paid over two years. But 6,000 of those families are planning to use the crop substitution payments to finance a switch to cattle ranching. "It's what they know," he said. The others plan to raise chickens and plant forest systems using Sinchi's model, although many coca growers are protesting violently against any change.
Sinchi hopes to use this post-conflict moment to develop momentum for its ambitious program to grow high-value hardwoods such as abarco, which mature in 20 years, and harvest açaí, seje, and canangucha fruits grown from palm trees. With fruit trees, the farmers can receive an income within two years, officials say. Scientists estimate that the Amazon has about 1,000 species that have some kind of economic use.
However, plans to transform this rural Amazon economy will take money and time. Sinchi's capacity to increase its education and research programs are severely limited considering anticipated science budget cuts in 2018 of more than 30%. Also, markets for timber products and Amazon fruits are not yet established, and therefore growers have no vision of the future. With poor roads, there is also no easy way to get the fruits to buyers at a large scale.
But there is some hope. In 1995, farmer Samuel Alfonso Venegas planted 1,000 trees he received from Sinchi. Today, 16 of the trees are ready to be harvested and he is awaiting permission to log them. If there was a local market, he could sell them. Instead, he plans to use the wood to build a chicken coop.
RELATED ISSUES

Issue
Land and Property Rights
Land and Property Rights

Issue
Migration and Refugees
Migration and Refugees