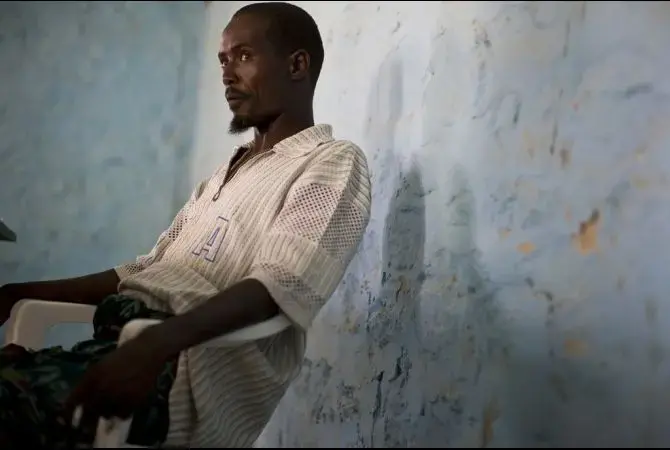 Convicted pirate Farah Ismail Eid in Mandheera Prison, outside Berbera port in Somaliland. Image by Narayan Mahon. Somalia, 2009.


The slight figure of Farah Ismail Eid is a far cry from the swashbuckling, murderous image of a pirate of the high seas.

The scourge of piracy along the Horn of Africa's coastline has caused shipping firms to pay millions of dollars in ransoms and has taken several lives. The mighty U.S. Navy and other major powers have deployed warships and frigates to patrol the waters of the Gulf of Aden, but still the pirates succeed in hijacking cargo ships.

Yet the cash-strapped state of Somaliland is taking the fight to the pirates. Somaliland's tiny Coast Guard fleet has arrested 36 pirates, including Farah Ismail Eid.

Eid and his crew of four were the first to be caught back in September by the Somaliland Coast Guard. They are serving 15-year terms at Mandheera prison, a British-built colonial-era jail set among Berbera's rocky hills and hot wind swept scrub.

By his own admission Eid was never a very good pirate. On his first attempt, Eid's 25-horsepower skiff was easily outpaced. The second time, with a bigger engine, his boarding ladder proved too short. On the third attempt Eid was caught before he even left Berbera port.

Speaking from the jail, Eid said he only turned to piracy because of the problems caused by illegal fishing by big international operations and the dumping of toxic waste by foreign ships. He said those abuses drove him from fishing to piracy, prompting him to load his boat with guns.

"We did not bring this problem; this problem was brought to us," said Eid, 38, who comes from Eyl, a coastal Somali town that has become known as a pirate lair.

"I believe the title of pirates should be given to those who come to our waters illegally," he said.

Wearing an oversized secondhand T-shirt, plastic sandals and a "macawis," a strip of printed fabric wrapped around his waist, Eid smoked cigarettes and chewed on green wads of khat, a popular narcotic leaf, throughout the hour-long interview.

"The fish we caught used to be enough for the local people and enough to sell but now there is not even enough to eat," he complained. "Illegal trawlers took all the resources which we relied on; they broke our boats and destroyed the coral."

Then, he said, foreign ships started dumping toxic waste in Somali waters. Eid recalled going out fishing one day to find shoals of fish floating on the surface. "We thought we were lucky! We collected the fish and stored them in refrigerators, then later we discovered they were like plastic."

In the absence of any functioning government in his country, Somalia, Eid said fishermen in Eyl first hijacked trawlers to levy an informal tax and to punish them for stealing their fish. Later they targeted cargo ships.

Eid called piracy "a way of shouting to the world" about his people's grievances, but it is hard to believe that by the time he got involved in 2005 the lure of million dollar ransoms was not the main attraction.

Eid sold one of his fishing boats and invested $10,000 of savings from his 12-year-old fishing business in guns, ammunition, a speedboat and a satellite phone before setting out for the busy passage that links the Suez Canal to the Indian Ocean.

After two failed attempts — one of which stranded him aboard a boat in the middle of the shipping lanes for two nights as huge vessels passed on either side — Eid made for Somaliland, the northern territory that declared itself independent when the government of Somalia collapsed in 1991. Eid reasoned that Somaliland was closer to the narrow Gulf of Aden and he would find easier pickings for piracy there.

He had not bargained on the Somaliland Coast Guard and its network of local informants. Soon word got around that a new guy had arrived in town with a boatful of guns. Eid was captured in a dawn raid at Berbera.

"It's hard to catch a ship," he said with a shrug of his slight shoulders. "I was unlucky … I did not succeed even once."

Eid's undoing, the rag tag Somaliland Coast Guard, is an operation run by the unrecognized state of Somaliland which, thanks to its local knowledge, has achieved considerable success in battling pirates. In the scorched humidity of Berbera, a port town on the northern coast of Somaliland, temperatures at this time of year soar to 115 degrees. Abandoned pirate boats list on the quayside beneath the burning sun, left by their hapless crews who were captured by the Coast Guard, put on trial and imprisoned.

"Mostly the pirates see the big gun and just put their hands up," said Issa Mahab, the director of the Coast Guard, grinning as one large hand rested on the barrel of an old deck-mounted machine gun.

He spoke on the open deck of a 39-foot patrol boat, one of three small boats the guards use to chase and catch pirates.

While international forces dither over how to deal with captured pirates — sometimes releasing them after destroying their gear, sometimes transferring them to Kenya, with which the U.S. and others have bilateral agreements, sometimes ferrying them to courts in Europe or America — this shoestring outfit's operations have led to the conviction and jailing of 36 pirates.

"When we capture the pirates we bring them to justice," said Ahmed Ali, deputy head of the Coast Guard.

Somaliland's government, based in the capital Hargeisa, is frustrated that their Coast Guard's efforts are not being rewarded with international support, especially funding.

"Our success in capturing pirates is thanks to the local population who tell us what is going on," said the Coast Guard's Ali. "There are international ships out there but we don't have any communications with them. We would like them to recognize our efforts and give us a hand because we know how to deal with these guys."
Continue reading full article at GlobalPost.
RELATED ISSUES

Governance

Issue
Conflict and Peace Building
Conflict and Peace Building