TANGIER, Morocco—On a recent morning in the mountains above this thriving port city, the wind turbines are quiet and still. Occasionally a slight breeze catches a propeller, spinning it ever so slowly and filtering the harsh sun in a dance of rays on the brown earth. It is not a good day for wind, but it is a good day for Essedik Chellouch, who is patrolling the Dhar Saadane wind farm with his dog, Weeza.
Mr. Chellouch, who lives in a nearby village, was on a local work crew that helped build the Dhar Saadane project. When it opened in 2009, bringing 126 turbines online to produce electricity, Chellouch was hired as a security guard. With his minimum wage earnings, about $230 a month, he was able to buy a house.
And while the men gathered outside the mosque in his village grumbled about what the Tangier wind farm, which includes Dhar Saadane and another nearby location with 39 turbines, has or hasn't done for the local economy, Chellouch has made a living from Africa's largest wind farm, part of Morocco's extraordinary effort to fight climate change and produce its own renewable energy.
"It's been good," Chellouch says. "People have been able to make their life."
Morocco has become a green leader among developing nations, with an ambitious goal to produce more than half of its own energy needs by 2030 through a growing network of more than 50 public and private solar, wind, and water projects. The push is part of a national effort to curb greenhouse gas emissions, reduce pollution, and boost Morocco's energy independence. For many Moroccans, the transition represents a necessary investment in the future. But for others, especially members of the poor and working class, that down payment on a new economy doesn't visibly help meet their basic daily needs today.
"It's a good thing but people have no benefit from it," says Imad Boughlaf, a handyman from the north-central city of Meknes.  "It's a big nothing for the people."
At the forefront of a renewable revolution
The country's signature facility is a massive $9 billion solar farm near Ouarzazate in south-central Morocco that, once completed, will be the world's largest. The solar farm uses innovative technology to store concentrated solar energy at night, a process that also will be used and expanded at a new solar plant planned for construction in Midelt in central Morocco. A new solar plant planned for Midelt will use cutting-edge hybrid solar-generating technology, which combines concentrated thermal power and solar photovoltaic to create a 24-hour power supply from the sun.
The government also plans to install solar technology and energy efficient lights in 15,000 state-funded mosques in the next five years and banned plastic bags last year to reduce pollution. Morocco is far ahead of the United States and Canada in combating climate change, according to the international science-based Climate Action Tracker. Last year, Morocco signed the Paris Climate Agreement and hosted one of the first United Nations conferences of global leaders and experts to discuss implementation. (In June, US President Trump announced plans to withdraw from the historic accord).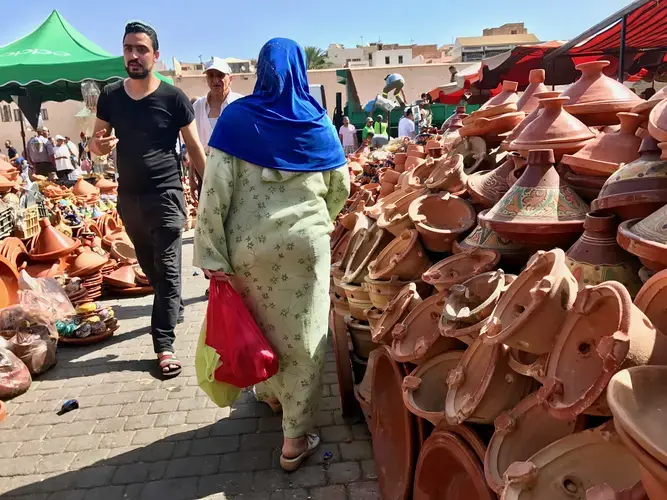 The North African country imports nearly all of its energy and relies predominantly on fossil fuels to meet its domestic energy demands. Morocco adopted a new national energy strategy in 2009 that aims not only to reduce its carbon footprint (the energy sector is the largest producer of greenhouse gas) but also to diversify the sector through a new framework of renewable energy projects financed by foreign investors and so-called green bonds the country issued.
Morocco also is pushing energy consciousness in the public and private sectors through new laws and regulations in construction. Another major initiative offers subsidies to encourage farmers and growers to use solar water pumps instead of butane.
"The evolution for Morocco is power," says Adil Chakrouni, northwest regional chief of renewable energy for the country's Office of National Electricity and Potable Water.
It will need to be. A 2016 report from the environmental group Germanwatch noted that Morocco's energy needs are growing even as it is building capacity within the sector, requiring substantial new investment to meet the demand for power. Even though subsidies for gasoline, diesel, and kerosene were eliminated in 2014, electricity prices are still well below the cost of production and transmission, which strains the country's budget. And while it is considered a role model for renewable energy policy-making, "room for improvement yet remains," according to the report, which urged better collaboration between Moroccan institutions that deal with renewable energy policy and called for an end to electricity subsidies.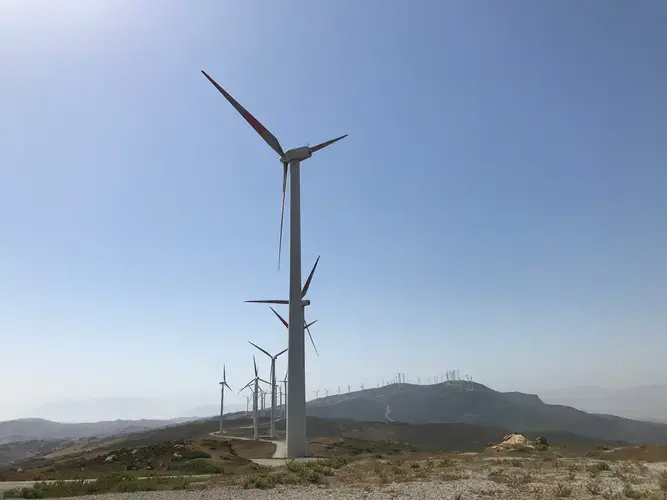 A tough sell for the poor and working class
In the meantime, the country's renewable energy policies – and the global attention that comes with it, are a source of pride for many in Morocco. That doesn't mean the shift has been an easy sell, particularly among the poor and working class. Although Morocco's gross domestic product – the best measure to gauge economic health, has been steadily rising, the country lacks the oil wealth of other parts of North Africa and the Middle East, and people often feel disconnected from the government, without access or resources that the elite enjoy. Many Moroccans do not see the economic rewards of a greener Morocco, something nearly everyone interviewed for this story brought up.
"I don't see a benefit from it, but global warming exists and it's a good thing for sure," says Adil El Abdellaoui, an orange juice vendor in Meknes.
Morocco has spent more than $7 million in local development around renewable energy production sites across the country, including building roads and schools and supplying drinking water, according to the Moroccan Agency for Sustainable Energy. And yet many people complain that nothing has trickled down to them. Rashid Zaidi, a service attendant at a Shell gas station near the turn-off for the 140-megawatt Dhar Saadane wind farm, looks up at the turbines in the hazy sunshine. "It's good energy," he says. "But I don't know anyone who works there."
While the sources of renewable energy are free and infinite, producing it requires enormous investment in infrastructure, which doesn't necessarily translate into immediate cost savings to consumers. The jobs in the renewable energy sector also are highly technical and skilled, one of the reasons that universities across Morocco are creating renewable energy degree programs and research centers to help fill the need, something environmental groups like Germanwatch have urged.
Until now, Morocco has needed to import skilled laborers and equipment to build the sophisticated nuts and bolts of the solar and wind farms, although that is slowly changing. Siemens is building a $120 million manufacturing facility for wind blades in the Tanger Automotive City in the valley below Dhar Saadane. The plant, scheduled to be open later this year, is projected to create 700 jobs and be the first facility of its kind in the Middle East and Africa.
On a recent visit to the Tangier wind farm, a bank of computers (not people) monitored the wind, how much electricity was being produced, and which turbines needed maintenance. Another wind farm in Tangier has 39 turbines.The farm employs about 30 technicians and 40 security guards. Mohammed Benyoussef, the interim chief for the Tangier wind farm, says the plant is producing more electricity than predicted, about 2.5 percent of the country's total electrical needs. It seems small but if Morocco is not producing the electricity, it must buy it, primarily from Spain. Mr. Benyoussef says the farm also helps save 126,000 tons of fuel oil per year and reduces greenhouse gas emissions by 368,000 tons annually.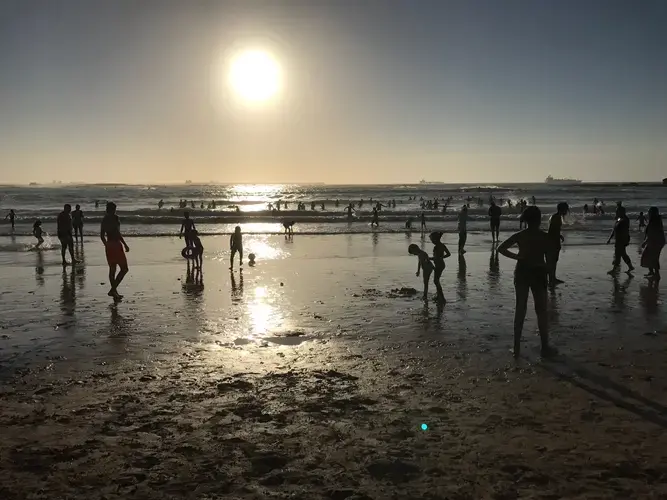 Greening Morocco's streets
While the turbines spin on the windy days above Tangier – which are most days, in the city below and indeed across Morocco, the most visible sign of the country's green policy efforts are on the streets of the old medinas, in the vegetable shops, and in the large supermarkets of the big cities. In 2016, Morocco banned the sale, use, and production of plastic bags. Before the ban, Morocco used 3 billion plastic bags a year, making it the second largest consumer after the US, according to environmental groups.
Morocco still has a huge problem with litter – evidenced on its beaches and city streets, but plastic bags, which can take 1,000 years to decompose, are no longer as big a part of it.
On a recent weekday morning in the old imperial city of Meknes, women in the traditional djellaba dress of North Africa hurry across the public square across near the majestic Bab Mansour gate, cloth bags clutched in their hands or tucked under their arms. The day is hot already at just past 9 a.m. The plaza is noticeably cleaner than it used to be when the breeze would blow plastic bags across the clay.
The bag ban, like bag bans everywhere in the world, has drawn mixed reactions from residents, especially in a culture where people go to a series of little market stands to buy a few items at a time, multiple times a week.
Jamal Mekkid, who owns a wool shop in Meknes, says he used to sell plastic bags on the side to make money – income that has since dried up. "It's bad," he says. "People worked in plastic, and now they have no money. The new bags are expensive."
He also says that shopkeepers stocked up on plastic before the ban went into effect, and, indeed, the smaller shops and large pottery vendors still package items in plastic because the bag ban is not really enforced. In the modern suburb of Sala Al Jadida outside of Rabat one afternoon, a shopper walks away from a street-side vegetable and fruit stand with five plastic bags filled with pears, apples, nectarines, peaches, and plums.
But Aziza Mekdad, a retired house cleaner from Meknes who now lives in France – which became the first country last year to ban plastic plates and cups – takes the long view. She makes her way across the plaza with a green reusable bag from the Marjane supermarket, which cost her the equivalent of 40 cents. She comes back to Meknes every summer and she says that this year the city seems cleaner. She also likes that the supermarkets now only offer paper bags for fruits and vegetables instead of plastic. "It's good for the future," she says.
RELATED ISSUES

Issue
Migration and Refugees
Migration and Refugees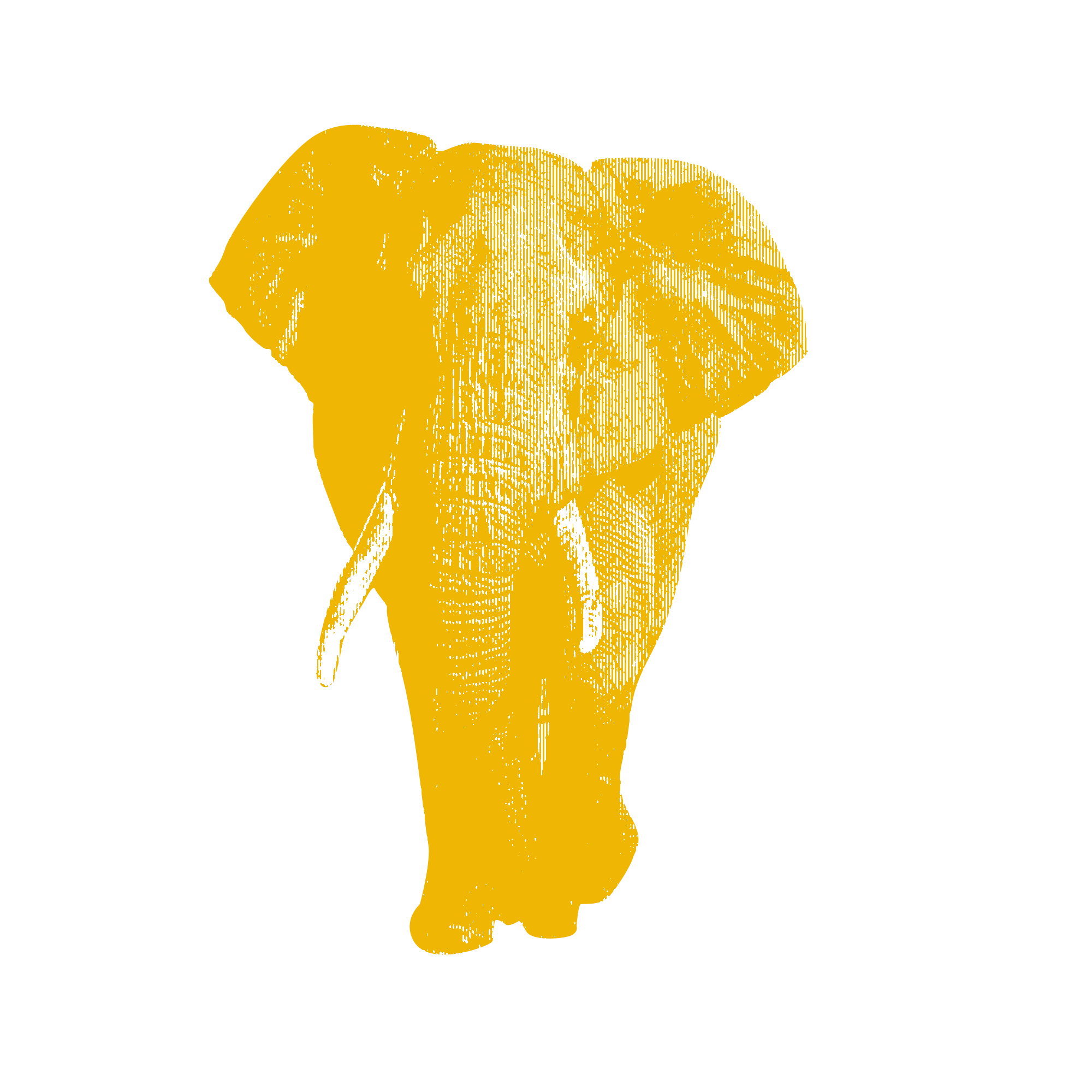 Issue
Environment and Climate Change
Environment and Climate Change

Religion