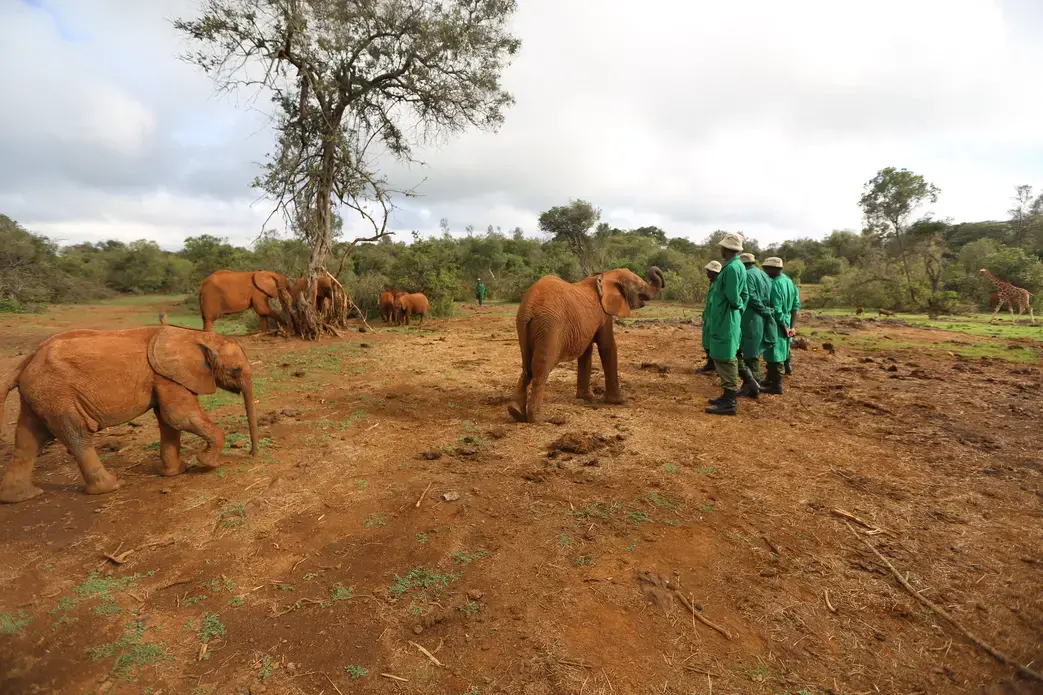 Keepers and elephants at the David Sheldrick Wildlife Trust elephant nursery. Image by Janelle Richards . Kenya, 2017.



I traveled to Nairobi, Kenya to report on the emerging technology industry. However, I had read about the David Sheldrick Wildlife Trust and knew that, if possible, it would be an extraordinary place to visit during my trip. Many of the baby elephants have been rescued after their mothers were killed because of poaching. The trust saves the elephants and rehabilitates them before releasing them back into the wild. Daphne Sheldrick created the organization in 1977 and has dedicated more than 60 years of her life to working with wildlife.
At the nursery, the day gets started early. I arrived at 6:00 in the morning and was greeted by Peter Mbulu, a keeper who has worked at the trust for 18 years. While I was a bit bleary-eyed, he was wide awake and smiling. He welcomed me to the grounds and showed me around. The stalls where the baby elephants sleep are each individually marked with their names outside.
I unpacked my video camera and trailed behind Peter as he walked into the forest at Nairobi's National Park where the nursery is. The elephants were already moving around and Peter shouted a few things to them in Swahili. It was incredible to me that they seemed to speak the same language as Peter. Nearly 30 elephants then appeared ready to move in the direction of the trees. For them, it was playtime he explained. They came over and greeted him with their trunks and a few came over to me. Peter advised me to grab their trunks softly and blow into them—this was how elephants were able to learn a person's scent. I was amazed at how big even the smallest elephants were. Baby elephants can weigh 250 pounds or more making them strong animals from birth.
I started to shoot video of his interaction with them and more keepers began to arrive. Strolling into the forest, they carried their morning coffee in tumblers. The routine here was nothing new. Eventually, feeding time rolled around and one keeper packed a wheelbarrow high with liters of milk. Bigger elephants needed six liters of milk every three hours while small elephants could drink one three liter bottle of milk every three hours. The milk has a base of human baby formula but has many other ingredients added and some bottles are customized when needed if an elephant needs something special.
The elephants are brought over to the milk area in waves, a few excitedly running toward what was clearly a very popular time of day. The keepers spread out on the land, feeding them one a time. A few of the elephants proudly grabbed the bottles from their keepers and feed themselves without any help. I shot video and took still photos of this process for quite some time and then the elephants went back into the forest to continue playing with one another as the keepers watched over them. Another day—for a group dedicated to saving the lives of elephants in Kenya and hoping to stop poaching in the country.
RELATED ISSUES