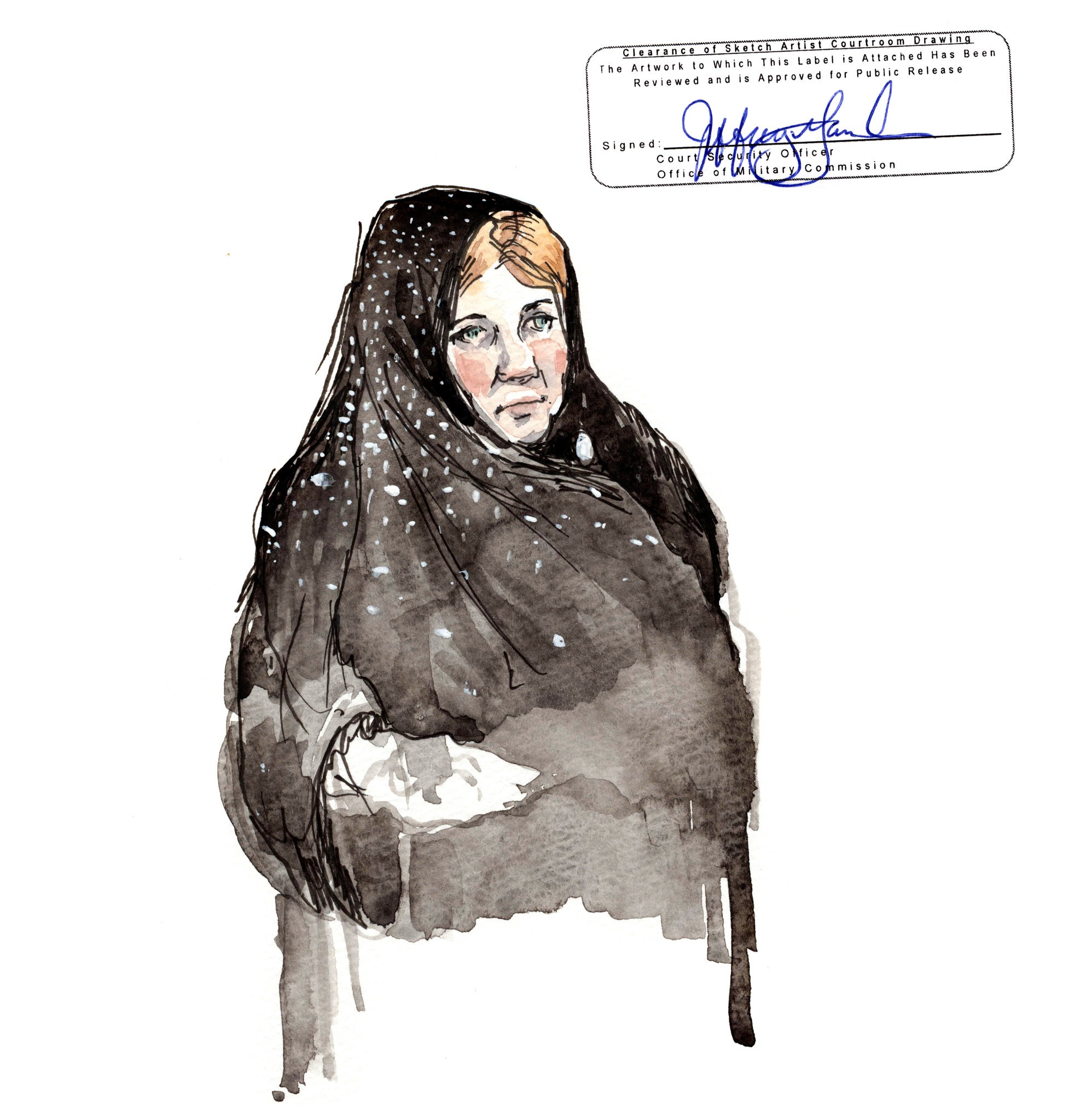 GUANTÁNAMO BAY, Cuba — Cheryl Bormann, a lawyer for one of the men accused of plotting the Sept. 11, 2001, attacks, had made it through the two security checks necessary to enter the maximum-security courtroom when the hem on her black abaya began unraveling.
"Wardrobe problem," she called out in the court vestibule. "Duct tape!"
Ms. Bormann, a civilian who has devoted her career to death penalty cases, had recently purchased the $50 Saudi-style robe at a shop near the Pentagon but had not had time to hem it properly. The staples she had used as a stopgap solution were coming out.
Once the robe was fixed, she pulled it shut, covered her strawberry blond hair and stepped inside the military courtroom at Guantánamo Bay where eight other women, mostly defense team lawyers and paralegals, were also hiding their hair in deference to their clients — the five men accused of plotting the worst terrorist attack in United States history.
The choice of the women to do so demonstrates how, even after more than a decade of war court proceedings at the isolated United States naval base, the culture clash is still raw. Courtrooms are always stages, and even though few people see the hearings unfold, it is still a setting for an especially difficult mix of ideas and perspectives.
The lawyers say they need to respect the religious sensibilities of their clients in order to defend them. Families of the 9/11 victims say they are offended by Western women covering themselves and embracing the cultural norms of men accused of mass murder.
To spend time at the military court as it moves toward the trial of the accused 9/11 conspirators — a proceeding years in the making — is to see those conflicts and others in a variety of ways, including through the clothes they wear and the messages they send.
There are prosecutors in suits and ties and soldiers in olive drab camouflage and combat boots. There is a judge in a traditional black robe.
There are the prisoners, notably the man accused of being the mastermind of the 9/11 plot, Khalid Shaikh Mohammed, who wear traditional Muslim attire and accessorize in ways that convey political messages.
And most controversially there are the women on the legal defense teams who come to court in modest, culturally sensitive attire — part of an effort, they say, to develop trusting, respectful relationships with the defendants, men whom the C.I.A. tortured before they were brought to Guantánamo Bay for their death penalty trials. What they wear offends relatives of some of the 2,976 victims of the Sept. 11 attacks.
No photography is allowed of proceedings at the court, where jury selection in the case is scheduled to begin in January 2021. So The New York Times brought an illustrator to Guantánamo to show how what started as an unmistakably military proceeding when the defendants were arraigned in 2012 has evolved, not least in choices of clothing.
Legal defense teams that seven years ago were dominated by members of the United States military are now overwhelmingly made up of civilians. Two military prosecutors who started as Marine Corps and Navy officers remain on the government team as civilians and come to court in business attire. 
Entire days can go by without a lawyer in uniform delivering an argument, unless the chief war crimes prosecutor, Brig. Gen. Mark S. Martins, rises in his Army dress blues to speak.
By far the most decorated person in court, he has eight rows of ribbons, parachute and expert infantry badges, a ranger tab and other medals and badges that stretch from his left shoulder to his rib cage. It is a uniform of accomplishment that could be on display when the case gets to a jury of United States military officers.
The defendants' clothing has also changed. Troops brought them to their arraignments seven years ago in loose white clothing, skullcaps and canvas slippers, all issued by the prison. Now the five men accused of conspiring with the hijackers come to court in tunics and trousers or gowns topped by vests. They cover their heads in caps, hoods and scarves.
Mr. Mohammed dyes his beard orange, like the Prophet Muhammad. Some days he twists a black striped scarf into a turban atop his white skullcap. On others he wears a Sindh cap from Baluchistan, showing an affinity with his tribal homeland.
For the week that The Times had an illustrator in court, he wore a gray paneled vest his family sent him. Once the artist was gone, he pulled on a jungle green hunting jacket atop his traditional garments.
Mr. Mohammed's lawyers argued for his right to wear camouflage as "culturally appropriate attire" in 2012. It has the woodland pattern, like jihadis wore in the 1980s in Afghanistan. Osama bin Laden wore the same pattern in public appearances.
Two of Mr. Mohammed's co-defendants also sometimes add a military-style top to their traditional Muslim attire, often a desert pattern that United States forces wore in the invasion of Iraq.
All five defendants wore fringed scarves decorated with Palestinian flags in the summer of 2014, symbolizing their solidarity with Gaza during an Israeli offensive. The scarves still appear in court, sometimes on a defense table. 
The court itself, as seen by the public through triple-pane glass, has many of the trappings of a typical courtroom. The judge wears a black robe. American flags are to his right and a witness stand to his left, near the jury box.
But this is a national security court. The public hears the proceedings on a 40-second delay, long enough for a security officer to mute the feed if somebody says something classified.
Sketching is permitted but with restrictions. An artist, for example, cannot draw the guards. They are soldiers on nine-month tours who come to court in camouflage and combat boots.
Family members of those who were killed in the attacks get their own section in the gallery behind the prosecution.
Some of the family members grumble about the accommodations the military affords the terrorism suspects. Guards clear the spectator gallery at Muslim prayer time to provide privacy to the defendants and those legal team members who pray with them.
But the thing that most animates some family members is how the women on the defense teams dress when their clients are in court.
"It wouldn't bother me if it was actually their religion and they believed in it," said Kathleen Vigiano, whose husband, Joseph, a police detective, and brother-in-law John Jr., a firefighter, were killed trying to rescue people at the World Trade Center.
She called their attire "disrespectful," and noted that when she traveled to Guantánamo this summer on the same plane as the lawyers, none of them were covering their hair. 
"They don't wear it around the plane," Ms. Vigiano said. "They don't wear it around the base. Business attire is business attire."
Women on Mr. Mohammed's team mostly wear long skirts and other loosefitting clothes topped by a variety of colorful scarves, shawls, head coverings and, in at least one instance, a one-piece, pull-on hijab.
"I honestly believe that some of the discomfort is rooted in Islamophobia," said Rita Radostitz, one of five lawyers who represent Mr. Mohammed in court. She said defense lawyers who specialize in death penalty work, such as herself, instinctively make accommodations to their clients to build and maintain professional relationships.
The legal team of Walid bin Attash, led by Ms. Bormann, favors the austere black abaya of their client's native Saudi Arabia.
It represents "the culture he comes from," Ms. Bormann said. "It's the thing that makes him most comfortable. When you're having a conversation with somebody, you want them to be comfortable."
During a news conference at Guantánamo in 2017, one family member, Jean Winter, pointedly called the choice of attire by women on the defense team "hurtful" and "an insult to all American women."
Ms. Winter was representing her nephew Carl E. Molinaro, a firefighter, who was killed at the World Trade Center, and her husband, Richard, a New York City Police inspector, who died in 2008 of the toxic fumes he inhaled at the site. She called it "embarrassing to see other accomplished American women garbed in ancient, archaic, demeaning, humiliating wear."
On the defendants' side of the room, the only women who show their hair are the lawyers and paralegals from the military services who, like their male counterparts, wear uniforms to court. The military regulates precisely what they wear, and they typically turn up in court with their hair twisted into a tight bun.
Darlissa M. Leatherwood, a paralegal, started off on a defense team in 2015 as a Marine Corps sergeant and came to court in uniform with her hair uncovered.
She transitioned to a civilian position, and came back to court a month or two later with a scarf flawlessly fastened in place. "For me, it was about trying to relate and make them comfortable," she said. "I've never felt pressure to be one way or the other."
She became so proficient with the scarf, she said, that she can put it on in five minutes, the same amount of time it would take her "to pull my hair back in a bun" while in uniform.
"You learn how to do things very quickly in the Marine Corps," she said.
In death penalty cases in particular, the defense lawyers say, they have a duty to find common ground by respecting their clients' traditions.
Ms. Bormann bought the new abaya, the one with the duct-taped hem, to replace a plain black one that became caked in mold in her office at the war court compound atop an idle, obsolete Navy airstrip.
Given the cracked tarmac, occasional mud puddles and tricky four-step climb to a latrine at the court, Ms. Bormann gave up wearing her Christian Louboutin heels at Guantánamo years ago. Still, her new abaya is decorated with rhinestones, a splash of style she chose to recently spruce up with some knockoff Valentino shoes.
Ms. Bormann said she has worn the robe every time she has been in the company of Mr. bin Attash and has no plans to change the practice once the jury is chosen.
"I would certainly hope that nobody who is sworn to uphold justice," she said, "is going to hold it against me because I wear a black robe and scarf."
RELATED ISSUES

Criminal Justice

Issue
Conflict and Peace Building
Conflict and Peace Building