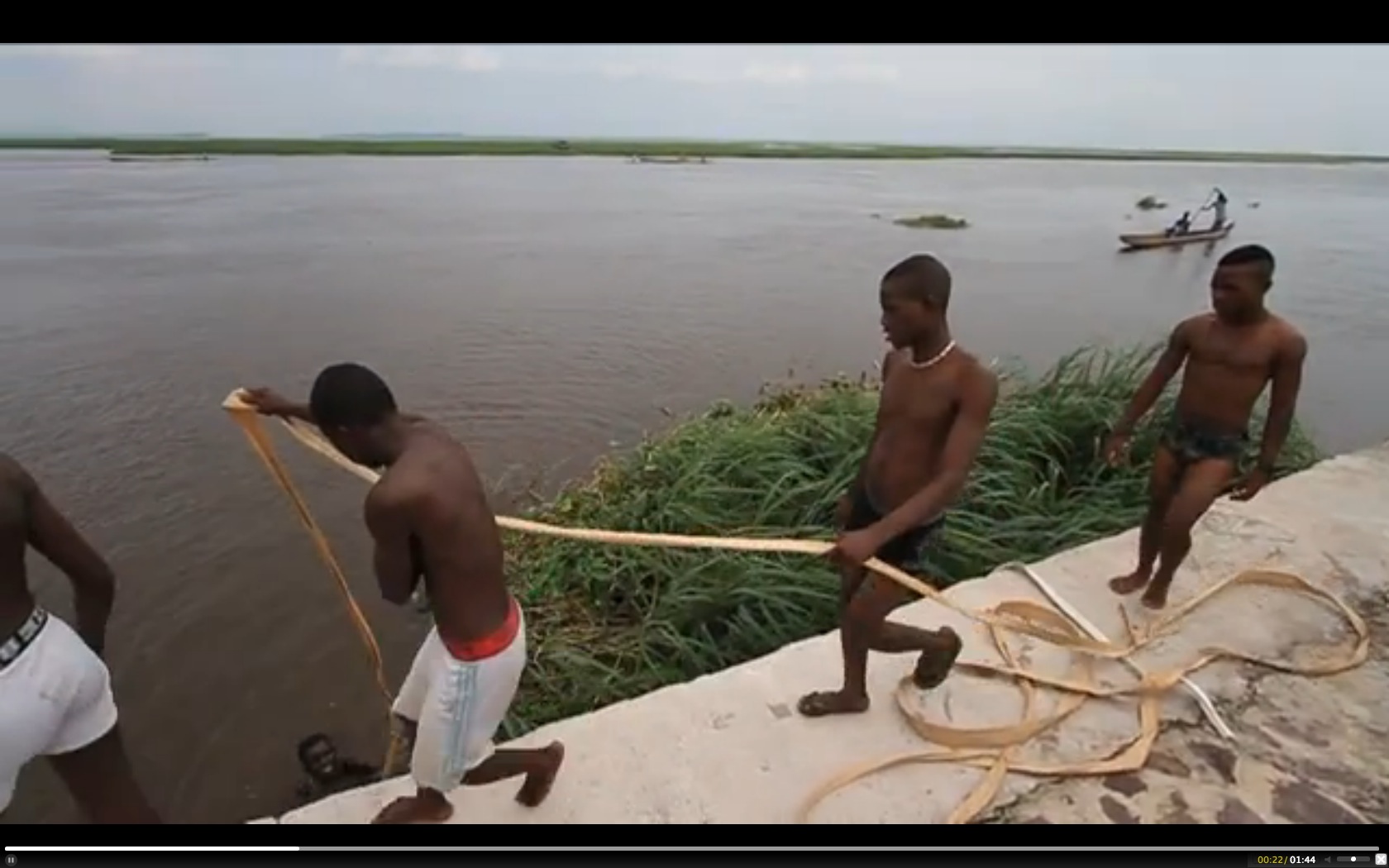 This story is part of a GlobalPost Special Report on income inequality around the world, "The Great Divide."
KINSHASA, Congo — On one side of the water, hand-carved wooden canoes navigate the marshy canals of a crowded fishing village. Unpainted cement houses line muddy dirt streets where women sit at stands, selling the day's catch.
On the other side, where the fishermen used to cast their nets, a posh private city is being raised from the bottom of the Congo River. Pumping millions of cubic meters of sand, the British hedge fund Hawkwood Properties is developing 1600 acres of water to become a tranquil residential haven complete with swimming pools, schools, grocery stores and a sports complex.
A more striking portrayal of income disparity in Congo than Kinshasa's Cite du Pecheur (Fisherman's City) and the upcoming La Cite du Fleuve, (City of the River), would be difficult to come by. But Hawkwood's private development is a logical progression of life in Africa's fastest-growing city.
Today, most of Kinshasa's wealthy reside and work in downtown Gombe, the economic and political center that houses Congo's government institutions, bank headquarters and international organizations. But Gombe is pinned against the bank of the wide Congo River by miles of low-income neighborhoods with narrow, congested streets and virtually no available space upon which to expand.
"The key of the money is in the land," explains Robert Choudury, who manages the private development project for Hawkwood. "There's no land in Kinshasa, and if you find land, 80 percent of court cases are about land here."
That, says Choudury, is exactly what City of the River hopes to avoid.
"It's new land, so no conflicts."
Well, not quite. Across from the white-tile terrace of Choudury's new home, the community leaders of Fisherman's City congregate in a small, roofless concrete-block room. They say Choudury's private city is being built at the expense of their own. Already, hundreds of families have been displaced so developers could widen the narrow access road that lines their village. Choudury says his company paid each household $25,000 — a significant amount for families that subsist primarily by selling fish. But the problem, say the fishermen, is that the money goes to the landlords, who keep it for themselves and force their tenants to leave with nothing.
Zudulwo Lwango Lutete is one such tenant. Ever since soldiers forced him out of his home in June 2009, he has lived alongside a muddy street in a lean-to made of sticks, plywood and tarps. Piles of clothes and blankets serve as a roof.
"This is all I have now," he says.
In fact, the inhabitants of this fishing village have lived through generations of evictions dating back to the mid-20th century when Congo was a Belgian colony.
Leza Avinamo Albert, the city's longtime chief, explains that until the 1950s, the community resided peacefully a few kilometers upriver on 10,000 square meters of land allocated to their particular ethnic group by the Belgian colonial authority. Shortly after the infamous dictator and profiteer Mobutu Sese Seko came to power 1965, he created a national day for fishermen, which the community celebrated every October 15.
But by the late 1970s (and contrary to his public rhetoric), Mobutu had become more concerned with maximizing his personal revenue than with celebrating his nation's heritage. Mobutu's soldiers began forcefully displacing the fishermen and their families in order to build the industrial shipping port that exists today.
Albert and his fellow fishermen brought a case before Mobutu's government, asking for their land back. He says Mobutu's regime admitted it had erred and ordered the local governor to find a new place for them to live.
"And the governor gave us this place," says Albert. "It didn't have any roads. It was a big garbage dump for all of Kinshasa."
It still is. Half a dozen dump trucks pass through the narrow dirt alleyways of the town each day to deposit garbage into the water of the marsh along the river.
Now, residents face a new threat: An estimated 70 families have already been displaced to make room for construction of City of the River. In December, more were being forced out to make room for an upcoming jet-ski competition that is leasing some of the project's land, according to developer Robert Choudury.
"We'll relocate them like we'll relocate everyone," he explains. "We overpay them completely, we give them a lot of money."
But Choudury admits the process has its flaws.
"Property status is very unclear," he says, adding that multiple people often claim title to any given plot of land. In the end, local government officials decide who gets paid. And because many of the residents rent their land and houses, "the people who really have to move don't get the money— the owner gets the money," Choudury says.
Fisherman's City residents say even when compensation from the company does actually reach the inhabitants themselves, many are not sure what they will do with it, or where they will go.
"We are fishers. A fisher lives near the water. If we were to live elsewhere, we couldn't fish anymore," says Albert.
Eventually all of the residents of Fisherman's City who live within buffer zone of 700-acres from the water will be evicted to make room for further development.
"It's government land. You cannot build on it," says Choudury. "So all the people who build here are illegal. By the full minister's cabinet, I was given the land on the condition that I develop it there."
* * *
Although there is no recognized Gini coefficient for the Democratic Republic of Congo, it is widely considered among the most unequal countries in the world. Part of that inequality stems from the nation's lucrative mining sector, which accounts for 28 percent of the national budget and directly employs 7 percent of the country's workforce, according to the World Bank. Most artisanal miners interviewed by GlobalPost say they earn only US$5 to US$10 per day.
In 2011, Congo's per capita GDP was only $368, and per capita income was only $280, according to the UN Human Development Index. And in 2011, the United Nations ranked Congo dead last in the world on its Human Development Indicators scale, which is compiled from various data on life expectancy, health, education and standard of living. Congo also ranked worst in the world on the UN's multidimensional poverty index, which measures different facets of poverty that restrict upward socioeconomic mobility.
From a glass table outside the first condo completed on City of the River, Choudury's wife Carine Mwakasa sits on a terrace overlooking the Congo River. Inside the well-furnished villa, their daughter Rachel receives piano lessons as an assistant cleans the house.
Mwakasa met Choudury four and a half years ago when the latter came to publicize his project at the marketing agency where Mwakasa works. The couple's relationship would evolve along with the project, but Choudury quickly cut the publicity campaign short.
"We started with a full-scale marketing program, and I realized we don't need it."
That's because the condos and apartments are selling themselves. Faster, in fact, than Choudury can construct them. His company will complete their first 40 units in the coming months, but he says there are already 120 families with down payments pending, eager to move in.
In a city with a growing upper class, there is a wide range of buyers. "We have business people, we have government representatives, many different kinds of people," says Choudury.
The project's website offers brochures on nearly 20 different styles of villas and apartments buyers can choose from. A 125 square meter (1,345 square foot) apartment goes for $200,000 to $250,000, depending on how it's furnished. Dubbed "The Kinshasa of Tomorrow," the project will take 15 years to complete.
Like many among Congo's upper class, Mwakasa says life in Kinshasa's downtown Gombe sector became unsustainable over the years.
"I used to live in the city, in a two-story apartment. But it became very expensive. Too expensive," she says.
She says it's not only Congo's wealthy that will benefit from the project. Choudury employs 300 area residents to do all sorts of manual labor, from carrying bags of cement to constructing the villas, to removing grass from the marsh adjacent to the city to reduce mosquitos and snakes. Some employees are hired from Fisherman's City. Workers say the pay is just $5 a day. But in a country with severe unemployment, there's no shortage of people willing to do it.
"The people are very happy. They understand it's a good thing that's being constructed, and it's them that are finding work," says Mwakasa. Still, the developer's wife seems out of touch with the effect that her husband's development is having on the villagers of Fisherman's city. She says they are going to benefit too, since there will be running water and electricity installed in the area as part of the project. She doesn't seem to understand that these people will eventually be displaced from the area entirely.
Choudury laments Congo's severe income inequalities.
"Everybody knows Congo is a very rich country in terms of resources," Choudury says. He enthusiastically describes Congo's vast rainforests, mineral reserves and hydroelectric potential. "But by design or by fate, or incompetence maybe, the Congolese people were never able to materialize this natural advantage they have. Personally I think by design — international design, which means that chaos profits a lot of people, and no one is really interested in clearing up the mess we have in this country."
RELATED ISSUES

Trade

Governance