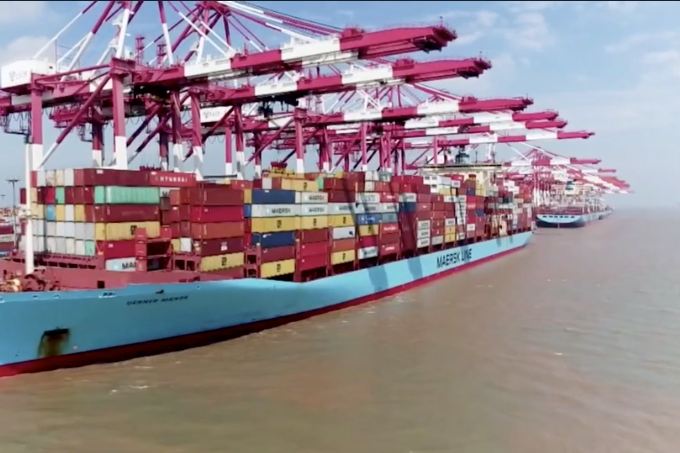 NewsHour's Nick Schifrin and special correspondent Katrina Yu report on the third in a 10-part series, "China: Power and Prosperity," with support from the Pulitzer Center.
Hari Sreenivasan:
NewsHour's series "China, Power & Prosperity" continues tonight with one of the most critical issues rankling U.S.-China relations: trade. The two nations' dispute has largely played out as a tariff war. But there are underlying issues — and arguments — on both sides. So, in partnership* with the Pulitzer Center, we tell this story with two correspondents: Nick Schifrin and Katrina Yu.
They begin in China's Silicon Valley: Shenzhen.
Katrina Yu:
In Shenzhen's Seg-e-Market you can buy anything electronic. There are 10 floors of circuit boards, battery-powered children's toys, digital watches, wireless headphones, even bitcoin mining computers.
Nick Schifrin:
And all of this is sold all over the world. Because international companies have long tapped into China's massive market, and huge supply of reliable labor.
Katrina Yu:
If you have an electronic product that's labeled Made in China, the chances are its parts come from here and end up all over the world, including the US.
Nick Schifrin:
For decades, the world's two largest economies—the US and China—have been integrated. But now the Trump administration is trying to change that. And the trade war is not only going to affect American businesses and consumers.
Katrina Yu:
But also businesses and consumers here in China.
Katrina Yu:
Seg-e-market has been called the barometer of China's electronics industry. Components and finished products are sourced from super-factories all over Shenzhen. More than 60 thousand businesses have set up shop here. While they may sell everywhere, this year all eyes are on the US.
Huang Bin:
I hope the trade war doesn't continue to get worse. Let's keep a peaceful relationship. Don't raise tariffs because no one wins.
Katrina Yu:
All the vendors that we spoke to blame President Trump for the trade war. And some say Trump feels threatened by China's success.
Katrina Yu:
"What do you think of the trade war…"
Liu Yongjun:
China's electronics industry is pretty good. Now Trump is just trying to suppress China's development.
Katrina Yu:
Though some freely admit to selling copies of US products. I ask her if this is a GoPro.
Lu Yu:
No, it's not a GoPro. Go Pro is made abroad and it's very expensive. But this one is cheap and it's similar.
Katrina Yu:
How similar, Nick?
Nick Schifrin:
Well, very similar. The Chinese Sportscam looks exactly like the American Go Pro. At this Chinese New Barlun store, take a look at the words. The sneakers and the writing look an awful lot like American New Balance. That's just two examples of Chinese copycatting, that the US says turned into theft on an industrialized scale. The US has indicted hackers connected to the Chinese military for stealing specs of an American power plant similar to this model, and navigation satellite technology. And the US says the most expensive weapons system ever, the American F-35, looks just like the Chinese J-31 because Chinese hackers stole the designs. The US says, in just a few decades, theft helped China make its military world-class, and its companies, technology leaders.
Jake Parker:
That kind of technological advancement doesn't happen organically.
Katrina Yu:
Jake Parker has lived in Beijing for a decade and is the Vice President of the US-China Business Council, which advocates for American businesses in China.
Jake Parker:
China's system is set up in such a way that the state has access to information that companies would consider to be trade secrets. The amount of information that's transferred to the Chinese government goes far beyond what would be expected in another market.
Katrina Yu:
As businessman and presidential candidate, Donald Trump has accused China of pursuing decades of predatory trade practices.
Donald Trump:
We can't continue to allow China to rape our country, and that's what they're doing. It's the greatest theft in the history of the world.
Donald Trump:
When you see China, these are fierce people in terms of negotiation. They want to take your throat out, they want to cut you apart.
Katrina Yu:
The Trump Administration has increased US demands that China stop intellectual property theft and what the US calls other unfair trade practices. The Administration has released two major investigations into Chinese corporate theft. And labeled Chinese computer, telecom, and technology companies risks to American national security.
Jake Parker:
President Trump has raised issues that have been an irritant in the relationship for a very, very long time.
Donald Trump:
We're the piggy bank that everybody steals from, including China.
Jake Parker:
That have not been adequately addressed by the Chinese side. And frankly those issues go to the core of how China's economic system operates, its state owned enterprise reform, its industrial policy, its subsidies, its overcapacity. These are not going to be easy solutions that China is going to be able to implement immediately.
Katrina Yu:
That's because those protectionist measures and state-sponsored business development have fueled China's rapid economic rise. Nowhere is that more obvious than China's Artificial Intelligence or AI-industry. In China's northeastern Liaoning province, EX Robot is working on human-like AI robots. China wants to be the global center for AI by 2030, and some in the Trump administration believe China is fast closing the gap on the US' dominance of AI. They can mimic facial expressions, respond to questions and even host a TV show. Ex Robot president Yang Dongyue says his company will be one of the first in the world whose robots can replace service employees.
Yang Dongyue:
Their main function is to communicate with people, so a good appearance is a must. If the robot is very good-looking, like a pretty lady or a handsome man, people will feel more pleasant when talking with them.
Katrina Yu:
Beijing has been so determined to catch up, and surpass the US in AI technology, it's committed $150 billion to its development. EX Robot acknowledges that it receives government subsidies, but refuses to disclose how much. Meanwhile, China accuses the US of investing billions on its own AI technology, like this robotic pack mule that's being funded by Pentagon research.
Nick Schifrin:
But Katrina, the US denies that Pentagon spending is a subsidy, and complains China's subsidies are into private companies, and concealed–in every industry, tilting the global playing field in China's favor and violating international trade rules.
Mike Pence:
The Chinese Communist Party has used an arsenal of policies inconsistent with free and fair trade. These policies have built Beijing's manufacturing base, at the expense of its competitors – especially the United States of America.
Katrina Yu:
China has built its own manufacturing base that provides cheap and efficient labor. And many US businesses use it to maximize profits. Shanghai General Sports is one of the biggest bicycle manufacturers in China. The company produces more than three million bikes every year. CEO Lei Ge attributes the company's success to building close relationships with his partners abroad – particularly in the US.
Lei Ge:
We work with our partners in the States as a family. That's why we can become so close.
Katrina Yu:
That supply chain integration has built up over 30 years. And it means the trade war has hit Shanghai General Sports and many companies in China that sell to the U.S. Lei's has had to let go about 30 percent of his staff. It doesn't help that China's economic growth has slumped to its lowest level in nearly three decades.
Lei Ge:
Oh we hate this. It's just more difficult than ever. Of course we feel disappointed and we feel upset, but there's nothing we can do.
Katrina Yu:
This factory produces up to 13,000 bicycles everyday. They're sent to countries such as Australia, Canada, and Japan, but 80% of them are made for the United States.
Nick Schifrin:
And arrive in this South Carolina factory. Arnold Kamler is one of the primary buyers of Shanghai General Sports' parts. He's the Chairman and CEO of Kent Bikes, one of the largest bike wholesalers in the US. On every bike frame imported from China, Kent has to pay a 36 percent tariff to US Customs. On every tire, it's 30 percent.
Nick Schifrin:
When you pay that amount to U.S. Customs do you therefore increase your prices to your clients?
Arnold Kamler:
Of course. The bicycle business is a very high volume, but unfortunately for me a very low profit margin business. And so when we have an increase of that size we have no choice but to raise prices.
Nick Schifrin:
And those higher prices, have led to a 20% drop in sales since the Trade War began. And that's meant Kamler has to lay off a quarter of his employees.
Arnold Kamler:
These tariffs are hurting us very badly, but we're a smart company. We'll overcome this challenge by sourcing elsewhere over time.
Katrina Yu:
And that's exactly what's happening: General Sports will turn this field in Cambodia, into a 500,000 square foot factory. Lei says it's an investment he wishes he didn't have to make, because he fears labor costs will rise.
Lei Ge:
I prefer staying in China. I speak the same language and it's easier to find workers.
Nick Schifrin:
It may not be good for businesses, but driving companies out of China is music to many in the Trump Administrations' ears. Some senior advisors want to continue economic integration with China. But others see China as a national security threat, and want to separate the two economies. President Trump has vacillated between the camps. In late August he Tweeted, "Our great American companies are hereby ordered to immediately start looking for an alternative to China." But at the G7 in France, just 3 days later, he said American companies could still thrive in China.
Donald Trump:
If we make a deal, I'd like to see them stay there and do a great job.
Katrina Yu:
On Chinese media, commentators argue President Trump's flip flops show he's unreliable.
Einar Tanger:
You cannot be in a situation where, I don't believe what you're saying, and I don't believe you'll carry out, even if you do. How can I have a negotiation with you?
Katrina Yu:
China has taken steps to ensure it's less vulnerable to Trump's trade war shots. From boosting domestic supplies of soybeans, corn and cotton, to expanding export markets beyond the U.S.to Africa and South America. With no need for democratic elections and what it calls a higher economic "pain threshold," Chinese TV says China can outlast Trump.
CCTV Anchor:
Anyone who misjudges China will surely pay the price of the Chinese people's steel will.
Nick Schifrin:
But President Trump has said he can outlast China, and vows to hold his ground, even if that harms the US economy short-term.
Donald Trump:
I am doing this whether it's good or bad for your — your statement about, oh, will we fall into a recession for two months, OK? The fact is, someone had to take China on. My life would be a lot easier if I didn't take China on. But I like doing it. Because I have to do it.
Nick Schifrin:
Which means US-China cooperation is decreasing. And the confrontation is increasing.
Katrina Yu:
And the Trade War continues, as two economies that have been integrated for decades, are already drifting apart. For the PBS NewsHour, I'm Katrina Yu.
Nick Schifrin:
And I'm Nick Schifrin.
RELATED ISSUES

Trade

Governance