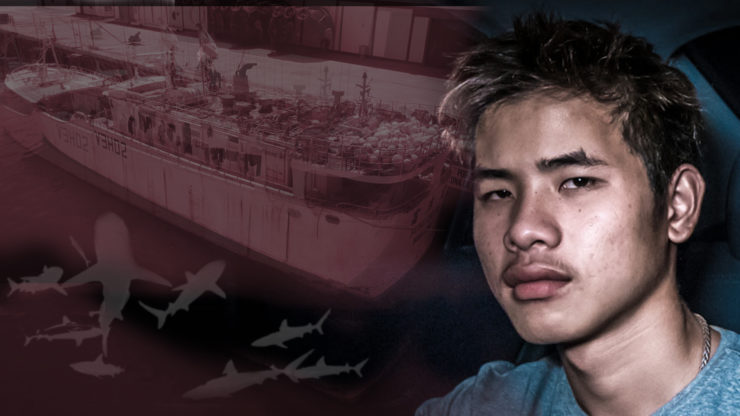 This week's episode of Reveal investigates shark fishing in Central America and a U.S.-based seafood company that claims to be a model of sustainability.
We start in the jungles of El Salvador, where reporter Sarah Blaskey and photojournalist Ben Feibleman investigate one of the largest shark-fishing operations in the region. The men who crew these boats are migrants from Vietnam who work under grueling conditions.   
Next, we follow reporters from The Associated Press as they continue their award-winning investigation into the seafood industry. Robin McDowell, Margie Mason and Martha Mendoza look into one of the country's leading sustainable seafood companies, Sea to Table.
The company provides seafood to restaurants, universities and private homes across the country, claiming all its fish are wild caught and directly traceable to a U.S. dock. The reporters examine whether those claims hold up.
DIG DEEPER
View: Slavery at Sea: Sharks, fins, and the migrants made to fish them
Credits
Produced by Michael Montgomery. Edited by Brett Myers. Special thanks to The Associated Press, the Toni Stabile Center for Investigative Journalism at Columbia University and the Pulitzer Center on Crisis Reporting.  
Support for Reveal is provided by the Reva and David Logan Foundation, the Ford Foundation, the John D. and Catherine T. MacArthur Foundation, The John S. And James L. Knight Foundation, the Heising-Simons Foundation and the Ethics and Excellence in Journalism Foundation.
Reveal is a co-production of The Center for Investigative Reporting and PRX.
RELATED ISSUES