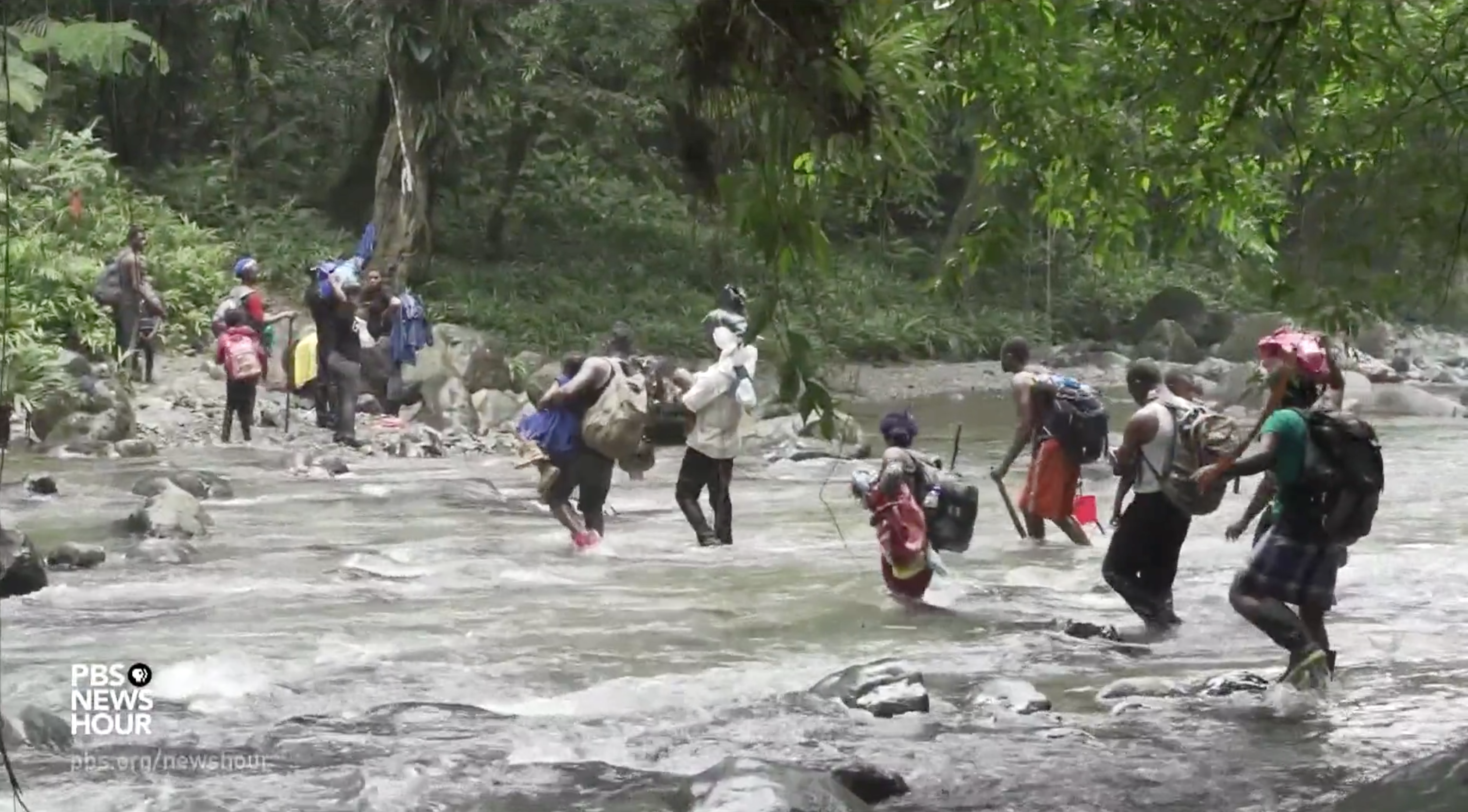 The remote Darien Gap cuts across Central America, serving as a critical but perilous path for migrants desperate to make the journey to North America. Many people fleeing poverty, persecution, and violence feel it's their only option. But even for those who survive the ordeal, arrival in Panama brings new hurdles. Special correspondent Nadja Drost reports and joins Nick Schifrin to discuss.
Judy Woodruff:
Last night, we brought you part one of special correspondent Nadja Drost and Bruno Federico's reports, filmed before the pandemic, from one of the most dangerous migrant paths and remote spots on Earth, the Darien Gap, a wild, lawless expanse of nearly impassable jungle that straddles Northern Colombia and Panama.
Tonight, with the support of the Pulitzer Center, Nadja and Bruno report on what they saw after their passage through the jungle and the immigration impasse so many migrants found after their ordeals.
Nadja Drost:
In the remote Darien region of Eastern Panama, migrants and asylum seekers from around the world arrived in an indigenous hamlet. It's the site of nonstop confusion, as Panama's border police organized groups to leave on canoes.
Man (through translator):
I will try to understand you with the little English I know. I speak Spanish.
Nadja Drost:
To get to the next town, they have to pay $25 for a boat ride, but many of them have no money now, and the trip is canceled.
They thought it would be easier from here, just through the most dangerous section of their long journey, the Darien Gap. It's a wild expanse of jungle that blankets the border region between Colombia and Panama.
Migrants from Africa, Southeast Asia, the Middle East, Cuba, and Haiti converge here, all trying to get to the U.S. Many get lost, assaulted, injured, or run out of food along the way.
Woman:
It's very dangerous. It's a matter of life and death.
Nadja Drost:
This is the first settlement that migrants coming off of the trail arrive at. They expect this place to be a kind of refuge, but the reality is that assistance here is incredibly minimal.
Woman:
They give us all these things, flour, and all this stuff. They are — like, this is why they give us. It's not cooked food. It's raw food.
Nadja Drost:
OK. And so no stove?
Woman:
No stove, nothing.
Nadja Drost:
Usually, after several days, migrants board canoes to a camp in La Penita, where they register with migration officials.
Rosina and Collins Boateng from Ghana took 14 days to cross the Darien Gap with their 14-month baby twins and 4-year-old boy. By the end of the trek, they had no tent, no food and no money.
Rosina Boateng:
No, they have given us this morning something to cook, but, apart from that, we need diapers, everything, clothes.
Nadja Drost:
On the outskirts of the Darien jungle, this small outpost merges Panamanian and U.S. security and border enforcement. Panamanian migration agent Abel Abrego registered biometric information.
Abel Abrego (through translator):
We're taking the principal data from all people who are immigrating.
Nadja Drost:
With equipment and training provided by the United States, Panama, in exchange, submits the information into the U.S.' registration system, said Panama's migration chief, Samira Gozaine.
Samira Gozaine:
And then, when we collect the data, they can tell us or they can inform us if they are in their database.
Nadja Drost:
Last year, Panamanian authorities counted nearly 24,000 migrants, 4,000 children among them, from outside South America trekking through the Darien Gap, three times as many as 2017.
On the next page, we have got more Africans presence. We have Cameroon, Burkina Faso, Angola, as well as Congo.
Only after getting vetted can migrants leave here, boarding buses that bring them to the border with Costa Rica. No more than 100 per day are allowed to enter. The U.S. also funds Panama's border police, charged with fighting narco-trafficking and organized crime across the Darien.
Now they are front-line responders in Panama's migration crisis. While rapes and robberies are routine on the trail, in Panama City, the chief of border police, Oriel Ortega had a different concern.
Oriel Ortega:
They are greatly affecting our environment. They're leaving loads of organic and inorganic waste, plastic bags, plastic bottles discarded clothes, and backpacks.
Gedeao Makombo Nkosse (through translator):
It took me 14 days, with many ambushes along the way. I twice met bandits. The first ones robbed all my money, and the second ones robbed all my family's food.
Nadja Drost:
We first met Gedeao Makombo Nkosse in Colombia, where he boarded a boat with his wife and three children to reach the Darien trail. Later, he told us the jungle and its swollen rivers took a crushing toll.
Gedeao Makombo Nkosse (through translator):
While we were crossing the river, I was with my children, all of us, me, my son, and two daughters we fell in the water. And when we fell in the water, I — I — I managed to save only two children. My daughter is gone. I lost a 9-year-old daughter just like that.
Nadja Drost:
Makombo told us he uprooted his family from Angola because he wanted to give his children a better future.
Later, as he tried to explain to a security officer where his daughter was swept away, he knew that finding her would change nothing.
Gedeao Makombo Nkosse (through translator):
I have nothing left. I don't know how to move on now and go forward with the rest of the family.
Samira Gozaine:
If they cannot do it, then they shouldn't be doing it, because they are putting their lives in danger.
Oriel Ortega:
I don't know why they insist on going nine days through the jungle from Colombia to Panama.
Nadja Drost:
They insist because of Panama's own migration policies, said the head of the Panama office of the International Organization of Migration, Gonzalo Medina.
Gonzalo Medina (through translator):
The routes that migrants have established through the jungle of Darien is the result of the decision of Panama's government to maintain a closed border.
Nadja Drost:
As long as migrants don't have a way to enter Panama legally, they're likely to keep hiring smugglers to help them cross the border. Those who have run out of money rely on scant handouts. Whoever's hand reaches highest may get a blanket, rice, or donated clothing.
Some migrants wait far longer than others. Walid Ali fled the war in Yemen, where he said Houthi rebels attacked him for refusing to join them. He had been in the camp 44 days.
Walid Ali (through translator):
I left a year ago. I wasn't expecting them to welcome me. I know there is a ban on Yemen.
Nadja Drost:
It's here, thousands of miles south of the U.S., that Ali first encountered an extension of America's security and border priorities.
Yemen is not only subject to the Trump administration's 2017 travel ban. It's long been included on a growing list of countries the U.S. government calls special interest, because it considers them to produce or protect terrorist groups. Migrants from those countries get extra scrutiny.
Samira Gozaine:
Obviously, there are countries where migrants are coming from that are more established as countries where a terrorist can come from.
Nadja Drost:
In La Penita, these Pakistanis made bread while they waited. Walid Ali said he understands why they are being vetted, and he agrees with it.
Walid Ali:
That information is very necessary for everyone. We are happy to biometric us, because we are legally person. We don't have any crime.
Nadja Drost:
But he said he's disappointed over how long they will have to wait, two months probably.
As migrants waited, they tried to call home. There's not much else to do. Some dance the evenings away.
We asked Gozaine about the long waits for migrants from so-called special interest countries.
Who is going to determine when they can go?
Samira Gozaine:
If they are not in the database, you have to go to camp. So, we have to take time to make sure, maybe 30 days, maybe 60 days.
Nadja Drost:
And those intelligence officers who go to the camp to collect information, are they Panamanian, or…
Samira Gozaine:
No. Usually, we don't have that capacity. Of course, we receive a lot of help from the U.S. in that area.
Nadja Drost:
Ilhab Elhassan once lived legally in the U.S., but returned to Sudan. He left because of political persecution and eventually arrived here; 46 days later, he still couldn't find out why he was being held.
Ilhab Elhassan:
They're playing with our mental stability. And at one point, we just decided to face them, that guess what? We're not going to eat no more. And we're not going to drink.
Nadja Drost:
A couple days after he and a small group started a hunger strike, Elhassan wasn't among the migrants officials selected to fill two buses to Costa Rica.
But the strategy seemed to have worked for Walid Ali. His name was called. Migrants still being delayed bid their friends a bittersweet goodbye, not knowing when, or if, any of them would make it to the United States.
Now, due to the pandemic, all migrants arriving at the camp have been stranded, unable to continue their journey. These buses no longer run.
From the Eastern Darien in Panama, reporting with Bruno Federico, I'm Nadja Drost for the "PBS NewsHour."
Judy Woodruff:
Such an incredible story.
Our Nick Schifrin recently spoke with Nadja to update the situation for the people you have met in these stories, and how the pandemic has affected their journeys.
Nick Schifrin:
Nadja, incredible reporting.
You were there about a year ago. What's changed along these routes, especially with COVID?
Nadja Drost:
The coronavirus has basically completely stalled this route, Nick.
So, as we know, planes have been grounded, and migrants can no longer arrive from Asia or Africa to South America to make their way northwards.
But for the thousands of migrants and asylum seekers who were already en route to the U.S. when the coronavirus hit, they — their journey has effectively been stalled. They are no longer able to continue on their route to Costa Rica and the rest of Central America.
I spoke with a local who lives near that camp. There's about 2,000 migrants stranded at that camp since March, when Latin American countries started shutting their borders. There have been coronavirus outbreaks in the migrant camp.
Nick Schifrin:
And, Nadja, I know you have stayed in touch with some of these characters whose lives, whose stories you have just seen. How are they doing?
Nadja Drost:
So, many of them are now in the U.S. They spend anywhere from three to seven months in ICE detention facilities. Many of them have been paroled and are able to continue their immigration cases outside of detention.
I had visited actually a couple of Cameroonians who we trekked through the jungle with who are now living in Maryland, and they're very happy in their new homes. They are staying with families. And they are basically waiting for their new lives to start.
Of course, the pandemic has made this all the more difficult. Many of them are waiting for work permits, which have been delayed because of the pandemic.
And so, even though they are incredibly grateful to be here and to feel safe, they are anxious to start working and start to get to know the communities that they're living in.
Nick Schifrin:
Nadja Drost, we're lucky to have your reporting.
Thank you very much.
Nadja Drost:
Thank you, Nick.
Judy Woodruff:
We certainly are. What extraordinary reporting.
And thank you again to Nadja and to Bruno Federico.
RELATED ISSUES