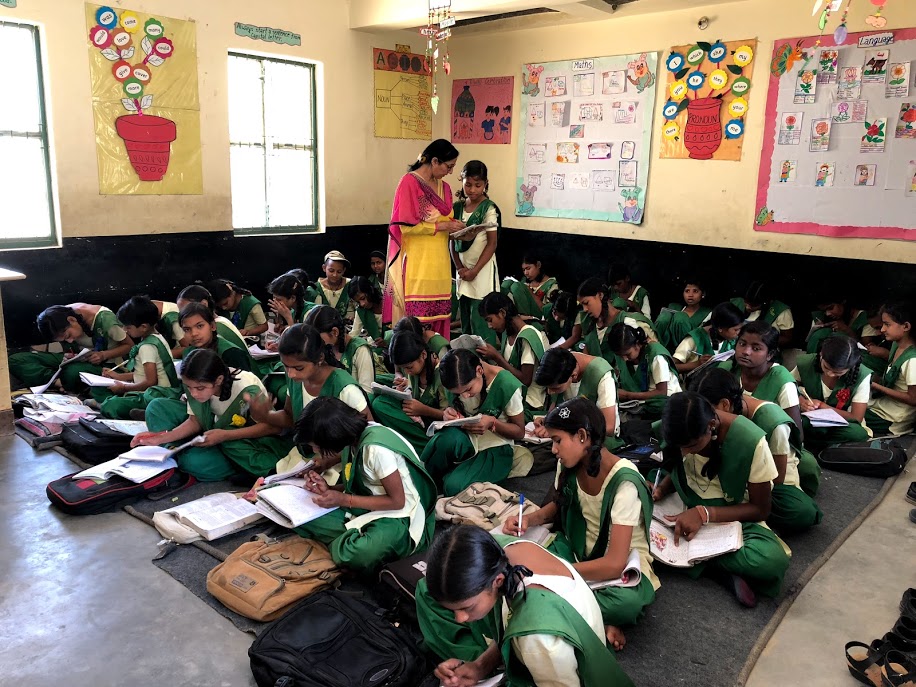 "Ma'am, you married?" asks Sonam Lal giggling, shortly after meeting me, on the second floor of her school in Anupshahr—one of the countless, indistinguishable municipalities overflowing with dirt, discarded plastic, and despair that make up rural Uttar Pradesh (UP) in the north of India.
Sonam is sitting outside her class with four of her 10th grade classmates. Her curiosity has overcome her self-consciousness at speaking in English, her second language.
"No, I am not," I reply. Anticipating a follow-up question, I add, "No children."
"Single, single?" she asks, as her friends hide behind high-pitched giggles. "I think marriage—I don't know if it's good."
With a hint of defiance, Sonam tells me that she doesn't know if she wants to get married. Maybe, she says, once she's done with her education. Sonam has two more years of school ahead of her, after which she hopes to study computer science at university.
And where might that be, I ask. Perhaps New Delhi?
"In California," she says. Sonam is keen to travel all over the United States, and promises to visit me in New York. America, she says with a mock twang, is "niiice." I tell her that her home is very nice, too.
"Yeeaah, here is gooood, too" she replies. I can tell she's humoring me. The truth is, her home is not very nice at all, and Sonam is too bright not to know it.
That Sonam can even conceive of leaving her home in UP's dusty Bulandshahr district and traveling to California shows a level of ambition unknown to most girls born in rural UP, where child marriage, abuse, rape, and femicide are common.
Life in Sonam's community, Madar Gate, is particularly harsh. She is a Kanjar, a once nomadic group that sits apart from India's caste system but is still officially listed as one of UP's scheduled castes. Their position in the social hierarchy is best conveyed by the fact that the word kanjar is used as an insult: Kanjar women, considered untouchable, historically worked as prostitutes and, in communities such as Madar Gate, often still do. Sonam's mother, who died two years ago, was a sex worker. Her father, Shankar, is a cobbler in Anupshahr's market, a job reserved for the lowest of castes. He doesn't know how to read or write, and relies on Sonam to help him with simple math.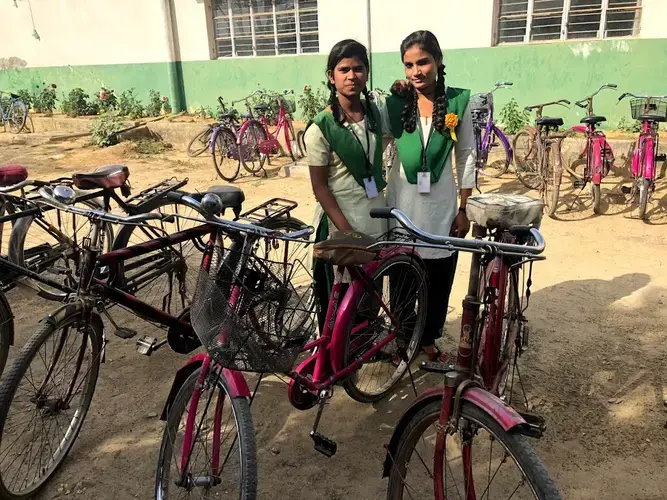 On another day, Sonam greets me in the family's poorly lit shack. Wearing a burgundy polo shirt and skinny jeans, her school-required braids replaced with a loose ponytail, she looks like the physical embodiment of potential. In a village where homes have no toilets, and barely any electricity, Sonam stands out even in the way she carries herself. She keeps her back straight, and doesn't lower her eyes as she navigates the tiny alleys threaded between the shacks. She exudes the strength of someone who has been taught her worth. It's a lesson Sonam learned at Pardada Pardadi Educational Society's Inter College, which she rides to every day on her pink bicycle—the distance between herself and her dreams getting shorter with each five-kilometer journey there and back.
In the 18 years since it was founded, Pardada Pardadi has dramatically transformed its community, changing lives and social values by first educating and empowering schoolgirls living below the poverty line, and then their older sisters, mothers, and neighbors. Whether Sonam ends up going to college in the US—or, more likely, in Delhi—she will be the first person from her community to do so. There is no doubt in her mind that she is destined for great things—not despite being a girl, but because of it.
Once upon a time in West UP
Virender "Sam" Singh, the founder of Pardada Pardadi, was born in Anupshahr in 1939 to a family of zamindars (landowners). One of eight children—five boys and three girls—and the son of the first university graduate in the area, Singh was the first person in his family to forgo living off the land for a career abroad.
After graduating from Aligarh Muslim University, a nearby institution that awarded him a scholarship for playing field hockey, Singh started his career in textiles. ("The only industry India had," he says). In 1963, he moved to the US, where he completed a master's program at the University of Massachusetts in Lowell. His thesis, about a yarn made from cotton and nylon that he had tested for the military, earned him nine job offers straight out of school. Singh ended up joining Dupont in Delaware, mainly because, as a brown man, he was advised not to live any further south in America. He stayed at Dupont for 35 years, during which time he married, raised two daughters, and at one point led the company's Asia operations.
During his time abroad, Singh became obsessed with a perplexing question: What keeps India from excelling? Why, for instance, do Indian Americans have the highest average household income of all ethnic groups in the US, yet in India, one in four citizens still live in abject poverty?
He gradually developed a theory that his homeland was crippled by its almost total subjugation of women. "All my life I noticed the girl child being badly discriminated against," Singh says, adding that such discrimination crosses all social strata in India. From not receiving their fair share of inheritance to being forced to marry older men as a payback for loans, women are systematically deprived of their human rights—and the country of half its potential.
In 2000, at age 61, Singh decided to retire from Dupont and dedicate the rest of his life to building a prototype that would show India where it was going wrong. He believed that the model had to start with education for girls—specifically, girls living below India's poverty line of 36 rupees a day, or $0.54. Education would offer them a path to economic independence, and help them gain social power. "Financial independence breeds social independence," Singh says. "Money is a big leveler."
The girl effect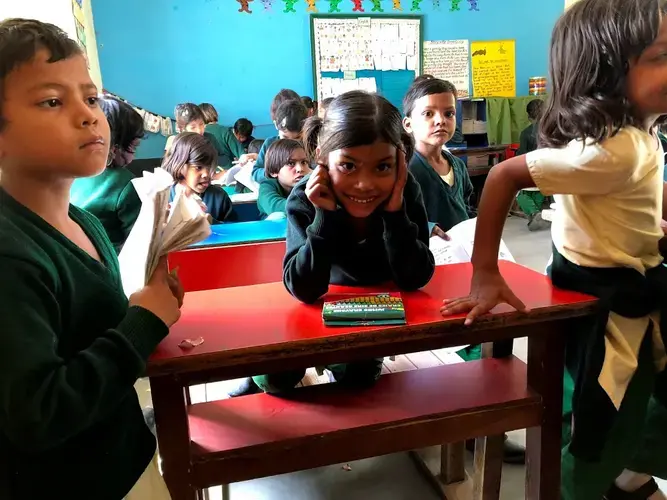 Anupshahr is an especially unforgiving place to be born female, even by the standards of India's deeply patriarchal society. According to the latest census numbers, from 2011, there are 972 women for every 1,000 men. If there were no selective abortions, female infanticide, or deliberate neglect, women would outnumber men there. It's even worse amongst children below six: For every 1,000 boys, there are just 926 girls.
This is the land of the "missing millions." At 64.7 years of age, women's life expectancy here is the second-worst in India, and far below the country's average of 69.6 years (pdf, p.5). Crimes against women are the highest in the country, and more than a third of them are perpetrated by husbands and other male relatives.
Female illiteracy is widespread in Anupshahr, as in all of rural UP—a state, India's largest, that is home to over 200 million people. For women, literacy alone is considered enough of an education, so only a small fraction of them ever complete 8th grade. Government-run schools are notoriously overcrowded, and teachers infamous for not showing up to work, luxuriating in the safety of well-paid tenured government contracts. Since teachers tend to be from the middle class, they are also often prejudiced against poor students from lower castes. Episodes of violence and neglect are sadly frequent, says Archana Dwivedi, director of Nirantar, a research organization that promotes female literacy and empowerment, particularly in rural India.
Cost is also a factor. Most families can't afford basic schooling necessities, such as uniforms and stationery, or they can't afford to lose the money a child would earn working. Even when families do manage the cost, boys unfailingly benefit first.
Dwivedi says this is because parents' "lives also will change if [boys] have more money," whereas for girls, "education bringing changes in real life is rare." Girls traditionally leave the parental home when they get married, and are thus considered less of an investment.
Singh knew that focusing on the twin challenges of a quality and an affordable education was the only way to break a vicious cycle that rendered women powerless, generation after generation. He also knew that schooling girls would involve more than just the girls. They desperately needed female role models whose lived experience reflected the equality they would learn about in school. Instead, Anupshahr's mothers, aunts, and older sisters were trapped in a patriarchy that deprived them of agency. These are the women whom half of Indian society considers okay to beat once in a while; who are killed for not having a large enough dowry; who commit suicide more than any other female demographic.
Singh felt an idea form: he would create Pardada Pardadi ("great-grandpa and great-grandma" in Hindi), a holistic social project that would educate young girls while also providing training—both vocational skills and financial literacy—for the women in their families. "All this just because of the first four-year-old they sent to school," Singh says. "She will be the hero of the family."
To help with his lack of nonprofit experience, Singh approached Renuka Gupta, an experienced social worker and activist in India, to help him write a business plan. Gupta remembers that when she asked what she should charge, Singh handed her a blank check and told her to fill it in as she saw fit. Gupta was so touched by his trust that she decided to forego payment. "I thought, if he can do so much, I can at least do this much for free."
Before long, Gupta was Parada Pardadi's CEO, and brought a kindness, fierceness, and pragmatism to Singh's vision. Also a bottom line: Gupta told Singh he would need $2.3 million upfront, plus land, to build his prototype. Singh supplied both.
Forty-five strong
When Pardada Pardadi opened its doors in August 2000, it occupied a single-story, two-classroom building on a plot of land Singh inherited from his family. Although the school sits near the intersection of two of Anupshahr's main arteries, less than a mile from the banks of the sacred river Ganges, the area around Pardada Pardadi had for many years been occupied by the downtrodden and criminal. Locals say that what is today the approach to the school—where visitors are now cheerfully greeted by a sign asking "Have you loved your daughter today? Yes we have!"—used to be a playground for the local mafia, a place to make bodies disappear.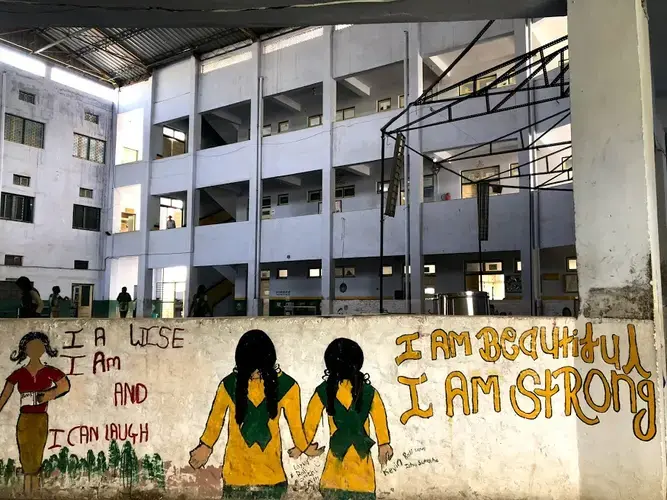 To serve as school administrator, Singh hired Shahjan Jose, an energetic, cheerful man originally from Kerala in the southernmost part of India. Singh suspected that Jose's 10-year stint working in Bhutan would prepare him for the hardship of living in UP.
Finally, Singh turned his attention to recruiting students, and made an offer he thought no parent could refuse. Girls living below the poverty line would be able to attend the school six days a week, year-round, and would receive free uniforms, stationary, education tools, and three meals a day. Not only would tuition and government taxes be covered, Pardada Pardadi would pay girls to attend: 10 rupees (about $0.15) per day, plus 12 days of paid vacation per year. The money would be kept in an account the girls could access only after graduation. By then, Singh calculated, they would be 18 and have overcome the two biggest evils holding them back: illiteracy, and child marriage.
The only thing Pardada Pardadi didn't—and still doesn't—provide was room and board, and that's deliberate. "We want to give some responsibility to the families," Singh says. "We don't want them to think they got rid of a problem, because [girls] aren't a problem."
In the summer of 2000, Jose was feeling good about Pardada Pardadi's proposition. "I thought, if I am educating a girl, I am educating a family," he says. "If I educate a family, I will educate a village, the district, the state, the country!" Inspired, he drove around Anupshahr, brandishing signs and announcing the school's opening through a megaphone. Then he went back to the school, sitting in the stifling summer heat as he waited for families to come sign up their daughters.
No one showed up.
Baffled, Jose recalled the warnings he had received before he moved to west UP about how backward and dangerous it is. "I thought, 'seriously, something is wrong with this place,'" he says. "But Sam told me, 'Now you have to start working'."
Jose realized they needed a different approach. He met with village councils, elders, and religious leaders, and listened to their concerns. People were worried about the girls' safety in what they called "the jungle"—the dicey area around the school—and they were suspicious of Singh's motives. Was the school just another empty political promise? And then there was their main concern: Why invest in girls? Why even care? They would soon leave their families when they got married anyway.
Armed with Jose's findings, Singh met with parents around Anupshahr and "touched their feet," a traditional gesture that shows maximum deference and respect. He assured them of his pure intentions, and promised he would keep their girls safe. Singh also revised his incentive policy: Rather than having to wait until graduation for their compensation, each girl would receive 100 rupees after the first month, 500 rupees and a uniform after the second month, and 500 rupees, plus stationary and other educational tools, after the third month. The girls were free to leave the school at any time, and could keep their earnings and supplies if they did.
Singh's charm offensive worked: He and Jose managed to convince a few dozen families. "We had 45 girls in the first batch," says Jose, that they divided roughly by age between a third and a fifth grade, enabling them to open with two different curricula. "They became our ambassadors."
Less than two decades later, Pardada Pardadi is a now a kindergarten-through-12th-grade operation, in several larger buildings on a spacious campus. With 1,400 female students, it runs at capacity, and it's been years since Singh and Jose had to persuade families to sign up their girls. Today, the school has more applicants than openings.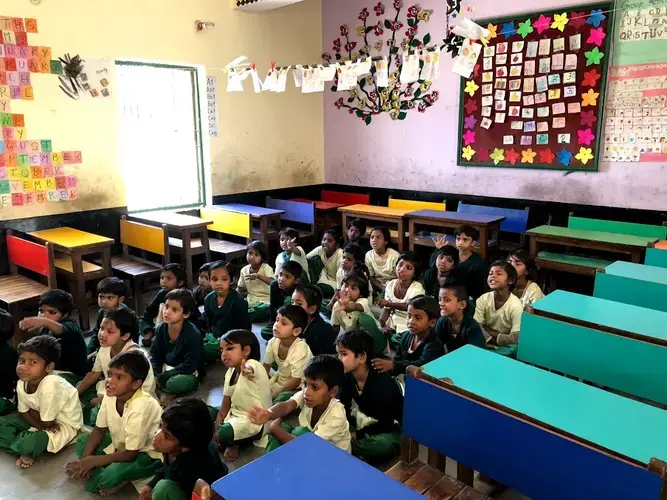 Personal development 
In the beginning, Pardada Pardadi divided its operations in two: girls on one side, their female family members on the other. Students attended classes from 8:30am to 4:30pm—academic studies in the morning, vocational training in the afternoon—while their mothers, aunts, and older sisters were offered training in textile work before graduating to full-time minimum-wage jobs offered by Pardada Pardadi, a rare opportunity for women in the region. The idea was to create a path from the classroom to employment, followed by financial independence.
It took only a few years for the first tangible signs of Pardada Pardadi's impact to surface. In 2006, the students confronted Gupta about their curriculum, asking for an academic education that went beyond vocational training. After all, they hoped to continue their studies beyond high school, and to do bigger and better things than working minimum-wage jobs in the textile industry. "These girls wanted to be part of the world's citizens," Gupta says. It was the moment she realized how much progress the students had already made.
Their request revolutionized Pardada Pardadi. Today, the school's curriculum revolves around the goal of turning girls into confident young women, and pushing them to pursue higher education. Mornings are still reserved for academic studies, but afternoons are used for what the school calls "personality development:" art, computer literacy, spoken English, and even sports (one senior hopes to pursue a career as a basketball coach). Alongside these are classes on human-rights education, leadership and negotiation skills, and other topics that might prepare the girls for a life of opportunity after high school.
And for many of Pardada Pardadi's students, that life has already become a reality. As of 2017, out of 3,000 admissions, 437 girls have graduated from 10th grade, and 215 from 12th grade, according to the school. Among them, 84 have gone on to higher studies, and 72 are employed after completing their college education, in careers as diverse as nursing and computer science. Girls from the school fare better than the rest of the state on exams, and have a fertility rate (ages 16-30 years) of 1.08 children, compared with an average of 1.63 for young women in the area. Even among those who didn't pursue further studies, 18.5% of Pardada Pardadi graduates earn a regular monthly income, compared with 5.6% of the general female population in UP.
Higher education has become so important for the school that, although girls are still paid to attend Pardada Pardadi, they can only spend the money on college or some form of technical training. Pardada Pardadi Education Society also makes loans available to college-bound students, which the girls repay when they join the workforce.
The school has also had an outsized impact in the community. Before the rural villages of Anupshahr had electricity, or could take advantage of grants to build toilets through Swachh Bharat (Clean India), a government program launched in 2014, Pardada Pardadi would give girls with good attendance access to solar-powered lamps for their homes. They also arranged for toilets to be built in private homes and public spaces, and helped provide clean drinking water.
Girls and their families also have access to free healthcare through a clinic set up in the school. A gynecologist is available at least once a week, and the cost of medication and sanitary pads is subsidized. The organization helps families cover hospital costs, and the clinic recently opened to people outside the school's network. Because its girls go to school, the rural UP community is actually getting healthier.
The mothers' diary
The women of Anupshahr mostly work in the dairy industry. The municipality is in India's so-called "milk belt" (pdf), where more milk and dairy products are produced than anywhere else in the country. But women in Anupshahr rarely see the income from their labor. Milk and produce sales are mostly managed by men, who keep the money, leaving women utterly dependent. With little by way of support networks, it's all too easy for them to fall prey to moneylenders when faced with emergencies.
In 2012, Pardada Pardadi created a program designed to break this cycle, by providing women with basic financial-literacy education. Participants were encouraged to save money, and to create a network of peers who could lend to one another. The program's coordinator, Shantaram Kashyap, developed a step-by-step approach for bringing women from complete financial ignorance to managing their money and even making profitable investments.
It starts with 50 rupees ($0.75) per person. Women are asked to join a "self-help group" by depositing the sum in an informal shared savings account. The investment is noted in a register, and the money placed in a safe box.
The value of the women's regular contributions to the account increases over time, and each one is recorded by a facilitator. When the total is high enough, women can begin borrowing from the account, at an interest rate of 24%. Though steep, it's a fraction of the 36% to 60% that moneylenders charge, and has the advantage of also benefitting the group. Once a group has run its own loans for three years with a perfect track record of repayments, it can open a state bank account and apply for bank loans to fund entrepreneurial activities.
The financial-literacy program now includes 6,000 women in 160 villages. Five thousand more women are in line to join next year—each knowing that they will be charged 1,500 rupees ($22.50) per year to do so. All are willing to make the investment, having seen the benefits for their neighbors.
In the village of Bachchikhara, I meet with five women belonging to two different groups—Bhavna and Laxmi (group names are used to open the bank accounts). The women proudly show me their financial records, and speak about the activities they have been able to undertake thanks to the self-help groups, such as hosting affordable solar-power banks for the entire village, or buying an extra cow to increase milk production.
Some of the women are now their family's primary breadwinners, and none of them are voiceless. They matter in their homes, and their children respect them. They have plans—business plans—and the support of a network they trust.
Before I leave, I ask if they have any questions for me. There are only two: whether I have any children, and if the men in my country help out with household chores. I tell them that many do. One of the women says she has been making her husband get the kids ready for school in the morning. Another laughs approvingly.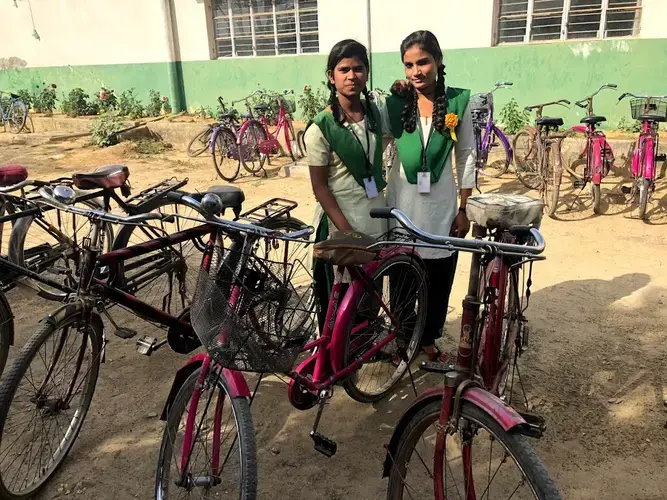 No feminist fairytale
However contagious, the Pardada Pardadi bug hasn't infected everyone. Sunai, a village just 8 km (5 miles) from the school, is a perfect encapsulation of all that Pardada Pardadi has achieved—and all it still has to do.
An impoverished community of a few hundred households, Sunai feels like a dystopian manifestation of rural life. Kids run around dirty, shoeless, and in tattered clothes. The air brings frequent whiffs of sewage. Seeing someone new or different is so rare that, when I arrive escorted by a few of Pardada Pardadi's students—rays of light in their clean, pressed uniforms, a pale yellow salwar kameez with a green dupatta neatly folded across the front—a group of women emerge from a small masjid to stand and stare, while their children crowd around me, wide-eyed.
In this community, I meet girls who dropped out of school to take care of a younger sibling, or because they were forced to leave the village and hide in shame after a brother chose a "love marriage" over an arranged one. Pardada Pardadi's 10th graders captured many of the obstacles they face in drawings: simple, self-explanatory vignettes depicting parents doting on boys while girls cry in the corner, boys playing while girls clean the house, and boys decked out in nice clothes and electronic devices while girls have nothing.
But Sunai is also the home to the brilliant Bhavna, a confident, bespectacled Pardada Pardadi 10th grader who takes me and a group of younger students to meet these forgotten girls of the village. Bhavna's sister Taruna was one of the school's first students and now teaches there. Bhavna herself is planning to be a nurse, and passionately lobbies girls and their families on the importance of attending school. She has a habit of pushing back on excuses with relentless questioning: "So?" She is a girl, so? Her brother had a baby, so? She'd have to be out of the house the whole day, so?
When I thank Bhavna for showing me around her village, she replies with conviction: "But what are you saying, ma'am! I have all the time for you." The next day, she finds me in the school to give me a card. "Thank you mam for think about dropout girls," it reads. "And for visit my home. Thank you Mam!"
As a visit to Sonai teaches, endeavors like Pardada Pardadi are about identifying the hope within the despair—and pouncing on it. Singh, Gupta, Jose, and many of the school's staff excel at focusing on the positive, and working toward ambitious yet achievable goals despite the challenges conspiring against them.
Pardada Pardadi embodies that attitude. There are no state-of-the art buildings or equipment; girls barely have enough chairs and desks to share. There is a library, a language lab, and a computer lab—but most girls see a computer once a week, sharing it with a classmate. For the children who don't get to use smartphones at home, internet connection isn't part of daily life. Sonam, for instance, has never sent or received an email ("but very soon," she promises me, when I ask her to keep in touch).
Recruiting teachers isn't easy. Not many qualified professionals want to live in Anupshahr, and Pardada Pardadi, like many other private schools, pays a fraction of a government salary. But Gupta is adamant that higher pay wouldn't attract better talent, or at least the type of talent that embraces Pardada Pardadi's larger mission. "Our curriculum demands that you are first a mentor," she says, "then a teacher."
Singh's next priority is to reach as many girls, and change as many families, as possible. Within two years, he wants to double the number of students attending the school, which means raising a not-insignificant $4 million.
Pardada Pardadi is no dreamland—but it's as close as it gets around Anupshahr. The girls know how to use a computer. They speak some English. Their exam grades are higher than in any other school of the district—and they make it to university. These are girls who won't get married as children, who will grow up learning that they have the same rights as boys. Ladka ladki ek saman, they repeat. A boy and a girl are equal.
Of course, there are no guarantees. Bhavna might end up marrying someone in Sunai, and give up her career to raise a family. Sonam may never see California. But they are part of the world's largest female population under 20 (270 million and counting in India), and their hard-won education gives them the power to change the future.
"It's good that they have a vision, and we need to show them the steps to get there," says Singh. Perhaps, "instead of becoming god, they may become god's assistant."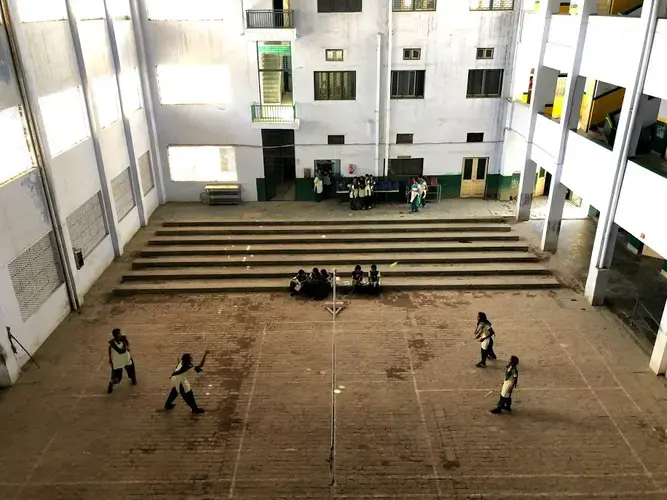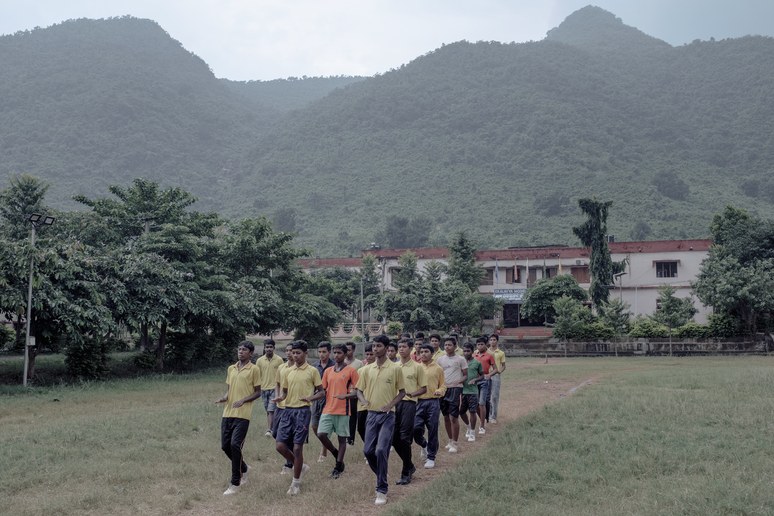 Meet journalist Raghu Karnad, who together with photographer Arko Datto reported on the vast scale...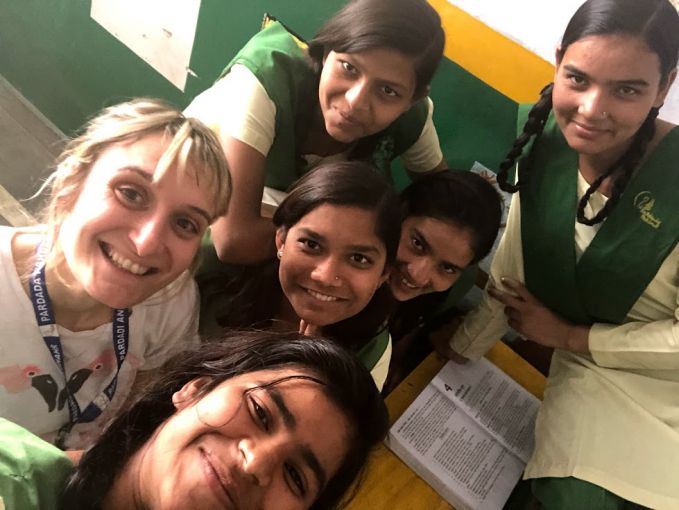 How does a school for poor girls in rural India crack the patriarchal system? Annalisa Merelli...
RELATED ISSUES