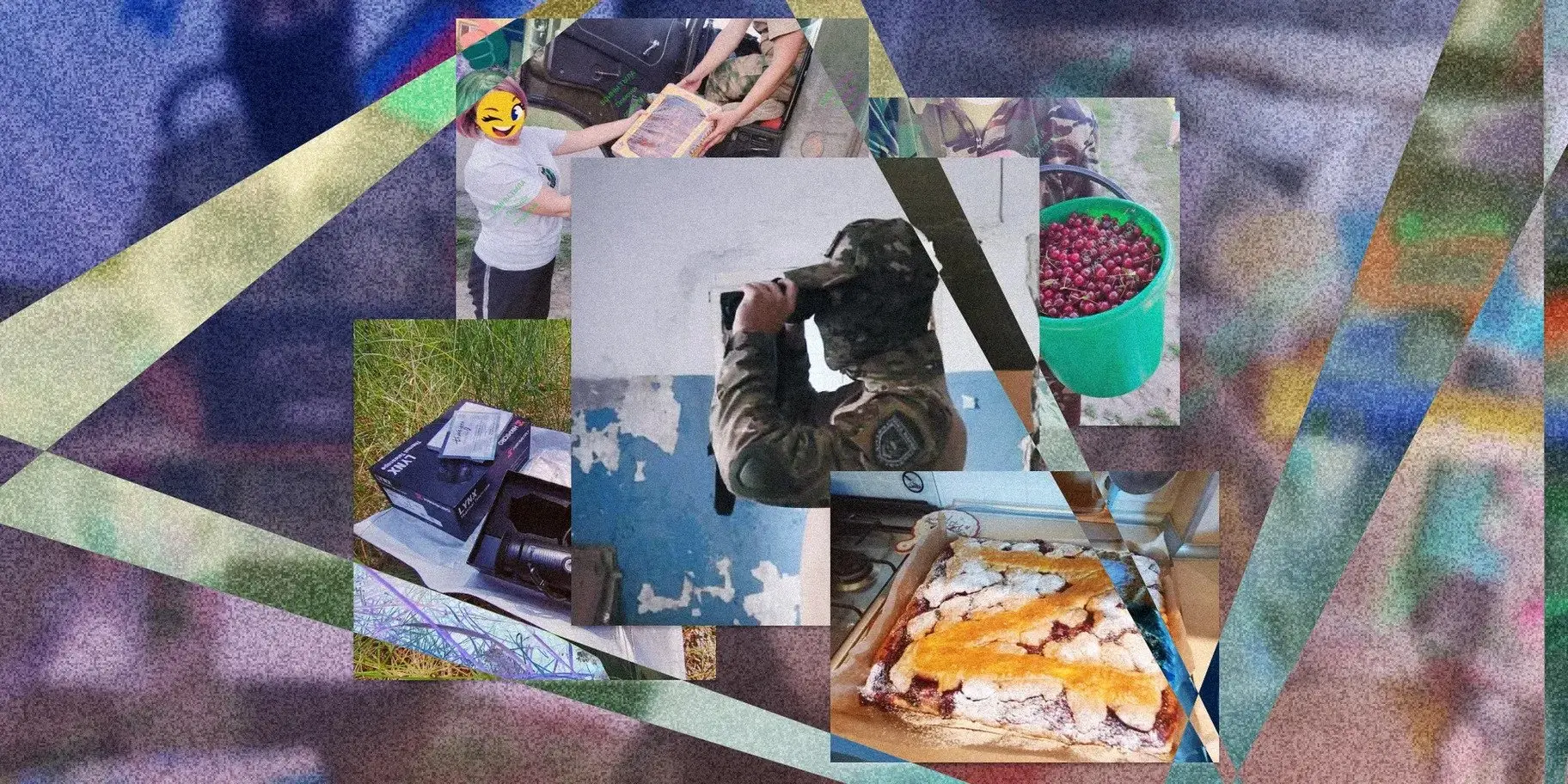 There have been reports of supply problems in the Russian army since the start of the full-scale invasion of Ukraine: a shortage of military equipment, Soviet first-aid kits instead of modern ones, and expired combat rations. Russians who bring humanitarian aid to the soldiers at the front told Important Stories about where they get money and why they volunteer. The military sends them long lists of things they need, ranging from underwear to expensive quadcopters. The lists indicate a shortage of both everyday items and technical equipment. Does this aid affect the situation the Russian army finds itself in, and what does it say about the Russians' support for the war? 
We have changed the names of the characters in this text because Important Stories is deemed an undesirable organization.
---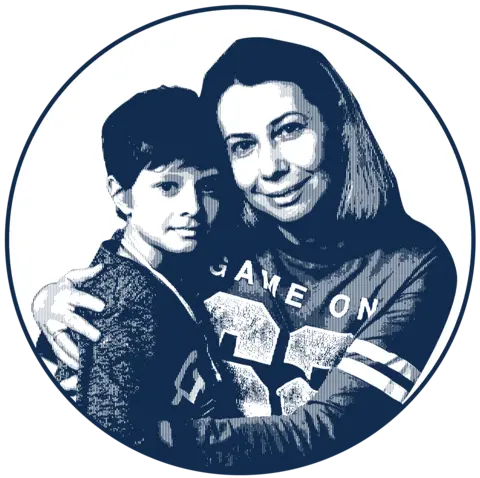 As a nonprofit journalism organization, we depend on your support to fund coverage of global conflicts. Help us continue funding the hard costs of in-depth coverage of the Ukraine invasion—including travel, hostile environment safety training, and the increased security expenses that arise from reporting in war zones.
---
WHO COLLECTS MONEY TO HELP THE RUSSIAN MILITARY
It was not until four months after the war began that Russian state media and officials began to speak openly about the army's need for aid. In June, the pro-Kremlin All-Russia People's Front (ONF) launched a fundraiser for the army. The project was called "All for Victory," the first part of the Great Patriotic War slogan was shamefully omitted [the first part is "All for the front" — Ed.]
Famous warmongers who support Russian aggression were brought in to raise money. Propagandist Vladimir Solovyov asks Russians to chip in for quadcopters, and promises gifts for the most generous — "original patches, a branded gaiter, and a key chain." Pro-Kremlin singer Denis Maidanov collects money from Russians for army boots, belts, helmets, night vision devices, and other equipment while actor Dmitry Pevtsov collects money for laptops, sleeping bags, and first-aid kits. 
At the end of June, the Russian Ministry of Defense stopped being ashamed of its insolvency and announced the launch of a fund for aiding the military. 
In addition to propagandists and the Ministry of Defense, ordinary women from Russian regions provide for the soldiers. They bake cookies with the symbols of war Z and V and raise millions to buy expensive equipment.
"First we fed them, then we clothed them, now we keep them safe."
Natalia lives in the Kursk region near the border. She is the owner of a bathhouse complex. It was at her work that she met the Russian soldiers who had been transferred to the city two weeks before the start of the war. According to Natalia, they began "storming" the city's bathhouses: everyone needed a bath and laundry. She suggested the military contact her if they needed help and left her phone number. The first call with a request for help came as early as 10 days after the start of the war. The military asked to bring sweets and socks. Natalia assembled the first truck of cargo "using her own resources, family-style," drove it to the border, and delivered it straight to the military.
"After that, they called endlessly. Everyone needed help," says Natalia. "They started asking for everything from food to toothbrushes. Already in March, we started receiving other kinds of lists: combat boots, armor vests — when serious hostilities began, everything got torn, there were a lot of burnt things. And then it got even better: Since April, requests for quadcopters, night vision systems, and radios started coming in. First we fed them, then we clothed them, now we keep them safe."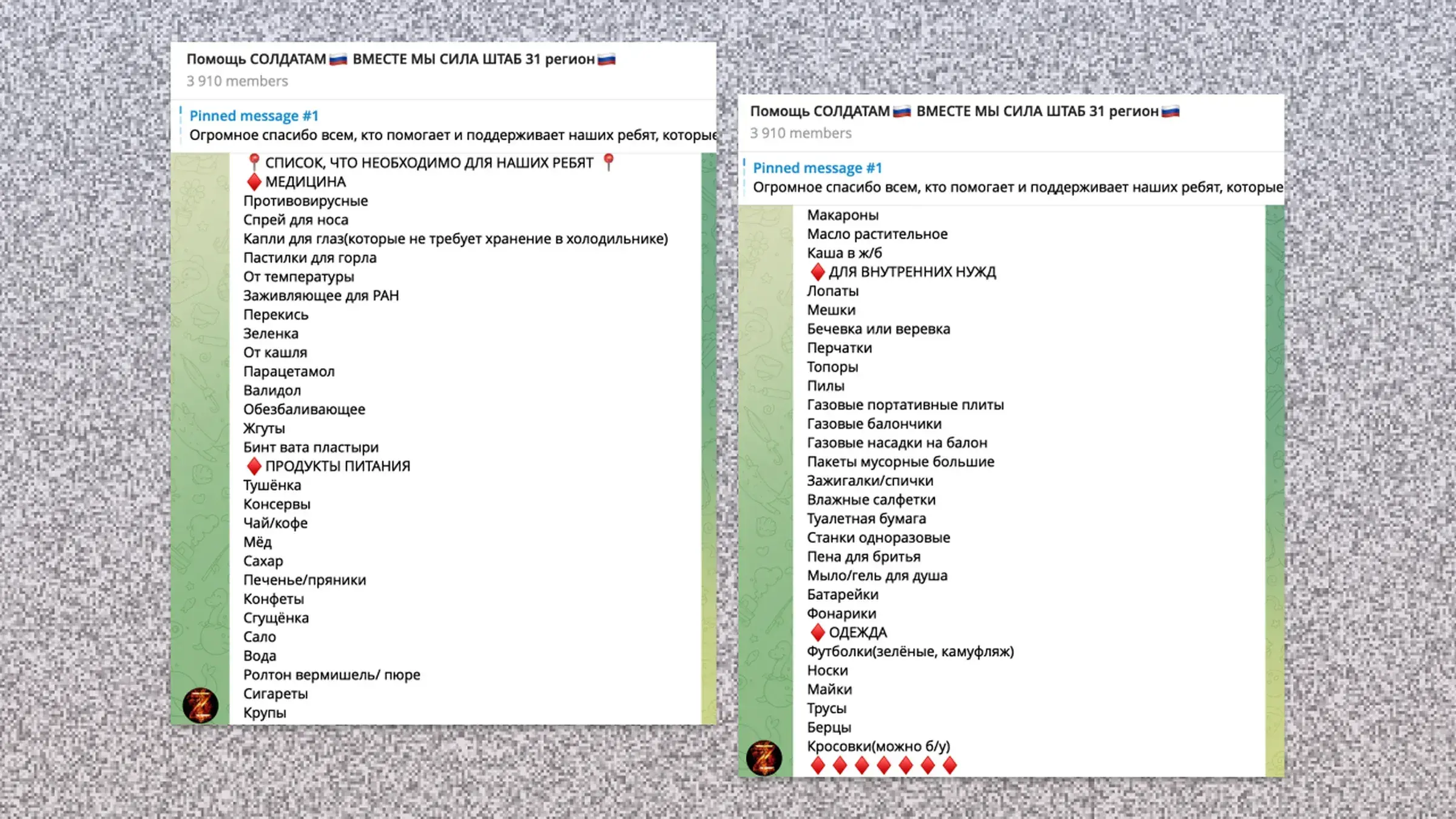 When requests from soldiers changed, so did Natalia's spending on the Russian army, so she started involving other people as well: 2,500 people are now collecting money and necessary items together with her. "It all started with a bag of cookies worth 30 rubles [about 48 cents], then armor vests for 15,000 rubles [around USD 237], suture material for hospitals for 25,000 [around USD 393], and then quadcopters for 450,000 [around USD 7,000]. And the last time we brought soldiers a jammer that jams drones, it cost RUB 1 million [around USD 15,850] — we collected the money in a week. The special forces servicemen asked for it, complaining that the enemies' drones kept coming for them in large amounts," says Natalia.
When asked if Natalia thinks that soldiers should be equipped by the state with a defense budget of one billion rubles, the state that started this war, rather than by ordinary residents of the country who already pay taxes, she answers: "I am not discrediting our army. Our army is powerful, our state is powerful, but nevertheless, not everyone is entitled to the things that everyone really needs. For example, artillery troops are not allowed quadcopters by statute, infantrymen are not allowed anything at all, and they die in combat. And according to the regulations, everything is fine, everything checks out, the army is provided for everything."
Natalia knows about the equipment shortages among contract servicemen based on the words of her brother, who is currently fighting in Ukraine. "He tells me such things, and this is the Special Forces he talks about [elite troops — Ed.]! He and four other men from his brigade lost their weapons in combat and have now been without them for a week. They approached their general, and he said: 'If you lose them, that's your problem. No one will give you anything.' That's why I couldn't stay away. I already have letters of appreciation and medals from colonels who tell us personally, 'What you [volunteers] are doing is far more than what the Ministry of Defense is doing.'"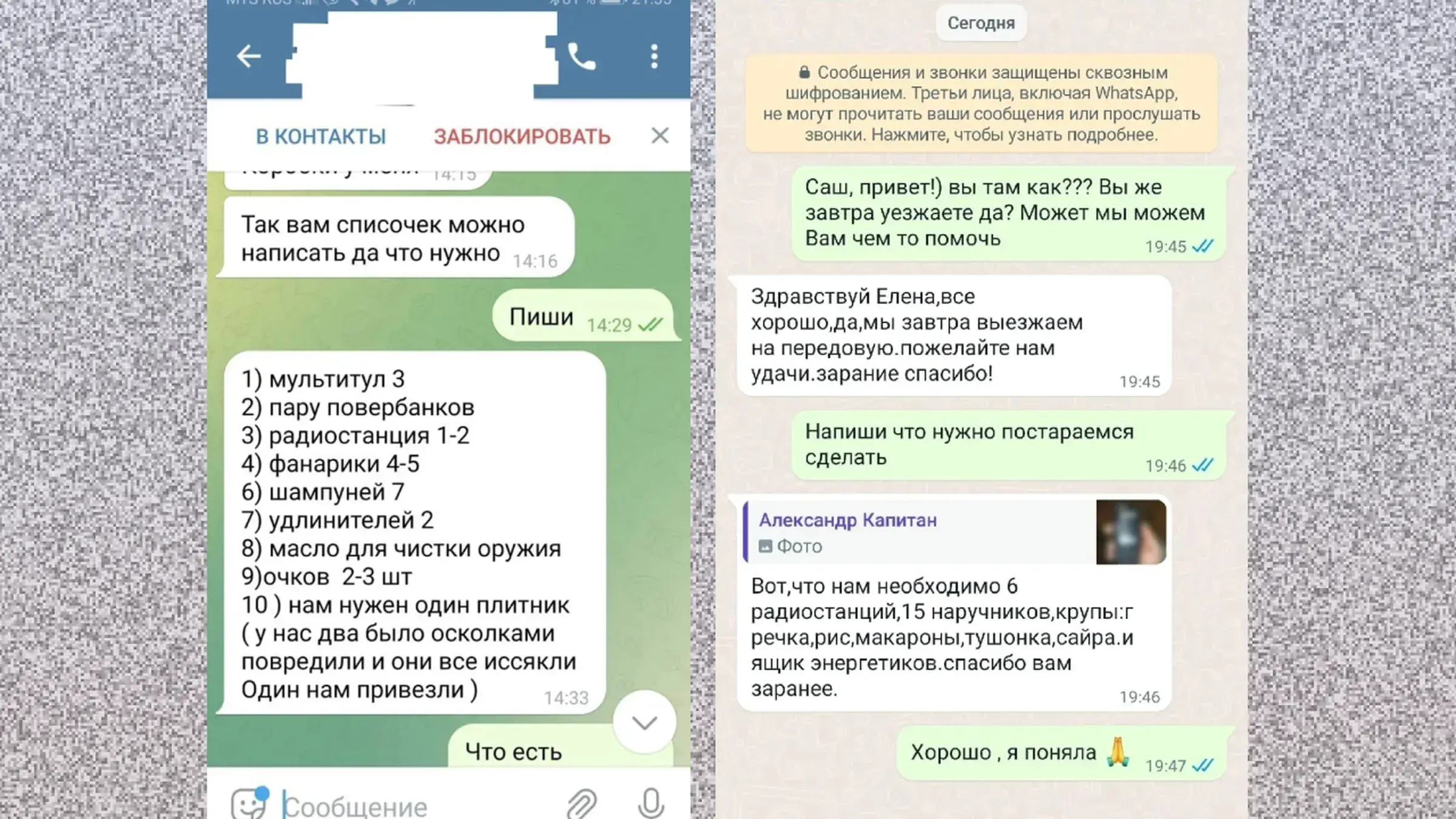 Everything is bought with "moms' money"
Maria works as a checkout operator at a Pyaterochka store in one of the district centers near the border in Belgorod region. In her spare time, she and about 60 other women, mostly mothers of military men, collect parcels, as Maria says, "for the front." She explains her motivation to help the Russian army by saying that she feels sorry for the military — "children", "boys" — passing through her village. 
"We bought them boots, and their feet were barefoot, they didn't even have socks on. We gave the boys shoes, clothes, and fed them. We buy everything with the moms' money. Many of those we saw off are now MIA," says Maria. 
Maria admits that the Ukrainian military is better equipped. Like other volunteers, Belgorod women are also donating money towards buying drones: "We are now raising money to buy three quadcopters — the soldiers don't have enough drones, because they get shot down. There's a lot missing on their end. The [Ukrainian] army, of course, has better equipment — ours doesn't. But it's okay, we manage anyway. It's not a burden on us, you know? Quite the opposite, we want to help, make the guys happy."
According to Maria, the soldiers, for whom the volunteers bought the quadcopter, have already performed "a heroic deed" with its help: "We were just helping them, treating them like boys, and they turned out to be heroes; they were given medals." As proof of the "deed" performed with the help of a donated quadcopter, Maria showed a video of an exploding boat with military personnel on an unknown river.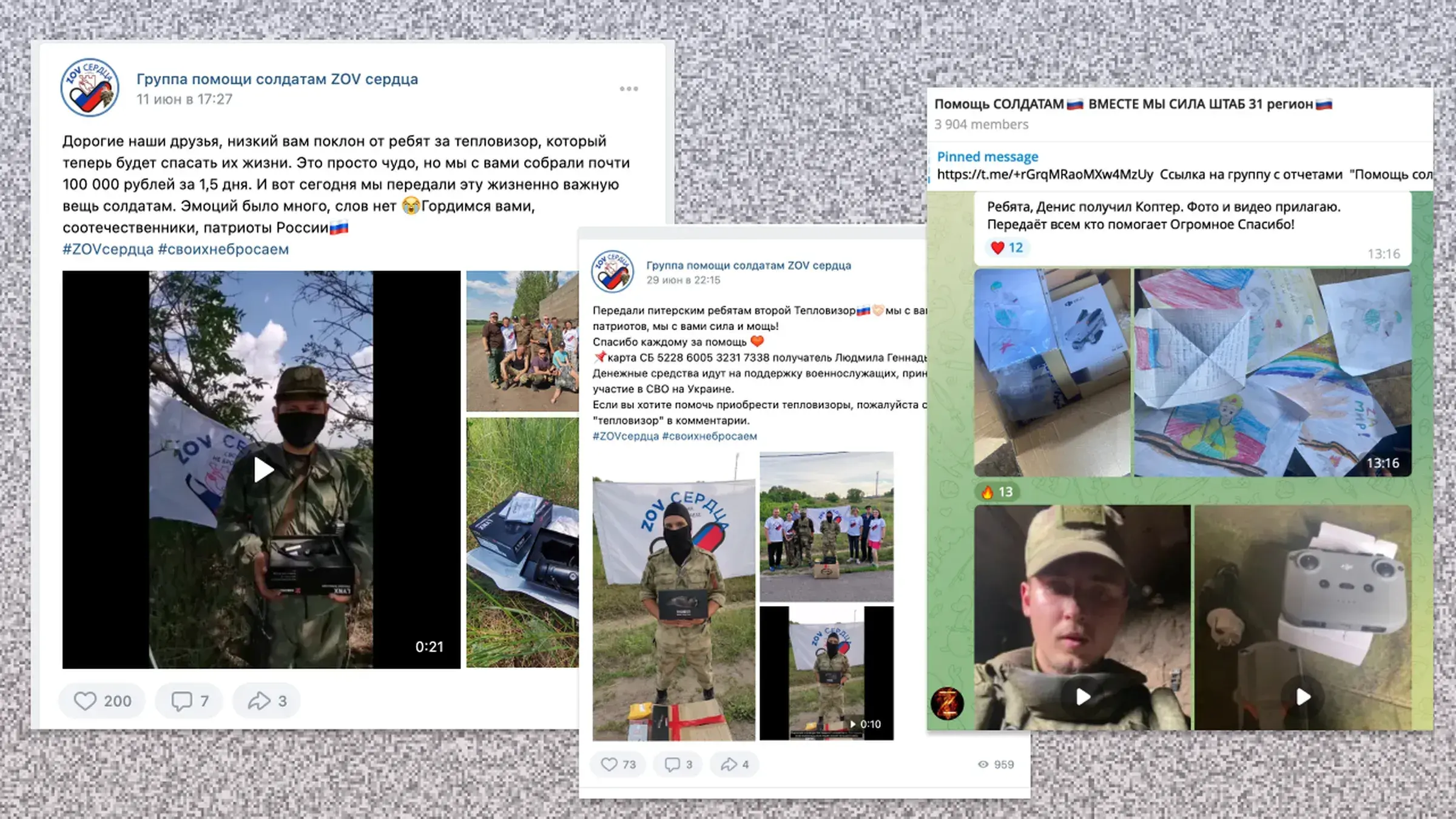 "It's like I am doing all this as a mother, for my son"
Elena is a mother of many children from the Oryol region. She used to work as an accountant, but "now she's all about soldiers." Six months ago she buried her 19-year-old son, who got into a car accident. Now she supplies the Russian army because "the same 19-year-old boys are there." "It's like I am doing all this as a mother, for my son," she says.
At the beginning of the war, Elena took part in an action in which Russian women wrote support letters to the military. The addressee of her letter — a special forces officer — replied and wrote what the soldiers needed. "That's how it all started: from underpants, T-shirts, and socks to food, optics, and walkie-talkies. Then I contacted one of the field hospitals, there is always a shortage there. For example, there is a deficit of hemostatic sponges, which are expensive but very necessary in treating the wounded. One day a repair shop company called: they were repairing tanks. They say, "It's raining, we're all in the mud, there's no place to get dry." I rushed out and bought them some wellingtons," says Elena. 
Now there are about 300 people in her volunteer association, and Elena travels to the border once every two weeks to "pass the load." Both everyday little things — batteries, duct tape, tick spray — and expensive devices — walkie-talkies, quadcopters, machine gun sights. The list of needs for the army, which Elena published on her Telegram channel, also included vodka and moonshine. 
"I know that contractors buy a lot of things with their money. Even in our town, there were guys coming in to redeploy. They stopped by the Okhotnik [Hunter] store and bought two night vision devices using their own money. They said, 'It's not more expensive than life,'" says Elena.
"It doesn't matter for me at all whether the state provides for them or not. For me, motherland is not the government, not those in power, but it is these boy-soldiers, these kids," Elena explains. "Of course, the military sometimes says that something is lacking from what the Ministry of Defense is supposed to supply. They are provided, but not always in time; bureaucracy is everywhere and always: it takes time to sort it out, to sign the papers."
When asked if Elena thought about helping refugees instead of the army of the country that attacked Ukraine, she answers: "We used to bring aid to the refugees too, but here they are paid [they are entitled to payments from the state. — Ed.]. We took something to the collection point, and then I made it my goal to only help soldiers. A lot of people say to me, 'Well, soldiers are also provided for there, it's not like I sent them there,' but such people don't stick around. It seems to them that it doesn't concern us, that the war is far away. I think when a NATO tank arrives, you won't be able to pull the emergency cord, you won't be able to stop them in any way."
"Older women send 100 rubles [about USD 15] every day"
They also try to help the Russian army in those regions which are known to have suffered the greatest losses in the war. For example, an aid movement was formed in the Buryat town of Kyakhta, the location of the 37th Motorized Rifle Brigade, which Ukraine accuses of war crimes. In one of the videos posted in the chat room of the Kyakhta-based movement, soldiers of the 37th Brigade, "wounded in the first phase of a special operation," ask their fellow countrymen for help in acquiring night vision devices and a quadcopter. 
Grigory, the ataman of a Cossack association in one of Buryatia's cities, is himself a former military man. He used to work with troubled teens, but now he doesn't have time for that. He supports Russian aggression in Ukraine and gathers necessary items "for fellow countrymen participating in the special operation," because "help is needed all the time." 
In two months, the Cossack association sent six expensive quadcopters and six "not cheap" night vision devices to the front. Grigory collected RUB 2,5 million from fellow countrymen for this purpose — even ordinary local residents found the money, despite the fact that Buryatia is on the list of regions with the lowest income level of the population. "We are all worried, we have relatives, friends, comrades there. Older women send me 100 rubles every day," Grigory says. 
In addition to financial aid, Grigory also took on the task of training the Russian military: "We organized educational courses because sending a quadcopter is one thing, but you also have to know how to operate it, so it doesn't break down in the first three minutes. We give the guys who leave the front to redeploy a quadcopter and teach them basic skills." As Conflict Intelligence Team analysts told Important Stories, one of the problems of the Russian army, which manifested itself in the war with Ukraine, is the low level of military combat skills. 
Nevertheless, Grigory is not ready to admit that the army is poorly equipped. "Those who say that soldiers should be provided for by the state are people who are making such excuses for not helping. I have already been added to the list of enemies of the Ukrainian armed forces for this help [the Peacemaker list — Ed.]. For me, it's like a reward."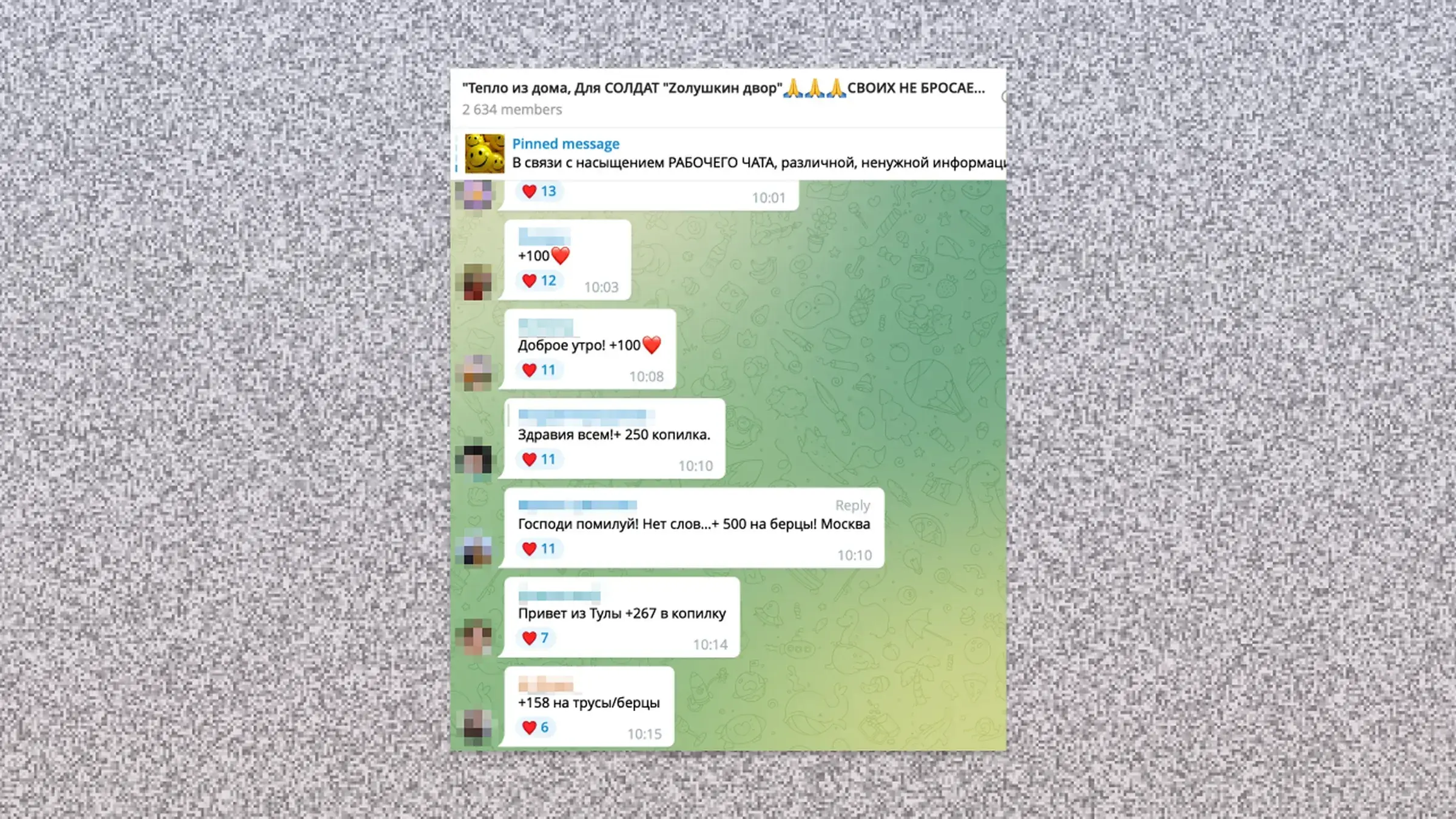 "Soldier's equipment is like we're still living in the past century"
The Russian army's lack of everyday items and technical equipment that most often appear on volunteer lists is confirmed by military experts as well. Some equipment, such as night vision devices and quadcopters, is not allowed by regulations for most units, yet they are necessary for combat, explain Conflict Intelligence Team (CIT) analyst Kirill Mikhailov and his colleague who wished to remain anonymous. "Soldier's equipment is like we're still living in the past century." Now in the Russian army, there is a statute that was valid in 2000-2010 — it is somewhat outdated. The most recent experience that is included in it is that of the Chechen wars. When they wrote the statute, the commanders did not think about the proliferation of quadcopters, and a night vision device during the Chechen wars was something unimaginably expensive," CIT experts told Important Stories. 
The analysts explain that night vision devices help you find a target at a considerable distance in total darkness, be it a person or a tank, in order to open fire on it. "In Ukraine, night vision devices have been one of the expenses of volunteers for the last eight years. A numerically smaller force, equipped with such devices, can act more effectively at night against a larger force that is not equipped with them. The Russian army had other priorities all this time: there is a need for a lot of tanks, large divisions, rockets threatening everyone — the stuff that is shown off during parades. And night vision systems are not easy to demonstrate at parades. They have never been a symbol of military power, such as tanks," the analysts say. 
There is also a shortage of individual protective equipment: helmets, armor vests, and hard armor plates. "Many went to take part in the 'military training' and left these plates at the unit location: they are heavy, what's the use of them in a training?" exemplify the CIT analysts. 
According to them, there is a problem with communications equipment: walkie-talkies are in short supply, most of them have been lost or are in a faulty condition, and no one knows how to repair them, because they were not used during peacetime training. If a talkie broke down during a training session, the military used civilian channels of communication: they could, for example, create a group audio chat on one of the messengers on their phones. 
Experts also confirm the shortage of everyday items and problems with uniforms: "Each uniform has a wearing period, for example, for contract servicemen it is three years. They give out one set and nobody cares that the combat boots will only last one season. A new set can only be obtained through a complicated procedure in which a military man is punished for having his uniform ruined ahead of time. But in reality, a contract serviceman in a ruined uniform will hear from his commander: "Go to the store and buy something, you get your paycheck." A contractor who has made his choice in favor of the Ministry of Defense will usually go to the store without arguing. However, there is no place to go to and nothing for them to buy in the special military operation zone," say the CIT analysts. 
Russian soldiers on the battlefield do not even have enough to eat. "The field kitchens are under-supplied, the money in the warehouses has been embezzled all this time. Dry provision units were designed to be as cheap as possible, and now we see Ukrainians recording videos of carrying Russian positions, tasting the provision and spitting," CIT analysts say. 
Another problem is poor medical care. "Apart from the usual pills — paracetamol and analginum — they have nothing. The medics have stretchers to carry the wounded, while ordinary troops do not, but now we find that in the end, it's not medics who evacuate the wounded, but ordinary soldiers," CIT analysts say. "The equipment in the field hospitals is terrible. It wasn't anticipated that the number of wounded would be as high as it is now, no one could imagine that an IV would use up its resources. And now, as we understand it, there's an artillery war going on, it means a lot of shrapnel wounds." 
"'We're with you,' we tell them. But in fact, 85% of the population doesn't give a damn"
The Vladimir region is far from the border, but there are sporadic initiatives there as well. Among those collecting money and parcels for the war is Anastasia. She used to help pensioners, children from Roma families, and hospitals during the pandemic, but with the outbreak of war, she switched to helping soldiers. 
"The guys get sick, they're not cyborgs. Who's going to give them a pill, who's going to squirt medicine in their mouth? Stomachs ache, hemorrhoids come out," Anastasia shares. 
When asked why the Defense Ministry does not provide for soldiers, she replies that she is already used to this kind of attitude toward citizens: "I'm so used to being cooked in all this when, say, essentials can't be found in a hospital during a pandemic. Therefore nothing surprises me in our state." At the same time, Anastasia is ready to support it: "It takes a lot of time to accuse someone and find out the truth. Therefore, as normal citizens of our country, and not flag-wavers, we must help our motherland, and our army no matter what. I clearly understand that this is not just a small, local war, but a world war with the West, and we must survive."
Volunteers try to convince the military that the whole country supports them. But in fact, it is not true, admits Anastasia: "'We're with you,' we tell them. They talk to the volunteers, and they have a sense that people support them. But in fact, 85% of the population doesn't give a damn. But we don't tell about that."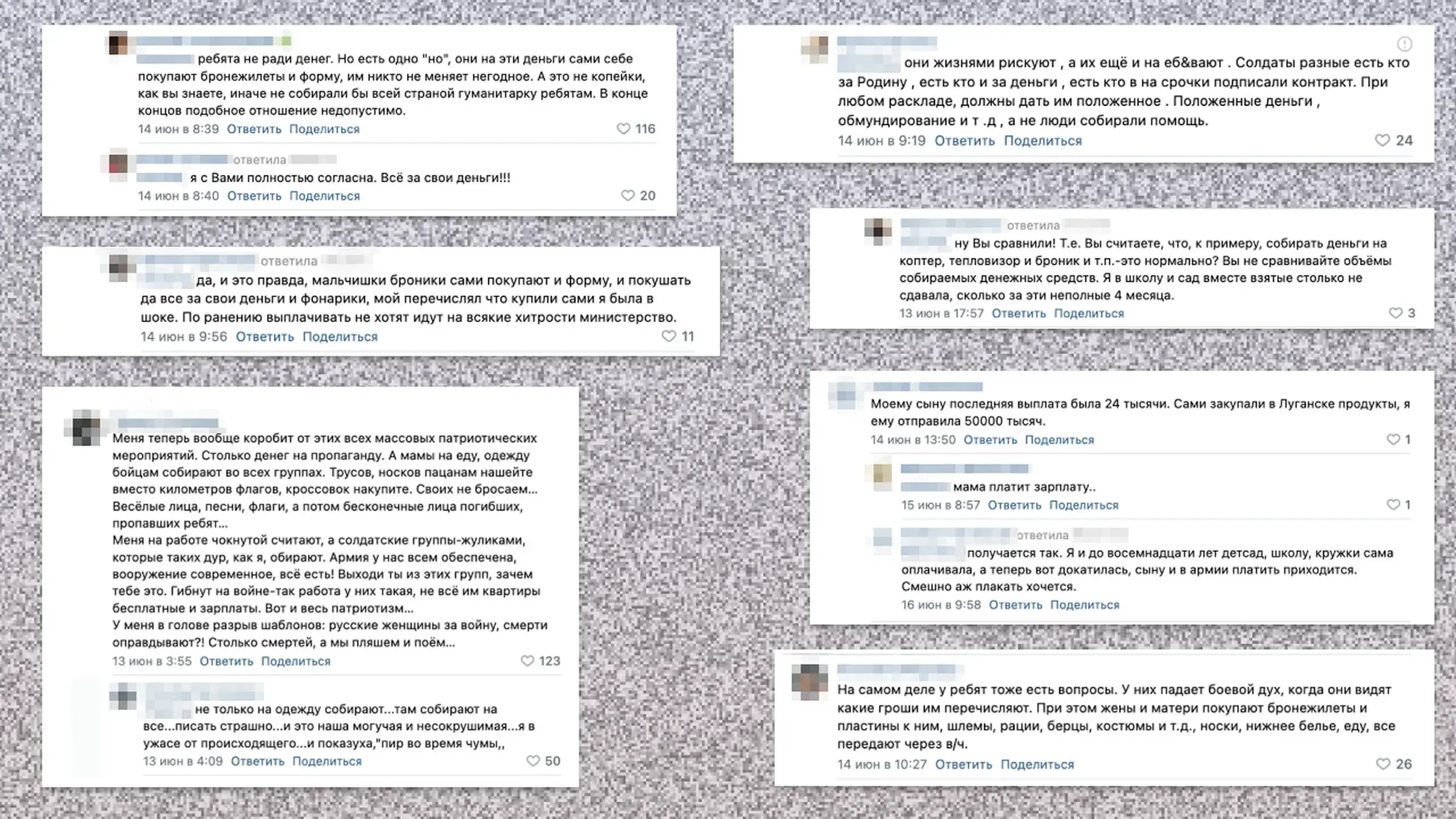 According to the estimates of Important Stories, there are various initiatives to collect aid for the Russian military in about a third of the regions. Most of these VKontakte groups and Telegram chats have up to 100 members. But there are no more than ten large groups with between 1,000 and 4,000 participants, mostly in the border regions. 
A Russian sociologist who wished to remain anonymous also spoke about the lack of mass support for the military.
"These are small initiatives, unlikely to be large-scale," says the sociologist. "Those who volunteer do so mainly for humanitarian reasons — to help 'our boys.' It's not so much support for state efforts as support for specific people. But most people are not ready to participate." 
The majority of Russians do not support the war, but they are not openly against it either, notes the sociologist: "So far, losses due to war are a cost which people tend not to notice. Although many have relatives, friends, or acquaintances who were there or who died. But that's mostly outside of major cities, where people can't really influence anything. They say, 'Since the government decided to unleash the war, it probably should have done so. And we're people of no consequence, what can we do? And the fact that soldiers are dying... Well, someone has to defend the homeland!' That's what people say in focus groups."
"This aid doesn't influence anything"  
According to CIT analysts who spoke with sources in the Russian army, volunteer help is a lifesaver for the military on the battlefield only in isolated cases: "Abandoned, unwanted people have a chance to eat, but for the most part it's nothing because the amount supplied in no way corresponds to real needs. People are willing to donate boots, clothes, underwear, and socks. This aid can solve some problems: at the low mundane level, people have hope not to starve to death and to put on fresh underwear. But tactically, and especially strategically, this aid doesn't influence anything."
CIT analysts add that they know from sources in the Russian Armed Forces of cases when night vision devices and quadcopters bought by the Russians were stolen by the military, responsible for the delivery, and never made it to their destination. "Those who had the opportunity to grab them used it to give quadcopters to their children or mount night vision systems on their hunting rifles," analysts say. "If corruption exists in all budgetary state structures, it would be surprising if the army didn't steal."
Edited by Alesya Marokhovskaya.
RELATED ISSUES
RELATED INITIATIVES